Moultrie|Colquitt County: On a Solid Path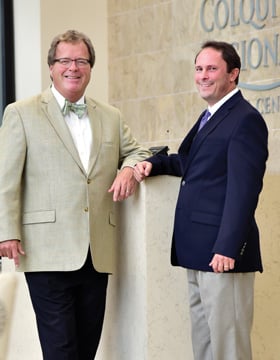 While economic growth is certainly the goal for Moultrie and Colquitt County, these days the health and medicine arena, with an emphasis on education, is the driving force. Increased enrollment in health sciences at area technical colleges, major reinvestments in the local medical center and the announcement of a medical college in the county have all aligned to put the Southwest Georgia county on a solid path to becoming the regional provider of medical education.
---
Schooling South Georgia
In November, the Philadelphia College of Osteopathic Medicine (PCOM) and Colquitt Regional Medical Center agreed to develop a feasibility plan to present to the Commission on Osteopathic College Accreditation. The plan was submitted for accreditation review in May, and a decision is anticipated early in the new school year. If approved, it will be the final step for PCOM to develop a four-year teaching site in South Georgia.
"Pending accreditation approval, PCOM intends to locate a state-of-the-art medical campus in Moultrie and is working to partner with colleges in South Georgia to recruit outstanding graduates and with health systems in the region to train our medical students who will potentially remain in the area to practice medicine," said GA-PCOM Chief Campus Officer Bryan Ginn at a May ribbon-cutting for the Tifton office of the Georgia Chamber of Commerce.
"When they locate, it's going to have a direct impact on housing, including new home sales, existing home sales and rentals, as well as recreation, commercial, retail and K through 12 and secondary education," says Darrell Moore, president of the Moultrie-Colquitt County Development Authority, who's been working on the project for about a year.
"It's going to be transformational for South Georgia. I never would have dreamed we'd have a medical college in South Georgia, and now it's within grasp. It's going to improve the economy with higher positions and better-paying jobs and give us the opportunity to get those professionals engaged in the school board, city council, county commission, chamber board … it's just going to raise the level in South Georgia," not to mention addressing the physician shortage in the rural area, he says.
---
Leading the Charge
Jim Matney, president and CEO of the 151-bed Colquitt Regional Medical Center, has been instrumental in PCOM's efforts to locate in South Georgia. The school will initially welcome 55 students and have an estimated $97-million impact on the local economy, says Matney, adding that the goal is to eventually have 300 medical and other healthcare students on campus there.
The 1,100-employee medical center is already working with PCOM to develop Georgia South Family Medicine Residency program, which has nine residents currently in training. It is also partnering with the Medical College of Georgia, Mercer and others to offer preceptorships (medical mentoring, essentially) for students interested in pursuing education in medicine, pharmacy, physical therapy, occupational therapy and athletic training. Building these education pipelines is vital to the sustainability of healthcare in the region, Matney says.
"The focus of the hospital really is to become a provider of medical education," he says. "If you look at Moultrie, with Tifton and Albany to the north, Thomasville to the south and Valdosta to the east, we're kind of the center of all that."
While many small-town hospitals have closed their doors or merged with others to stay afloat, Colquitt Regional's bottom line has remained healthy. Matney says there are two strategies for running a hospital. One is to "hunker down and try to save yourself to success" by pulling back on spending, a short-term, temporary answer, he says. Colquitt Regional went with the second strategy – intentional growth.
"We decided six years ago on a growth strategy to add services such as robotic surgery and 3-D mammography. That growth strategy has allowed us to increase our market share," says Matney, not only in Colquitt County but outside as well, as people are drawn to its state-of-the-art facilities, high-quality scores and expansion of the medical staff. "Today we're holding patients in our ER [until a room becomes available]; that's how busy it is."
Following a $32-million investment, in 2014 Colquitt Regional Medical Center moved into a new 24-bay emergency room, an all private-room ICU and six new surgical theaters, says Matney. Emergency room visits have increased from 23,000 to 36,000 a year, with average wait times less than 30 minutes. The hospital recently invested in a new 128-slice CT scanner and last November opened Sterling Center, a 20,000-square-foot multi-specialty clinic with 15 providers. The state-of-the-art, wireless facility's offerings include eight medical specialties, on-site lab and diagnostic imaging services.
In addition, Colquitt Regional is currently constructing the Edwards Cancer Center, with completion scheduled for the first quarter of 2018. "We've always done cancer infusion, like chemotherapy, but this is really going to allow folks in the region to not have to go out of town for oncology services," he says. The new center will feature a 10-bay unit for patients and their families, as well as a myriad of education resources. In addition, the medical center recently broke ground on a 15,000-square-foot women's center that will feature 3-D mammography and a bone densitometer.
---
Meeting the Need
Craig Wentworth became president of the newly created Southern Regional Technical College (SRTC) in 2015, following the merger of SRTC with Moultrie Technical College. SRTC now serves students on seven campuses in Colquitt, Grady, Mitchell, Tift, Thomas, Turner and Worth counties.
"It's a process that keeps evolving, but I think overall it's gone very well," Wentworth says of the merger. "Certainly for us it was a benefit to the colleges and the right thing to do, because at the time we were the two smallest unmerged colleges."
The merger combines the strengths of both of the former institutions, he says, allowing the new college to offer more programs and offer courses at locations it didn't previously.
Since the merger, fall and spring semester enrollments have numbered between 3,350 and 3,600 students. Health sciences programs are a big draw at the three largest campuses – Thomasville, Moultrie and Tifton – with 40 percent to 45 percent of SRTC's total credit enrollment in those programs. Of the health science programs, the largest enrollment is in the associate of science degree in nursing (RN training) program.
"We all know that throughout the United States – and Georgia is typical of the United States – there is still a nursing shortage. We expanded the program in response to Colquitt Regional Medical Center's needs and Tift Regional Medical Center's needs," says Wentworth, adding that the courses have been in place at the Thomasville campus for a number of years in response to Archbold Medical Center's need for nurses.
A new offering is the associate degree program in cardiovascular technology, in collaboration with Tift Regional Medical Center, with classes taught on the Tifton campus and clinicals at the hospital, which is also supplying the college with faculty to help get the program off the ground, says Wentworth.
"I think that's one of the things that our college, and the technical colleges of Georgia, do a great job of is really responding to business and industry need," he says, noting those partnerships with area business and industry extend also to the colleges' trade, technical and industrial areas.
---
Working Together
Downtown Moultrie is also getting spruced up, thanks to a three- to four-year enhancement plan adopted by the city's Main Street program. Approximately $1 million for downtown improvements was raised by the city, the county, the Downtown Development Authority and Downtown Moultrie, says Amy Johnson, director of the downtown economic development and public relations office. Additional support was provided by the hospital foundation and two local banks, one of which donated land for a downtown park, she says.
Improved parking, the creation of pocket parks, implementation of security systems and increasing the vegetation by 40 percent are all part of the plan to make the area more attractive. In a later phase, Johnson says, they'll identify a downtown building to rehab for a welcome center with public restrooms and possible business incubator space. "I think right now we're in one of the biggest transformations in our town since we began our streetscape in '01," she says.
The transformations have not gone unnoticed. In April, the Georgia Department of Community Affairs named Moultrie a Georgia Exceptional Main Street (GEMS) community.
City Manager Pete Dillard is proud to see folks in his town working together. Following a planning session between the Downtown Development Authority and Downtown Moultrie Tomorrow, DeWitt Drew of Southwest Georgia Bank jump-started efforts to fund enhancement projects with a donation that initially totaled a half million dollars. Drew also donated property for a pocket park and made major improvements to a bank parking lot. His donation encouraged other businesses and organizations, and soon they'd raised $1 million, with additional enhancement project ideas being added to the list as funding increased. A project to install decorative pavers was recently completed, and Dillard says utilities might be put underground eventually.
"The uniqueness of this project is that, last July, it was a half-million-dollar project," says Dillard. "Within six months it became a million-dollar project with a million dollars to pay for it. It's not often you have the money move as fast as the ideas, but it really has."
Even in a small town like Moultrie, downtown living has become trendy and additional units are being created in renovated spaces. Currently there are about 16 downtown residential units continuously occupied, says Johnson. "People like to live downtown and walk to get something to eat, or get a cup of coffee or walk to an event. We're seeing that trend even in South Georgia and Moultrie," she says.
Promoted to chamber president in January after serving as interim president, Tommie Beth Willis says for years the chamber and the development authority operated under one person. In 2016, the two split. (Darrell Moore, who previously served as president of both organizations since 1997, now heads up the development authority.)
"Our community has seen such a huge upswing of growth that both boards decided we needed one person running the chamber and one doing EDA full time so we wouldn't miss anything that was falling through the gaps," says Willis. "The great thing is that growth has not diminished the community aspect. This is still a great place to live and raise a family
Willis and Moore are both optimistic about continued growth in the county, such as that they've experienced the past 18 months. Retail additions along Veterans Parkway include a new Publix and a plethora of anchor stores as well as a Starbucks and a new pharmacy with an old-fashioned soda foundation, says Willis.
"[As of April] our local workforce was over 21,000, which is one of the larger workforces in the region, and our unemployment rate was 4.9 percent," says Moore, who is working to establish a business incubator in the county. "I don't get excited over one month, but if you can maintain those trends, you're really doing something."
Moore notes they also boast the largest regional workforce in South Georgia with 177,000 workers within a 30-minute drive. "That makes it easier for employers to find people to work," he says, such as Destiny Industries, where they've recently added positions and production is up to six manufactured homes a day.
The ongoing project to four-lane 36 miles of State Highway 133 to Valdosta for easy access to Interstates 75 and 10 also has the potential to bring more business to Colquitt County and help existing industry move more product, says Moore.
And there's plenty of room for growth, says County Administrator Chas Cannon, noting that state routes 319 and 133 offer land prime for commercial development. He's seen an increase in applications for business licenses and building permits, always a sure sign of growth. And not only are local businesses hiring at a higher rate, he says, but the county itself had 16 job openings to be filled as of May.
While 85 percent of voters approved a Special Purpose Local Option Sales Tax (SPLOST) referendum in March, extending the penny sales tax in place for nearly two decades and projected to raise about $31 million over the next six years, Cannon is already looking ahead to the vote on a 1 percent sales tax for transportation, or T-SPLOST, in November.
"I hope there's broad support for it because we need to repair a lot of county roads and be able to keep pace with the infrastructure," he says. "T-SPLOST will help us address that and not have to raise taxes. We'd also get sales tax from people passing through."
The transformational changes occurring in Southwest Georgia bode well for a future of solid growth and recognition as an emerging medical hub.