Georgia Fare: Nostalgia Vessel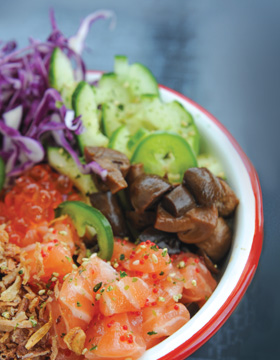 If you keep up with the Atlanta food scene, you know the name Ford Fry – a delicious moniker for someone who sounds like a combination chef/action hero. And in a way that's what he is – starting out as a mild-mannered fried-chicken specialist at JCT. Kitchen in Westside Provisions, and within recent years expanding his fast-growing empire to include the seafood-centric The Optimist, Italianate No. 246, "Mex-Tex" Superica and El Felix, French steakhouse Marcel, and now his latest concept, BeetleCat.
If that name throws you off, you might not know that both The Optimist and similarly aquatic-leaning BeetleCat are named for small sailboats. Fry's restaurants' other hallmarks include high-quality small plates, and as a necessary adjunct, expert service for this labor-intensive dining style. Many of his restaurants tend to set off clear, contemporary mainstream cooking with comfortably nostalgic environments.
In Superica in Inman Park, for example, you can almost envision yourself at the drive-in, getting ready to watch the latest John Wayne movie from behind the wide expanse of your Buick's windshield as you fill up on tamales, cheese dip and tacos. (There's even a big screen showing a desert landscape.) At The Optimist, a sleek 1960s vibe, complete with putting green out front, synchs with the clean, simple seafood. At BeetleCat, what feels like a '70s basement "rec room" is on the first floor, which looks out onto a shaded patio.
Enter here for a cocktail or light snack. There's a faux reel-to-reel tape deck thumping out fun, long-forgotten hits; macramé light fixtures; even a collection of board games sitting in a bookcase, just waiting for that heated Parcheesi match. The drinks coordinate with the Trader Vic's-in-a-ranch-house atmosphere – a pleasantly sweet but plenty boozy Fish House Punch (rum, brandy, peach whiskey, lemon, black tea and sugar); a perfect lime daiquiri to fend off scurvy; even a very old-fashioned Sloe Gin Fizz; and, in season, hot buttered rum.
Bites like the fried conch fritters or smoked steelhead trout dip with pita bread serve as worthwhile time-biders as you contemplate dinner. Then take the back way upstairs, past the old, projection-screen Disney movie on continuous loop to the smartly outfitted dining room above, with dark wood paneling and deep blue upholstery and stitched sails lining the ceiling.
When BeetleCat first opened a year ago, it was plagued by both high-volume crowds and weak reviews. If you first visited then, you might profit from another try, as a few changes have ameliorated some complaints. For example, BeetleCat now takes reservations, which has helped with the crazy-long waits for tables in its first months.
I found none of the service issues early visitors noted. However, I've also found that approaching the place as an everyday, upscale diner, rather than a special occasion-style joint, works better for me. Skip the pricey seafood "plateaux" ($70-$130, with varying levels of shrimp, oysters, king crab, hamachi, etc.) and even the $25 lobster roll (with aioli, and now served with housemade chips), so heavily butter-toasted on sweet hamburger-style buns that the subtle flavors drown. Instead, have a few oysters (priced individually, varying daily) and a glass of crisp white Gavi.
Forgo the $60 bone-in filet mignon with lobster Bienville and bacon for the salmon-kampachi poke with sesame and salmon roe ($15), followed by the Moqueca stew, a satisfying but humble mix of "day boat" fish, shrimp, coconut, plantains, yucca, rice, jalapeño, cilantro and cashews ($16) or whole roasted branzino with romesco ($29). Even the kale salad, the ingredients of which change seasonally (I had butternut squash, feta, crispy shallots) is a good, crisp counterpoint – and I'm kind of a kale-hater. Sides like crispy potatoes with bonito flakes and hoisin, and corn with chipotle and cilantro are dependably delectable. Desserts are suitably old-school – pineapple upside-down cake, dark chocolate s'mores cheesecake, coconut pie. The pie and cake are satisfying, but if you can indulge instead on dessert wines, BeetleCat offers a solid list of ports, Madeira and sherries.
Perhaps it's trying to be a luxurious yacht, but BeetleCat best finds its mooring as a comfortable vessel for memories – of northeastern shore dinners, of family vacations, of Polaroids of bygone seafood restaurants where tourists and fishermen ate side-by-side. It's a time and style of eating that brought joy, and BeetleCat recaptures it well.
---
BeetleCat
299 North Highland Ave. NE, Atlanta
678.732.0360 or beetlecatatl.com
Hours: Dinner nightly; Lunch, Fridays; Donut brunch, Saturdays-Sundays;
Oyster happy hours, Mondays 4-10 p.m.;
Tuesdays-Fridays 4-6 p.m.;
Late night, Fridays-Saturdays 11 p.m.-2 a.m.
Parking: Paid in nearby Elizabeth Street garage
Dress Code: Anything from cutoffs to resort wear, especially downstairs; upstairs more casually dressy. Desk shoes always correct.
---
Like the '70s rumpus-room vibe of BeetleCat's downstairs bar? Try these speakeasy-style rooms around the state
Himitsu
Perhaps Atlanta's best-known "secret," this private room run by the sushi experts at Umi boasts a mind-blowing smoked Manhattan using flamed clove and cinnamon. Email a request via the website for a reservation and the door code.
---
Eleanor's
Take the "secret" hallway behind a cooler door in Smyrna's Muss & Turner's to this small bar named for the owners' in-house sage.
mussandturners.com/smyrna/eleanors/
---
Mata Hari
Savannah's clandestine room features burlesque and live music at 306 W. Lower Factors Walk, near the river. A key is required for entry, but some hotels and B&Bs supply them. The bar is so secret, it doesn't even have an online presence.