Catoosa County: Best of Both Worlds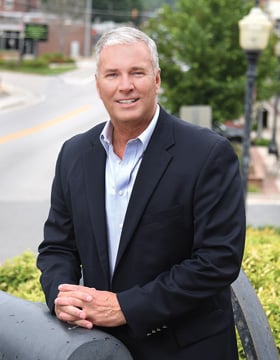 Catoosa County in Northwest Georgia is a study in contrasts. Locals here say it embodies all of the appeal of small-town rural life with easy access to the big city – downtown Chattanooga is a 15-minute drive from just about anywhere in the county. Its location has fueled both residential and commercial growth as people and businesses have discovered its charms.
"We've got a small-town feel here," says Catoosa County Manager Jim Walker. "I can take a back road to work, which lets me see horses and cattle and ridgelines and scenic beauty. We offer that, but you can get on a major interstate and get to Atlanta in an hour and a half, or within 10 minutes we can be in downtown Chattanooga."
In recent years, more and more people have bought into the idea that Catoosa offers the best of both worlds – rural and urban.
In fact, Catoosa is part of a 16-county region that includes Northwest Georgia, Northeast Alabama and Southern Tennessee that is projected to undergo tremendous population growth in the coming decades. One study predicts there will be more than 1.4 million people here by 2055 – up from less than 1 million in 2010. Catoosa is expected to grow from about 66,400 in 2016 to more than 140,000 by then.
---
Unmatched Benefits
Catoosa offers advantages that you won't find in many other more remote rural counties. Its easy proximity to a major urban area means there are abundant jobs within easy commuting distance. Lower home prices and taxes have added to its appeal. It has also managed to attract its own share of business and industry and, in particular, retail. Those lower tax rates mean less money spent when buying the essentials – and extras – and that hasn't gone unnoticed by folks who live in Chattanooga and Hamilton County just across the state line.
Most people here see their giant neighbor to the north as an ally – even if an unintended one.
"It's a positive," says Katie Sponberger, economic development coordinator for the Catoosa County Economic Development Authority. "Obviously Chattanooga has everything. They have tourism. They have industry. They have retail. So being so close has its advantages. In Georgia, we're able to offer better incentives. We have a lower sales tax rate, so if we open a new retail store, people from Chattanooga drive down to Catoosa to shop because Tennessee's sales tax is so much higher. We have higher incomes in Catoosa and lower crime rate. It's just an all around great place to live and have a family."
With a potential customer base that far exceeds the population of the county itself, retailers have moved in. Costco opened a 142,000-square-foot membership warehouse in Fort Oglethorpe, and it was followed by a flurry of other retail development including a Cabela's outdoor megastore and a Hobby Lobby.
More recently, a new development anchored by the Center for Sports Medicine and Orthopaedics, a Chattanooga-based medical practice, was announced. It's part of a 20-acre commercial site on Battlefield Parkway in Fort Oglethorpe. The project was jointly built by local developer Larry Armour, the Catoosa County Economic Development Authority and the city of Ringgold. The area is only a few miles from Interstate 75 and has become a center for retail and other development.
I-75, which bisects the county, is a vital part of the area's development potential in other ways, as well.
"When you have that major transportation artery next to a mid-major city like Chattanooga and just a short drive away to Atlanta, we're well positioned," says Walker.
The county is so close to Tennessee, in fact, Fort Oglethorpe is the first exit after you cross I-75 into Georgia.
"It has a great impact for Fort Oglethorpe and Catoosa County in general," says Fort Oglethorpe City Manager Jennifer Payne-Simpkins.
While today, Battlefield Parkway is the acknowledged center of retail development, there are indications that other parts of the county will soon get a share as well. The state is beginning a widening project on Alabama Highway at Exit 348 off I-75 to make it four lanes.
"When we turn that into a four-lane road, I think that you are going to see an explosion of growth there," says Walker.
---
Donuts and Floors
Catoosa has also focused on recruiting smaller companies to supplement the jobs that so many locals commute to each day out of the county.
"The larger companies are in Chattanooga," says Catoosa County Chamber of Commerce President and CEO Martha Eaker. "We're such a small geographical community, we don't have a lot of land that's developable or that's available for development because of the topography of the community. We can certainly handle industrial sites that would employ 100 or 150 people, but when you look at the mega site like the Volkswagen [plant in Tennessee], we don't have that kind of property."
The county's well-developed transportation network has made it an attractive location for companies that need to get product to stores throughout the region. One of the newest is Dunkin' Donuts, which has been expanding rapidly in the region and has a 28,000-square-foot bakery under construction. The bakery, which is being built by franchisee Bluemont Group, is underway on a tract in Rollins Business Center with plans to open this November.
"Dunkin' Donuts is moving away from baking all their goods in-store and are going more to a regional bakery distribution concept," says Walker. "From here in Catoosa County, they can support the markets in Knoxville, Nashville, Chattanooga, Atlanta and possibly even Birmingham."
The $3-million facility is expected to employ about 40 people. Doughnuts will be made at night and delivered by 4 a.m. each day to every store, according to the company.
Bluemont has about 24 Dunkin' Donuts stores in Knoxville, Chattanooga, Fort Oglethorpe, Murfreesboro and other nearby markets. The company plans to increase that number to more than 60 stores over the next three years. All will sell doughnuts made by the Catoosa plant.
The bakery will be located on what was once a 400-acre dairy farm. The industrial park was developed by O. Wayne Rollins, a Ringgold native and owner of the Orkin pest control business. Having land readily available for development has been a powerful asset in attracting companies.
Along with logistics and distribution, advanced manufacturing is also a significant part of the local economy. Shaw Industries, one of the nation's biggest floor covering manufacturers, has plants in the county. It also made the decision to stay in Catoosa and upgrade one of its older facilities to handle new products.
Back in 2014, Shaw announced that it was getting out of the rug business. That was potentially bad news for its Ringgold facility, which had been a prime maker of the product. Instead of closing the location, however, the company decided to upgrade it to a state-of-the-art luxury vinyl tile (LVT) manufacturing plant.
North Georgia has long been the world capital for carpet and floor covering manufacturing. That history has produced a well-trained workforce that the company didn't want to give up. In addition, converting the plant would mean a shorter time to market for the new products.
"Repurposing our former rugs facility in Ringgold into an LVT manufacturing plant allowed us to leverage an existing structure in our portfolio, shortening the timeframe to begin manufacturing a new product category for us," says Shaw's Executive Vice President of Operations David Morgan. "As a longtime member of the Catoosa County community, we were very familiar with the talent base there, and the logistics benefits of this location made the decision an easy one for us."
The newly revitalized plant will create about 200 new jobs. The company employs approximately 500 at all its facilities in the county.
"LVT is the fastest-growing category in the flooring market," says Morgan. "As our presence in that product sector grew, we saw the opportunity to begin manufacturing a portion of our expansive LVT product line. Doing so allowed us to further enhance our product development, service and overall customer satisfaction."
Other local industries are also expanding. Propex, the county's second-largest manufacturer, has been adding workers to its plant, which produces erosion control materials.
County officials still have their eyes on the suppliers that surround the VW plant.
"We would love to get an auto supplier," says Sponberger. "We really just want good quality jobs."
---
New College Campus
A few years ago, the county bought a 50-acre site in Ringgold that it hoped would attract some of the auto suppliers that would be serving the VW assembly plant. Those never materialized, but the site proved to be the ideal home for a satellite campus of Georgia Northwestern Technical College.
The campus, which opened last year, is within a short drive of the interstate – offering great visibility, according to GNTC Associate Vice President of Academic Affairs Ginger Mathis.
While the site never became the industrial park county officials had hoped, "they did a very wise thing," says Mathis. "They moved us there to retrain and retool the workforce."
Equipping students for the modern world of advanced manufacturing and business is the school's guiding principle. The campus, one of six in the region, offers programs in mechatronics, cybersecurity and logistics along with the usual technical programs and introductory college classes.
"The major focus is automated manufacturing, sometimes it's called mechatronics. That program is designed to train highly technical skilled workers for manufacturing and also every other sector of the economy," says Mathis. "If something in any sort of business breaks, there are folks who have to go and troubleshoot and get it back up and running. Typically you think of that in manufacturing and they are needed [there], but they're needed in hospitals and large businesses and elsewhere."
All of these programs are designed to ensure that the county and the region have workers with the right skills. Programs such as these represent the transformed world of modern industry. Today's factories need workers adept at using computers and possessing a wide range of skills and areas of knowledge.
"I reached out to [Mathis at GNTC], and we've talked about how they could tailor some of the coursework to meet the needs of prospective employers here in the area," says Walker. "That's a complement to our economic development effort. It's a workforce development [issue], and whether you have the workforce to fill the jobs that companies are looking for."
---
Park Visitors
While it rarely gets the press of a new plant opening, history is one of the county's biggest industries. The Chickamauga and Chattanooga National Military Park, which preserves the sites of two major battles of the American Civil War, draws more than 1 million visitors annually.
A National Park Service report found those visitors spent more than $63 million in communities near the park. Furthermore, that spending supported 979 jobs and had a cumulative benefit to the local economy of more than $77 million.
"When folks are coming to visit the national military park, they end up staying and spend some extra time in the city of Fort Oglethorpe, taking advantage of the retail and restaurants and history that we have here," says Payne-Simpkins.
The city also has the Sixth Cavalry Museum, which preserves the rich military history of the "Fighting Sixth," stationed at The Post at Fort Oglethorpe from 1919 to 1942.
Retail and tourism are prime factors in Ringgold's economy as well.
"We have a demand for retail space downtown, and we're doing our best to accommodate it," says Rhonda Johnson, Ringgold's Main Street manager. In fact the occupancy rate in the downtown is well above 90 percent now.
The area is filled with specialty shops and antiques stores – just the kind of establishments that shoppers visit downtowns to find. These range from Nashville Street Shoes, which offers women's and children's shoes, to The Dapper Gentleman, a men's store selling cigars, tobacco, leather goods and other accessories for the fashionable man.
Rail fans often trek to the restored historic train depot, which has a viewing platform from which to see the numerous trains that roll through the city each day.
When it comes to real estate, Catoosa has transformed from a buyers' to a sellers' market. With home inventory tighter and days on the market falling, prices have started to go back up again. The average selling price has risen to nearly $162,000.
Fewer sellers are putting homes on the market, but "we still had the same number of buyers," says Ian O'Shea, managing broker at Crye-Leike Real Estate Services. "That's created a huge shift in the market where buyers know that if they aren't prepared, they're going to lose out to someone who is prepared."
The demand for homes is a good indication that more and more people are discovering the virtues of Catoosa County.
"We're not unlike a lot of communities in that we have a tremendous quality of life," says Walker.
And it's a combination of factors – from price to amenities to good schools – that have made Catoosa the place to be.
---
LOCAL FLAVOR
Let's Say 'I Do'
If you want to get married in a hurry, then the place to be is Ringgold in Catoosa County. It's been so popular for weddings that between 1958 and 2014, more than 225,000 couples began their lives together in the city.
"It was a destination," says Rhonda Johnson, Ringgold's Main Street manager. "You could come here and get married the same day. You didn't have to wait for a wedding license or anything like that. They didn't have to go through all the paperwork and blood test and waiting. It was a quick process."
Of course, it's not that way anymore. If you want to get married in Ringgold today, you'll need to follow all the appropriate state laws – and come with a valid marriage license, though the process is easier than in most other counties. Only one kind of identification is needed from a bride or groom, and a marriage license can be had for just $65 – cash.
You could easily call Ringgold the wedding mecca of Georgia. The Catoosa County Courthouse issues between 2,000 and 2,400 marriage licenses a year. That's in a town with only about 3,700 people. Venues such as the Ringgold Wedding Chapel, which began life as the Episcopal Methodist Church in 1845, are regularly booked for ceremonies.
Getting hitched in Ringgold has a special caché that has attracted not just ordinary couples, but also a host of famous names, including performers in the music industry.
Music and movie superstar Dolly Parton tied the knot with her husband Carl Dean in 1966. The couple returned to the city in 2016 to renew their vows in celebration of their 50th wedding anniversary.
County music legends George Jones and Tammy Wynette followed Parton to the city for their wedding in 1969. Country Music Hall of Famer and former Louisiana Gov. Jimmie Davis married Gospel Music Hall of Famer Anna Carter Gordon in town.
It's not just country musicians who are drawn to the spot, though. Jefferson Airplane band member Bob Harvey was also wed in Ringgold.
A series of historical markers around town commemorates the places where the weddings have occurred and constitute what locals call the Wedding Walk. One marker even shows where Dolly and her husband stood on their wedding day so visitors can get a photo in the same location. – Randy Southerland