Broad Reach
Access to faster wireless networks ramps up to meet demand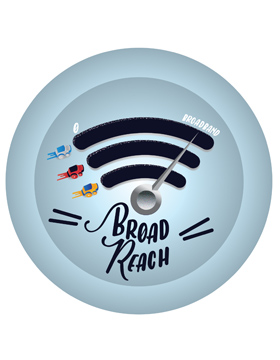 Georgia is now No. 1 in filmmaking in the world. We have a strong telemedicine network that provides access to vital healthcare services in rural parts of the state. A growing number of major financial companies call us home. What do these industries – and hundreds of others – have in common? The need for speed.
One of the tools in the state's toolbox that makes companies clamber to set up shop in business-friendly Georgia is a robust broadband infrastructure. Metro Atlanta has the upper hand in this area with the region's major providers – Google, AT&T and Comcast – spurring each other on in the deployment of super-fast, super-reliable connectivity to the tune of one gigabit per second.
Just how fast is that? Well, Google Fiber says its service will allow for the download of a complete movie in less than two minutes. And Comcast's 1-gig service is touted as taking only 40 seconds to download a movie, two minutes for a video game.
"We consistently hear that Georgia is one of the top places in the country in terms of fiber infrastructure," says Tom Croteau, deputy commissioner for global commerce at the Georgia Department of Economic Development (GDEcD). "Most companies we talk to that are looking for their next location are looking for a high degree of fast connections, but they are also looking for a young, talented millennial workforce that will be a big part of their future."
State recruiters don't have to do a hard sell on infrastructure, as most firms looking at Georgia, and especially the Atlanta area, have done their homework on the availability of connectivity.
"Companies already know that two of the [country's] largest fiber routes run through Atlanta, north and south and east and west," Croteau says. "It makes the state ideal for tech companies."
Columbus and Augusta also have growing infrastructure that has allowed those cities to attract high-tech companies and facilities.
"Companies like TSYS wouldn't be able to do what they do in Columbus without that infrastructure," Croteau says. "The same is true for the U.S. Army's Cyber Command headquarters in Augusta. We have a growing infrastructure in those cities. It's not to the level of Atlanta at this point, but they are coming along quickly."
---
Infrastructure Advances
One of the questions percolating in the minds of broadband observers this year is the pace of Google Fiber's Atlanta-area rollout. The company announced the huge project in 2015, but since then the fiber division has gone through a personnel shakeup, prompting speculation about the project's future.
Amol Naik, Google Fiber's head of external affairs for the Southeast, says the company's rollout in Metro Atlanta is progressing. However, he is reluctant to give a specific timetable for its progress.
Google Fiber's challenge – which is also an advantage, says Naik – is that the service requires all new cable, which means digging for and installing thousands of miles of fiber optic line. The advantage is that it's being done with internet speed as the first priority. Google Fiber provides download speeds up to 1,000 megabits per second – about 60 times the current average internet speed in the U.S., according to Google.
"We are focused on building out some of the cities we have announced in the metro area," Naik says. "This is a huge infrastructure project, and engineering and design take some time. Due to the complexity of the construction, we can't provide a concrete timeline for completion right now."
The service is now available in several Atlanta neighborhoods, including portions of Midtown and Piedmont Heights.
Naik says the presence of Google Fiber's service should be attractive to graduates from the University of Georgia or Georgia Tech who want to start up small businesses.
"With every iteration of increased speed, there has been skepticism of the need for speed, but then a brilliant entrepreneur figures out the next best thing," Naik says. "With the emergence of the Internet of Things, we are just at the start of innovation."
In fact, the Internet of Things (IoT) is a huge part of the increased demand. IoT is the connection of devices besides computers to the internet – cars, kitchen appliances, heart monitors. And one study estimates there will be 24 billion IoT devices by 2020. That's a lot of connectivity.
Bill Leahy, AT&T's president for Georgia and the Southeast, likens broadband availability to the railroads of yesteryear in terms of economic development. AT&T invested more than $5 billion in its wired and wireless networks in Georgia from 2014 to 2016. He acknowledges that the competition among broadband providers is pushing each to provide increasingly faster services.
He ranks a robust telecom and broadband infrastructure just behind a qualified workforce in terms of what companies look for in their site selection due diligence.
"We started a program a little over a year ago called AT&T Fiber Ready," Leahy says. The Fiber Ready designation means high-speed, fiber-optic infrastructure is available at the industrial park or business development. These business parks around Georgia "can partner with economic development officials to show em- ployers they are a fiber-ready location. A lot of times potential companies don't know about the availability, and this helps connect the dots," Leahy says.
AT&T is not just focused on the urban areas, Leahy says, but is building its high-speed fiber optics network throughout the state, with more than 3.6 million strand miles installed. As of April, business and industrial parks in 15 Georgia counties had achieved AT&T Fiber Ready status.
Another AT&T initiative, which targets rural and underserved areas of the state, is Fixed Wireless Internet. This service provides high-speed internet access via an outdoor antenna on a home or business coupled with an indoor router. AT&T completed the first wave of the project in April in a number of counties, including parts of Appling, Dougherty, Echols, Greene, Haralson, Jasper, Jeff Davis, Jefferson, Lamar, Miller, Morgan, Sumter, Ware and Washington, which are now enjoying the benefits of high-speed internet.
"Fixed Wireless Internet marries the wireless network to home reception," Leahy says. "Customers will have a receptor in their home that pulls down a signal, giving broadband to rural areas that didn't have it before. Georgia is the first state in the country to have it."
In April, AT&T also announced its 5G Evolution will come to 20 metro areas around the country this year, including Atlanta. 5G offers twice the current top speed to mobile devices, so users can download movies and games more than two times as quickly as on a 4G LTE network.
---
Need for Speed
One of the biggest demand drivers for increasing broadband is video applications for business, which are growing at a fast clip as companies seek more convenient ways for workforce training, says Marvy Moore, AT&T's vice president and general manager for Georgia and South Carolina.
"Companies are training with short videos," Moore says. "In the past, it would have been web- or classroom-based. When you have video apps that have to travel across a network, there is a huge demand on bandwidth requirements. We are doing everything in our power to meet that.
"When I travel around the region I talk to different leaders, and there is a sense of pride about the ability to attract business to the area," Moore says. "Broadband is a central piece to the infrastructure."
Moore touts AT&T as being at the cusp of innovation. She says the company's intent is not just to keep up with other providers, but to be out in front.
While the large, high-profile companies draw attention for their broadband needs, small firms also benefit. Take, for instance, Simply Done Donuts, a Duluth shop that opened its first brick-and-mortar location in April after two years operating from a food truck at area festivals.
"Duluth is really building the next Decatur," says Simply Done's owner Karissa Norfleet. "We wanted lots of community involvement and to offer a local spot for people to come hang out, so we started offering free Wi-Fi."
Norfleet, who uses AT&T's broadband service, says her company is one of the few currently offering free Wi-Fi in downtown Duluth.
---
Additional Capacity
In January, Comcast Business announced that it had begun offering DOCSIS 3.1-based internet service to several cities, including Atlanta. This cable internet standard allows Comcast to offer gigabit speeds over existing cable lines, rather than building a new fiber network from the ground (or below ground) up. The company says the service will give companies of all sizes the opportunity to quickly add network capacity at their locations.
"We've done a lot over the last six months," says Michelle Pluskota, vice president of business services for Comcast Business. "We have plans to continue to upgrade the entire market."
Comcast has also invested heavily in Savannah's broadband infrastructure, part of an annual $200-million investment across Georgia, according to Pluskota, with much of it geared toward building out its network. This extends beyond businesses to include hospitals and government agencies and a deal with Cobb County to make technology at parks and recreation sites more accessible.
"Our goal is to be the speed leader in every market we serve and also to expand in the markets we are currently in," Pluskota says.
One of Comcast's more visible projects is its advanced network at SunTrust Park, the new home of the Atlanta Braves, and The Battery Atlanta development. Comcast announced in April that it had signed 16 new business customers in The Battery and others nearby. Operated by Comcast Business, the network is one of the largest sports venue and mixed-use installations in the U.S. It features 320 Wi-Fi access points throughout the complex, in addition to 800 within SunTrust Park.
"It's the fastest network in a ballpark," Pluskota says. "Sports teams recognize that fans are expecting the same experience that they get at home or work. There is a lot of technology put into the complex, with the goal of getting people to stay there longer."
Comcast is also a partner in the $370-million Halcyon mixed-use project planned for south Forsyth County. Located just off Georgia 400 on McFarland Parkway, it will be that county's first gigabit-powered community. Comcast will provide high-speed internet and data along with dozens of Wi-Fi hotspots.
"We have been the speed leader for a long time, revolutionary speed, and we will continue to make investments," Pluskota says. "Competition is requiring everyone to up their game. Atlanta has been fortunate to have had a lot of firsts for Comcast. The region is growing by leaps and bounds, attracting a lot of business, and we are keeping up with this pace."
It's a pace that can only help those involved in economic development, says the GDEcD's Croteau.
"We are seeing a lot of synergy between the payments community, fintech [financial technology] and the IT industry," Croteau says. "Atlanta is the hub, of course, with global IT and software operations. If you look at some of the new employment we have announced over the last year, they are all playing off each other." He mentions the growing cybersecurity industry along with advanced manufacturing as sectors that benefit from the focus on IT, as well.
Leahy believes Georgia's competitive broadband environment, supported by state and local government, has given the state a decided edge.
"There are not a lot of states and cities in the country that can match up," Leahy says. "We really do have great assets to market."