Big Prospects for Small Spaces
Zoning changes support the growing tiny house movement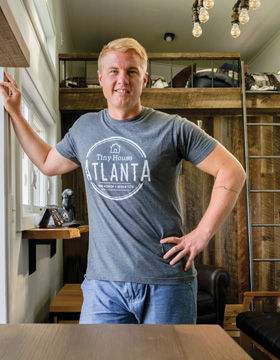 If you watch HGTV, you might think the entire country is considering a move to a tiny house. From Tiny House, Big Living to Tiny House Builders to Tiny Luxury, you can't turn on the channel without seeing a tiny house show. But are tiny homes the abode of the future, or are they a passing fad? And what about here in Georgia? Have tiny houses taken hold?
The answer is, not yet – but they may be on the way in, thanks to recent changes in laws and building codes that may allow tiny homes on foundations in the state. But tiny houses are more than small homes – there's a whole movement around them that's gathering steam. So, here's a look at the movement – what it is, who's living tiny, who's building them, who's trying to make them more readily available – and even more importantly, why.
---
How Small is Tiny?
The average home in America today is 2,600 square feet. A tiny house is less than 25 percent of that space. HGTV calls a house of less than 600 square feet tiny. Some folks say a house isn't tiny until it's less than 400 – and there are people living full time in less than 200 square feet of space.
In the tiny house movement, though, it's not just size that matters.
"If you're in 2,600 square feet, which is the average size of the American home right now, and you downsize to 1,000 square feet, I consider you in the movement," says Will Johnston, founder and executive director of Tiny House Atlanta, an advocacy organization. "You're ready to have a simpler life and have more time, have more experiences, have more money."
The movement is part of what's called by housing researchers and professionals the missing middle – and it's housing that's desperately needed in America, Johnston says.
Atlanta City Councilman Kwanza Hall agrees, which is why he pushed for a feasibility study on tiny houses in the city.
"I think they [tiny houses] give us a diversity in housing options," Hall says. "And help to address what's called the missing middle … the area between the single-family home and a 200-unit apartment. There are a lot of different kinds of housing options that could be placed in there. But we have not done as much of that in modern times."
---
Broad Appeal
So who are these people who have managed to throw off the consumer culture and do the ultimate in downsizing?
Well, take a look around. They are millennials who want to get into the housing market with their first home and find that tiny houses are an affordable way to go. They are baby boomers who are retiring in vast numbers and want to travel, but also need a place to call home. They are older folks who want to live close to family – but not right on top of them – and have an accessory dwelling unit (aka tiny house) in the backyard. They're people of all ages who are concerned about their environmental footprint.
"We did a survey last year," Johnston says. "I wanted to define what a tiny houser looks like, if I could paint a picture. The thing is, though, it's everybody, from 18 to 85, it was across the board age-wise. I surveyed about 1,000 people … to get a reading of who wanted what. What square footage? Who are the professionals? What type of style they wanted? Do they want it on wheels? Do they want it foundational? Are you looking at this as a second home, as a rental? What is this to you?
"And the people who took the survey, not many people wanted this as their second home. They wanted this as their main place of living, which I found fascinating. And 40 percent were professionals, and they're ready to downsize and live a simpler, sustainable life," Johnston says.
---
The Law
People may soon be able to live that simpler life across Georgia. Just this year, zoning changes have made tiny houses – accessory dwelling units – possible in parts of Atlanta. And changes to the residential building code at the state level are in the works. These changes mean municipalities and counties can potentially allow zoning for tiny houses on foundations. (Tiny houses on wheels are legally considered RVs, recreational vehicles, and are not supposed to be permanent homes.)
"Some residents from around the city [of Atlanta] were inquiring to find out if it was possible to build [tiny houses] in the city," Hall says about Atlanta's new zoning. "And we began inquiring and discovered that it wasn't. That was the beginning of the conversation."
Out of that conversation came a feasibility study conducted by Southface, an Atlanta-based organization that supports sustainable living, along with Johnston's Tiny House Atlanta and others.
"There are quite a few complexities involved and a need to protect from unintended consequences," Hall says, "and just get people more aware and more educated about tiny homes."
The first change to come out of the study is an amendment to the zoning regulations that allows accessory dwelling units of less than 750 square feet in areas of the city zoned R-5, which means areas that are zoned for duplexes and includes such pricey parts of town as Inman Park, Grant Park and Candler Park, among others.
"The idea," says Colleen Kiernan, Hall's policy director, "is to promote the diversity of housing as well as flexibility and more affordability. All that's being built in Atlanta now are pretty big single-family homes. Teardowns are being replaced by much larger houses and bigger apartment complexes. So there's the concept of the missing middle, which is anything from a duplex to a garden apartment that we have not been building in Atlanta."
"The study found that tiny houses, while not illegal, are financially infeasible because of the ratio of land size," says Robert Reed, director of community sustainability services at Southface. "Your average single-family lot is just way more than a tiny house needs to exist on. The proportion of land value even in some of your edge neighborhoods and in neighborhoods with lower value lots is out of proportion. Normally the value of the lot to the value of the house is around 20 to 25 percent. With a tiny house, it's 50 to 80 percent.
"So we started looking at ways to get land under tiny houses in a more financially feasible way. And we had some recommendations. … But the big thing was, allow them as accessory dwelling units in neighborhoods that allow duplex zoning. That would allow lots that have single-family houses to do accessory dwelling units in their backyards."
And that brings up another point, Reed says. "The thing we're recognizing and one of the things we reported on in the feasibility study is household sizes are shrinking. Back in the 1910s when they started keeping track, household size was four-point-something people. Now it's just barely above two nationally." The figures are similar in Georgia.
"So we've got this mismatch of housing that's provided. Atlanta's known for it's big houses on big lots, and even in the city, big houses on little lots," Reed says.
---
Meeting Codes
Folks across Georgia may also have tiny houses in their futures if proposed changes to the state's residential building codes go through.
In the spring, a proposal was made to amend the international residential code, which is the code that homebuilders across the country – and in Georgia – use for single- or two-family dwellings, says Ted Miltiades, director of the state's construction codes program in the Department of Community Affairs.
The changes, which would be part of the appendix, mean that a city or county could adopt that appendix and allow the construction of tiny houses on foundations. If the changes are adopted in November, they will become effective Jan. 1, 2018.
They would allow local governments to make legal some of the features – particularly sleeping lofts – in tiny houses on foundations that haven't been legal before, Reed says.
"Currently, if you have a tiny house and you want one of those sleeping lofts that they show on the TV all the time, almost every one of them is illegal," Reed says.
This is because the steep, ladder-like steps and the low ceiling over the loft aren't considered safe. "We can do some things that will make that safe," Reed says, "which is the concern."
"It's just giving another option to cities and counties to utilize if they want to allow tiny houses in their jurisdiction," Miltiades says.
Dan Loche is the owner of Tiny House Builder in Cumming, a company that builds tiny houses on wheels and holds workshops for DIYers who want to build their own. He welcomes the change in building codes, even though his homes on wheels won't be subject to the regulations.
"Normally there are no inspections on tiny houses, at least not on wheels," Loche says. "Because they're not on a foundation, they're not covered by the local zoning or code enforcement rules. But we still emphasize the importance of following codes, because codes are in place to provide a safe living structure."
And that, Miltiades agrees, is what the new appendix would ensure. "The state would say, there's a safety factor involved. We're trying to be sure [a tiny house] meets some kind of minimum standard code."
The Future
If tiny houses get the go-ahead in the state, will they be cropping up like so many Monopoly houses? Well, not likely, though most advocates think the number of houses will grow.
"I think the market for foundation-built homes is going to increase, because those are getting approval," Loche says. "There's a demand for smaller housing."
The next step, says Reed, would be tiny house communities. "We proposed a model ordinance [in Atlanta] that you could adopt that would allow that," he says. "I think that's going to be a little more controversial and would need to be part of a larger zoning rewrite."
Hall agrees. "I think we'll see people applying for tiny homes and getting them built. And then we'll open the conversation to tiny home subdivisions, doing portable tiny homes."
The exciting thing to advocates across the state – and the country – is that this is just the beginning of the movement, Johnston says. "People are like, 'it's just a fad. It's a trend.' And I'm like 'no, it's not.' We need to look at innovative housing. We need to look at housing differently. This whole movement is really about finding the right space to allow you to be you.
"So when I look at defining the tiny house movement, yes, you can define lines of square footage and if it's a trailer or on a foundation," Johnston says. "But to me the movement is about lifestyle choices and being able to have the freedom to have a better life."
---
Living Tiny
He's a card-carrying member of the NRA who hunts and fishes and eats what he kills. She's a vegetarian and fitness guru. These opposites – John and Fin Kernohan – live happily together in a tiny house.
"We live full time in our 304 square footer," John says. "And then our 148 square footer, that's our travel tiny house, the one we take to events that we speak at."
The Kernohans, whose permanent home, Beloved Cabin, is on land in Laurens County in Middle Georgia, fell into the tiny house life almost by accident, John says. Now they find themselves experts – speakers at conferences, producers of tiny house festivals and stars in an episode of HGTV's Tiny House Nation.
It's the story of a mid-life crisis – John had serious health problems that led to major changes – that's brought a new life for both of them.
John lived in Miami when he met Fin in London about seven years ago, he says.
"The first time she came over [to Miami], when we first started dating, she made the observation she didn't like the size of my house. 'I don't know where we're going with this relationship,' [she said,] 'but, if I ever live over here with you, I'm not cleaning this place. It's just too big.'
"We'd only been going out for about three months," John says, "and we're already talking about the future here. So I made a joke, 'we'll just live in a dirty house.'"
Fast-forward a couple of years. They're talking marriage and where to live – London, Miami, Thailand, where Fin is from. Then, "Fin approached me with the observation that I was always up in Georgia on my hunting property. And she was like, 'We should just live in Georgia. That's where you want to be. That's where you're happy.'"
She sold John on that idea, then had to sell her vision of a small house. "I'm thinking 1,200 square feet," John says. "And Fin was like, 'no, I meant small, 400 square feet or so. You know, small.' And she wanted us to build it ourselves."
It was the birth of Beloved Cabin, where the two have lived since 2012.
"We had no intention or aspiration to get involved in the tiny house movement," John says. "We had no idea there was a tiny house movement."
The two have learned together as co-founders of the United Tiny House Association, a company that produces tiny house festivals around the country.
Their first festival in Eatonton in March 2016 drew more than 5,000 people, 18 tiny houses and a yurt. They have since hosted a second Georgia festival along with festivals in New Jersey and Florida. It's a labor of love for the Kernohans, who use the events as fundraisers and donate the proceeds to local organizations.
It's all part of their off-the-grid life.
"We like the simplicity of it," John says. "We are very big on having a zero or minimal carbon footprint. We like the fact that it's totally solar. We like recycling."
But, he's quick to emphasize, "We're not experts. We're just shooting from the hip, trying to figure it out as we go along. Living tiny for us just is a whole menagerie, a cornucopia if you will, of things that brought meaning to us." – Karen Kirkpatrick