Habitat for Humanity's Global Village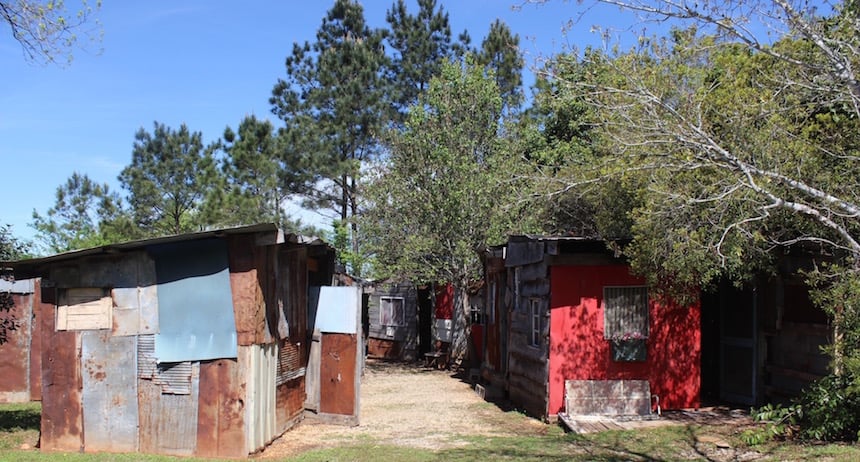 It's hard to live in Georgia and not be familiar with Habitat for Humanity – especially after the recent story about President Jimmy Carter (age 92) collapsing at a Habitat build (he's okay). But, what's not as well known is Habitat for Humanity International's Global Village and Discovery Center in Americus, a museum where visitors can see examples of both the types of houses Habitat builds around the world and the types of structures (it's hard to call them houses) they replace.
It's an opportunity for people to "experience Habitat's mission through sight and touch," says Jennifer Harris, manager of the Global Village. "The purpose is to give visitors a better understanding of what poverty housing looks like around the world and to help show why Habitat's vision of a world where everyone has a decent place to live is so vital."
It's an uplifting museum – Habitat has built homes in 70 countries and helped 9.8 million people improve not just their housing, but also their health and safety.
Adequate housing offers more than just a roof overhead. It is security, a place for children to do homework and play and it offers relief from a constant worry about where to spend the night or get a meal.
The village itself is set up as an outdoor, self-guided walking tour that starts with Living in Poverty. This section shows housing made of corrugated metal with dirt floors, few windows or doors and no running water or electricity. The few personal items shown in the houses are tattered and dirty – too unappealing to be stolen or used.
"The Living in Poverty section of the village is not intended to be any particular country," Harris says. "It is merely a representation of how families live in poverty in the developing countries."
And it brings home to visitors why poverty makes everything hard. There is nowhere for children to sit to do homework, there is nothing to offer stimulation – no games, no books, no TV – there is no privacy and no sense of security. You can see that just getting water to drink is a chore and with no storage or refrigeration, adequate food is hard to come by as well. As you walk through the section, seeing room after room like this, it is hard to imagine how anyone overcomes such hardship.
But with Habitat's help, many people do. The organization and its legions of volunteers help people overcome poverty for themselves, for their children and for the next generations.
The other section of the village showcases the types of houses that Habitat builds around the world. The most recent addition is an example of a house from Haiti, which was added after the 2012 earthquake there.
What's most striking about the houses is that while they are so much nicer than the poverty section homes – with individual rooms, some running water, solid floors, windows and cleaner furnishings – they are still quite meager. Tiny houses, long before the tiny house movement began.
It's a museum experience that makes you think – or at least made me think – about the expectations we have in this country for more and bigger and better, about how little it really takes for people's basic needs to be met, and the impact on people's lives meeting the basics can have.
"We hope that visitors understand more about the global need for families to have a decent and affordable place to call home," Harris says. "We also hope that visitors feel compelled to get involved with Habitat – either through volunteering, advocating for affordable housing or supporting our mission financially."
After all, if a 92-year-old former president can still swing a hammer, most of us can too.
Looking for other museums and sites to visit on a Georgia road trip? Check out our July cover story about off-the-beaten-path tourism "Hidden Gems."
Photos: Karen Kirkpatrick