Long-distance Diagnosis
Telemedicine is making quality care a reality for people in underserved areas of Georgia.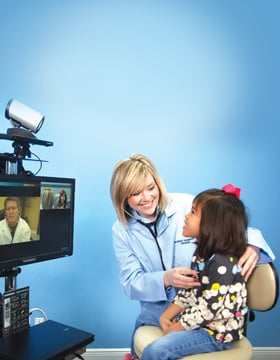 In a rural nursing home, a frail elderly woman develops a high fever, a situation that traditionally has required transport to the nearest emergency department. Through an arrangement that brings emergency care into nursing homes via a telemedicine transmittal unit, the woman receives the care she needs without the cost and discomfort of a trip to the ER.
In Sandersville, a man is rushed to the local ER where he is taken to a room equipped with a computer, webcam and broadband internet connection. Within minutes, a physician 60 miles away in Augusta determines that the man has suffered a stroke and orders a clot-busting drug, tissue plasminogen activator (tPA), needed to save his life.
In a doctor's office south of Macon, a pediatrician tells an anxious mother that her son needs to see a specialist at Children's Healthcare of Atlanta. Learning that the visit can take place right in the pediatrician's own office, eliminating the need for a two-hour trip to Atlanta, makes the news a little easier to bear.
---
These three people – along with thousands of other Georgians – are reaping the benefits of telemedicine, a phenomenon that brings doctors and patients together in real time via a computer screen. In its most basic form, telemedicine allows doctors to see and speak with patients much like they were meeting face-to-face. In many cases, added devices (so-called peripherals) allow the distant doctor to examine throats, ears and even internal organs with the same precision of an in-person visit.
While some are concerned that telemedicine removes an aspect of the personal element – the hands-on approach to practicing medicine – proponents say the benefits to patients, rural hospitals and the healthcare system are numerous. In an era when rural hospitals are struggling, healthcare costs are rising, Georgia's population (particularly in rural areas) is aging and healthcare providers are increasingly being challenged to do more with less, some say telemedicine provides a solution.
---
World-class Rural Care
More than a decade ago, Augusta University (then Medical College of Georgia) neurologist David Hess, M.D., knew there was a brief window of opportunity for successfully treating a stroke with tPA. Yet many patients who could have benefited from the drug arrived at the university's ER outside that treatment window, often traveling from rural areas and/or making stops at local ERs that lacked stroke specialists.
His frustration led him and his colleagues to establish REACH (Remote Evaluation for Acute IsCHemic Stroke) Health, a nationally recognized telemedicine service that makes neurological consults available to patients in rural areas. Using a standard computer, webcam and broadband internet connection, neurologists at Augusta University are able to diagnose and treat stroke patients at participating hospitals anywhere at any time. Since its inception in 2003, the university's telestroke network has grown from two rural sites to 29 hospitals, including rural hospitals in the Central Savannah River Area and larger partner hospitals throughout the state. (See the April 2017 issue of Georgia Trend for more about REACH Health.)
While REACH became one of the first and most widely recognized telemedicine programs in Georgia, it was only the beginning of a wide range of services to bring world-class care to rural hospitals. Another program out of Augusta University began in 2016 to bring telenephrology (kidney) services to patients in rural hospitals who need dialysis. Through this program, in which a patient with possible kidney failure is taken to a rural hospital without a nephrologist, the doctor at Augusta University can determine through a telemedicine connection if the patient requires dialysis and work with the provider at the rural hospital to set up dialysis for the patient.
The program currently serves patients in Emanuel County Hospital in Swainsboro, but expansion to other rural hospitals is in the plan, says Laura Mulloy, M.D., division chief of nephrology, hypertension and transplant medicine at Augusta University. "This program allows patients to remain in their local hospital versus being transferred simply because the local hospital did not provide dialysis in the past," she says.
Similarly, at Children's Healthcare of Atlanta, doctors in a wide range of specialties – including allergy and immunology, nephrology, neurology, otolaryng- ology (ear, nose and throat), pulmonology and psychology – provide telemedicine consultations for young patients in rural areas.
Telemedicine enables Georgia's rural residents to receive specialty care – and in some cases primary care – they wouldn't otherwise have access to, says Monty Veazey, president of the Georgia Alliance of Community Hospitals. He notes that 79 of Georgia's 159 counties have no obstetrician, and six are without even a primary care physician. "If you live in rural Georgia the challenge to recruit doctors is much harder, and many communities cannot get them," he says.
Access to specialists via telemedicine benefits not only the patient, but also the local hospital and the whole community, says Catherine Clary, director of the Center for Rural Health Study and Support at Augusta University. "The patient does better when they are close to home," she says. "Studies show a better recovery." Telemedicine also benefits patients' families, because they don't have to take off work for extended periods or drive long distances to be with a hospitalized family member, she says.
For the rural hospitals, providing care via telemedicine allows them to keep patients – and revenue from those patients – that would otherwise go elsewhere. For Augusta University and other larger centers providing care, it leaves more rooms available for trauma and high-level cases.
---
Bringing Services to the Patient
For many Georgia residents, seeing the doctor means a short drive to an office across town or an even shorter drive to the closest urgent care clinic. But for others – a frail nursing home patient, a prison inmate or a child in a rural elementary school, for example – seeing a doctor can be a big production involving a costly and uncomfortable ambulance ride, transport with armed guards or just a day off work without pay for a low-income parent. Telemedicine helps in all of these situations, says Rena Brewer, CEO of the Global Partnership for Telehealth (GPT), a nonprofit with partner entities in Georgia, Florida, Alabama and Tennessee dedicated to improving healthcare through programs that use telecommunications and related technologies to remotely support patient care, health education and administrative activities.
Georgia's telemedicine program began in 2006 through a grant from WellPoint Inc. Two years later, a statewide collaboration among policy makers, healthcare providers and patients was formed to continue the success of the program after WellPoint's three-year commitment concluded. The program, which began as the Georgia Partnership for Telehealth with eight patient visits in 2006, grew to more than 240,000 in 2014.
"Most of our work is in Georgia, but over the years we have organically grown outside of Georgia," says Brewer.
Today, through its 600 telehealth partners (a partner can be any organization or establishment that provides or receives telemedicine services), GPT brings needed medical services to both rural and urban health systems, schools, correctional facilities, rural clinics, skilled nursing facilities and county health departments in 109 of Georgia's 159 counties (and counting) as well as to locations in neighboring states and internationally, including orphanages in Guatemala and Macedonia. As of March 2017, there had been 400,000 GPT encounters with more than 150 providers representing a variety of pediatric and adult specialties.
Perhaps the largest and fastest-growing of those partnerships is with rural elementary schools, says Brewer. Currently the network provides telemedicine services to more than 90 elementary schools. "If a child goes to school with an ear ache, the child has the potential to go to the school clinic and see a doctor by telehealth at the school," says Brewer. Working with the school nurse, a high-def- inition camera, a microphone and peripherals such as a stethoscope or otoscope, the doctor can make a diagnosis.
While its primary use is for routine acute care that would otherwise require missed school for the child and missed work for the parent, the partnership also allows teachers and other staff to see a doctor right at work and enables children to receive specialty care – including behavioral healthcare – that might otherwise be out of reach, says Brewer.
"For example, there are children who are [now] being diagnosed and treated for autism in school clinics, and their lives are being transformed," says Brewer. "And the children aren't the only ones who benefit. They function at a higher level, so the schools are impacted in a positive way. And think about at home – when children are treated properly, their lives are better. If it were not for telehealth, a lot of these children would not have access to specialty care."
---
Possibilities and Challenges
While Georgia is a leader nationally in telehealth, the technology still has the potential to save even more time for patients in crisis, offer more support to rural hospitals and communities and provide even more and easier access to care throughout the state.
Certainly there are limits to telemedicine, Brewer admits. "There are some things the doctor has to put their hands on, for example to fix a broken leg, but there are so many applications that all the doctor needs to do is to see you, listen to your heart, listen to your breath sounds and use scopes to look into the ears and throat. So much of that can be done virtually."
Veazey believes telemedicine will play an important role in increasing healthcare access in Georgia, particularly as the population in rural areas gets older, leading to more medical problems and more difficulty traveling distances for healthcare.
"In Atlanta about 10 to 20 percent of the population is older than 65; in rural areas that percentage just about doubles," says Veazey. "[In rural areas] the poverty population is much higher, the uninsured population is much higher and the Medicaid population is much higher, so to save money and have the same access to care, telemedicine will play a big role."
Proponents see the use of telemedicine expanding, including to the health departments of every Georgia county and even into the ambulances that transport patients.
"All of the ambulances in the state are equipped with Wi-Fi, so when a patient gets into an ambulance the EMT [emergency medical technician] can hook them up and transmit their data," says Veazey. "The EMT of the future, through telehealth, could do a CT scan in the ambulance and feed that film to the surgeon before even arriving at the hospital. The technology is there. We just have to implement it."
Implementing such technology and expanding telehealth presents some challenges, one of which is educating patients who are accustomed to the traditional model of meeting face-to-face with their doctors, says Veazey.
"It may take some time to get used to the concept that they can go over here and get the same things as if I am going to Atlanta, so we have to inform them," he says. "For millennials, they would get it pretty quickly. But for those of us getting on in age, we are so familiar with traditional access that we don't utilize all of the technology that is available to us."
Fully using telehealth will also require overcoming regulatory and legislative hurdles, including insurance coverage for telehealth services and requirements for the provider at the patient-end of the telemedicine connection.
Although many insurers cover telemedicine visits as they would an in-person doctor visit, in many cases coverage is not what it could or should be, says Veazey. Brewer notes that for Medicare to cover telemedicine visits in nursing homes, the patient must be in a medically underserved area; therefore, a patient in a nursing home in the Atlanta area would instead be transported to the specialist, a process that is costly and uncomfortable for the patient regardless of the distance.
Clary believes such issues will resolve as telemedicine expands, more people become familiar with it and insurers recognize its benefits.
"I think you will see expansion throughout the state," she says. "The insurance companies are seeing this as something physicians want, so I think they will adapt to that as well."