Hidden Gems
Wonderful and widely acclaimed visionary art can be found off Georgia's beaten paths.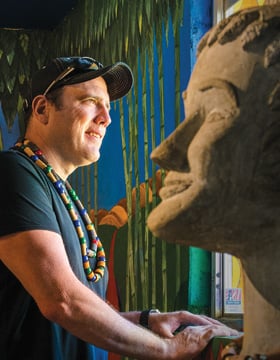 Georgia is filled with major tourist sites – from Six Flags and Stone Mountain in Atlanta to architecture and history in Savannah to the natural beauty of our beaches and mountains – that draw thousands of people from all over the globe. The state's music was even named one of the 25 can't miss experiences in the world for 2017 by National Geographic.
But these well-known sites and experiences aren't the only things worth seeing in the Peach State. Once you get off the beaten path, you can discover attractions that range from the quirky to the educational to the downright weird – including a couple of art sites that are considered among the most important visionary art environments in the country.
---
Technicolor Dreamland
Pasaquan, the visionary art site created by St. EOM (pronounced "ohm," born Eddie Owens Martin) is seven acres of colorful paintings, concrete sculpture and bright murals about as far off the beaten path as you can go. While the address is Buena Vista (itself off the path), Pasaquan sits about 5 miles outside of town on a site not marked by any directional signs. But don't let that stop you. Part of the charm, says Pasaquan caretaker Charles Fowler, is that everyone who goes there really wants to be there.
"The best thing about this place," Fowler says, "is Eddie originally wanted this place to be a safe haven for outsiders, because he considered himself an outsider. So when I meet folks from all over the world, no one seems upset. They come out here, and they're immediately happy. They feel this connection … especially artists. Artists love coming out here. I guess it just feels like home."
Knowing Eddie's story enhances the appreciation of Pasaquan – which CNN named one of 16 intriguing things to do in the U.S. in 2016. Martin was born in Buena Vista in 1908. At age 14, he left his hometown, hitchhiking to Atlanta and then to New York City, where he worked as a fortune teller, drag queen, street hustler and bartender.
While in New York, Martin began having visions in which people (Pasaquoyans) from the future and a place called Pasaquan chose him to showcase through his art a peaceful future for humans. Following these visions, he began to call himself St. EOM.
The Pasaquoyans told St. EOM to return to Georgia to create his art, an order that he answered with an unequivocal "yes." The result is Pasaquan. He began work on the property, which he inherited from his mother, in the mid-1950s, adding to the riotous mix for 30 years. In 1986, he committed suicide following several years of illness.
St. EOM's visions – and his expression of them – do indeed make it hard to be unhappy. When you reach Pasaquan on the dirt and gravel, tree-lined Eddie Martin Road, you are greeted by a cacophony of color – buildings, walls and totems are filled with shapes, faces, animals, humans and other-worldly figures, in hues that put a huge box of crayons to shame. The sign leaning against the totem at the entrance: "Beware of bad dogs. Please blow horn and stay in car until I come out," is a replica of the one that greeted St. EOM's guests.
Today, it's not dogs – bad or good – that greet visitors. Instead, Fowler, who with his long hair, beard and jacket of gold and fuschia sequins over jeans, a tee shirt and wooden bead necklaces made by St. EOM himself seems to be the embodiment of the artist, welcomes guests into the experience.
"I think Charles has become Eddie Owens Martin," says Tina Cox, chair-elect of the Howard Finster art environment Paradise Garden in Summerville. "He is channeling the whole vibe. It's great."
Fowler's interpretation and knowledge of St. EOM may be right on point, but it's the site itself that is the draw. Pasaquan consists of six buildings, including a late-19th-century farmhouse, connected by brightly painted concrete walls with raised sculptural pieces, such as colorful seals with balls and enormous snakes that line the tops of the walls. The inside and outside walls of the buildings are also covered in bold patterns, human figures and nature images.
The fabulous colors and exquisite work are the result of a two-year, multimillion-dollar restoration funded by the Kohler Foundation, which was completed in 2016. Following the restoration, Kohler donated the site to Columbus State University.
Kohler was approached by the Pasaquan Preservation Society (PPS), a local, largely volunteer organization that formed after St. EOM's death to keep up the site, which Martin had left to the Marion County Historical Society. But after decades of this effort, Pasaquan needed such serious restoration that it was named to The Georgia Trust for Historic Preservation's inaugural Places in Peril list in 2006. It was work the PPS had neither the funds nor the expertise to complete. With the Kohler Foundation's mission to restore arts environments in the United States, it was a match made in, well, Pasaquan.
The task was enormous, involving concrete work, paint matching and the removal of hundreds of Martin's smaller artworks and personal objects, says Fowler, who worked as an intern throughout the restoration process before becoming the caretaker.
"I worked with International Artifacts," Fowler says, of the company responsible for object conservation and concrete restoration. "They were teaching me how to basically repair concrete and cement works outside. This place was a giant jigsaw puzzle, honestly. I had to find missing pieces. Before that, I had to document every single color that was out here. I would find paint chip samples with seven layers of different colors because Eddie would paint over and over and over."
And that was just the beginning. The restoration team was committed to returning everything to exactly as it was during St. EOM's time. "There was no guesswork, none at all," Fowler says. "We made sure everything we had, we had proof it was that color. If a sculpture was missing or a certain wall medallion or design, we made sure that we found evidence of what it was, and we could either recreate it or hopefully find it."
---
Southern-American Culture
All of that exacting work begs the question, what makes Pasaquan important enough for the Kohler Foundation, the PPS, Columbus State University, Charles Fowler and countless volunteers to pour money and time into it?
"That's a good question," says CSU's Michael McFalls, director of Pasaquan. "It's really important because it's part of the Southern-American culture. And it's important that we preserve visionary sites like this, in some sense. It's also important to our educational goals. We had over 150 students working at the site [last year] in some capacity. And these aren't just art students. It's an interdisciplinary approach, meaning we had students from the English department, communications, art history, art and the education department, all in some capacity worked on that site."
And it's work that will continue. Not only will Pasaquan need upkeep to stay in its pristine shape, but it will also need to evolve in order to continue attracting visitors, McFalls says.
"There's always going to be on-going maintenance," McFalls says. "My challenge is to find the resources to do that. The other thing we do is we have universities from all over the region coming probably every other week. Every university from Georgia College to West Georgia to Auburn, UGA has come out, and we've done some programming with their students. And then we do local high schools and middle schools."
They're also spreading the word about Pasaquan outside the region through creative collaborations.
"I'm trying to create a program where artists respond to Pasaquan," McFalls says. "Just recently we had an artist from Brazil [Gê Orthof], who came to Pasaquan, stayed at CSU, worked in the archives, went out to the site, got to know the work, and he did an exhibition that was in response to Pasaquan at the John Michael Kohler Arts Center in Sheboygan, Wisconsin. And that was great. He did some amazing work."
"Now we're being talked about in Brazil through his connection," Fowler adds.
Next up, a CSU music professor is creating a Pasaquan opera that will be performed at the site by music students. It's part of how McFalls hopes to keep the location alive.
"One of the things I'm trying to do is keep this fresh," he says. "Keep a new perspective on it and have it ever changing."
---
Visions from God
Pasaquan is not the first internationally recognized visionary art site in Georgia. Paradise Garden, in Summerville, lays claim to that title.
"I think a good one to compare [Pasaquan] to is the one up in North Georgia called Paradise Garden that Howard Finster created," McFalls says. "Howard and Eddie knew each other. They were around at the same time. They both had a vision. Howard's vision came from God. Eddie's vision came from Pasaquoyans."
Finster, who was a Baptist preacher, was 59 when in 1976 he got a vision from God to create 5,000 sacred art pieces. He surpassed God's wishes by more than 46,000 art works before his death in 2001. Museums around the world own Finster works in their collections, but the best place to get a handle on the man is Paradise Garden, which he built as a roadside park starting in the 1960s.
It's a park with purposes that still resonate today. There's a garden filled with vegetables and fruit trees to feed the hungry, and art created from the bits of junk – old bicycles, for example – that people throw away continues to demonstrate recycling in the most creative ways. Finster looked on it as taking care of God's world and God's people.
Now, Paradise Garden is taking care of folks in another way, with a recently opened artist-in-residence cottage listed on Airbnb.
"The cool thing is we've opened up an Airbnb," Cox says. "We call it the Taos of the South Experience. We give you the keys to Paradise Garden. You get it by yourself at night. And it's just so cool to have the moonlight hit the mosaic garden. You get to stroll through Paradise Garden at night and really understand and sense and feel Howard Finster."
Night or day, visitors to the garden see concrete mounds of faces, glass and tools; mosaic walkways; and the cupola of the World's Folk Art Chapel.
But is there really room in Georgia for two visionary artists and their environments? Cox says yes. "We want to make sure that they [Pasaquan] are successful. Howard loved St. EOM. They were not close friends, but he liked him. It's very special to have two significant art sites in the state of Georgia."
---
Roadside Attractions
Unusual, quirky, roadside (but not interstate-side) attractions in your plans for the summer? A stop at any one of these off-the-beaten path sites will add sparkle and maybe a headshaking, 'what?' to the family road trip – not to mention great photo ops to spice up your Instagram or Facebook page. So crank up the Georgia-grown tunes, grab the GPS and see what our state's backroads have to offer.
Tyson Steel Wildlife Museum, Doerun
It's not every day you can have your photo taken with taxidermied bison, zebras, giraffes and a myriad of things with horns or antlers while picking up your steel building components. But if this activity is on your bucket list, Tyson's got you covered.
---
The Panoramic Encyclopedia of Everything Elvis, Cornelia
If you thought you had to go to Memphis for everything Elvis, think again. This museum, on the top floor of the respectable, National Register of Historic Places-listed Loudermilk Boarding House, features more than 30,000 Elvis-related items, including a wart (yes, you read that correctly) removed from the King's wrist; the Maybe Elvis Toenail, which museum founder Joni Mabe picked up from the floor of the Jungle Room at Graceland; along with busts, clocks, a lava lamp and Elvis-head bedroom slippers. Check out the 14th annual Big E Fest and ETA (Elvis Tribute Artists) competition Aug. 4 & 5.
---
BabyLand General Hospital, Cleveland
BabyLand is the birthplace of the fat-faced, squishy Cabbage Patch Kids – the cloth originals, not the vinyl dolls sold in toy stores today. These babies and kids are the collectible versions – with adoption prices to prove it – that pop out of cabbages under the Magic Crystal Tree. BabyLand staff, dressed as doctors and nurses, take care of preemies, babies and older kid dolls until their forever families can be found.
---
The Georgia Guidestones, Nuberg
Folks concerned about the end of the world can rest easy. The Georgia Guidestones, four 19-foot-tall granite blocks near Elberton, the Granite Capital of the World, have the answers for you. Carved into this mini-Stonehenge, which was built in 1979 by the mysterious R.C. Christian, are the directions in eight languages for rebuilding life post-apocalypse.
---
Statue of Liberty, McRae
Liberty Square in downtown McRae is home to a 1/12th replica of the Statue of Liberty, crafted in true Georgia fashion. Her head was carved with a chainsaw from a stump gathered in a nearby swamp, her arm is Styrofoam and the hand holding the torch is an electrical lineman's glove. And because you can never have enough liberty, a replica Liberty Bell – an old fire bell with a crack added – sits nearby.
---
Tank Town USA, Morganton
The tagline, "Drive Tanks, Crush Cars," says it all, at what seems at first glance like the ultimate boys' fantasyland. But this spot gets as many women drivers as men. One brief lesson and you can drive a tank – actually a former British armored personnel carrier (the U.S. doesn't share its tanks with the public) – over bumps and valleys. Or for a substantial price increase, you can run it over a car.
---
U.S. National Tick Collection, Statesboro
Not only is there a national tick collection, but it and its more than 1 million specimens live right here in Georgia. The collection belongs to the Smithsonian and has been at Georgia Southern University since 1990. Drop by on Tuesdays and Thursdays or schedule a group visit. It's tick season after all. You might need to identify the critter that grabs hold of you this summer.
---
Southern Forest World, Waycross
"Oh, look, a tree museum. Let's stop," said no one, ever. But this tree museum, Southern Forest World, has something most museums – let alone those devoted to trees – can only dream about: Stuckie the mummified dog. Poor Stuckie was discovered by loggers who had cut his chestnut oak into logs and found him inside. It's estimated he'd already been mummified about 20 years when they discovered him and donated him to Forest World. The museum also includes exhibits that tell the story of forestry in Georgia. Woof! – Karen Kirkpatrick