Georgia Fare: Heaven in Helen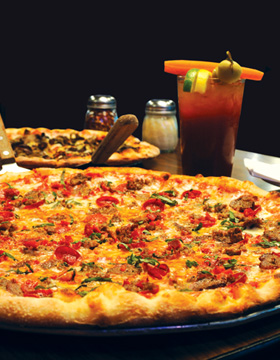 Like just about everything else these days, the little North Georgia town of Helen is a divisive topic. To many, it is a cool respite set against the teal backdrop of the Blue Ridge, dressed up like the movie set of an Alpine village, with family-friendly river tubing, fudge shops, oompah bands and German restaurants.
To others, it's a tourist trap, an ersatz distraction from the mountains' natural beauty, and in busy summer and peak Oktoberfest season, just the kind of traffic nightmare they'd hoped to escape in the busy cities they've fled.
When I'm visiting this area, I often wonder: Where do locals eat? One answer: Nacoochee Village Tavern and Pizzeria. A short distance from downtown Helen, the tavern serves as an everyday casual spot, with a large, covered patio.
Pizza is the specialty on this big menu, along with calzones, spaghetti, hoagies, chicken parmigiana and other Italian favorites more often found in the Northeast than in Northeast Georgia. You can even get a well-made martini here, dry as toast with a curled lemon twist, with choices of three gins and vodkas.
But the outsized personalities of chef/owners Paul and Rachel Rampulla and General Manager/Chef Michael Shepherd are apparent everywhere – from the quirky dishes (like The Mess, a little bowl of excellent meatballs in fire-roasted tomato sauce, covered with melted mozzarella and ricotta and served as a dip, with crusty bread) to the easygoing, all-in attitude of the waitstaff.
Despite the whimsy, the tavern's kitchen staff adhere to some admirable culinary practices. The Rampullas use local products like cornmeal from nearby Nora Mill, produce from Fritchey's Garden and area wines from Habersham and The Cottage Vineyard, as well as craft beers from Georgia brewers like Jekyll and Sweetwater.
Locals are grateful also for the list of gluten-free options, but the real key to unlocking the Tavern's appeal came with another regular's recommendation: "Order one of the specials." Shepherd makes three each week, usually a pizza, a pasta and a sandwich.
On our first visit, Shepherd must have been in a Big Shouldered mood, as both the pizza and sandwich were Chicago themed: Chicago-style hot dogs and deep-dish pizza. (He later told me, "I like to do the specials as a full idea. Like last week, I made char siu [Chinese barbecue] pork pizza, banh mi [Vietnamese sandwiches] and a noodle bowl.")
As we sat munching the popcorn that arrives as soon as you sit down, I wondered how true these dogs would be to the legendary Second City tube steak. Sure enough, the big all-beef grilled dogs arrived with full iconography: mustard (God help the fool who orders ketchup on a Chicago dog), house-made pickle-banana pepper relish, diced tomato and onion, a long slice of dill pickle and the all-important sport peppers, on a split poppy-seed bun. The "full" $10 order turned out to be two dogs: a big, fat plate of through-the-garden wonderment. The Zapps chips were the only Southern hint.
A Greek salad sported chunks of feta and freshly torn romaine, shiny with a clean, light Italian dressing. The pizza – half veg, half meat-lover, with red sauce – was thin-crusted and bubbly, and while the toppings were fine, the thin, deliciously chewy crust made me long for New York.
On our second visit, we scored a few more hits, like that Mess of a meatball appetizer, spicy with sausage and rich with cheese, and on the waitress' recommendation, the Bloody Mary. Made with a house-made vegetable-infused vodka, the tumbler was topped with house-pickled carrot and dilly bean as well as olives, lemon and lime. It's the kind of drink that could make a brunch hater change her mind.
This time around, however, the specials we chose – lamb falafel and turkey tetrazzini – missed the mark. Except for an odd sweetness, we couldn't detect the "apricot and date lamb sausage" in an unremarkable falafel sandwich (herbed, mashed and fried chickpeas with yogurt and herbs in pita). The linguini noodles in the tetrazzini were overcooked, and the sauce was as rich as Bill Gates, the cream and Parmesan overwhelming the subtle roast chicken, English peas and mushroom.
We also had to try the sweet rolls, a Rampulla specialty for eight years. These criminally gooey cinnamon rolls, served six at a time, could fuel an office riot at coffee break if you chose to share them. Instead, have one with a cup of local coffee from JumpinGoat Coffee Roasters.
Even with the slight missteps, I could see how the restaurant had acquired its devoted corps of regulars. If you're the kind of person who likes to eat and run, service may seem slow. Shepherd warns that in summer months, lines can stretch out the door. (Reservations are not accepted, even for large groups.) "Just have some popcorn and be patient," he says. "We'll get to you."
His food isn't the kind of thing you expect in Helen, I tell him. "That's what we hope," he says, laughing. "We're just trying to give people something a little different."
---
Nacoochee Village Tavern and Pizzeria
7275 Main St., Helen
706.878.0199 or villagetavernpizza.com
Hours: Lunch and dinner daily
Parking: In attached lot
Dress Code: Anything from Crocs and bathing suits to resortwear
---
More Mountain Hideaways
Red Barn Cafe
At Tiger Mountain Vineyards, Chef David Sweeney serves seasonal farm-to-fork specialties (think Belgian Endive leaf with cashew cream and mushrooms) Friday and Saturday evenings, along with Saturday and Sunday brunch, through November.
To reserve: 404.992.2179.
tigerwine.com/redbarncafe.html
---
Canyon Grill
The slash-and-burn catfish (whole, fried, with black bean sauce) is so popular at this remote Rising Fawn restaurant, they've served over 25,000 of them.
canyongrill.com
---
Back Porch Oyster Bar
Oysters? In the mountains? Dahlonega's Back Porch offers coldwater bivalves from the Northeastern U.S. and Canada.
backporchoysterbar.net