Catalysts for Change
Throughout the state, urban farms are bringing fresh food to their communities and encouraging reinvestment in the process.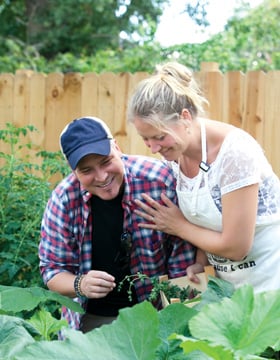 They're cropping up in unexpected places across the state: along Georgia Power easements, on former sites of bus depots and in raised beds scattered throughout neighborhood yards. Urban farms – whether for commercial or mostly personal use – are bringing homegrown produce to areas starved for fresh food.
But the men and women behind Georgia's urban farms grow far more than food, says Bobbi de Winter, executive director of Food Well Alliance, an Atlanta-based nonprofit that connects and facilitates collaboration between the city's many food producers and organizations.
"Urban farmers are an essential point of community building. Many of the urban farms are located in underserved neighborhoods, and urban farms themselves empower underserved communities with the tools to grow their own food," she says. "Back in the old days, you would have these traditional community centers. I think our urban farmers are becoming the new beacons for community development."
---
Trending Up
"Things are moving very fast, and we're starting to see this incredible surge of interest," says Tasha Alison, co-founder of Augusta's Icebox Ministries.
Alison and her husband, Steve Fountain, founded Icebox Ministries in 2009 as a way to help people make healthier food choices and reduce waste. In 2015, they transformed a double lot in Augusta's Harrisburg neighborhood – complete with a greenhouse built in 1921 – into their official campus, housing a teaching kitchen, teaching garden and classroom. Here, they hold community events and educational workshops on sustainable agriculture, cost-effective cooking and food preservation to help their community do more with less.
"I'm just amazed at how far we've come in the last couple of years," she says of Augusta's local food movement. "It's really inspiring and exciting."
And it isn't unique to Augusta. The Food Well Alliance, formed in 2015 through a partnership with the Atlanta Community Food Bank, has been busy gathering data on Atlanta's producers, processors and distributors to define a baseline understanding of the city's local food network. Of the farmers the alliance has started to track, de Winter notes that 38 percent say they have been farming for fewer than four years.
"What we've seen in just two short years of being here," she says, is that "[urban farmers] have increased urban land acres in production. They've extended the growing season through winter so that people in Atlanta can buy local food four seasons out of the year. They've partnered with organizations to make sure that they can accept SNAP [Supplemental Nutrition Assistance Program] benefits to make local food more affordable, and they've increased the number of restaurant buyers and farmers markets."
And for good reason. More than 2 million Georgians live in food deserts, defined by the U.S. Department of Agriculture (USDA) as a low-income area more than 1 mile from a supermarket or grocery store (or 10 miles in rural areas). Feeding America, the nation's largest hunger relief network, estimates that 17.7 percent of Georgians – about 1.7 million – are food insecure, not always having access to enough nutritious foods or knowing where the next meal will come from.
Moreover, the Food Well Alliance found that close to 75 percent of gardeners surveyed said they were gardening to help with food security and offset the financial burden of their food costs.
"This is not just a hobby or a joy, but it is a way to help supplement people's budgets and relieve some of their financial burden," de Winter says.
---
Increasing Access
Of course, increasing the amount of fresh food grown in food deserts or areas with high food insecurity won't solve these complicated problems alone. Increasing access to local food – helping that fresh food get to the people who need it most – is another area of focus for Georgia's local food networks.
In Savannah, the Forsyth Farmers Market is going mobile to help increase access. Its Farm Truck 912 – a refurbished Wonder Bread truck powered partly by solar panels – travels to local community centers and neighborhoods, bringing fresh food directly into the community and expanding the market's reach.
"It's a goal of ours to make it more convenient for people and also try to reach customers who have transportation barriers to getting to our market," says Teri Schell, founding member and market manager of the Forsyth Farmers Market. "Sometimes people who don't have access to healthy food also don't always have access to good transportation."
The Forsyth Farmers Market – as well as 49 other farmers markets, co-ops and community-supported agriculture (CSA) programs statewide, from Rock Spring to Valdosta – has teamed with Wholesome Wave Georgia to make fresh food more affordable. Through its Georgia Fresh for Less program, Wholesome Wave Georgia matches SNAP electronic benefits transfer (EBT) dollars, allowing $10 to buy $20 of fresh, local food – and helping people maximize their benefits while making healthy choices.
In other communities, urban farmers are partnering with convenience stores to boost fresh produce options. Carver Neighborhood Market in Atlanta carries produce from Atlanta Harvest, an urban farm located less than a mile from the store. And Aluma Farm, the Atlanta BeltLine's first urban farm, sells collard greens and lettuce at a Westview grocery store.
Many more urban farms focus on teaching people how to grow their own vegetables, bringing fresh produce steps from their front doors. The 100s in Harrisburg program in Augusta, for instance, has seen great public interest. In the past two years, Augusta Locally Grown and partner organizations have installed more than 200 raised beds in city yards and provided residents with healthy dirt, seedlings and education on how to keep their gardens sprouting year after year.
"People are so excited about growing their own food. It's incredible to me how excited they get about it," says Alison. "I love seeing it."
---
Partnering for Greater Success
Teaming with other community members – whether farmers, nonprofit organizations, government agencies, churches, universities or local leadership – is integral to the success of any city's local food system.
It's also the foundation of a major city of Atlanta sustainability and resiliency program. Named one of the Rockefeller Foundation's 100 Resilient Cities last year, Atlanta is undertaking significant measures to strengthen its sustainability and resiliency – in infrastructure, energy production and delivery, and local food production.
Chief Resilience Officer Stephanie Stuckey and Urban Agriculture Director Mario Cambardella – in new roles created specifically for this initiative – will lead efforts to achieve one of the program's major goals: ensure that 75 percent of Atlanta residents have local food within a half mile of their homes by 2020.
"The system approach is a critical part of how we're pulling together our strategic outreach on the urban agriculture program," says Stuckey. "We're really making sure that we have strong partnerships with the public, private and nonprofit sectors."
"What we found is we have to collaborate to compete with resources in today's market," adds Cambardella, "whether that's corporate resources or federal, state, county or city resources. Moreover, we have to collaborate to complete our mission."
One innovative approach the city is taking to increase food access is partnering with Georgia Power to farm on easement land throughout the city – land that crisscrosses the city like highways, says Cambardella. "They really can be highways of food, food produced in our city as well as food produced for all the birds and bees that really make Atlanta 'The City in the Forest.'"
Cambardella meets regularly with urban farmers, commercial producers, nonprofit organizations and others to foster a dialogue, strengthen the community and better align both missions and resources.
"All of these critical components of a local food system are in place," he says, "and we need to have more collaboration, have a better understanding of what each other does and support each other."
---
Dollars and Cents
What if more of Georgia's locally grown food was actually bought locally? What would it mean to the state's economy if people consistently bought local, fresh food? A University of Georgia College of Agricultural and Environmental Sciences study completed in 2010 estimated that every 5 percent increase in the state's fruit, vegetable and nut farm direct-to-consumer sales would add approximately 345 jobs, $13.6 million in income and $43.7 million in output to Georgia's economy.
And if every household in the state spent $10 per week on local food? Nearly $2 billion could go back into the state's economy.
"I don't think [people] realize how big a part they play as a customer," says Schell. "I think people think, 'Well, somebody else is doing that,' but I think more people really need to embrace farmer-grown food to keep them going."
Urban farmers distribute their produce in a number of ways. Farmers markets are a popular choice; some farms set up farm stands at their facilities, if they're large enough to garner good foot traffic. Many sell through community-supported agriculture (CSA) subscription services where members buy a "share" of crops that are then distributed throughout the growing season.
As local food continues to grow in popularity, more and more restaurants seek local sources for fruits, vegetables, herbs and more – making urban farms an attractive option. Aluma Farm, for instance, sells to about 20 restaurants per week, according to co-founder Andy Friedberg.
But the economic impacts of urban farming extend beyond produce sales. Schell points to a recent farmers union conference bid landed by Savannah's tourism council over its competitor city, Nashville. The conference, to be held in 2020, will have an estimated $500,000 economic impact. And the bid was successful, in part, because of the community's local food system – a strong draw to the conference's audience.
"There are ways that people may not even think about that are economic impacts. That could have gone to Tennessee," Schell says. "Instead, it's coming to Georgia."
Increased investments in urban farming from state and national organizations can lead to more local programs, which can, in turn, lead to more employment opportunities. Nonprofits outside of the food space also use urban farming to teach disadvantaged youth or adults with mental illness to grow, harvest, market and sell their own produce – all valuable skills that can be applied to any industry.
---
Building Community
"What differentiates the importance of building up our local and regional food systems versus going wherever we go to buy food, whether it comes from Chile or Mexico or California," says de Winter, "is that local food systems do build healthier communities on all those different impact areas, whether it's local economic development, health and nutrition, great-er environmental stewardship right here at home or just greater community vitality."
That's the goal in Macon, says Danny Glover, executive director at ONE South Community Development Corp. (CDC) and vice chair of Macon Roots, organizations dedicated to strengthening and supporting local food and revitalization efforts in Macon and middle Georgia. He's working with community leaders and neighbors in Macon's Gateway Heights neighborhood to create Georgia's first urban agrihood – a community revitalization concept centered around urban farming.
"Our plan is to convert a food desert into a food jungle," Glover says of the areas in Macon's 31201, 31204 and 31206 area codes.
"Within those [zip] codes, you have all of the public housing complexes. There are also no healthy places to eat or purchase fresh produce. There are no grocery stores within a reasonable distance, no healthy food restaurants, eateries or shops," he says. "The poorer you are in Macon, the more difficult it becomes to access food."
The Gateway Urban Farming Center aims to convert blighted properties into usable farm space for community gardens, a commercial urban farm and all-inclusive farm center. Phase 1, which at press time was slated to run through June, involves cleaning up abandoned properties and opening a 50-bed community garden. Further phases, which are dependent on acquiring funding, will continue to build out the space, returning it to its farming roots and instilling a sense of neighborhood pride in the process.
Though the project is in its early stages, Glover has already seen some transformations.
"We rehabbed two houses on the street, and since we've started that, we've had neighbors start doing basic landscaping to their lawns. We've had neighbors start painting their homes," he says. "As we take interest in the neighborhood, neighbors take interest in the neighborhood. I think this garden is going to be the kickoff to something really big for this area."
It's certainly possible. Anecdotally, Cambardella points to housing values near one of Atlanta's most established urban farms, the Truly Living Well Center for Natural Urban Agriculture, which opened a new facility in the West End of Atlanta last summer. On opening day, a house across the street from the center was listed for $15,000. Now, just over a year later, it's listed for $80,000. And in College Park, Metro Atlanta Urban Farm leaders tell de Winter that 911 call volumes have decreased year after year since the farm opened.
In Macon – and Augusta, Savannah, Atlanta and communities around the state – urban farming has been a catalyst for change, economic or otherwise. And though there are still plenty of hurdles to overcome the issues of food access and affordability, community leaders feel optimistic about the growing trends.
"We are moving the needle, I believe, through some of these great entrepreneurs and innovative efforts from a lot of these critical components of the local food system," says Cambardella. "I believe we're in a good spot to make monumental change."