Carrollton| Carroll County: All for One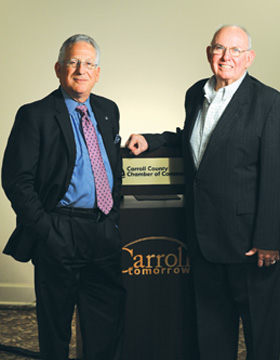 In West Georgia's Carroll County, locals will tell you the key to success lies in some old-fashioned values. These include planning ahead and working together. It can sound like a cliché, but you can't argue with the results.
Working together has helped build a reputation for the county as an easy place in which to do business. That helps explain how Colorado Premium landed here without a lot of the usual recruitment efforts.
"They came here on their own," says Carrollton City Manager Tim Grizzard. "They found us, which says a lot for the area. It wasn't like we wooed them. They bought an existing facility that had been closed for a while, and they're revamping it and bringing 190 jobs."
Along with those jobs, the company, a manufacturer of premium meat products, invested $15 million in an existing 130,000-square-foot building that will become a new processing facility serving the Southeast.
---
Attractive Advantages
Leaders have fostered economic success with a five-year plan, first implemented during the recession and updated last year, that has brought new businesses and jobs to this West Georgia county. Advantage Carroll, as the plan is called, is credited with an impact of more than $1 billion in capital investments and nearly 7,000 new jobs during its first five-year phase, according to Daniel Jackson, president and CEO of Carroll Tomorrow, a public-private economic development organization, and Carroll County Chamber of Commerce.
"The thing that's really the most exciting is local businesses are doing well," says Jackson. "Organic growth comes from existing business and industry, retail, service industry and hospitality, and they're doing well. We're seeing that they're growing and expanding and investing in the community."
The success of Advantage Carroll is driven by a willingness of diverse agencies and businesses to cooperate.
"It started out with asking what can we do to help economic development and get companies to come to Carroll County," says Jim Gill, a member of Carroll Tomorrow and chair of the Carrollton Payroll Development Authority.
The focus has consistently been on economic development and the industry sectors that make their home in the county. Among them are food manufacturers anchored by large employers such as Sugar Foods, Flowers Bakery and Trident Sea Foods. Poultry is also a big jobs generator led by companies such as Pilgrim's.
Automotive suppliers are an additional part of the industrial community, due to the county's close proximity to auto assembly plants Kia in West Point and Honda, about 70 miles west in Lincoln, Ala.
---
Incubating Businesses
Creating fertile soil for business and industry has been a strong focus. The chamber and Carroll Tomorrow have launched several programs in recent years to develop leadership skills within the community, including a Junior Chamber of Commerce program for high school students and a Leadership Academy for adults.
While companies with hefty payrolls get the lion's share of attention, local leaders know that small businesses ultimately employ the most workers. That's one reason the county opened The Burson Center. This regional business incubator is casting a wide net to support tech, manufacturing and service businesses.
Creating a business incubator was a central goal for Carroll Tomorrow. As Georgia's only incubator not connected to a university or technical college, it helps all kinds of companies grow.
"We are a mixed-use incubator, which makes us quite unique here in Georgia because many of them are strictly focused," says Lauren Holverson, the center's director. "We will assist any entrepreneur as long as it isn't a nonprofit or retail."
The center has produced a growing number of successful companies and now has 24 enrolled. They range from medical device companies (spinoffs from Tanner Health, the county's largest medical center) to construction companies to counseling firms.
"Any entrepreneur is typically coming to us because they need some business knowledge. They need some guidance," says Holverson.
"We're able to fill in the gaps in their knowledge and then also connect them with investors and other types of funding if they need that," she says.
Money is often the biggest stumbling block for the would-be business startup. While the county has some angel investors, most small companies must first prove themselves by bootstrapping to early success.
"They may do a GoFundMe campaign or some type of crowd sourcing," says Holverson. "They are working a part-time job somewhere or they have savings to invest in the business."
Startups can stay in the center for up to three years with "graduation" coming when they achieve a milestone that includes more than $1 million in sales or hiring more than 10 employees.
The assistance they receive from The Burson Center has made a critical difference between success and failure. In fact, 84 of the businesses that have gone through the program since 2006 have reached the benchmarks set for them.
Staff members also work with more than 250 nonresident affiliate clients located throughout the center's seven-county service area that pay a monthly fee to participate in workshops and assistance programs.
---
Downtown Charm
What has made Carroll County so attractive to industry? Along with a commitment to workforce development, a rich quality of life offers something for nearly everyone.
"Our quality of life is very strong here, and I think that's because of the leadership," says County Commission Chair Marty Smith.
When you talk about quality of life in Carroll County, a big part of that idea is embodied in the active and vibrant downtowns. Carrollton's Adamson Square has long been popular with visitors and locals alike for its rich offering of restaurants, shops and other attractions.
The square attracts 4,000 to 5,000 people daily, with that number swelling to more than 10,000 for special events such as concerts and festivals, says Carrollton's former Main Street Director Scott Ballentine.
"Our efforts are to bring people downtown, and then it's the merchants' turn after that to bring them into the stores and have products that people want to buy," says Ballentine. "It's all driving the economy."
It's proven a successful formula so far. Around the square you can't find an empty storefront. The competition for space means businesses that want to locate here sometimes find slim pickings.
Along with an extensive selection of restaurants, visitors are treated to some unique businesses, such as a music store called Vinyl Frontier that specializes in old-school records.
Independent bookstores are rare these days, but the square has not one, but two of them. Opened in 1891, Horton's Books has the distinction of being the state's oldest bookshop and the city's longest-surviving business.
Horton's sells more than just books and gifts. Patrons come for the charm. Several cats wander in and out. Clerks will also share stories of a ghost who haunts the premises.
Just around the corner on Alabama Street and down a flight of steps is the below-street-level Underground Books. This store specializes in hard-to-find and antique books. The shop also does a thriving business in converting old books into writing journals.
"Those are the kinds of destinations that we have for people who visit Carrollton," says Ballentine.
Other cities are also working to capitalize on their hometown assets. In Bowdon in western Carroll County, the byword is revitalization. A few decades ago, this town of about 2,000 was booming with a large employment base powered by textile and rubber plants. The rubber plant burned and was never rebuilt, while all but one of the textile mills fled for cheap offshore labor.
"We're very limited on our resources," says Bowdon Mayor Jim Chaffin. "As a result of what Bowdon used to be, we have a number of vacant buildings in the historic downtown. We are continuously marketing those and trying to attract new business."
With an active Main Street program, the city is using grants to persuade businesses to refurbish their exteriors to make them more attractive to visitors. As a result, more people are visiting and spending money here, and an increasing number of businesses are occupying once-empty buildings.
The city is also in the process of moving its administration and police department out of the old city hall into the former elementary school, which was recently donated by the county. The new facility will give city services more space including abundant parking.
Over in northeastern Carroll County, Villa Rica has been on a growth spurt for the past few years. In fact, it's become one of the fastest-growing towns in Georgia.
For drivers traveling east from Alabama, it's the first major stop on Interstate 20. To ensure they stay awhile, the city has embarked on new projects to enhance its reputation as a destination.
"Our No. 1 attraction especially for downtown is our restaurants," says Christopher Pike, director of Downtown Development and Tourism. When the city developed a master plan for development, surveys revealed that local residents overwhelmingly wanted more dining and entertain- ment opportunities.
The MILL Amphitheater downtown is the site for a number of events like the West Georgia Jazz Festival, Gold Rush Festival, movies and other concerts.
The city is getting a new welcome center with the conversion of the former Butterball's Auto and Repairs building. The facility will represent not just the city, but will also provide travel and tourism information for the county and region.
"We're connected with the other visitor information centers throughout the state," says Pike. "That gives us an opportunity to put Villa Rica on the map from a tourism standpoint, and that will also bring more people."
The city is also planning to honor one of its most famous citizens with a museum dedicated to the life of Thomas A. Dorsey. Known as the father of black gospel music, the Dorsey museum will pay homage to Villa Rica's highly influential native son.
Tourist attractions like those offered in Villa Rica have become increasingly important for the county in recent years, with more than $151 million being spent here in 2015 – the most recent year for which figures are available. The industry supports 1,310 jobs, while bringing in nearly $11 million in tax revenues.
In Carrollton, the new Courtyard by Marriott conference center has created opportunities for larger groups and association meetings.
"Opening the conference center downtown has enabled us to utilize its proximity to the Carrolton Cultural Arts Center and to the downtown restaurants and shops and other amenities," says Jonathan Dorsey, executive director of the Carrollton Area Convention and Visitors Bureau.
"That has allowed us to bid for and host group meetings that prior to their openings we couldn't," he says.
The city also added a new Holiday Inn Express to boost the number of available rooms for visitors.
From one end of Carroll County to the other, you can see what can be achieved when locals concentrate on what's good for the entire community. The results are economic success and excellent quality of life.
---
LOCAL FLAVOR
Golden Heritage
The frantic search for gold brings up images of California and the Yukon, but the first gold rush in the nation was in Carroll County near the small town of Villa Rica. That history, which helped make the better-known gold rushes possible, is on display at the Pine Mountain Gold Museum.
"We preserve the heritage of the first gold rush in Georgia," says Wesley Berninger, manager of the Pine Mountain Gold Museum at Stockmar Park. Villa Rica is sitting right along the Dahlonega Gold Belt – the place where they discovered gold in 1826 – and the museum is a reflection of the history going back to that time."
The Southern gold rush lasted into the 1840s.
About 80 percent of the area's gold is still there, but before you get your pick and shovel know it's mostly too costly to mine. All of the readily accessible gold is gone. What remains is fine gold powder. In fact, just getting an ounce of gold would require moving tons of earth, and the process for recovering the shiny stuff, which uses cyanide, is environmentally hazardous.
"That's what stopped the gold mining process in this state," explains Berninger. "All the easy-to-recover stuff has been recovered, and all we have left is this flour gold."
Today, the most valuable assets are historical.
The gold museum is far more than artifacts in glass cases – although there are plenty of those as well. This is a place where you can see mining machinery in operation, and visitors can even get their hands dirty while panning for gold. You can also see everything needed to run a mining operation, including a live animal exhibit of species that would have populated farms in the region during the 1800s.
A narrow-gauge train takes visitors around the sprawling 27-acre park, giving views of the ruins of the old mines. At stops along the way, passengers hear about the site and the part it played in American history. The park also features more than three miles of self-guided walking trails with interpretive signage.
"What makes it really unique is its part in the story of gold mining in Georgia," Berninger says. "We've got lots of artifacts that relate to the site [in the museum]. The bigger ones are out on the site. We have an original functional stamp mill that goes back to the 1850s. It's one of the few left in the United States."
Much of the museum's collection, including the trammel, the device that separated gold from soil and other minerals, was originally used at the site. The museum is planning to construct a display that will allow visitors to see how it actually worked when mining operations were in full swing.
The museum collection also includes an extensive display on the history of Coca-Cola (founder Asa Candler was born in Villa Rica), and you can find exhibits on the diverse business operations of the original Stockmar family, which owned the land and developed several patents for machinery and shipbuilding.
"The gold miners who were here before the Stockmar time were inventing techniques that would be used in the California gold rush," says Berninger. "You can draw a line between this area of Georgia and all these huge parts of history happening throughout the country. It extends all the way from the gold rush to World War II." – Randy Southerland