2017 Best Places to Work
Companies strive for happier, healthier, more engaged employees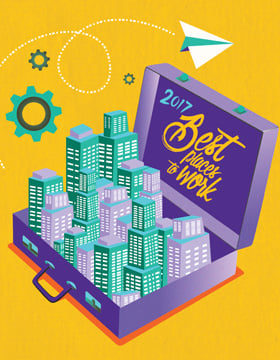 Ping-pong tables, napping rooms, free massages, bring-your-dog-to-work days. This is the stuff of employee dreams. And for employees of some of the winners of Georgia Trend's 2017 Best Places to Work survey, it's what they wake up to every day.
But these fringe benefits are mere froth compared to the many other substantive components of the workforce welcome mat. Georgia workers are wise to what really makes a company worth a long-term commitment. As soul singer Aretha Franklin crooned, what they really want is respect.
The owners, founders and leaders of Georgia's Best Places to Work understand this, and they dish out a generous portion of respect in different ways. Whether delivered via a handful of tempting intangibles or a panoply of physical perks, the end result is the same: Employees feel engaged with their jobs and are willing to stick around awhile.
Based on our annual survey, managed by independent research firm Best Companies Group, here are the particulars of what makes a great workplace.
(Click here for the full list of the 2017 Best Places to Work in Georgia.)
---
Flexibility Preferred
Work-life balance is a big issue and at least as important as compensation. Georgia workers who are busy with educational, family and leisure activities appreciate flexibility in work schedules.
At the Peachtree Corners office of Duke Realty Corp., an Indianapolis firm specializing in commercial real estate that is ranked as Georgia's top large company in the survey, many of the 55 local employees work from home using company-provided laptops.
"We're not strict if you have a doctor's appointment," says Chris Brown, senior vice president, southeast region. "We're not tracking you on an hourly basis. If you're getting your work done, it doesn't count against your vacation."
Employees also enjoy an above-market base salary and bonus program and a generous time-off policy, including 10 holidays and 14 days of paid time off (PTO).
At Atlanta-based financial planning firm TrueWealth LLC, ranked as Georgia's second-best small-to-medium company to work for, employees are not tied to a strict time clock.
"As long as you get the work done and you are accessible, we are fairly flexible," says Betsy Pass, human capital manager and marketing specialist. "We do have some situations where individuals have commitments, and we let them work from home a few times a week. We manage processes, not employees, and we hire excellent people. If you do that, you don't have to micromanage."
"Happy, healthy employees are integral in delivering our service," adds President Michael Maiorano. "That translates to the client experience, and everything continues to grow – revenue, sales, profits. All we really have is people, and their knowledge and relationships with our clients."
The Medicus Firm Inc., a Duluth physician recruitment staffing company that took the top spot in the small-to-medium category, has a "three-hour rule," allowing employees to take that much time off without penalty for personal appointments. "We have a flexible schedule, and everyone is judged and valued as a person," says Jamie Thomas, executive vice president. "Family is first here, and the key to that is empowering our employees with flexibility and trust."
The Cartersville location of Edward Jones, a Louisville, Ky.-based financial services firm that ranked as the second-best large company, takes trust a step further because of its business model. Its financial advisors have the opportunity to share in the ownership of the company once they open their own branch office.
"We're the only company in our industry that has this individual financial advisor branch office network," says Financial Advisor Bill Chandler. "Once the branch office has sustainable profit, there is a great deal of autonomy in setting your own schedule. We want to lead people, not manage them." Any associate in good standing with three years of service can be offered partnership. Currently, about half of its associates are owners.
Autonomy is imperative for employees who conduct business off site or are on the road. To assist employees, many companies do as Bremen-based general contractor R.K. Redding Construction does, which is to supply employees with work tools such as a cell phone, tablet, computer, car allowance or company vehicle.
---
Special Perks Appreciated
Besides flexible hours, Georgia's top companies entice employees with an assortment of incentives so they can more happily attend to their work.
At MealViewer, an Augusta software company, after five years on the job, employees receive a three-week paid sabbatical designed to help them check off their bucket list.
At GetUWired, an internet marketing company in Dahlonega, you don't have to wait five years to be able to bring your dog or your kids to work if you need to.
At Total Quality Logistics (TQL), a Cincinnati-based logistics company with offices in Atlanta and Savannah, work-life balance gets a boost with special negotiated rates on concierge services from TaskRabbit, wine and spirits via MiniBar Delivery and mobile car maintenance from Your Mechanic. A favorite of TQL'ers is the "Birthday Snooze or Cruise Pass," enabling employees to either come in two hours late or leave two hours early on their birthdays.
Associates at Alliance Residential Co., a Dallas, Texas, real estate developer with an Atlanta satellite, are eligible for apartment rental discounts in their communities and have access to discounted corporate suites when traveling.
Duke Realty recently added long-term care and pet insurance options to its benefits package. The company also awards eight $5,000 scholarships to associates' children.
---
Recognition Relished
The winning workplaces offer a medley of performance bonuses, monetary rewards and other incentives for bringing in new business or new hires or achieving corporate goals.
GetUWired staff members are eligible for referral bonuses for bringing on new clients or selling additional services to existing clients. But raking in revenues or not, at the annual awards program, every employee receives a certificate honoring something funny they are best known for at the office. Examples include "Office Hide and Seek Champion" and "Most Likely to be Asked to Help Me Move This Weekend."
Extra effort translates into a goody bag of gifts cards at Mighty 8th Media, a marketing agency located in Buford.
All employees of The Medicus Firm are eligible to win cash prizes for making a positive impact on the company, including a "Going the Extra Mile" award, based on votes submitted by colleagues. The winner receives approximately $4,000 and five additional PTO days.
Top performers at BrandBank in Lawrenceville are recognized quarterly. BrandBank employees who refer new customers can play "Big Bold Bonus," an electronic game that reveals prizes when certain squares are selected.
Financial advisors at Edward Jones can earn all-expense-paid vacations to exotic destinations for serving their clients well. In 2015, 63 percent of all financial advisors earned at least one of two such trips. In addition, all Edward Jones' employees can increase their annual pay by up to 25 percent based on their performance.
Superior performance at MealViewer is rewarded with a plush "Wow-Cow" signed by the entire company. The highly coveted cows are considered collectibles and are proudly displayed around the office.
In Duluth-based computer consulting firm Rocket IT's profit-sharing program, employees may receive a bonus based on their performance results and the current profitability of the company. Engineers receive a $1,000 salary increase for each certification exam passed.
GetUWired also lets clients review the performance of project managers through social and professional channels. They decide who deserves a $500 cash award plus $500 to spend on rewards for their team.
---
Career Development Craved
Employees give high marks to companies with a collaborative rather than hierarchical approach to getting things done. They want the opportunity to make contributions and be valued for their ideas, with a clear path toward greater responsibility and leadership.
For instance, Edward Jones assigns a coach to new hires. During quarterly meetings, coaches provide direction, discuss achievements and goals, and ensure that new employees are exhibiting the company's core values. To promote continuous improvement in a positive way, a new company-wide software program enables employees to give and receive feedback and praise someone when they do a good job.
At Rocket IT, every full-time employee has a training budget they can use to attend conferences, sign up for classes and enhance career skills.
Keeping communication lines open resonates with employees at all levels as the first step toward achieving engagement. At Mighty 8th Media, employees point out that they value the openness and honesty about how the company is run.
TrueWealth employees also value open communication. "We are constantly listening to our employees, and our meeting structure allows the voice of our employees to resonate at all levels," says Maiorano. "We maintain an open forum at all times." The company offers a meaningful career path plan to enable client service associates to eventually become wealth advisors.
At Medicus, Thomas says, "Everyone has a direct supervisor, and everyone up to the founding principals of the company is approachable. There is not a position in our company where you are not engaged. Our environment lends itself to millennials, and we allow them to express their creativity. Their ideas are heard, and it's a good cultural fit for their lives."
---
Wellness Welcomed
Notwithstanding uncertainties regarding the future of healthcare coverage nationwide, employees appreciate benefits packages that provide an array of options to finance their healthcare needs, improve wellness and stay in shape.
If a company is lucky enough to be in a building that has an on-site gym, employees often have access. Otherwise, many companies provide discounted or free membership to nearby commercial workout facilities.
At TrueWealth, employees can take advantage of confidential biometric screenings and participate in a wellness program that includes a fitness competition gauging the number of steps taken in a given period, using a company-provided Fitbit to track their steps. The highest cash award is $150.
"We are concerned about the wellness of our employees from the perspective of their optimal functioning at work," says TrueWealth's Pass. "But work and life are one and the same, and putting importance on that balance makes a better team."
TrueWealth pays the full premiums for all of its employees. Mighty 8th Media subsidizes 100 percent of employees' health insurance regardless of age or health issues.
TQL expanded its wellness initiatives this year by installing a landscaped lawn area with volleyball nets and plenty of room to toss a ball, start a pick-up soccer game or enjoy some time outside. In TQL's DietBet challenge, employees compete for a split-the-pot prize divided among everyone who reaches a weight-loss goal.
GetUWired holds a health challenge wherein the employee who makes the most progress receives $100. The company is committed to year-round fitness via its on-site sports equipment for lunchtime games that include badminton, beanbag toss, Frisbee, baseball, basketball and croquet.
Macon-based Capital City Bank offers discounted, on-site Zumba and yoga classes taught by certified professionals. In 2016, 148 associates participated in the bank-wide Wellness Challenge in which 39 winning associates split a cash prize of $16,000. Hodges-Mace, an Atlanta-based employee benefits company, and Phobio, a software firm in Kennesaw, also award prizes for employees who achieve exercise and wellness goals, and BrandBank has its own fully equipped fitness center.
Alliance Residential promotes annual physical fitness events including the Tough Mudder Race, Warrior Dash, Wild Canyon Games and various cycling events. Last year, 600 associates earned Fitbits for completing a workout challenge.
NIIT Technologies Inc., an Atlanta software company, has an in-house ping-pong table and a cricket team (the sport, not the insect).
---
Fun Favored
Wellness activities easily segue into food-and-drink celebrations, sports and family events. That's because fitness challenges and fun runs can be – well – fun. For instance, in addition to an in-house Olympics-style competition, Duke Realty employees are invited to attend company-sponsored Braves game events and quarterly lunch-and-learns.
At Alliance Residential, associates act in and produce in-house videos that are shared across social media, serving as a stress-relieving outlet.
Medicus maintains its fun work environment through golf and bowling tournaments, costume contests, college colors day and more. At its monthly Employee Appreciation Days, workers can take a break to partake in a yoga class, jump on a trampoline and imbibe in healthy company-provided eating options such as smoothies, trail mix, frozen yogurt and taco bars.
At GetUWired, quarterly team-building events offer employees the chance to go whitewater rafting, find their way out of mystery escape rooms and join in survival training. The office regularly erupts with Nerf gun battles during the workday. At lunch – taking advantage of its rural location – the company provides ample opportunities for outdoor relaxation, games and play. But beware: if you leave on vacation, you'll probably be pranked – with leadership staff often masterminding the capers, the more elaborate the better.
A tamer form of entertainment is Fresh Fruit Wednesdays at Hodges-Mace, when employees can pig out on organic fresh fruit delivered to the office.
At Total Quality Logistics' Savannah office, regular lunchtime dart competitions hold court. Atlanta's Women in Logistics group has regular outings to promote camaraderie, such as a paint your own canvas night, manicures over lunch and going to concerts.
Birthdays are special at Rocket IT, where the CEO's wife uses her skills as a trained chef to bake a cake of the employee's choice for its monthly birthday celebrations.
Edward Jones keeps its staff smiling with giveaways and contests. Employees receive turkeys, ice cream and tickets to sports events.
---
Charitable Work Cherished
Giving back is important to many Georgians, and more employers are responding by giving employees paid days off for community service. Many companies sponsor charitable causes and encourage employees to volunteer as a group. United Way, Habitat for Humanity, Children's Healthcare of Atlanta and organizations that support veterans and cancer research are particularly popular.
At Medicus, a specially designated team makes recommendations on company-wide philanthropy projects.
In a weeklong tribute to veterans, Capital City Bank participates in activities that support veterans and active military, law enforcement, firefighters and other first responders.
Edward Jones builds volunteerism into its training structure. As part of the onboarding process, current financial advisors volunteer their time and expertise to provide guidance and support to incoming branch officers.
"It's counter-intuitive, because each of these employees could be viewed as a competitor," says Chandler. "But one of the reasons a spirit of volunteerism pervades our company is that employees have a chance to become a limited partner in the firm, so we all have a vested interest in the company's overall success."
In a new partnership with the Alzheimer's Association, Edward Jones committed nearly $5 million over two years to help create the Edward Jones Research Fund and became the first national presenting sponsor for the Walk to End Alzheimer's.
Alliance Residential's "Alliance Cares" program orchestrates a variety of campaigns such as toy and school supply drives and tree planting. Carroll EMC, a not-for-profit electric utility serving western Georgia, promotes a "Together We Serve" program.
Hodges-Mace has set up a dozen or so different service projects across the Metro Atlanta area. Employees sign up for whichever one they would enjoy.
GSOC supports Rivers Alive and Hands On Atlanta Days. On Oct. 1, 2016, more than 100 people participated with GSOC and its sister companies to clean up Clyde Shepherd Nature Preserve in DeKalb County.
Meanwhile, the staff of Phobio cleaned up trash and litter at nearby Kennesaw Mountain National Battlefield Park to improve the landscape.
Large and small, this year's Best Places to Work truly "walk the walk" when it comes to showing their employees how much they are valued. As a result, the employees are more engaged with their jobs, healthier and happier, which ultimately helps the bottom line.