Award-winning companies Go Global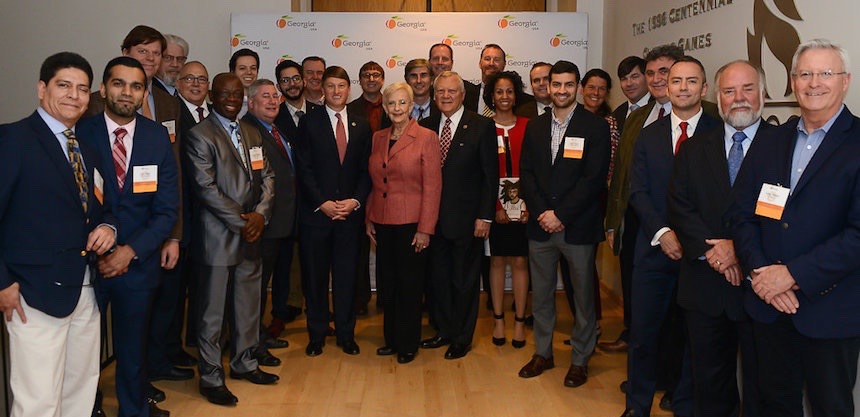 Twenty-four businesses from 15 counties recently received GLOBE (Georgia Launching Opportunities By Exporting) Awards at the 2017 Go Global reception. The Georgia Department of Economic Development-led awards program recognizes companies that entered a new international market in the previous year. This year's winners, most of which are small businesses, collectively expanded into 129 new markets in 2016.
Along with the awards presentation, the fourth annual Go Global reception offered opportunities for Georgia companies to network with representatives from international markets, including Brazil, Canada, China, Chile, Columbia, Europe, Israel, Japan, Korea, Mexico, the United Kingdom and Ireland.
Congratulations to the 2017 GLOBE Award winners:
AMK9, West Point
American Panel Corp., Alpharetta
Aventure Aviation, Peachtree City
Bell Plantation, Inc., Tifton
CentricsIT, Norcross
Crider Foods, Stillmore
Ecolink Inc., Tucker
GF Health Products, Inc., Atlanta
Global Atlanta, Atlanta
Heat Technologies Inc., Atlanta
Hydro Dynamics, Inc., Rome
Innovative Supplies Worldwide, Inc., Columbus
Interactive Communications International Inc., Atlanta
MuniRem Environmental LLC, Duluth
One World Inc., Tucker
OptiLedge LLC, Newnan
PolyCase Ammunition LLC, Savannah
Quantum Aviation Solutions, Athens
Richland Rum, Richland
SASCO Chemical Group, Inc., Albany
Savannah Bee Co., Savannah
The Seydel Companies, Pendergrass
Vayando, Atlanta
Zcorum, Alpharetta
To learn more about international trade in our state, check out "Open for Global Business" in the June issue of Georgia Trend.
Photo of the 2017 GLOBE Award winners, with Gov. and Mrs. Nathan Deal (center), courtesy of the Georgia Department of Economic Development.