The New Integration
Doctors are increasingly combining the practices of alternative and traditional medicine, discovering both benefits and challenges.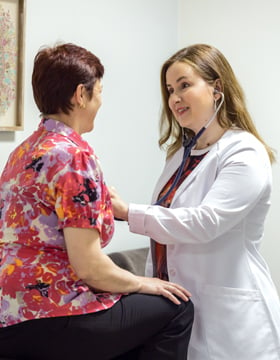 Fifteen years into her medical career, Dana Neacsu, M.D., had become frustrated with the way she and colleagues were treating patients.
"I started noticing how certain patients kept coming back," she says. "You give them medications and the medications work for a while, but they still have the same problem down the road or sometime it's even worse because they are having reactions to the medicines."
Concerned that conventional medicine often had to do more with treating symptoms than getting to the root of the illness or teaching patients how to care for themselves, she decided to try a new approach. She left her position at one of Atlanta's most prestigious hospitals for a fellowship with Dr. Andrew Weil at the University of Arizona. The Harvard-trained Dr. Weil is widely considered the father of integrative medicine – a field that combines complementary and alternative therapies with conventional medicine.
Dr. Neacsu's fellowship was followed by additional training with Daniel Kalish, D.C., and Mark Hyman, M.D., renowned practitioners of functional medicine – defined by Cleveland Clinic, where Dr. Hyman heads the Center for Functional Medicine, as a personalized, systems-oriented model that empowers patients and practitioners to achieve the highest expression of health by working in collaboration to address the underlying causes of disease.
Three years later Dr. Neacsu opened her own practice, Medical Creations Integrative Medicine in Sandy Springs, offering services such as nutritional therapy, metabolic testing and Reiki, a healing technique based on the principle that the therapist can channel energy into the patient by means of touch to activate the natural healing processes. When appropriate, she also refers patients for spinal manipulation, acupuncture, hypnotherapy or other therapies that mainstream medicine once considered to be quackery at worst and of questionable benefit at best.
Integrative medicine specialist Yoon Hang "John" Kim's interest in integrative medicine began even before his medical career did. Although he had long been interested in alternative therapies, when a mentor in medical school warned him against doing alternative or complementary therapies, he choose integrative medicine as way to incorporate his interest into a conventional medical practice. Like Dr. Neacsu, he also completed a residency with Dr. Weil in Arizona.
"My father, when I told him, said 'You have gone crazy,'" says Dr. Kim. "He said, 'If you are going to be doing something different that is viewed as quackery, you need to train twice as hard as your colleagues so they cannot say you are a lightweight.'"
His father's advice was good, he says. Dr. Kim trained not only in integrative medicine, but also in preventive medicine and traditional Chinese medicine, and he earned a master's degree in public health. With his interest and knowledge, he helped found Georgia Integrative Medicine, a healing community in Tyrone. He also established the Integrative Health Studies Program at the University of West Georgia, a certificate program for health professionals interested in practicing integrative care.
While Dr. Neacsu's and Dr. Kim's approaches are not yet mainstream, they are not unique. Increasingly doctors are choosing to accept and practice integrative medicine, believing it offers patients the best of what both conventional and so-called alternative medicine have to offer.
---
Gaining Credibility
Traditionally, medical schools and the physicians they produce have focused on the use of medications, surgeries and other procedures while shunning alternatives such as meditation, acupuncture, spinal manipulation or herbal supplements due to lack of rigorous scientific evidence.
That all began to change a few decades ago, due in large part to the work of Dr. Weil as well as increased recognition by the world's preeminent agency for medical research – the National Institutes of Health (NIH). In 1991, the NIH established the Office of Alternative Medicine. Although its name has changed twice since its founding – most recently to the National Center for Complementary and Integrative Health (NCCIH) in 2014 – its mission remains to define, through rigorous scientific investigation, the usefulness and safety of complementary and alternative medicine interventions and their roles in improving health and healthcare.
NCCIH funds research into complementary and alternative therapies, including support for clinical trials. It divides complementary and alternative therapies into five forms:
• Whole medical systems such as homeopathy, naturopathy, traditional Chinese medicine and Ayurveda, a holistic healing system based on mind, body and spirit balance
• Mind-body therapies such as meditation, prayer, music and art therapy
• Biologically based therapies such as dietary and herbal supplements
• Manipulative and body-based practices such as chiropractic or osteopathic spinal manipulation
• Energy therapies such as qigong, a Chinese system of exercises and breathing control related to tai chi; Reiki; therapeutic touch; and electromagnetic therapy
---
Conventional and Complementary
Doctors who are interested in incorporating well-studied alternative and complementary therapies into their practices have a couple of options, says Roberta Weintraut, M.D., associate professor at Mercer University School of Medicine and director of the integrative medicine program in the family medicine department at Navicent Health in Macon.
One option is to complete a residency in and become board certified in a primary medical specialty such as internal medicine, family medicine or pediatrics followed by a fellowship, as Drs. Neacsu and Kim did, in integrative medicine. This would allow the doctor to practice as an integrative medicine subspecialist just as other subspecialists might practice cardiology or oncology, for example.
The other is to complete a residency in family medicine or internal medicine that incorporates the use of alternative and complementary therapies into the curriculum, says Dr. Weintraut, who is board certified in family medicine and holistic medicine and who also, in 2009, completed the University of Arizona's Fellowship in Integrative Medicine with Dr. Weil.
The following year, due in large part to Dr. Weintraut's interest in integrative medicine, Navicent became the first institution in Georgia and one of only 13 in the nation to offer a family practice/integrative medicine residency incorporating the University of Arizona curriculum. The curriculum makes the study of integrative medicine available to more young doctors, who will bring the integrative approach to larger numbers of patients.
"Andrew Weil realized that this should not be a subspecialty – this should be the way all patients are approached," says Dr. Weintraut. "It is very patient centered. It is very holistic. It makes use of all of the evidence-based tools that we have – not just medicine and surgery, but mind/body therapeutics, manipulation therapeutics and mechanical therapeutics that have evidence."
Integrative medicine differs from so-called alternative medicine in that it incorporates only options for which there is scientific evidence to support their use, says Dr. Weintraut. "We treat it very scientifically and very rigorously, so from my point of view that gives patients the best of both worlds. They are getting all of these other modalities when and where they make sense for the patient."
In Navicent's three-year residency, doctors get a general introduction to integrative medicine in the first year, complete the Arizona program in the second year, and throughout the second and third year use what they have learned with patients in the clinic. While the program doesn't teach specific therapies like acupuncture – although some graduates have gone on to become trained in acupuncture, Dr. Weintraut says – it teaches them about the different techniques and the best candidates for them so they can prescribe specific ones to their patients as appropriate.
"The most important thing they learn is true patient-centered focus and being able to develop a broad approach to treatment that allows the patient to make choices," she says.
---
Keeping Up with the Times
While many doctors pursue integrative medicine as a way to help patients make wise choices, some say it is equally important for understanding the choices their patients are already making. By some estimates as many as 70 percent to 80 percent of people use alternative medical treatments – often without the knowledge of their primary care doctors.
Several years ago, Robert Pallay, M.D., program director of the family medicine residency at Memorial Health in Savannah, decided to offer a family practice/integrative medicine residency to help his doctors-in-training better understand the therapies many of their patients were using.
"If I was going to teach my residents what they needed to learn, they needed to be at least aware of integrative medicine," he says, "so that when a patient comes in and talks about the herbals they are on or the reflexologist they saw or whatever, they won't just put their eyebrows up."
With the help of an additional faculty member, Dr. Pallay designed a residency incorporating the online University of Arizona curriculum with visits or lectures by alternative medicine providers – homeopathic practitioners, chiropractors, dietary supplement sellers and the like – both locally and from around the U.S.
A benefit of the program is that it has opened residents up to discussing alternative therapies with their patients, which in turn has opened patients up to discussing these with their doctors.
"It is interesting how patients come in, and they don't even want to tell you that they are taking three different things over the counter that may have interactions," Dr. Pallay says. "You have to give them permission to be able to discuss these things."
With nutritional supplements in particular, he says, it is important to be aware of potential reactions with their traditional prescribed medications and, in some cases, make changes to treatment to avoid harmful interactions. It is also important to understand as much as possible what alternatives can and can't do and help ensure that patients don't abandon proven medical treatment for something that may not help or may even cause harm.
---
Challenges Ahead
Even as integrative medicine gains increased interest and acceptance, some experts say the future of integrative medicine – as with healthcare in general – is uncertain.
At a time when appointment times and reimbursement rates are shrinking, integrative care tends to be more time intensive than conventional medicine. For example, Dr. Neacsu's initial appointment with patients generally lasts two hours and is followed by an additional hour of nutritional counseling.
Visits billed as integrative medicine may not be covered by insurance, which could pose problems both for the patients who seek it and the doctors who provide it. A quick internet search revealed two integrative medical practices that closed in Georgia at the end of 2016, including the Tyrone practice of Dr. Kim, who has since accepted a position with the Miami Cancer Institute. The other was an integrative ob-gyn who stated on her website, ". . . after practicing for over 26 years, I realize that I cannot continue to practice Holistic/Integrative/Functional Medicine, which is my passion, within the current model of accepting insurance or discounting my fees."
Dr. Weintraut believes that primary care doctors and their patients may face fewer obstacles. "Because we see patients within the context of primary care, their primary care coverage is going to cover it," she says. "If you are taking care of the whole patient, you are really not billing for an integrative medicine consultation, you are having the person come in and you are caring for the diabetes, for example, but you are doing that in an integrative way."
Even so, therapies recommended or prescribed by the doctor may not be covered. "If a patient wants something like acupuncture, that is covered by some insurances and not others, or for some [indications] but not others," says Dr. Weintraut. "For example, some insurance [companies] will cover acupuncture for knee arthritis but not for nausea during pregnancy. Insurance coverage for special modalities can vary."
But Pallay believes any changes to the health system or health insurance will not affect integrative care too much, because many people who use alternatives are already used to paying for them out of pocket. "If they believe in chiropractic, they are going to go for manipulations," he says. "If they believe going to a reflexologist or acupuncturist makes them feel better, they are going to find a way to do it."
Perhaps a bigger challenge, says Dr. Neacsu, is bringing more providers – and particularly hospitals – on board. With the exception of hospital-based cancer centers – many of which offer modalities such as nutritional therapy, hypnotherapy, even acupuncture and unconventional pain relief techniques – most integrative medicine is practiced in the outpatient setting. Patients could benefit from an integrative approach regardless of the setting, she says.
"One of my missions is to show my doctor colleagues that it doesn't have to be black or white," says Dr. Neacsu. "Sometimes medications are needed, but sometimes you can get away with stress reduction, so why not use both ways of thinking? It doesn't have to be conventional versus alternative. We should be knowledgeable and able to discuss all of the options with our patients."