Sports Desk: An Exceptional Leader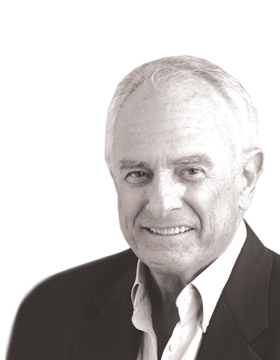 It takes a lot of commas to organize the highlights of Atlanta Braves Vice Chair and former President John Schuerholz's baseball life, which began as a kid playing stickball on East Avenue, a row house community in Baltimore. Naturally, he was an Orioles fan. But as an eventual second baseman, his first sports hero was Nellie Fox, the Chicago White Sox infielder who stood 5'-9".
"I admired him," Schuerholz said recently, "because he was small like me."
Schuerholz would not play the game as well as his hero did, but he became a keen observer of talent – so keen, in fact, that he put together two World Series championship clubs in two different cities. As general manager of the American League Royals, he helped Kansas City win it all in 1985. It would happen again in Atlanta a decade later (1995).
You don't have to bring it up in conversation – John will volunteer that during that run of the Braves' 14 straight divisional championships, "we should have won more World Series titles."
"That's the way baseball goes" is the phrase old-timers would use about the vicissitudes of the game. However, those in the baseball community will tell you that the streak is one of the most remarkable records ever. The Braves under Schuerholz's leadership became known as the "gold standard" in baseball. His big-league friends and other executives would say, in exclamation, "You can't do what you have done." Much of it was about leadership, which is what he saw missing when he came to Atlanta.
When John finished high school, his soccer coach asked him if he was going to college. Schuerholz, whose father was a journeyman minor league player, had been good enough to make an all-star team in high school. He told the coach, "No, I am going to play Major League Baseball." The wizened coach, given to the kind of maturity and insightfulness that has characterized Schuerholz's career, asked a poignant question. "If the scouts overlook your ability, what is your backup plan?"
John thought about his coach's question and enrolled at nearby Towson State, playing baseball while he prepared to be a teacher. His professional career began in a classroom.
During his teaching days, John wrote Orioles owner Jerry Hoffberger and asked for a job. Taken by John's enterprise and forthrightness, the Orioles gave him what he thought was his dream job – an entry-level position with the organization – in 1966. When Lou Gorman, director of player development, told him in 1969 that they would be moving to Kansas City, which had been given a major league franchise, John said, "We can't leave Baltimore. We are with the hometown team."
However, John eventually realized the move would be good for his career, and he seized the opportunity to go with Hoffberger and Gorman. It paid off, and in 1981, at age 31, he became the Royals' general manager, the youngest GM in baseball. He and his wife, Karen, loved Kansas City, and he found it hard leaving the man who most influenced his career – Royals' owner Ewing Kauffman – for the move to Atlanta in 1990. When John settled in Atlanta, he experienced a different style in then-Braves owner Ted Turner, but Ted's passion to win was so great, he stayed out of the way and let John run the ball club.
"John empowers people," says Melissa Hill, coordinator of baseball operations for the Cincinnati Reds and Schuerholz's former assistant. "The Braves staff admired, respected and loved John, who wanted you to be able to succeed in your job."
While he could make the tough decisions, he nonetheless valued relationships. The best example is the rapport he had with then-Manager Bobby Cox when the Braves were winning all those divisional titles. No two men have ever succeeded in the game as famously as did Schuerholz and Cox. No two men in baseball have had less ego. That, in any profession, is rare.
John actually succeeded Cox as general manager in 1990, with Cox going back to the field as manager. Cox has said that if the Braves had asked him who he preferred as general manager, he would have chosen Schuerholz.
When Schuerholz is inducted into the Baseball Hall of Fame this July, he will be the sixth executive to be elected to the Hall. That puts him in the exclusive company of Branch Rickey, George Weiss, Ed Barrow, Pat Gillick and Lee MacPhail.
In Cooperstown, N.Y., John Schuerholz will be given baseball's highest honor. Baseball executives everywhere will applaud loudly. And so will groundskeepers, secretaries, concessionaires and countless "little" people empowered by this exceptional and accomplished leader.