Georgia Fare: Compounded Interest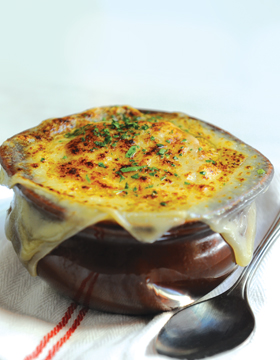 French onion soup, rich with oxtail broth and bubbly cave-aged gruyere. Righteous cast-iron grilled steaks, hand-cut by the ounce, or a full meaty slab, served with spiky au poivre sauce or a creamy tarragon-topped béarnaise.
A "Southern 75" cocktail, a French 75 laced with mint and peach bitters. Brown-edged fries flecked with parsley and served with house-made mayo. Impeccable, impossibly fresh salads dotted with translucent radish slivers and dry-aged cheese and, as invariably described in Peter Mayle's A Year in Provence, slick with dressing.
Welcome to The Federal, a classic bistro disguised in a pinstriped three-piece suit.
Good French bistros have had a hard time finding a home in Atlanta – Krog Street Market's The Luminary shut its doors in March, and the city's grandfathered-in favorite F&B has survived a number of moves and name changes. What makes The Federal even more unusual is both its all-American team of chefs (Shaun Doty and Lance Gummere) and its reverse-engineered business model: the hardworking fine-dining room, which serves breakfast, lunch and dinner, was once a Bantam & Biddy, one of Doty's ventures into fast-casual.
Like many of the city's best chefs, Doty has experimented with the inexpensive, quick-serve fried chicken model as well as a burger franchise (Yeah! Burger, which he sold in 2012). He still operates several Bantam & Biddys along with its sister concept Chick-a-Biddy in Atlantic Station.
Maybe The Federal will prove that there is still a full place setting for fine dining, albeit in a casual, comfortable atmosphere. The small room is dark and cozy, with leather banquettes and unobtrusively placed mirrors to bounce around light from the Sputnik-style chandeliers.
The staff is dressed in classic French waiter garb of collared shirt and long apron. They have a good feel for when – and when not – to enter your table-space for queries and orders, and they're confident enough to admit what they don't know – though they are also thoroughly well-versed on the menu.
I like to think that The Federal is named not only for the nearby marble-pillared offices of the august financial institution, but also for its respect for clearly defined traditions while being nimble enough to adapt to current environments. Along with those French steakhouse standards, you'll find seasonal dishes like a simple creamed cauliflower soup with little pools of olive oil – a deeply satisfying dish on the last cold, rainy day of spring.
In addition, Doty opens his vault of European-inspired dishes, some dating back to his term at Inman Park's Shaun's and beyond: A mound of rustic, coarse-chopped chicken liver, bound by housemade mayonnaise and shingled with big, buttery pieces of toast. His crisp-fried pork schnitzel, nearly covering a dinner plate, sprinkled with peanuts, onion salad and parsley. The micron-thin Sardinian flatbread, like a platter supporting a tangle of watercress and Bibb leaves, with snowdrifts of microplaned Parmesan. His sticky toffee pudding is a brown, gooey drowning pool of simple goodness.
I don't know the dynamic here – whether Gummere (formerly from The Shed at Glenwood) is refining Doty's older dishes and taking new ones down similar paths, or whether the two simply complement each other, but I've liked the old Shaun's dishes better as served at The Federal. They consistently seem both more refined and more potent somehow – less afraid of being innovative, but also simply money-in-the-bank great.
The seasonal, slender slice of grilled swordfish is a case in point, somehow arriving at the perfect temperature inside, with perfectly browned edges, in a pool of tarragon-mustard sauce surrounded by crunchy fennel slaw and green Ligurian olives. The accompanying chickpea crepes are handy tools for soaking up every drop.
The hamburger is another. Sure, French bistros often offer one – but not so crazily American as this Yeah!-inspired, French-accented double-stacked tower layered with cornichons and a small salad's worth of lettuce, its thick, grilled onions hanging out the edges. Take a big bite, and a glop of melted American cheese escapes from the other side. Heaven.
Downsides were few on two visits. Hearing can be a bit tricky at times, not because of the loudness of the room, but for the odd acoustics. (Our waitress couldn't understand that we weren't asking about "blended bourbon," but Blanton's bourbon.) Still, it's nothing com- pared to the raucous decibel level at the old Shaun's or many other endurance-dining rooms.
What's interesting here, too, is the clientele – lots of older business types along with the younger, creative crowd who live in the nearby pricey lofts. While there's no official dress code, I've seen more smart business suits, designer footwear and statement handbags here than at some of Buckhead's better-known and more expensive dining rooms.
It feels like a kind of voluntary investment in the old-school institution of dining out. I guess it doesn't always take Janet Yellen to raise your interest rate.
---
The Federal
1050 Crescent Ave. (between 11th and 12th streets), Atlanta
404.343.3857 or
thefederalatl.com
Hours: Breakfast and lunch, Mondays-Fridays Dinner, Tuesdays-Sundays Brunch, Saturdays-Sundays
Parking: Two hours validated in adjacent garage, plus metered street parking. Restaurant recommends weekend car service or taxi "due to high traffic volume."
Dress Code: Boardroom meeting with creative team
---
Flying the Coop: Other chicken-focused fare across the state
Feed Fried Chicken & Such
Chef Marc Taft, of longtime Marietta brunch favorite Chicken and the Egg, wings his way to this poultry-centric spot at the new Braves Stadium.
chickandtheegg.com
---
Takorea & Ssam Bar
Chef Tomas Lee of the Korean/Mexican mashups Hankook and Takorea (Atlanta, Dunwoody and Athens) is building on his fast-casual concept with sit-down dinners on Wednesdays at the Midtown Atlanta Takorea.
mytakorea.com
---
Harvest Habersham
Fine dining in the mountain town of Clarkesville means buttermilk-roasted breast from local Springer Mountain birds.
harvesthabersham.com