Defeating the Fiery Serpent
The Carter Center is poised to eradicate one of mankind's oldest and most devastating diseases.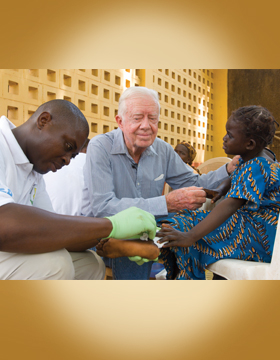 Jimmy Carter says the ravages of Guinea worm disease go back to ancient times, when the worm was known as the fiery serpent. "When Moses took the Israelites out of Egypt, they were afflicted with Guinea worm," he says. "The symbol for medical doctors is also a Guinea worm wrapped around a stick."
The former Georgia governor, Nobel Peace Prize winner and 39th president of the United States, whose post-White House years have been devoted to promoting global health and peace through the Atlanta-based Carter Center, has this day announced that the disease is close to eradication.
Only 25 human cases were reported in the world in 2016, in three African countries: Chad, Ethiopia and South Sudan. Significantly, no cases were reported in Mali – a change from the previous year and a real milestone.
"When The Carter Center joined the fight against Guinea worm disease [in 1986]," President Carter says at a morning press conference, "there were about 3.5 million cases in 21 countries in Africa and Asia." This marks a 99.99 percent reduction in Guinea worm cases.
The center knows the precise locations of the remaining cases – all in very remote areas – and even the names of the individuals afflicted.
"These last few cases of Guinea worm disease remain because they are the most difficult to reach, often appearing in conflict areas or among remote, disenfranchised populations," says President Carter. The center, he says, "is bringing to bear all of our experience and every resource available to track down, isolate and treat these last remaining cases. Every case and every person counts when eradication is the goal."
Guinea worm disease is typically contracted by people who drink water contaminated by Guinea worm larvae, which mature and mate inside the human body. The male worm dies; but after a year the female worm, which has grown to a meter or more in length, emerges slowly from the skin through a painful blister, producing the burning sensation responsible for its "fiery serpent" appellation.
There is no vaccine available for the condition, which has a 12-month incubation period, and no medical treatment other than the traditional method of using a stick placed near the blister to wrap the worm around as it emerges – thus, the image evoked by the medical symbol. It is a slow and painful process. Patients afflicted with the disease are incapacitated for weeks or months; many who seek relief by immersing themselves in river water are re-infected.
Eliminating the disease has been accomplished mainly by community-based interventions, utilizing thousands of volunteers to educate people and help change their behavior – especially by teaching them to filter the water they drink.
"When President Carter and The Carter Center got involved, in November 1986, it really took off," says Dr. Donald Hopkins, longtime director of health programs for the center and now its special adviser on Guinea worm eradication. He came from the Centers for Disease Control and Prevention (CDC), where he was part of the team that successfully eradicated smallpox, the only human disease to be completely eliminated.
The Carter Center, a not-for-profit, nongovernmental organization, was founded in 1982 by President Carter and First Lady Rosalynn Carter, in cooperation with Emory University. It is housed on the site of the Jimmy Carter Presidential Library and Museum near downtown Atlanta.
Drawing from its work on Guinea worm, the center has focused on a host of other neglected tropical diseases as well, some virtually unheard-of in developed countries – conditions like polio, river blindness, trachoma, malaria and lymphatic filariasis, which causes painful swelling.
---
The Beginnings
The president is asked how he and the center came to focus on Guinea worm disease back in the 1980s.
"It was kind of an accident," he says, in a late-afternoon interview at the Carter Library with Georgia Trend. "When I was governor of Georgia, I had a drug czar, Dr. Peter Bourne. When I became president, he went to Washington with me. After we both left the White House, he went to the United Nations and he was assistant secretary-general of the UN. His first assignment was 'a decade of water.'"
That was an ongoing effort in the 1980s, officially known as the International Drinking Water and Sanitation Decade, to provide clean drinking water throughout the world.
"One of his responsibilities was to see which diseases are caused by drinking filthy water," President Carter says. "He came down to The Carter Center at my invitation to give us a lecture on what he'd learned, and that was when I first heard of Guinea worm. That's the way it started.
"Nobody was willing to take it on as a challenge. When Dr. Bourne asked me if I would be willing, we decided to do so.
"We got folks from CDC who had worked on smallpox to come to The Carter Center," Carter says. "Don Hopkins, at our press conference this morning, was one who helped with smallpox, and now he's working with Guinea worm."
Hopkins had been interested in Guinea worm disease since he was in college. "When I was at CDC," he recalls, "I attended a meeting in Geneva and was making casual conversation with a French physician who had served in West Africa and asked him if he had seen Guinea worm, and he said yes he had. He had also seen the disease almost disappear in villages as the government provided safe drinking water."
At the same meeting, Hopkins learned of the international clean water initiative. "It occurred to me if they were going to do that, that would stop the transmission of Guinea worm. Because Guinea worm can only be transmitted when people drink contaminated water."
Back at CDC, he began fleshing out a plan with colleagues but was limited by the fact that CDC had no real mandate to go after Guinea worm, since it did not directly affect the health of the U.S. population. He already knew Peter Bourne from a project they worked on while Bourne was at the White House; the two became allies.
At an early Carter Center international health meeting in Atlanta at which Bourne made a presentation on the Guinea worm disease, Hopkins, as keynote speaker, also spoke about the disease. "So President Carter got a double dose of Guinea worm," Hopkins recalls.
President and Mrs. Carter would make many trips to Africa, including one in 1986 to Ghana, where they saw their first Guinea worm cases.
But Hopkins recalls with particular pride a trip he made with the Carters in March of 1988 for an African regional conference on Guinea worm. It included a stop in Nigeria, where Carter signed an agreement with the minister of health to cooperate on eradication efforts; from there the president and his party traveled to Ghana for the meeting. "I remember saying to Mrs. Carter that I have to pinch myself [to realize] that this is happening," Hopkins says.
In Accra, Ghana's capital, there was the ceremony and solemnity of the conference itself. "We went into the meeting with all the drummers and everything. It was electric. I remember being very heartened."
---
Nearing the End
And now Guinea worm disease, which afflicts people in the poorest, most inaccessible places on earth, is on the verge of eradication.
The 25 human cases remaining in the world in 2016 were found in 19 isolated villages: 16 in Chad, three in Ethiopia and six in South Sudan.
Cases in Chad are scattered among 12 different villages along the Chari River, Carter Center officials say; they do not have a clear configuration, indicating a slightly different transmission pattern – perhaps via dogs. The disease has shown an emergence in dogs in recent years.
In Ethiopia, the three reported cases are from the Gambela region; the center believes Ethiopia is "well-positioned" to stop transmission this year.
South Sudan is a notable success story. Despite widespread poverty and years of political upheaval, the country has reduced the number of Guinea worm cases by 98.98 percent since 2006, when 20,582 cases were reported, and is close to breaking transmission.
In its eradication efforts The Carter Center works with national programs, the World Health Organization, CDC and others; it also provides technical and financial assistance to individual countries' eradication programs.
Hopkins says he believed from the start that the efforts would be successful. "I had experience with the smallpox program, having heard people doubt that smallpox [eradication] was going to succeed, from the beginning up to almost the end. So I like to say I was immunized against that kind of pessimism," he says. "I was really confident, based on my smallpox experience, that Guinea worm was going to be eradicated. I got frustrated sometimes but never once doubted that it was going to happen."
Early on, of course, The Carter Center had not yet earned its reputation as a player in global health issues. "We knew it was relatively unknown," Hopkins says. "But President Carter had become interested [in Guinea worm]. That was a huge plus."
And, he says, "Building on the experience with Guinea worm eradication, The Carter Center has been able to attack other problems."
---
International and Influential Roots
For those who might consider Atlanta an odd place for launching assaults on diseases that primarily affect people in African or Asian countries, it's worth remembering its reputation as an international city and that it is home to CDC, to Emory University's School of Public Health and to CARE International.
"I would say we've had a natural leadership role in Georgia and Atlanta against diseases known as tropical diseases," Carter says. "And we have a coordination effort here. The Carter Center is just one of the players: We reach out to the U.K., reach out to Germany, Norway, Sweden, Japan, the UAE as well. A lot of the countries that suffered so much from Guinea worm at the beginning had a lot of Muslims living in those countries. So the Arabs were very generous to us."
The Carter Center is a semi-finalist for the MacArthur Foundation's 100 & Change competition, which would provide $100 million for efforts to eliminate river blindness in Nigeria. (The winning recipient will be selected in December.)
It is impossible to overstate how important the active leadership of Jimmy Carter is to the work of The Carter Center or the impact his hands-on involvement, his travel and his fundraising have had. His arrival in places where The Carter Center was working was a much-heralded event among the locals.
He tells a story from one of his trips, of coming into a village in Africa and being greeted by a young boy calling out, "Look out, Guinea worm! Jimmy Carter is coming."
Carter mentions trachoma, an eye disease prevalent in remote areas of the world, including Africa. The disease, "which I knew about as a child – my mother was a registered nurse," is the world's leading preventable cause of blindness, often transmitted by flies. The center has been involved with teaching people how to do surgeries on the eye to correct inverted eyelashes that sometimes result from repeated infections. "We've done about 650,000 surgeries, about 45 percent of surgery on eyes with trachoma in the world," he says.
The center has also addressed prevention: "We know that having latrines for people is a very good way to control flies as well. We've supervised building 3.5 billion new latrines, which is a very simple outdoor toilet."
He flashes the familiar Carter grin: "So my reputation in Africa is the No. 1 toilet builder in the world. They know that more than they do about bringing peace to Israel and Egypt. I supervise building toilets."
At 92, having survived a recent cancer scare, Carter is still spreading the word about the work of The Carter Center, especially to heads of state and potential donors to encourage their support.
"I make visits to countries involved that have Guinea worm," Carter says. "I still go to some of those countries. I go to our major donors like the U.K., in London. I meet with the prime minister there and talk to him about Guinea worm. I've met three times with the emperor of Japan to talk to him and to prime ministers about Guinea worm.
"We try to let people in positions of authority who have a good deal of money to give to worthy causes know that we have a great need here," he says. "If they make an investment and donation to The Carter Center it will be well spent, and none of the money will be wasted."
---
Documenting the Countdown
An exhibit at The Carter Library and Museum, Count- down To Zero: Defeating Disease, is helping spread the word about some of human-kind's most dreaded diseases, including Guinea worm.
The multimedia display was created by the American Museum of Natural History in New York in partnership with The Carter Center. It features photography, videography and individual artifacts related to the fight against Guinea worm as well as smallpox, polio, river blindness, lymphatic filariasis and malaria.
"Countdown to Zero is very important to us," says President Jimmy Carter. "It's a traveling exhibit showing people how serious the disease is and the great success we have had with it."
Mark Siddall, the natural history museum's curator, says the center and the museum wanted to tell the story of Guinea worm eradication, "to celebrate the eradication as it was happening."
The exhibit has been on display in New York and London as well as Atlanta and is scheduled to open in Dubai, United Arab Emirates, later this year. It continues at the Carter Library and Museum through Oct. 11. jimmycarterlibrary.gov. – Susan Percy