Artful Endeavors
Creative industries have a significant economic impact around the state.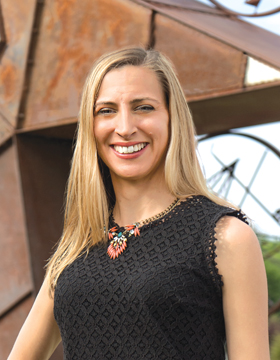 It used to be when you talked about economic development in Georgia, the focus was primarily on courting and landing large industries that could bring dozens, even hundreds of jobs to the state in one fell swoop. But today, communities across Georgia are successfully using the arts as part of their local economic development strategy, stimulating growth while sustaining and creating jobs.
"We believe strongly that the arts are a powerful and significant vehicle through which we as communities support vitality, growth and the health of place," says Karen L. Paty, executive director of the Georgia Council for the Arts (GCA). "It's who we are; it tells our stories, but it also contributes to the well being and the economic vitality of place, and that is through everything from tourism and downtown revitalization to workforce development."
A shift in how the arts came to be viewed as an integral part of the state's economic development portfolio happened back in 2011, when House Bill 264 moved the Georgia Council for the Arts under the operational umbrella of the Georgia Department of Economic Development. The move signaled a belief that arts mean business for Georgia.
Arts may mean business, but the state has not been willing to invest in this revenue stream in ways other states have. Georgia ranks dead last in state funding in the Southeast at just over $1 million to the GCA for the current fiscal year. The council's budget this year also includes a National Endowment for the Arts Partnership Award of $772,500.
"Moving into economic development has allowed us to take our mission and amplify it," Paty says. "Experiencing the arts and experiences with the arts contribute in meaningful ways not just to individuals, but the contributions and those experiences deeply impact us as communities."
According to Paty, the annual economic impact of creative industries in Georgia – for profit and nonprofit – is $62.5 billion. That number represents $37 billion in revenue and supports about 150,000 jobs. Those numbers reflect everything from a painting by your favorite artist sold in a local gallery to local symphonies, the film and TV industry, digital entertainment and gaming, publishing and graphic design.
"Those big numbers tell millions of small stories," Paty says, "and those millions of stories are about the ways the arts are impacting individuals' lives and then communities."
One such community is Valdosta, where Decatur-based artist Jeff Mather completed a public art project last year that was funded by a $5,000 GCA Vibrant Communities grant. The grant helped pay for Mather's research trips to the south Georgia city, where he consulted with community leaders and business people and hosted design workshops with middle, high school and college students.
The finished piece was dedicated in September and resides in Smith Park, where it serves as a welcome to the city.
"The Vibrant Communities grant program allows people to see public art as more participatory rather than commissioned and delivered on a truck," Mather says. "The way I work in a community is very inclusive. I don't come out of a solo studio practice. I only work in partnership with communities and make work that is never for sale. It is collectively owned by communities."
---
Growing Influence
Another community leveraging the arts for economic development is Toccoa. From a summer concert series that attracts about 500 attendees to downtown on Saturday nights in June, July and August to the town's recently renovated Ritz Theatre, which hosted 123 shows viewed by 19,444 attendees last year, the arts are reinvigorating and attracting visitors to this northeast Georgia community, which is also home to the Toccoa Symphony Orchestra.
"More and more people are realizing the importance of art and the influence of art on a community," says Sharon Crosby, the city of Toccoa's Main Street special events coordinator. "The theater has really helped to bring people downtown. There's a lot more activity, especially at restaurants. For our whole downtown, not just because of the influence of the arts, although that's a part of it, a total of 36 jobs have been created downtown."
On May 6, Toccoa hosted the inaugural Toast of Toccoa, a celebration of fine art, wine and craft beer.
The event featured approximately 50 artisans from the local Currahee Artists Guild and other regional arts organizations who displayed their artwork in separate booths set up throughout the downtown area. There were several demonstrations and a children's art show. "It's something new and different we've not done before," says Crosby.
This new vitality in the Toccoa arts community can find its roots in a traveling exhibit that visited the town four years ago. The Georgia Council for the Arts put together a 28-piece exhibit from the state art collection and sent it on a 14-month tour of nine communities. Crosby credits the exhibit Inspire Georgia as the catalyst for bringing the local arts community together.
"Often arts programs have the opportunity and are successful at making a deep impact almost immediately, but if you take the 50,000-foot view of it and put all of those individual successes together in a string, what they build is this long arc of success that is pushing us forward as communities and as a state," says Paty. "I think it's the same at a community level. You can see the immediate wins, but the power of those immediate wins is magnified when you take the longer view of it to see what that means for individuals and then [that] place in the long run. Toccoa had great success creating a visual arts experience while the exhibit was there, and you can see the ripple effect of that program four years later with the economic development that's happening around the arts there."
Just as local artists, whatever their discipline – painters, photographers, potters and musicians – are inspired by the innate beauty of Stephens County, Crosby believes visitors will be just as enchanted by the area's charm.
"I feel that art is an integral part of our community," she says. "We hope people will come to visit because of our art community and the artists we have here."
---
"We Were Just a Sleepy Little Town"
Debby Ford, president of the Marion County Chamber of Commerce in Buena Vista in west central Georgia, remembers well the day an off-hand comment at a public forum set her and her community on a path to rejuvenation and revitalization.
She was attending a meeting on tourism back in 2014, when one of the moderators began calling out counties and something that made them unique. When the moderator reached Ford's table, he said, "I don't know anything about Marion County."
"I thought, how dare he not know about Marion County, and my next thought was, well, that's our fault," she recalls.
Not one to be deterred, Ford shared with the moderator the story of Pasaquan, the internationally known 7-acre art environment created by Buena Vista native Eddie Owens Martin (aka St. EOM) that is listed on the National Register of Historic Places. The night before her tourism meeting, Ford had received word that the Kohler Foundation Inc. had committed to fund a multimillion-dollar restoration of the site.
Fast-forward two years, and on Oct. 22, 2016, the county hosted the grand opening of the restored Pasaquan. More than 150 volunteers welcomed and shuttled more than 2,200 people from 38 states and 15 countries back and forth to the site.
"We were just a sleepy little town," she says. "We grew up for generations knowing Eddie and about Pasaquan, but we never dreamed we'd be dealing with tourism and the arts the way we are now."
And that was just the beginning.
Businesses are relocating and once again thriving on the square in downtown, sales tax revenues are up, there's a new supermarket in town and since last June, the chamber has hosted eight ribbon cuttings.
Building on that success, the chamber hosted the first Pea Ridge Arts Fest on the square in April to promote the arts and help people connect with Pasa-quan. (Buena Vista was once known as Pea Ridge.) About 35 artists participated in the juried Artists' Market, there were demonstrations like pottery and glass blowing, and local restaurants moved outside for the day to cater to hungry crowds. Shuttles carried people from the festival site to Pasaquan.
"Tourism is a sustainable form of economic development," Ford says. "We want to keep this momentum going with the arts. We've seen an increase in enthusiasm in our residents. I think this has given people hope for the future. We want people to come see our story."
A new logo, rack card and marketing strategy around tourism and Pasaquan have also emerged.
"What was so powerful about that was not solely just the preservation and restoration of the site itself, which was powerful and dynamic in and of itself," says Paty. It was coupled with the partnership with Columbus State and their ongoing care for that facility and the work they're doing with the LaGrange art museum. "So it really has impacted multiple communities," says Paty.
---
Arts and Education
The arts and tourism go hand in hand, and so do the arts and education.
In June 2014, Gov. Nathan Deal appointed an Arts Learning Task Force to address the loss of arts education programs that over the years have been cut or eliminated entirely from schools. The task force was asked to make recommendations for implementing arts education into K-12 classrooms and to examine existing model arts education initiatives in Georgia and other states.
The task force concluded with 16 recommendations that local school districts can choose to adopt. They were divided into four themes: access to arts learning; quality arts instruction; support for effective arts learning; and resourceful and innovative approaches to arts learning.
The recommendations also guide the arts learning work of the GCA and the Georgia Department of Education (GDOE) and have resulted in programs and initiatives including:
• the launch of the Arts Education Program Grant;
• the creation by the GDOE of a fine arts program specialist;
• the placement of the GCA arts education manager on the committee responsible for updating the K-12 fine arts standards in media arts, theater and visual arts.
"We're excited about the role, the value, that arts learning has been given in the conversation about whole child education," says Paty. "We can provide opportunity and resources [for arts education], but it's up to local school districts to make those choices."
For Georgia to remain competitive in the global economy, its workforce must have creative thinking skills alongside a STEM (science, technology, engineering and math) education, according to Paty.
"Executives of some of the big-gest Fortune 500 companies say what they see lacking in the workforce are communication skills, creativity, teamwork, ingenuity, the ability to see a problem and think beyond it. Those are all 21st-century skills that are required in the workforce, and we believe strongly those are skills acquired through opportunities for students to engage in arts learning," she says. "So it is to us important to talk about not only just having the opportunity to learn an instrument or to take a drawing class, but also to have students have the opportunity to have teaching artists work as classroom presenters to present core curriculum."
When students are hitting a roadblock, the arts offer an opportunity to rethink the core subject matter or to come at it in a different way, she says.
Earlier this year, Atlanta Mayor Kasim Reed tried to take a different approach to arts funding. In January, Reed unveiled a proposal to ask voters for a tenth-of-a-penny increase in the city sales tax to provide a dedicated stream of funding for the arts and cultural organizations. Though the measure failed to pass the General Assembly, it drew attention to the idea of the arts and cultural economy as a growing part of the city's workforce.
"The arts touch all aspects of our lives and have the opportunity to touch all aspects of our communities," Paty says, "should we empower them to do so."
---
Take a trip with Georgia Trend to Pasaquan in next month's feature story on tourism in the state.