Top UGA entrepreneur focuses on wise water use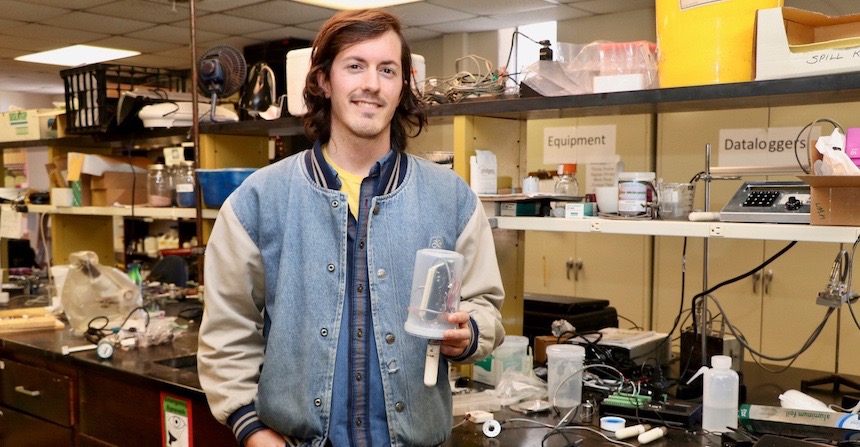 A senior University of Georgia horticulture student has won national UGA's Next Top Entrepreneur honors and a prize of $10,000 for his novel moisture sensor, which is designed for landscapers. Jesse Lafian developed the automated sensor to measure how tightly water is bound to the soil, which reveals whether plants can actually use the water. His winning entry was selected Shark-Tank style from among 36 student teams, representing 22 colleges and universities across the U.S.
Lafian's sensor offers a solution to a very expensive problem: overwatering often kills a large number of trees installed and warrantied by landscapers. In addition to saving money on watering, his sensor can help landscapers reduce the time involved and the cost of removing and replacing those trees. Being able to access data from a smartphone about which trees need water will add convenience for landscapers who could have hundreds of properties and thousands of trees to monitor.
The patent-pending design is the catalyst for Lafian's startup business, Reservoir LLC. Initially, he plans to sell his technology to high-end landscaping companies, some of which have already asked to test his prototype. Eventually, he envisions sales to other customers, including farmers, golf course superintendents and homeowners. (It could offer a nice complement to the new bermudagrass cultivar developed by UGA's "TurfTeam." See the story, "Where the Grass is Greener," in Georgia Trend's May 2017 issue.)
Photo: Jesse Lafian, UGA's Next Top Entrepreneur. Photo provided by UGA.