Within Reach
The REACH program's first class graduates this month. What's next for them and the program?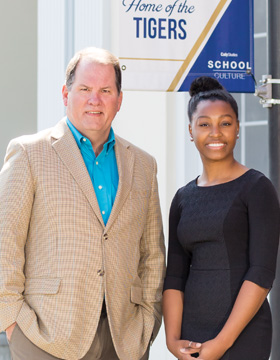 There's something different about this year's graduating seniors.
Walking across high school graduation stages in Douglas, Dodge, Rabun and Bartow counties are 17 exceptional students – the first graduating class of the Realizing Educational Achievement Can Happen (REACH) program, a need- and merit-based scholarship program launched by Gov. Nathan Deal in 2012.
The REACH program incorporates elements of Cartersville's successful GateKey Scholarship program, which gives scholarships to college-bound students who are in need of financial and other types of support. REACH scholars are identified in the 7th grade and begin participation in the program in 8th grade.
"Starting in the 7th grade, I think that forces them to start looking at their future instead of waiting until they get to high school to think about college and careers," says Juaquita Williams, Dodge County Middle School REACH coordinator. "It lets them know that they do have options and it's important that they try to pursue post-secondary education."
Over the past five years, these REACH scholars have had to meet academic, behavioral and attendance criteria, while their parents have also had to commit to a certain level of involvement to receive a $10,000 college scholarship – $2,500 each year for four years at a HOPE scholarship-eligible Georgia school. And they've been supported along the way by an academic coach, a mentor and special leadership opportunities.
"Even though the end goal that everyone sees is the scholarship, it's really a growing experience for all the scholars in it," says Douglas County High School graduating senior Josslyn Lally. "That's how I describe it always, as something where I'm encouraged to be more proactive in what I'm doing and receive opportunities that someone not always in the REACH program is able to have."
---
Setting Expectations
The REACH program addresses both financial need and academic promise, with the ultimate goal of getting at-risk students into college – and graduating college – at a higher rate.
"We're confident that this is a program that, as opposed to developing a needs-based scholarship that doesn't have any rigor to it, is a way to ensure that we're getting kids who are going to be successful when they get to the post-secondary level," says Shawn Ryan, president of the Georgia Student Finance Commission (GSFC), which administers the REACH program. "That's a key in our mind – not just to give kids some money to go to college, but to make sure that once they are there, they're going to be successful and graduate. That's really when you start changing lives, not just for students but also for families and entire communities."
Part of Deal's Complete College Georgia initiative, which launched in 2012, REACH aims to help increase the number of college graduates in the state. By 2025, it's projected that more than 60 percent of Georgia's jobs will require post-secondary education, but today, only 45.3 percent of Georgia's young adults have a post-secondary certificate, associate degree or bachelor's degree.
To combat this educational disparity, Deal set ambitious goals for REACH: By the 2020-2021 school year, the governor wants to see REACH in all 180 Georgia school systems and serving roughly 2,800 scholars statewide.
"As of today, we are in 69 of the 180 school districts. We are serving roughly 685 REACH scholars across the state," says Jennifer Herring, senior vice president of college affordability initiatives at GSFC. "We're in the process right now of onboarding for the 2017–2018 school year an additional 31 school systems, which would add roughly 540 new eighth grade REACH scholars to the program."
Herring says GSFC works to ensure that the program expands into all areas of the state equally, reaching its rural communities as well as its more populated areas. And, she says, GSFC is well on its way to meeting Deal's goals. "We are well ahead of schedule for onboarding that cohort of systems, and we do fully anticipate that we will meet our goal of having all 180 systems participating in the REACH program by the 2020-2021 school year," she says.
The same is true for the number of scholars as well. "The governor has set the bar for us," says Ryan, "but we're confident that we will have nearly, if not slightly more than, 3,000 scholars in the program by 2020."
---
Dollars and Cents
With such expansive growth comes a need for more support – especially financial.
Each $10,000 scholarship has three funding sources: the state budget, as determined by the Georgia General Assembly each year; private-sector donors that give to the GSFC; and local communities in each school district. School districts are responsible for a portion of each scholarship based on the jobs tax credit tier list maintained by the Georgia Department of Community Affairs; this portion ranges from $1,500 per student for Tier 1 counties – those with higher unemployment and poverty levels and lower per capita income – to $5,000 per student for Tier 4 counties.
For Georgia's school systems, raising scholarship funds is a community effort, involving local businesses, banks, civic organizations, churches and chambers of commerce. GSFC also partners with school systems to help them navigate the corporate fundraising process and effectively target potential donors.
"Some years it can be very challenging," says Mitzi Teal, Communities in Schools (CIS) of Douglas County executive director. "There are some companies that are only going to fund program activities and not student scholarships, so it's learning how to navigate that, which is where GSFC comes in. They're great partners."
At the state level, private-sector donors include AT&T, Georgia Power, the Chick-fil-A Foundation, TIAA-CREF Tuition Financing and others. Since 2012, more than $12 million in funds from the private sector, state and local community levels, and state appropriations have been collected to fund future REACH scholarships, according to Chris Green, GSFC's director of government and media relations.
These funds help operate existing programs and expansions, such as a foster children pilot program launched this year. GSFC, in partnership with the Division of Family and Children Services, added 30 foster children across the state to the REACH program, with plans to add another 30 in the 2017-2018 school year.
"It would be absolutely fantastic to see us make an impact in this population, because these are kids who are smart, but they are very much in need. Our hope is that REACH can push them over the top," says Ryan. "When you're talking about changing lives, these are lives that very, very much will benefit from a program like REACH. This is something that changes the entire trajectory of someone's life."
---
The First Class
"They're driven. They're determined. Each of them looks at their varied backgrounds and sees the challenges there and realizes that they've been given an opportunity, so they want to take full advantage of it," Superintendent Melissa Williams says of Rabun County's three graduating seniors. "They're also so very appreciative. None of them takes it for granted."
They're also performing at a higher level than expected. According to Ryan, this year's graduating seniors have a cumulative GPA of 3.65, versus the program requirement of 2.5. "They've not only met the requirements of the REACH program, but far exceeded what we anticipated," he says.
In Douglas County, many REACH scholars are in magnet programs like STEM (science, technology, engineering and math), fine arts and the International Baccalaureate (IB) program, which is a challenging program of international education and assessment. "The majority of our students are pursuing rigorous courses and classes. They have high standards for themselves, and they work hard," says Teal. "We provide these students that guidance and direction, but I think a lot of them have an internal drive as well."
Two such students – Lally and Roda Kesete – will be graduating from the IB program this month. They say REACH exposed them to experiences that might not have been possible otherwise, such as traveling to the State Capitol to speak in front of the REACH board and attending Usher's New Look, a leadership summit held at Emory University each summer.
Lally and Kesete are both heavily involved in extracurricular activities. (Lally cheers during football and basketball seasons and plays varsity tennis, while Kesete swims on the high school team.) Kesete has interned twice with the Georgia Democratic Caucus. And they both have crystal-clear career goals: biomedical engineering for Lally, and international law with a focus on immigration for Kesete, who came to the United States as an Eritrean refugee.
"When you come to another country, you have to figure things out a little bit quicker than everybody else," she says. "I knew what I wanted to do just because of the experiences I've had and the culture that I grew up around. I knew that my ultimate goal was to be able to help people who came from similar situations."
This year's graduating class will be going to colleges and universities like Spelman, Clark Atlanta University, UGA, Emory and Georgia Tech. Many of Georgia's colleges and universities match or double-match REACH scholarships, turning $10,000 into as much as $30,000 for college tuition.
There's a lesson to be learned in these students' successes, says Gordon Pritz, Douglas County School System superintendent. "It sends a strong message and tells a great story about the potential that everybody has when they put their mind to something, they're given some support, and they have a high set of expectations," he says. "We're really excited that we started with eight, and it looks like all eight will make it through. They're great examples of success."
---
Value of a Mentor
REACH does more than provide scholarship money and set guidelines – it also provides its scholars with a support network of academic coaches and mentors to keep them motivated and encouraged from eighth grade to graduation.
Academic coaches – administrators, counselors or teachers – monitor each student's progress and meet with them once a month to spot emerging issues and provide additional support. Mentors are community members who donate their time (program requirements are at least eight meetings per semester) to provide guidance, encouragement and answers to questions about the college application process.
"A lot of those kids know that those mentors are there not because it's their job to be there, but because they want to be there," says Thomas Hilliard, Dodge County Schools superintendent. "Kids form strong attachments with teachers, but it's not lost on them that the teacher has a job and they're doing that job. Even though they still build strong relationships, these [mentor] relationships are strictly volunteer, and the kids understand that."
What does it take to be an effective mentor? Empathy, says Lynne Tropeano Cole, an executive for a firm that connects public schools with corporate sponsors and a mentor herself to a rising senior. "Being flexible to hear what they need, whether it's what you think they need or not, is so critically important," she says.
Cole meets with her mentee at least two hours per month, and she works with her to keep her on track for applying to and choosing a college. "My goal for her is to make sure that she has a partner in figuring out how to apply for college, getting her testing done and those sorts of things," she says.
Often, it's this guidance that's most valuable.
"My parents do the best they can, but they didn't go to school here, so there's a lot of stuff they don't know," says Kesete. "I can turn to [my mentor] to give me answers to a lot of stuff with college, school and how I should set up my schedules. She was really vital in being another source I could go to when I had questions."
Kesete also credits her mentor with encouraging her to join the school's swim club and build her overall competitive drive. For Lally, a mentor is incredibly valuable, no matter who you are.
"I feel I have always been self-motivated and independent," she says. "I never really thought I needed a mentor, but I think everyone could use one, regardless of what level you're on."
As the program continues to expand, an emerging pain point is the shortage of qualified, committed mentors – especially in the state's rural communities.
"Every small community across the state of Georgia has business owners and business leaders within that community who would make excellent role models for our REACH scholars," says Herring. With a projected increase of more than 2,000 REACH scholars in the next three years, the program will need an additional 2,000 mentors to match. (See sidebar on page 34 for more on how to become a mentor.)
And, Cole says, mentoring provides its own rewards. "It's just remarkable to put yourself in a situation where you know that the precious time you're giving is invaluable to the person you're giving it to," she says. "It's pretty easy to make a small effort that makes a major impact on someone's life."
---
Raising the Standards
Currently, most participating school systems support about five REACH scholars per year. In a school system like Rabun County, which has a free and reduced lunch rate hovering around 68 percent, according to Williams, demand is high for these limited spots.
Williams says the county typically has approximately 100 students who qualify for the program each year. Of those 100, maybe 50 will apply. And of those 50, five are chosen – that's a 10 percent acceptance rate, only slightly higher than acceptance rates for Brown University, Caltech and MIT. For larger school systems, the selection process is even more competitive.
Clearly, the competition is tough – and students are responding to the challenge. In Rabun and Dodge counties, for instance, counselors and administrators have noticed that students are making a concentrated effort to improve their academics, behavior and attendance to meet program requirements.
"It's raising the performance of everybody in those grade levels, because they're striving to get their performance up so they are eligible to apply," Williams says. "That's changing behavior in the whole school."
Local school districts and REACH program directors hope that by giving promising at-risk students a path to achieve collegiate success, these students will return to their communities to continue giving back.
"Any time you increase the number of local students who are able to go out and get a good education, your hope is that they're going to come back to the community and bring that expertise with them to help make our community more productive," says Hilliard. "We're hopeful that these kids will come back and maybe teach in our schools, work in the different businesses here, maybe start a new business."
It looks like that hope might be fulfilled by one of the program's first graduates.
"I feel like this has prompted me to want to give back in the same way, whether it be donating toward REACH in my future or even setting up my own scholarship fund," says Lally. "It's something that's been in my mind this whole senior year, because I know even the kids who are not in the REACH program need scholarship money and help. It's motivated me to find ways to give back to the community."