Perimeter: Hub of Activity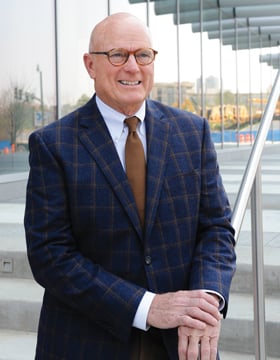 The top end of Atlanta's Perimeter is a hot spot for several ambitious office and infrastructure projects.
Construction on the I-285/Ga. 400 interchange, with a projected cost of $800 million, began in early 2017 and will create more capacity and reduce traffic congestion.
The second phase of State Farm's new regional hub, which is Metro Atlanta's largest corporate office project ever, is underway adjacent to the Dunwoody MARTA station. The insurer's entire 2.2-million-square-foot campus, called Park Center, is estimated to cost more than $1 billion.
The 250,000-square-foot Mercedes-Benz USA headquarters is also under construction and slated to open in 2018. The estimated $93-million campus on Abernathy Road in Sandy Springs will create at least 800 new jobs.
"This is going to be an interesting year," says John Heagy, chair of the Perimeter Community Improvement Districts (PCIDs) and senior managing director for Hines, a global real estate investment, development and management firm.
The Perimeter's 33 million square feet of office space – not including two new State Farm towers – is valued at a total of $5.1 billion, according to PCIDs data. Construction milestones join announcements of more to come, including West-Rock's plans to relocate 800 employees to Sandy Springs and Dublin, Ireland-based cybersecurity and compliance solutions company Sysnet Global Solutions opening a contact center in Brookhaven, a $2-million investment that will create more than 500 jobs.
"You can never plan on such good news all the time," says Brookhaven Mayor John Ernst.
---
Changing Landscape
About 85 percent of its office market space is occupied, according to the Perimeter CIDs, but State Farm's move will cause shifts in major buildings over the next several years.
State Farm leased nearly 2 million square feet when it announced plans for a new headquarters, which will be given back as its campus is built out. That's a challenge, even in a market that likely eclipses any other office market in the Southeast, says Heagy.
"While it was great to have them take some of that space during a down period of our economy, well, the economy is back now," Heagy says. "So there are companies that will move in and will want to take this space."
In 2016, for example, State Farm returned 350,000 square feet to the market. The question is who will occupy the space – existing tenants or newcomers to the area. There's a clear understanding of where those big blocks of space are and the timing of the leases, says Michael Starling, economic development director for the city of Dunwoody.
In Dunwoody, there's 8 million square feet of office space, which had a 15.7 percent vacancy rate and gross rent of $20.95 per square foot, according to the city.
State Farm and the Americas headquarters for InterContinental Hotel Group (IHG) currently occupy the majority of Three Ravinia, an 817,000-square-foot Class A tower in the Ravinia complex at I-285 and Ashford-Dunwoody Road. IHG signed a 16-year lease with plans to renovate its existing space. State Farm has 10 years left on its lease.
The Perimeter area is known as the location for Fortune 500 companies, says Boone DuPree, CEO of Preferred Office Properties, which recently purchased Three Ravinia for $115.5 million.
"I don't see that changing. I think there's maybe been a little bit of concern in the broader market about what happens out there as State Farm consolidates into their new campus," he says. "We kind of look past that. We like the long-term health of it."
In Sandy Springs, a new zoning code is expected to be up for a city council vote in August, says Mayor Rusty Paul. It's the first major zoning code update since the city was formed in 2005. Over the past 18 months, the city has gone through a community-wide process to develop a comprehensive land-use plan, and the existing development code is being updated to support the plan's vision.
"We have an archaic mid-20th century zoning code and development system that we're trying to use to manage 21st-century growth and development," he says. "Right now it's kind of like Dodge City in 1880s from a land development point of view. Every idea gets considered, whether it has rational basis or not."
As part of the process, the city held a series of public meetings this spring to ask residents for input.
---
Getting Around
An estimated 10,458 companies with 134,650-plus employees are in PCIDs, including what's known as Pill Hill, where four medical facilities represent a $3-billion annual economic impact on Metro Atlanta, according to PCID data.
"I believe it has become the largest employment center in the state of Georgia," says Barry McCarthy, executive vice president of network and security solutions for First Data, a Fortune 500 electronic commerce and payment technology company based in the Perimeter area.
To ease congestion for commuters, the I-285/Ga. 400 interchange project will add new flyover ramps, collector-distributor lanes and a diverging diamond interchange on Abernathy Road, all of which are expected to be complete by 2020.
In addition to working with state and federal elected officials and agencies, the PCIDs also work with DeKalb and Fulton counties and three cities – Dunwoody, Sandy Springs and Brookhaven – which are expected to make roadway and other transportation improvements with Transportation Special Purpose Local Option Sales Tax (T-SPLOST) funds passed by voters in 2016.
The connection to transit, with four MARTA stations in the market, is often cited as a critical factor among companies interested in locating in the area, say Perimeter leaders. The State Farm campus, attached to the Dunwoody MARTA station, is poised to give the Perimeter a greater urban feel with a focus on walkability.
A number of State Farm employees already use public transit to get to work, and the number will grow if communities in the metro area continue to support public transportation.
"You walk out of the back of their building, you walk right up the stairs and you get on MARTA now," says Dunwoody Mayor Denis Shortal. "That's what I talk about being a great corporate citizen."
Many of the new State Farm hires prefer multiple transportation options and to have a live, work and play lifestyle, according to the company. State Farm plans to have about 8,000 employees at the Dunwoody campus.
One trend in Dunwoody's housing market, known for its single-family homes and swim-tennis communities, is the increase in the number of townhome developments. About five are approved or under construction, Starling says.
Residents will soon have a new city hall. Shortal expects the 45,000-square-foot building on Ashford-Dunwoody Road will be ready by early 2018. Dunwoody is spending an estimated $11 million on the project, including the $8-million purchase price.
"It's an economic factor, and it's an identity factor for our citizens," he says. "We have a physical asset on 3.26 acres of property that's right in the middle of Dunwoody."
The PCIDs, which have invested in crosswalks and sidewalks that now total 35 miles, also continue to work with local municipalities on ways to improve "last-mile connectivity" for MARTA riders, Heagy says. Another initiative would create well-lit commuter trails that would connect major work districts like Ravinia, The Terraces, Perimeter Center and the 2-million-square-foot Concourse Office Park, which is known for its "king and queen" towers.
Meanwhile, a major transit-related project stalled in Brookhaven. In February, MARTA withdrew its plans for a $200-million mixed-use development at its Brookhaven station, due to factors such as the costs and design.
"I'm not willing to settle for anything but the best thing," Ernst says, who described it as an identity-building project for the city. "I want to make sure that we have a project of distinction that would be the envy of the Atlanta area, Southeast and the nation."
Along with Sysnet Global Solutions, in 2016 Brookhaven also snagged The Weather Company (owned by IBM), which will create 400 jobs in Perimeter Summit. The Atlanta Hawks and Emory Healthcare also plan to build a 90,000-square-foot training and sports medicine center in Brookhaven's Executive Park, which will create about 200 new jobs.
The city planned to close this spring on 32 acres of forested greenspace for about $5.7 million at PDK Airport, Ernst says. Meanwhile, a hotel-motel tax increase from 5 percent to 8 percent was approved by the General Assembly in March that will help fund the 12-mile Peachtree Creek Greenway. The Greenway will run alongside I-85, eventually connecting the cities of Brookhaven, Chamblee and Doraville to the Atlanta BeltLine farther south. The first phase between North Druid Hills Road and Briarwood Road will cost an estimated $9 million.
Other major greenspace projects include City Springs, the new town center for 10-year-old Sandy Springs that also will be home to a performing arts center, city offices, retail and residences.
"That's where we will build the connective tissue of community," Paul says. "We haven't had a place where we can come together as a community."
---
Work, Play and Stay
Business travelers, families in town for sporting events and other folks seeking retail therapy at Perimeter Mall – the Southeast's second-largest mall – have more options to stay.
The Dunwoody market has 1,627 beds in six hotels, according to the Dunwoody Convention and Visitors Bureau. In 2016, a 132-room Hampton Inn and Suites, managed by Dunwoody-based Hotel
Equities, opened on a 3.6-acre site on Ashford-Dunwoody Road. The hotel anchors a 25,600-square-foot mixed-use retail and restaurant space.
A bit farther down Ashford-Dunwoody, a 128-room Residence Inn, also by Hotel Equities, is slated to open this year behind the 1800s farmhouse that's home to a gallery for the Spruill Center for the Arts.
"With the amount of business travel that occurs in the market, the extended stay hotels are really in demand," says Katie Bishop Williams, executive director of the Dunwoody Convention and Visitors Bureau.
Spruill Center for the Arts sold the remainder of its 5-plus acres that now has a Fogo de Chao Brazilian steakhouse and the custom-designed Residence Inn, with the proceeds "going straight into the arts," says Spruill CEO Robert Kinsey. Spruill's education center in Dunwoody Village is outgrowing its space, he adds, citing a 15 percent increase in winter class enrollment.
Hotel Equities spent about $20,000 to renovate Dunwoody's Fairfield Inn & Suites after purchasing it in 2015, says Joe Reardon, senior vice president of marketing and business development.
The Atlanta Marriott Perimeter Center, a 16-story property built in 1976, completed renovations totaling $23 million last year. New owner Integrated Capital also plans to modernize the exterior of the 341-room property, which has more than 18,000 square feet of meeting space.
"With the footprint that State Farm has come in with, and Mercedes, it's continued to raise the profile and interest. Then you've had new hotels come into the market, too," Williams says. "But all the while, occupancy and ADR [average daily rate] has continued to grow, so the demand is certainly there. For us, we're focused on promoting Dunwoody as a weekend destination for groups and events and leisure tourism."
For dining, there's a desire for chef-driven and unique restaurants, Starling says. Perimeter Mall, which finished an estimated $30 million in renovations last year, according to Dunwoody officials, has attracted new-to-Atlanta concepts like The Cowfish, a sushi/burger bar in an 8,000-square-foot space.
"Restaurants have become a new amenity," Starling says.
In Sandy Springs, chefs Peter Kaiser and Kevin Rathbun plan to open Kaiser's Chophouse this spring in the Hammond Springs center on Roswell Road.
"Sandy Springs is growing very rapidly from a restaurant and retail desert to a restaurant oasis," Paul says, "and the retail is rapidly following."
---
LOCAL FLAVOR
The Great Outdoors
From hiking the woodland trails and walking a wetlands boardwalk to hanging out in the Hammock Garden or venturing into the gentle waters of Wildcat Creek, there are tons of fun things to do at the Dunwoody Nature Center.
Twenty-five years after a group of citizens petitioned DeKalb County to purchase the Dunwoody Park land with a federal grant, the environmentally sustainable "living lab" continues to welcome everyone to experience the wonder – and fun – of nature.
As more people move to the area, the nonprofit organization that manages the center, which is located within the 22-acre Dunwoody Park, is adding new ways to draw people to the land.
The center hosts kid-friendly (and free!) Friday night hikes and camping basics classes, as well an annual Earth Day Backyard Campout, the upcoming Tap Into Georgia Beer Festival on May 20, a summer concert series and the annual Butterfly Festival in August.
Plus, a $350,000 Northwood Pavilion will be built overlooking the center's meadow to allow the park to serve more people, from kids to corporate executives. Construction is expected to begin in August and be completed in about four months, says Alan Mothner, executive director of the Dunwoody Nature Center, which operates as part of a public/private partnership with the city of Dunwoody
"Our biggest issue at the nature center is, literally, physical space. In the last three years, we have not had a single program that has not been filled to capacity due to space constraints," Mothner says. "It will give us the much-needed community space that we've been after, really that our city is lacking right now."
With the new 1,800-square-foot facility for family, community and corporate events, the center will have spent more than $1 million in renovations, additions and upgrades since 2012.
Donors and corporate sponsors, federal grants and city capital improvements have funded the changes, which include a meadow and creek restoration, a new back deck, bathrooms and a playground.
A record 21,599 people attended center programs or visited the education building in 2016, up from 18,783 in 2015. (They don't track visitors to the park, which is one of seven in the city.)
Along with the natural draws, there's also a shaded playground and swings that hang from branches 20 to 30 feet in the air.
School children come for field trips and classes, and corporations and nonprofits use it for picnics, retreats and events, such as meditation and mindfulness classes for Cox Enterprises employees and a Dunwoody Perimeter Chamber luncheon.
"More and more businesses are seeing the nature center as [a] place to host their retreats, their corporate events, their parties," Mothner says. – Lori Johnston