Georgia Fare: Epic:True Story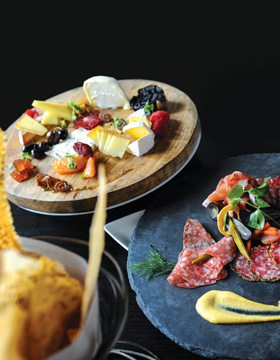 If you've been to Columbus lately, you know things are looking up there. The Chattahoochee riverfront is alive with power-walkers huffing across the pedestrian bridge to Alabama and with power-brokers renovating and rehabbing downtown buildings.
The economic forecast is bright, with powerhouse Fort Benning holding steady, Columbus State University expanding and the city's cluster of finance, pharmaceutical and insurance industries thriving.
You could also put down your charts and graphs and evaluate some other recent developments: For example, Zombie Pig BBQ's pulled pork sandwich and dill-flecked coleslaw. Or the cosmopolitan interior of the brand-new River and Rail, from prodigal restaurateurs Leah and Frank Foley. (See sidebar for more.)
Or the impeccable service and creative twists (like the Caesar salad, with Romaine, parmesan and anchovy rolled in a thin slice of prosciutto, like maki) at Epic. The restaurant has bolstered a dining renaissance in a town with a strong and internationally influenced culinary history.
One of downtown Columbus's biggest recent developmental mileposts was the opening of the Eagle and Phenix, a former cotton mill now converted to a large live/work/play complex. Anchoring it is Epic, which opened in 2012 and last year won a four-diamond AAA rating. (The restaurant is also a point of pride for reader Paul Kilpatrick, who recommended it.)
Helmed by Chef and co-owner Jamie Keating, who opened a Columbus catering business in 2006, the restaurant's name is short for "epicurean" but also signifies an "epic" story, starting with the "Once Upon a Time" inlay at the door and continuing through such touches as the "books" servers use to dispense appropriate cutlery for each course.
The hostess took careful notes when she reserved our table, jotting down not only allergies and preferences, but also conversational details. ("How was Florida?") Our table was not quite ready ("I want to be sure you have the best experience" – a word we kept hearing at Epic), so she ushered us to the five-seat bar. As the bartender used a blowtorch and plank to flame orange peel and create the "smoke cloud" listed as an ingredient in the Buffalo Trace bourbon-based The Old-Fashioned Girl, we took in the overall view of this small but impressive space.
White leather armchairs – matching those surrounding tables in the center of the room – dot the lounge near the bar. Against one exposed-brick wall, couples cozy up in curved, outward-facing banquettes. Along the other, high-backed booths that reach toward a ceiling of undulating wood slats offer both a view out oversized windows and quasi-private box seats for the dining room ballet of servers and diners. Perfect.
Along with the restaurant's admirable comfort and visual appeal, Epic delivers the oft-mentioned "experience" with peerless service. That smoky Old-Fashioned Girl (delicious and delicate, as described) and The Devil To Pay (tequila, cucumber, habanero, agave and orange – like a clean, but nettlesome, margarita) were whisked to our table, and our dinner tab, without fuss. The water, the menus, the wine list, the regular cutlery exchanges – all reflect a labor-intensive focus on the diner's comfort and ease. (And watch out – if you think you may have accidentally been left with a salad knife, you may soon learn that you are holding a fish knife, undetectably slipped under your nose, for your entree. Oh, yeah. I totally knew that.)
The food often aims at a "pow" moment – like that blowtorched cocktail – and often hits its mark with layers of unexpected subtlety. Perhaps our favorite dish of two visits in this frequently changing menu was a sugar-seared Chilean sea bass, its natural sweetness subliminally enhanced, paired with tomato-leek cream and fingerling potatoes.
The whole grape tomatoes literally provided a "pow" when you bit into them, especially since in their creamy state they looked more like pearl onions. That necessary bite of acid complemented the subtle earthiness of the potatoes, fish and cream.
Another fish dish, seared ono (the white-fleshed Hawaiian fish also known as wahoo) anchored a plate of well-balanced flavors, with simple sliced avocado under a tangle of watercress, tender baby bok choy and grapefruit.
Other times you might long for a little less razzmatazz – or maybe just a few more visits to figure out your strategy. Epic offers a long list of cheeses and charcuterie from around the world (as well as Georgia's Sweetgrass Dairy's Thomasville Tomme), which might have proved better options than the pretty but fussy "bacon and eggs," with "ginger ketchup." Speared stacks of hard-cooked egg yolk, chicharrones, toast and a bit of jalapeño seemed oddly cold and mismatched – especially with that smear of ginger ketchup.
The overt richness of the "tempura oysters Rockefeller" (deep-fried oysters in a spoon of cream sauce) made me long for icy, bracing half-shells. The roasted bone marrow – presented beautifully with a superb beef tartare, flatbread and pickled vegetables – was awash in a heavy demi-glace. When the kitchen goes for straight-ahead, direct flavors – such as the outstanding sautéed spinach and mushrooms or caramelized Brussels sprouts – it wins hearts, minds and stomachs. And speaking of hearts – the gorgeous little chocolate cake with strawberries was as heart-bendingly appealing as a valentine.
In fact, that is the impression Epic leaves, even if you think a dish or two tries too hard. Along with its myriad achievements, you leave impressed that Epic's attempts are so genuine, that its staff is so knowledgeable.
You need only watch the ease and confidence with which the staff moves in this room, engaging with you instead of answering from a branding consultant's list of talking points, to admire the efforts of the people working so hard to make this restaurant a place you want to come back to. And at that, they are succeeding very well.
Epic
Address: 1201 Front Ave., Suite E
Columbus
Contact: 706.507.9909
epiccuisine.com
Hours: Dinner, Tuesdays-Saturdays
Parking: On street and in garage
Dress Code: Special occasion; jackets
required for men
---
Speaking of chef-driven Columbus restaurants …
River and Rail Chef and co-owner Brad Andries' connection to Columbus is thin – as a kid, he once came to the city with his dad, who owned a potato chip company, to visit Tom's potato chip factory here. But like his partners, Leah and Frank Foley, who have returned to their hometown after garnering restaurant experience around the country (for the Foleys, California; for Andries, New Orleans, Maine and Italy), he believes the time is right for the "microseasonal, communal" dining they're offering in a series of small plates like sweet-pea ravioli with carrot puree and cast-iron rabbit ("a tribute to the South and Italy," he says). The name, like the focus, honors Columbus' connection to the world. As for the team of well-traveled partners and their globe-trotting chef, Andries says, "It's a match made in heaven."