Adapting and Thriving
Georgia's credit unions embrace change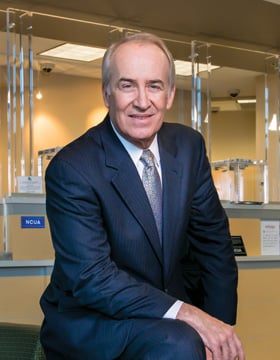 Walk into the Marietta branch of Delta Community Credit Union and you could be in any bank in America – from the sleekly modern, freestanding teller stations to decorative glass-walled offices. Credit unions are working hard to offer not just the same look, but all the same services of their bigger and richer for-profit competitors.
These days, thanks to technology, they're succeeding.
Last year loan growth for the industry was about 10 percent, and savings are growing at an annual rate of 5 to 6 percent, according to Mike Mercer, president and CEO of Georgia Credit Union Affiliates, an industry association.
"Loans have been outpacing deposits for a couple of years now, and that's been a good thing for the bottom lines of the credit unions," he says.
Yet beneath the overall good news lurks some troubling signs for the industry.
"The large credit unions seem to be doing quite a bit better than the smaller ones – both in terms of growth and their bottom lines," says Mercer. "It's a contributing factor to the consolidations we've seen over the years. Unless the small credit unions are tucked into a good niche, where they really know the people they're serving and can provide very close personal service, it's really hard for them to compete."
To meet these challenges, credit unions have undergone a transformation from the days when they first started serving the financial needs of local industry employees, schoolteachers and government workers. Once plain vanilla financial services like savings and checking accounts were about all you could get. Owing to their nonprofit status – you're called a member, not a customer – they could offer lower costs to the mostly working-class folk who were often not well served by big banks.
Now credit unions offer many of the same services as commercial banks, including debit cards, credit cards, ATM access, online banking, investment options and consumer and mortgage loans.
---
Embracing Technology
Today, there are 114 credit unions in the state with combined total assets of more than $21.5 billion. Delta Community is one of just seven credit unions with more than $1 billion in assets. Nationwide only about 300 credit unions are worth a billion or more. While some perceive credit unions as small potatoes compared to larger banks, many of which have total assets in the trillions of dollars, others see value in the small size.
Delta Community is the biggest credit union in the state at $5.3 billion in assets. It's used those resources to beef up its product offerings with online banking, remote deposit and tools like ApplePay that members can access from their smartphones.
Nearly all credit unions have gone online with services in one form or another.
The ability to offer remote banking services from websites and mobile apps has been vital to remaining competitive. For members of CDC Federal Credit Union, which serves the Centers for Disease Control and Prevention, 100 select employee groups, and anyone living in Fulton, Gwinnett and DeKalb counties, getting to one of its three branches can be a challenge – particularly if you've just been deployed to a hot spot somewhere in the world.
"You'll have an employee coming to work one day in Georgia, and there might be an outbreak somewhere in Texas or Africa," says Andy Anderson, CDC Federal's vice president for marketing and member engagement. "So over time we've invested in more things that people can do virtually wherever they are. We've been a big fan of bringing technology into our company. It's not to get rid of branches, but because our customers needed it."
It's no secret that young people have been quicker to adopt and demand technology like mobile banking than older members. Yet the first requests that Anderson heard for mobile deposit came at a picnic for retired federal workers. None were younger than 75, but many wanted to know when mobile deposit would be available through CDC Federal's app.
"We don't focus on a certain demographic, but on a behavior," says Anderson. "We try to focus more on behavior to provide services that someone wants versus a certain age or demographic."
CDC Federal's members represent the trend toward online usage that all credit unions are seeing. Fully 60 percent of Delta Community's 350,000 members use online services regularly.
Along with online technology, credit unions are focusing on gathering and analyzing data. Delta Community has led the investment into making greater use of data and analytics to better serve its members and operate more efficiently. It built a member service platform that gives staff real-time information that speeds up processes, improves efficiencies and increases member convenience.
"It will allow us to better know our members and interact with them," says Delta Community CEO Hank Halter. "When a member contacts us, we'll know exactly who that member is and they won't have to go through the various authentications that can be a frustration when contacting us. Then we'll be able to focus our conversation with them on exactly what they desire at that point."
Data and analytics can help staff zero in on what products a member already uses and other products that might be beneficial. For example, a member with a large sum in a non-interest bearing checking account might be better off shifting to a money market account that pays higher dividends.
"The economies of scale allow us to reduce operating expenses on a larger membership base," he adds.
---
Shared Resources
Credit unions are able to work together to benefit their members in ways that conventional banks do not. Because of their small size and generally limited resources, they have been hard-pressed to find funding for upgrading technology. Strides have come by joining together to pool resources and help each other – a practice you won't find among commercial banks.
Consider that about half the nation's credit unions participate in "shared branching" in which members can perform transactions like deposits and check cashing at any credit union. Members can also use ATMs at other credit unions without incurring fees.
Cooperative Services Inc., a credit union service organization that provides debit card services and support, recently rolled out a program to reduce the cost of providing ATM services at branches. Known as Members ATM Alliance, this program enables credit unions to outsource their machines and upgrade member services.
ATMs are vital to attracting and keeping customers, with 78 percent of new members reporting they selected their credit union based on the number of ATMs it offered. They are also expensive to operate. The typical credit union spends about $2,200 per ATM per month to operate the machines. In addition, they require more than 300 hours per year in machine management and compliance, says one study.
The new program not only provides the newest, most advanced machines, but also handles all the servicing, maintenance and even stocking with cash. The credit union pays a monthly fee while freeing itself of capital costs.
"Our hope is that any credit union member in the state of Georgia can go to any other and do an ATM transaction, make a loan payment, withdraw funds or make a deposit and have 24/7 access," says John Kerley, chief operating officer at Cooperative Services. "If you're a credit union member, it's going to allow you to have access to your funds when you want access. So it really is expanding services."
A consequence of getting people used to remote services is they no longer need to actually visit a branch. As a result, credit unions had to adapt to declining traffic at their brick-and-mortar locations.
"We were one of the early adopters of mobile deposit, which had a huge impact on our business," says CDC Federal's Anderson. "It's a negative impact on branch traffic, but for us that's an efficiency thing that works out well."
When he first joined the credit union's team in 2008, there were always lines at teller stations. Today there are few. It's a scene that has played out at other credit unions around the state and has led CUs to redeploy staff. Personnel are now often cross-trained to handle more duties so members are less likely to be shunted around for help.
Branches play an important role in recruiting and keeping new members, who still rank the availability of a branch and an ATM as prime factors in deciding to join – even if they don't use them.
"Those branches help us market to the community," says Halter. "Take Alpharetta, where we'll open our 27th branch this summer. We have a significant member base already, but by opening that branch it's going to serve those existing members and give us an opportunity to meet new members and further expand our product line."
HALLCO Credit Union has locations in Gainesville, Oakwood, Cleveland and a new one opening this summer in Flowery Branch. When the credit union surveyed its members about how it should approach building the new branch, it found they wanted more contact with people who could handle their needs and less automation.
"They quickly said 'we like our people,'" says HALLCO's Marketing and Education Coordinator Misty Waldrop. "We ended up making our new branch where every single person you encounter can do everything from opening an account to processing a loan to assisting in anything you need. We don't even have a drive-thru at that location."
---
Attracting More Members
Credit unions got their start in 1934 as part of New Deal legislation signed by President Franklin Roosevelt. The goal was to "make more credit available and promote thrift through a national system of nonprofit, cooperative credit," according to a history of the industry. In those days, they were limited to members of a common occupation or company.
"Almost all credit unions have kept their affiliation with the employer groups that they started with," says Mercer. That's remained true even as credit unions have expanded into the community.
Many have adopted community charters that allow them to serve everyone in a particular geographic region. That option enabled the survival of credit unions like Delta, which faced a shrinking workforce at its namesake company in the early 2000s. Today, it has more than 350,000 members in 11 counties and 27 branches.
In recent decades there's been a growing realization that affiliation with a single company or even multiple employers holds risk. Businesses shrink and even disappear. Globalization sent millions of jobs off shore. These shifts over time prompted most credit unions to adopt some form of community charter to reach more potential members.
Most credit unions have also traded their traditional federal regulation for more flexible state oversight. Just last year, Robins Financial Credit Union, which serves the Middle Georgia area, became the latest.
"It provided us more opportunities for growth that our federal charter didn't," says Robins CEO John Rhea. "The biggest thing was we absolutely had no opportunities to expand our market area under the federal charter."
The switch allows them to reach out to new service areas within Middle Georgia, Rhea says. The Feds restricted them to counties in which they already operated.
Robins Financial – now the second-largest credit union in Georgia – got its start serving civilian employees and enlisted personnel at Robins Air Force Base in Warner Robins. Today, most of its members don't work at the base, and that's good for its continued health.
Credit unions are also paying the price for the transgressions of big banks that led to the Great Recession. All find themselves spending badly needed funds to cover the costs of federal regulations such as the Dodd–Frank Wall Street Reform and Consumer Protection Act. Aimed at preventing abuses by large Wall Street firms, it ended up applying a one-size-fits-all approach that puts a substantial burden on small financial institutions, credit union officials say.
These regulations cost Georgia credit unions an estimated $114.2 million annually, according to a study by Cornerstone Advisors. Of that total, $94.4 million went directly to pay for increased regulations while the remaining $19.8 million represented lost benefits to members – such as additional services and lower interest rates on financial products.
Some credit union officials hope the new Trump Administration may roll back at least some of the regulations.
More regulation and the need for better technology to power modern financial services have made for trying times for the credit union industry. Yet these institutions created to serve the needs of middle- and working-class Americans have found ways to adapt and thrive in 21st-century America.