2017 Most Respected Business Leader: Sharing The Vision
Good things happen when a community and the leadership of its biggest economic engine are in sync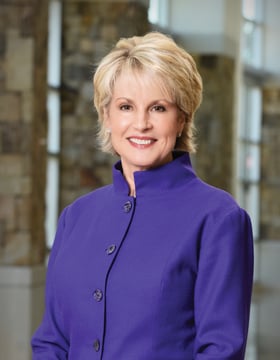 Eighteen years ago, Carol Burrell came out of an interview at Northeast Georgia Medical Center in Gainesville and said to a friend, "I think they are going to offer me a job."
Her friend's response: "I think you will be CEO someday."
They were both right, although Burrell says the notion of leading the hospital and its parent health system seemed far-fetched to her at the time. Nonetheless, the memory of the conversation "still gives me cold chills," she says.
She accepted a new position with the system's primary care network and became COO five years later. In 2011, she was named president and CEO of Northeast Georgia Health System (NGHS).
During Burrell's tenure, the system has earned impressive accolades – named Georgia's top heart hospital for 11 years in a row and the top hospital in Georgia for three years running by CareChex, an independent rating service – as it has fulfilled and expanded its mission, becoming a regional healthcare epicenter and economic powerhouse.
With more than 8,000 employees, the not-for-profit NGHS has a $1.3-billion economic impact on the region it serves, according to a Georgia Hospital Association (GHA) survey.
"I give great credit to those who came before us, because they had great vision," Burrell says. "The Gainesville-Hall County community is so blessed with leadership that has a vision and wants to make the community better and wanted to assure that we had healthcare here – close to home, as we like to say."
Burrell has involved herself in the local community and beyond, serving on boards, including the Greater Hall Chamber of Commerce and the GHA, and advancing the Medical Center Foundation, which has raised more than $54 million since 1999 for hospital and community endeavors. She is a past chair of the Northeast Georgia Chapter of the American Red Cross and Hall County's United Way.
For her vision, guidance and community support, Carol Burrell is Georgia Trend's 2017 Most Respected Business Leader.
Kit Dunlap, president and CEO of the Greater Hall Chamber, who has served on the NGHS board, calls Burrell "an outstanding leader" and says of the health system: "I've never been involved with an organization that works better. It's a great selling tool for the region. We use this in our efforts to attract businesses to come to Hall County."
Earl Rogers, GHA president and CEO, says, "During a time of great transition and turbulence in the healthcare field, Northeast Georgia Health System has thrived under Carol's innovative leadership and is a model for high-quality, compassionate care. Carol is regarded as one of the most admired and respected healthcare leaders in our state."
---
Modest Beginnings
Northeast Georgia Medical Center started out in 1951 as Hall County Hospital, which grew out of the private Downey Hospital. (A few locals fretted that its 90 beds might never be filled.) A 1986 restructuring created the health system to extend services beyond Hall County.
Today the system has three hospital campuses that provide tertiary-level care to a 5,000-square-mile, 23-county area: the flagship 557-bed Northeast Georgia Medical Center Gainesville; a new Braselton hospital opened in 2015; and a Barrow facility acquired this year. Additionally, there are centers for long-term care, imaging, rehabilitation, mental health and substance abuse, and cancer care. The Northeast Georgia Physicians Group has more than 250 providers in 50 locations representing 20 specialties.
"We are 65 years old, with a very rich legacy," Burrell says. "We have really been a cornerstone, the No. 1 employer of this region."
Burrell, who completed an undergraduate degree at Georgia Southern and Emory University and a master's in healthcare administration from Central Michigan University, came to Gainesville from Jacksonville, Fla., where she served as a vice president at St. Vincent's Hospital. But she didn't start out to lead a hospital system.
"I certainly have an unusual path," she says. "I like to say that people saw more in me than I saw in myself."
She grew up in Carl, near Winder, the oldest of three daughters and the first in her family to go to college. "I wanted to have a four-year degree. That was important to me. My dad was an electrician; he wanted me to have a trade. We compromised – I liked science, so I became a medical technologist. I was a blood banker and a microbiologist. I did it for all of two and a half years, then realized I wanted more interaction and more challenges."
That led her into pharmaceutical sales. "I used to sell Maalox," she laughs. "Now I take it."
Next came an opportunity to start a lab joint venture at St. Vincent's with a group of pathologists; then she worked with a large multi-specialty physicians group.
But after 18 years in Florida, she and her husband, Steve, also a Georgian, wanted to come home. Her good friend Marge Lassiat, an administrator at NGHS, introduced her to then-CEO John Ferguson, who hired her. It was Lassiat who predicted that Burrell would lead the health system one day; sadly, she passed away before she could see her friend in the CEO's office.
---
Milestones
It's no accident that the Gainesville-Hall County community and its health system have grown and thrived together. "It's that visionary leadership within the community and at the helm of the system for decades," Burrell says.
Together, she and NGHS have compiled an impressive roster of accomplishments, with the heart program at the very top of the list.
"Certainly when we opened the cardiac program here, it elevated the care," she says. "The physician leadership and others helped to further develop that program and make it what it is today. That's a milestone. For many years, this community went to Atlanta for its cardiac needs."
The Women and Children's Pavilion and a medical office building both opened in 2008, followed in 2009 by the North Patient Tower, which doubled the square footage of the Gainesville campus. Two imaging centers were added that same year. Burrell recalls that the market, around that time, wasn't doing so well: "But we'd already stepped off the cliff at that point."
The 100-bed Braselton facility opened in 2015 – a greenfield hospital, meaning it was a completely new build, with no constraints dictated by prior construction. "Who gets to build a brand-new [hospital] or do any one of these things in a career, in a given market?" Burrell asks.
A personal milestone for her came in 2009, the first year the medical center received recognition from Truven Health Analytics as one of the country's Top 100 hospitals. "I was COO at the time," Burrell recalls. "We were just trying to do the right thing and improve the care, and that happened to be a benefit. It was a pretty significant moment in time."
Part of a successful growth trajectory for any hospital, but perhaps especially one outside a major metropolitan area, is balancing the needs of the community with the available resources and pacing that growth.
"We continually evaluate the services we're providing," Burrell says. "What are the services going out of our communities? What are the demographics around that, where are those greatest needs, and what makes sense for us to have here as technology and resources and expertise become available?"
Level II Trauma designation, meaning the hospital has a full range of trauma resources available 24/7, was achieved in 2013. "We'd been talking about that for 15 years. Once we set out, we went through a process with our board and medical staff, and we made a decision: This is what we will do for our community. That's how those things have gotten 'birthed,' over the years."
On the horizon is graduate medical education, with the first residents expected in 2019 in six specialties – internal medicine, family medicine, emergency medicine, general surgery, psychiatry and OB/GYN. By 2024, Burrell expects NGHS to have one of the largest residency programs in Georgia.
"We've been looking at that for four or five years," she says. "At various points in time we felt like for all the right reasons we should do it, but we were building a new hospital, building a new tower – one thing after another. You can't do everything. Last year, we pulled a board-level leadership group together with our medical staff on board and we revisited the feasibility, what it was going to take and why.
"We view ourselves as a learning organization, and certainly taking on graduate-level education is another component of that," she says. The program will also serve as a hedge against shortages in some specialty areas. "Data will suggest that 80 percent of those who come and train at your facility will stay there," she says, so the effort can be an effective way to build staff.
---
Making It Work
NGHS has seen a lot of growth and change in a fairly short period of time – a situation that can present some management challenges.
"Anytime you are making changes, it can mean difficulties," Burrell says. "People come to an organization and see it as it is today. They don't necessarily see beyond that. They are in their comfort zone. So making the next step to some of these tertiary services back in the day was a little unsettling for some people.
"I can't tell you it was always easy, because it wasn't. Some people don't want to be a part of a trauma center; some people thrive on that.
"That's where you just have to continue from a leadership perspective to focus on the why and the how and try to take in as many considerations as you can. You're not going to make everybody happy. I think for the most part we've been able to get through those changing times. We're not perfect, and it's not all rose-colored. But we get through it, and we stay at it and work at it."
One of the biggest challenges, she says, is so many opportunities coming at the same time. "Keeping up with that – having the management expertise, the clinical expertise – and to stay in front" of the community's needs is an ongoing concern.
---
Vision and Reality
Historically, Burrell says, NGHS has benefited from its forward-looking approach. "The board had the vision that we needed to be expanding our care throughout the region. Everything can't be within the walls of this hospital."
And clearly more changes are coming, as hospitals are no longer simply places that treat and then discharge patients. They now have to be part of a solution to community health problems.
"Our goal is to try to keep people out of the hospital," Burrell says. "We certainly want to have the right care here at the hospital, but more and more, [it's] how do we care for our community, and what are the things we need to do to make it healthier?"
Added to the changes and community needs are concerns about costs. Like many other hospitals, NGHS counts on its ancillary facilities – centers for long-term care, imaging, rehabilitation – to help cover some of the costs of uncompensated medical care provided. The system receives no funding from the county, but subsidizes physician primary care for the Hall County Health Department and assists with Good News, a free health clinic in the community.
NGHS provided $48.1 million in indigent care for the 2016 fiscal year, for which it received no reimbursement. "It is a challenge for us," Burrell says. Caring for the uninsured is costly as well, and many who do have insurance have high-deductible plans. "When they've got a $5,000 deductible, that's the same to them as being uninsured." And it is likely to leave the hospital on the hook.
The medical center is currently scrutinizing protocols and data to find ways to deliver care more effectively and efficiently.
"We look in our ER, where we have 'frequent fliers,'" Burrell says, referring to individuals who use the ER for their basic health needs, knowing that hospitals cannot turn them away. "There's always the assumption they are uninsured," she says, "but that's not necessarily the case. There are some. There are others who don't have the support they need. They don't have the money to get their meds, they don't have a refrigerator to put their insulin in – more social-type things."
Of course, a big question looming over NGHS – and all hospitals and providers, for that matter – is the future of the Affordable Care Act and how to prepare for changes when they don't know what those changes are likely to be.
"One thing is for sure," Burrell says. "We don't know what it's going to look like, but we can be fairly assured there's not going to be any more money. Our focus is on improving the quality and outcomes in the lowest cost setting.
"And if we [have] strong financials, a balanced score card – with quality, financial aspects and service, patient satisfaction – we believe we will be as well-positioned as anyone."
Technology and telemedicine – including virtual doctor visits – will play an increased role in the future of healthcare, she believes; NGHS is preparing for that with the implementation of an IT system that will connect all of its facilities and physicians offices.
"One of the things I've come to realize is the consumer demand for efficiency and convenience. I think there is a balance there, for the things that can be provided through technology and at lower costs to keep folks out of the hospital – that appeals to people. At the same time, we've got to be able to continue to focus on that personal touch – the ease of service and flow and getting into the system as well as getting out of the system."
---
The Commitment
Burrell's background, unconventional as it may have been, prepared her well for her current role. "My experience on both the hospital side and, more important, the physician practice management side has really served me very well, to have a broader understanding," Burrell says.
And both within her organization and the community: "It does resonate with folks that I'm not here to move on to the next career. This is home for us."
Still, there are easier jobs than leading a growing healthcare system. What makes it so appealing?
"I feel a real sense of commitment and obligation to the community," she says. "There are a lot of people who are counting on this organization – and me. I take that very seriously. I think about the 8,000 employees we have here and what it takes to create this beautiful mosaic of healthcare. We have a lot to be proud of.
"The people really do inspire me. The commitment of people here and the focus on working together makes it worthwhile to be part of a team. No individual is in it just for themselves. I feel very fortunate to be in the position I'm in."