Jimmy Carter, Sunday school teacher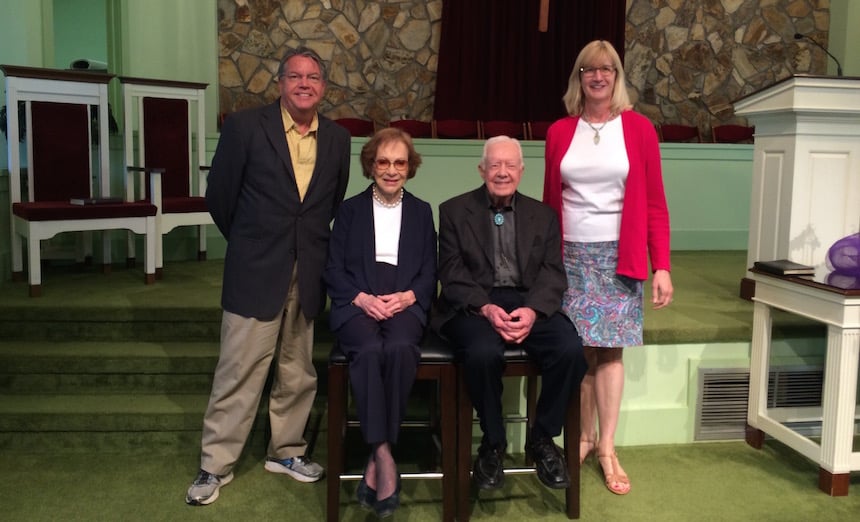 It's not every day you get to see and hear an ex-president speak and be inspired not just by the energy, kindness and humor of a 92-year-old national treasure, but also by the people who work to make the experience, which could be a logistical nightmare, as pleasant as a garden party. One Sunday in April, my husband and I decided it was time to see this man in action.
Former President Jimmy Carter teaches Sunday school in the sanctuary at Maranatha Baptist Church in Plains an average of three Sundays out of four – and has been doing it for decades. It's an appearance that raises Sunday school attendance from approximately 25-30 church members to 300+ and brings with it the inconvenience of Secret Service agents, bomb-sniffing dogs and crowd control. All of which is handled with efficiency and good humor by church members, who seem genuinely delighted to welcome people into their church to hear Mr. Jimmy.
The process could easily bring out the worst in folks – you need to arrive before 7 a.m. for Sunday school that doesn't start until 10 – and the church members who herd the masses are there even earlier. But everyone we encountered – from the man who showed us where to park and gave us our number for the line (we arrived at 6:45 and were No. 41) to the other guests – on a chilly morning in April was pleasant, excited and apparently thrilled to be there.
About 7:45, people get out of their cars and begin to line up in order of the numbers. There's no pushing or shoving or cries of cutting in line. Each number represents a vehicle, not a person. And on Palm Sunday, there were five buses full of folks with numbers in the 30s. So, despite being No. 41, we were the last pair to make it into the sanctuary. (There's an overflow room with a big-screen TV that shows what's going on in the sanctuary, and on this Sunday, at least, there was also an overflow tent. Mr. Jimmy stops by both to say hello on his way to Sunday school.)
At about 9, the warm-up act, Kim Fuller, a niece of Carter's, goes over the do's and don'ts for when the president comes in. (Don't clap. Do take pictures while he's asking questions of the crowd; stop when he begins the Sunday-school lesson. Don't admit you're a pastor from another church unless you want to be asked to lead a prayer.)
And while she's talking and pretending to be the president – just to be sure we've all got the rules down – Carter quietly slips in. No one claps, but there are lots of smiles as he moves to the front and begins talking with the crowd, asking where folks are from.
When one man says D.C., Carter's response is that familiar smile and, "I used to live there."
He tells us about what's going on in his life – just returned from giving a talk on human rights at Emory. Studies show, he says, that when the U.S. commitment to human rights decreases, human rights violations around the world increase. That is happening today.
But this is a church – on Palm Sunday. He doesn't talk politics. And soon he gets to the lesson about Jesus entering the city of Jerusalem on a donkey. He speaks and moves around the front of the sanctuary for 40 minutes, clearly at home and obviously prepared. With no notes, he doesn't miss a word. And the congregation pays close attention, wide awake despite having been up before dawn cracked.
For the takeaway photo with the Carters, you have to stay for the church service that starts at 11. Some people leave as Carter wraps up Sunday school with a prayer, but most stick around. And at about 10:55, President and Mrs. Carter come back into the sanctuary and go to what is apparently "their" pew. It's one that has been roped off and marked reserved for "church members." And it's the pew right in front of us. I could have reached out and touched the Carters. But the Secret Service guy, who smiled and said 'good morning' before shifting back into his stereotypical Secret Service serious face, was right beside me.
I sneaked a few photos, though, of the couple who could have spent their Sunday anywhere in the world and chose to spend it sharing a message of love with their closest friends in Plains.
To learn more about what this Georgian has been up to since leaving the White House, look for a feature in the June issue of Georgia Trend about the Carter Center's success in eradicating Guinea worm disease, "Defeating the Fiery Serpent."
To plan a visit to President Carter's Sunday school class, check out his schedule on the Maranatha Baptist Church website.
Photo above: From left, Jeff Matthews, Rosalynn and Jimmy Carter, Karen Kirkpatrick