Southwest Georgia: Steady Growth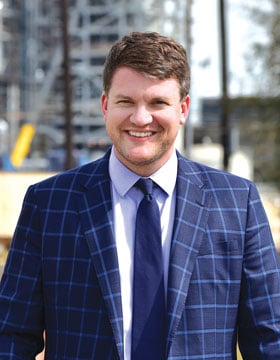 Slow and steady. That's the phrase you keep hearing in Southwest Georgia. After some lean years, companies are expanding and adding jobs, and a stubborn unemployment rate is down to its lowest level in years.
"It's really just quiet, steady growth," says Grant Buckley, executive director of the Cordele-Crisp County Industrial Development Council. "It's not a thunderstorm of activity, but it's good growth. The beauty of our community is we don't have one large elephant in the room, but a half dozen in the 100 to 200 employee range."
Other economic developers say they're seeing similar growth from existing industries and small businesses.
Southwest Georgia is a region that has long struggled to attract business and industry. While improvements have been building for the past year, the region appeared to get a boost after the presidential election. It seems to have shaken loose some investments that have been holding back and waiting to see what would happen.
Last year one developer spent months and "serious money" optioning a property for a national retailer only to finally admit it wasn't going to happen because of new store cutbacks, says Winston Oxford, executive director of the Lee County Chamber and Development Authority.
After the election, inquiries started again, with one well-financed national developer optioning the same property.
"The commercial investor community is very positive, very upbeat and in mega-expansion mode," Oxford says.
Lee County's growth has also made it attractive to the healthcare industry. Marietta-based development firm Freese Johnson LLC is planning a new $50-million private hospital on the former Grand Island golf course acreage. The new facility is likely to spur extensive development, such as medical offices and additional retail, across the 163-acre tract.
Like much of Southwest Georgia, Crisp County's economy is driven by agriculture. In addition to farms, there are a number of ag-related businesses that are increasing the diversity of the economy. Several of these companies have expanded or opened new facilities.
Helena Industries opened a new 180,000-square-foot warehouse and added 10 employees. The company, which makes chemical products for lawns and crops, employs a workforce of more than 200 full-time and temporary workers.
Guardian Building Products doubled its space by moving into a 40,000-square-foot facility.
One of the busiest companies in town is Cordele Intermodal Services, which runs an inland port. With direct rail to the Port of Savannah, the facility handles a continuous stream of imports and exports. Since its creation, most rail containers have been filled with agricultural products bound for export. A new contract with Kia Motors balanced the equation by increasing the number of imports – parts bound for the Kia assembly plant in West Point. The new contract doubled the number of employees to 100.
All those new jobs have helped bring down an unemployment rate that averaged 6.9 percent in 2015 to 5.8 percent in December. Other countries have joined Crisp in reporting higher employment.
Across Southwest Georgia there is a renewed sense of optimism as companies put money into communities such as Colquitt County.
"Our community is on the verge of a huge upswing right now," says Tommie Beth Willis, president of the Moultrie-Colquitt County Chamber of Commerce. "People are starting to see the value in investing in Moultrie and Colquitt County, whether it's through expanding their business or bringing another business here. Not only have some major corporate chains invested, but many of the local businesses are continuing to grow and invest as well."
These investments include National Beef, which completed a $9-million expansion. BUDK Worldwide, an online seller of swords, knives, medieval weaponry and fantasy collectibles, added 24,000 square feet to its facility.
In addition, a 45,600-square-foot Publix store opened as the anchor of a shopping center that is expected to include two restaurants, a pet store, a nail salon and a hair salon.
Moultrie granted 85 business licenses last year, indicating an upsurge in economic activity.
Worth County also has a strong agricultural economy. It's home to Peter Pan peanut butter, which rolls off an assembly line at the local Con Agra plant. Most of the county's 600 businesses are related to agriculture in one way or another, says Karen Rackley, president and CEO of the Sylvester-Worth County Chamber of Commerce and executive director of the Economic Development Authority.
"While we may not be getting new businesses, our existing businesses are doing very well," she says. "That brings the money into our economy."
To attract more industry, Worth built a 196-acre Georgia Ready for Accelerated Development (GRAD)-certified industrial park.
"Smaller communities like ours have limited resources, but the GRAD site shows industry we're ready and we want them to come here," says Rackley.
In this region, you can find big nationally known companies residing in small towns. Berrien County is home to the nation's two biggest builders of recreational boats, Chaparral Boats and its subsidiary Robalo. The world leaders in family sport boats and recreational fishing boats added more than 100 employees in the last year, bringing its numbers to more than 900.
"Anytime our existing industries are adding to their headcount or adding to their footprint, it's a positive indicator – especially when our leading industry is producing a recreational item," says Crissy Staley, executive director of the Berrien County Chamber of Commerce and Development Authority.
Valdosta-Lowndes Development Authority's Executive Director Andrea Schruijer echoes many in the region when she says, "I would say that 2016 was one of our busiest years from expansions and new industry projects that we were working."
As one of the Southwest region's larger cities, Valdosta saw its share of downtown growth and revitalization. Major employers also got moving.
Among the expansions is Saft, a French company that has been in Valdosta for more than 40 years. Saft, which manufactures batteries used in all types of commercial applications from helicopters to monorails, announced a $5-million expansion.
In addition, honey producer Nature Nate's invested $1.75 million and added about 25 jobs.
All together, local businesses have put more than $20 million into capital investments and added more than 300 new jobs.
"One of the things that's really great about Valdosta and Lowndes County is that we are diverse," says Schruijer. "We have a diverse base of manufacturing, logistics and distribution. Mixed into that is retail along with food and beverage."
In Southwest Georgia, economic growth has always come hard, but earlier this year it seemed as if even the weather was conspiring against the region. In January two tornadoes tore through the region, destroying homes and businesses and taking 15 lives. Several major employers were also hit hard, yet the communities have rallied to rebuild.
"All the companies that were affected are still manufacturing products in Albany," says Justin Strickland, president of the Albany-Dougherty County Economic Development Commission. "Their logistics may have been temporarily affected, but they have quickly found alternative means of distributing their products to meet their customers' needs."
Hamilton Relay lost its call center where 200 people worked. Proctor & Gamble's distribution center and a Coats & Clark warehouse were heavily damaged. The nearby Marine Corp Logistics Center, which prepares weapons for use around the world, was also damaged. All are in the process of rebuilding, according to Strickland.
This is a region that has turned misfortune into success. After the Caterpillar plant in Thomas County announced that it was closing by the end of 2016 and 229 people would be out of work, the county got busy marketing the building to new clients.
"Now that we have the building empty, we are doing everything we can to get it going with a different employer," says Shelley Zorn, executive director of economic development with the Thomasville-Thomas County Economic Development Authority. "We've had a lot of activity on the building," which has put Thomas County on the map of a number of potential clients, Zorn says.
While most jobs have come from existing industry, some counties have snared big new relocations. The Linde Group is investing $40 million and creating 35 jobs at a new, custom-engineered air separation plant in Adel. The Munich-based manufacturer and supplier of industrial gases will use the large-scale air separation facility to supplement markets currently supplied by other plants. The facility is scheduled to be completed in the first quarter of 2019.
"Their customer base is such they needed to come further south," says Lisa Collins, executive director of the Cook County Economic Development Commission. "We really think this will be a game changer for us."
Not only is it a major investment in the county, but the plant will become Adel's largest utility customer, accounting for half of the city's current electrical production.
Turner County, along I-75, recently got a 24-hour Flash Foods Travel Plaza – one of the largest in South Georgia.
"It's a $6.5-million investment in Ashburn," says Stevi Thompson, president of the Ashburn Turner County Chamber of Commerce and director of the Turner County Development Authority.
In the last year, the county added 90 full-time jobs among existing industries, says Thompson.
The growth of agriculture has also been good for Terrell County, where cotton and peanuts are big business and local companies are growing. In Dawson, Bayer recently built a $4.4-million, 150-acre cotton breeding facility.
A new Terrell County Regional Youth Detention Center opened its doors last year. The facility was repurposed from a former adult probation facility
"It brought over 100 jobs to our county, which just had over 9,000 people," says London Mainor, executive director of the Terrell County Chamber of Commerce. "That's quite a lot for a county of our size."
This resilient region is building a strong base for continued economic growth – one that many here hope will stand the test of time and a changing economy.
Read About Individual Regions: