South Metro Atlanta: Area Evolution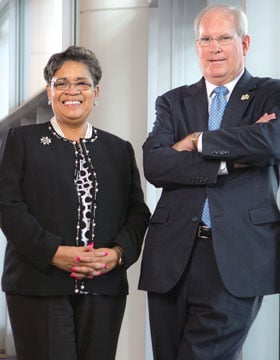 Creating new cities, real and via moviemaking magic, is a key plot point in the Atlanta South Metro region's evolution as a business hub.
In May, the city of South Fulton will become official, with more than 100,000 residents. Meanwhile, a walkable community with more than 1,300 residences, two hotels, and office and retail space is bringing Pinewood Forrest, located across the street from Pinewood Atlanta Studios in Fayette County, to reality.
Then, there's the making of the aerotropolis, which brings
together corporations, two counties, 10 cities and community improvement
districts (CIDs) to attract jobs and development to an area around Hartsfield-
Jackson Atlanta International Airport. The airport, which is in the midst of a
$6-billion expansion, continues to be cited by South Metro leaders as the major factor for business growth.
"Location's always key, with the airport being located in Clayton County and access to four interstates and two major railroads," says Courtney Pogue,
director of the Clayton County Economic Development Office.
In 2016, the region, which includes the southern end of Fulton County and Clayton, Coweta, Fayette, Henry and Spalding counties, experienced new jobs and expansion announcements from companies including UPS, which plans to open a $400-million regional package-sorting hub in South Fulton County with 1.2 million square feet and about 1,250 jobs.
"It's just like whew, whew, almost whiplash; there's so much growth going on, and we're just loving it," says Y. Dyan Matthews, president and CEO of the South Fulton Chamber of Commerce.
---
Making History
The new city of South Fulton and projects such as the diverging diamond interchange at Camp Creek Parkway and I-285, where construction is set to begin in 2018 at an estimated total cost of $10 million, are bringing more people and businesses to the area, Matthews says.
The Aerotropolis Atlanta CIDs – created in January 2016 when the Airport West CID and Airport South CID merged – is finalizing a master plan for its 16-square-mile area. If approved, CID leaders anticipate a $150-million to $250-million investment over the next five to 10 years throughout Fulton and Clayton counties, says Executive Director Gerald McDowell.
McDowell says changes would include transforming Virginia Avenue, Camp Creek Boulevard and Phoenix Boulevard into "complete streets," which are walkable, bikable and driveable routes designed to alleviate traffic jams, and spending an estimated $60 million to update 15 interchanges around the airport into gateways with new landscaping and public art.
The Aerotropolis Atlanta CIDs has focused on fostering economic development on the Southside in a couple of key ways. It is spending about $500,000 annually on a beautification program that maintains rights of way and about $600,000 annually for a public safety program with more area patrols that have resulted in a significant decrease in criminal activity, McDowell says. It plans to conduct a transit feasibility study and a wayfinding and signage study to promote the area as the aerotropolis.
The Aerotropolis Atlanta Alliance, a nonprofit group of government and business leaders also dedicated to improving the area around the airport, unveiled the Aerotopolis Atlanta Blueprint, a community development plan that uses the airport as the foundation to push for economic investment, job growth and quality of life.
Already development is transforming the aerotropolis. ThePad on Harvard, a live-work-play community, broke ground in December. It's the first new multifamily development to be built in College Park in 40 years. Phase I of the development includes 109 upscale apartment units, while future phases will add hotel and retail. The development is located just 400 feet from a MARTA station.
MARTA is also important in Clayton County, where transit changes include the expansion of bus routes that Pogue says have made the area attractive to businesses, which invested about $170 million in the county in 2016 and added about 2,000 jobs. Half of those came from Chime Solutions, a customer-contact service provider, at its Morrow headquarters. Most of the remaining jobs were in the logistics and manufacturing sectors, such as YRC's $7-million freight terminal with 60 new employees and US Xpress's 36,000-square-foot maintenance facility for 40 employees in Ellenwood.
The South Fulton area is reaping the benefits of MARTA, Hartsfield-Jackson and the region's transportation network, particularly with proximity to I-85, and is being discovered by corporations, says Al Nash, CEO of Select Fulton and of the Development Authority of Fulton County.
One such corporation is Kroger, which has redeveloped 1.2 million square feet at Fort Gillem into a distribution center. It's just one example of what Nash says is the tremendous growth in logistics and high-tech distribution centers sprouting up along the I-85 corridor. But that's not the only growth in the area. He also sees employers, such as Chick-fil-A, adding technology and management jobs to the region. Downtown Atlanta or the Northside aren't where all the tech jobs are, he adds.
---
Development Action
By 2040, the population in Clayton, Coweta, Fayette, Henry and Spalding counties is expected to nearly double, topping 1.16 million according to Atlanta Regional Commission projections. Some developers are geared toward providing housing and retail for the growing residential base.
Pinewood Forrest, a 234-acre master-planned community that straddles Fayette and South Fulton counties, is an ambitious vision led by Chick-fil-A's Dan Cathy, architect/town planner Lew Oliver of Whole Town Solutions, Foley Design Associates and Pace Lynch Corp. A key is its proximity to Pinewood Atlanta Studios, the second-largest purpose-built studio in the United States that has played host to Captain America: Civil War, Passengers and the upcoming Guardians of the Galaxy Vol. 2.
"The South Metro area and the state of Georgia offer an extensive assortment of natural beauty and diverse looks, making the area quite appealing for productions looking for a variety of landscapes," says Frank Patterson, who was named president of Pinewood Atlanta Studios in 2016. "This offering combined with the extremely welcoming community of Fayette County creates real value for productions."
Pinewood Forrest, located 25 minutes south of downtown Atlanta, is expected to welcome its first residents this fall , says Rob Parker, president of Pinewood Forrest LLC. Homes range from the low $200,000s to $1 million.
"We're really talking about engaging in what we know people want, which is this connection to community," Parker says. "The new urbanist movement is really about resisting what we've done in our flight to the suburbs that has created the traffic nightmares and collector roads and these kind of separations of how we live – that work is separated from school, which is separated from where we work out and shop."
In 2018, the multi-family units are expected to be complete along with retail in a village setting and office space that will include shared work environments and plans for tech and culinary incubators. Hay Creek Hotels is developing a 95-room boutique hotel and a 200-room limited service hotel with about 50 suites.
As Pinewood becomes a major player and Pinewood Forrest is developed, Carlotta Ungaro, president and CEO of the 720-member Fayette County Chamber of Commerce, expects more businesses and newcomers to finally recognize what the area offers. The chamber, which turns 50 in 2017, is partnering with the Fayette County Development Authority to roll out the county's first branding campaign this spring.
"One of the things we've learned from the research is people just don't even know what we have down here," Ungaro says. "We joke that we're the best-kept secret, but it's not very funny when you're in economic development."
Peachtree City has experienced job growth from existing employers such as Sigvaris, a Swiss manufacturer of graduated compression hosiery and socks worldwide that added 70 new jobs in a 40,000-square-foot expansion. In Fayetteville, Piedmont Fayette Hospital turns 20 this year, with 221 beds and more than 1,600 employees; it was named one of America's Best 50 Hospitals by Healthgrades in 2015, 2016 and 2017.
Meanwhile, neighboring Coweta County also has space in existing industrial parks, and the 281-acre Orchid Hills Business Park, a former golf course on I-85, is being marketed for industrial development. Some existing space has been taken by new and expanding companies. Retail chain Variety Wholesalers plans to create 320 jobs with a $10.5-
million investment in a distribution center to support its store expansion. It took over 1.4 million square feet in a former Kmart distribution center, which has about 500,000 square feet still available, says Greg Wright, president of the Coweta County Development Authority.
Other massive mixed-use proposed projects include Jodeco Atlanta South, a $300-million live-work-play development off I-75 by Alabama-based RCP Companies. Stockbridge city officials re-annexed the nearly 160-acre property into the city limits in December. The development could provide much-needed new housing and retail in fast-growing Henry County.
---
International Business Innovation
Interstate and airport access is attracting international companies locating U.S. headquarters in the South Metro area. In Newnan, Nyco America, a French company in the automotive sector, began operations in Shenandoah Industrial Park in early 2017, and Blickle USA, a German company, plans to move later this year into a 55,000-square-foot facility in Coweta Industrial Park.
To the east, about half of the sites in Spalding County's Lakes of Green Valley, a 570-acre industrial development on Georgia Hwy. 16, have been occupied by Japanese companies, says David Luckie, executive director of the Griffin-Spalding Development Authority. The influx of international companies garnered attention for the authority, which was one of three finalists for the 2016 International Community Award in the Governor's International Award program. About six sites were left in early 2017 in the state's first eco-friendly, mixed-use park, which was funded by a Special Purpose Local Option Sales Tax (SPLOST), Luckie says.
"We still feel very optimistic based on the number of projects we have and the ones we're hoping to get closed," he says. "I guess the ultimate goal for us would be to [run] out of the land and have to get more."
Another big win was a combined effort between Spalding and Butts counties, which lured an $85-million, 1-million-square-foot Dollar General distribution center that will create 535 new jobs. A joint development authority was created for that deal, which won the 2016 Regional Deal of the Year award from the Georgia Economic Developers Association.
In January, University of Georgia's Food Technology Center opened in Griffin, 17 years in the making. The $7.4-million center was funded using $3.5 million from the state of Georgia, plus support from the U.S. Economic Development Administration, the Griffin-Spalding Development Authority and UGA.
"The food scientists here will work with food entrepreneurs to help develop new food products, which we hope means jobs for Georgia," Luckie says.
Innovation, particularly e-commerce, continues to be a hot sector in Henry County, just as throughout Metro Atlanta, says Charlie Moseley, executive director of the Henry County Development Authority. In 2016, a record $409 million in new investment that will add 1,450 jobs was announced.
Designer Tory Burch's distribution center, a $60-million investment, will bring in more than 150 new jobs, while Wayfair's new distribution center in McDonough will add more than 150 jobs. Both are expected to start operating this year. The Home Depot, which already has a warehouse in the county, plans to build another 1-million-square-foot facility representing a nearly $46.5-million investment.
Companies have absorbed about 2.5 million square feet of speculative industrial space that was completed in 2014-15, and another 4.5 million square feet has been recently completed or is under construction.
"We're continuing to receive RFPs [requests for proposals] for large million-plus-square-foot facilities that would be dedicated to e-commerce," Moseley says. "They are significant job creators."
---
New Mold for Training
The new Georgia Consortium of Advanced Technical Training program in Coweta County, which as of November 2016 had a 4.5 percent unemployment rate, is touted as the first of its kind in the nation with a German-style apprenticeship model. The program brings together the Central Educational Center (Coweta County's college and career academy), eight local manufacturing companies, the Technical College System of Georgia and the German American Chamber of Commerce of the Southern U.S.
"We're showing companies that, yes, we have workforce now, but we're also working to make sure we have a trained workforce in the future," Wright says.
High school students can earn a high school diploma, German apprenticeship certificate and an associate degree in industrial mechanics through West Georgia Technical College. Nine students kicked off the three-year program when it started in fall 2016, and Blickle USA provided tools for students, Wright says. This fall, it will add a mechanics program and can tailor future programs that meet workforce needs for in-demand occupations.
The second of eight buildings currently planned for Southern Crescent Technical College's Henry County center is expected to be completed in 2018. The 80,000-square-foot building is anticipated to cost more than $23 million.
"Workforce is always tip-top of everybody's priority list," Moseley says. "We're hoping that it becomes a workforce development hub for the community."
---
LOCAL FLAVOR
The Show Must Go On
For the eighth season of the Serenbe Playhouse, actors will zoom through the treetops on a zipline in Robin Hood and perform Shakespeare in a waterfall. All the outdoors is a stage, after all, for the theater company in Chattahoochee Hills.
When Brian Clowdus, founder and executive/artistic director, pitched the idea of a playhouse at Serenbe and was told there wasn't a structure, he created an outdoor-site specific theater company. The first shows had crowds of only 30 or 40 people.
But last year after Miss Saigon, which was capped by a nightly helicopter arrival and featured in The New York Times, sold out with 200 attendees, they expanded to 350 seats.
A total of more than 25,000 people saw performances at the Serenbe Playhouse in 2016, and corporate sponsors included The Home Depot.
"A reason why we've grown so quickly is it's something they can't get anywhere and it feels comfortable," Clowdus says.
For the 2017 season, the Serenbe Playhouse expanded to 400 seats for musicals such as Grease, which runs through April 16, followed by plays such as Robin Hood and Macbeth.
The Grease production includes a drive-in theater built on the Serenbe property for people to watch the show, some of which is being filmed ahead of time on a green screen. The actors will appear in the movie and also live in front of the previously filmed footage throughout the show.
"The movie is so iconic," Clowdus says. "We're really making it as an homage to the movie."
For some, the theatrical performances are combined with a day or overnight stay in Serenbe, which has restaurants, boutiques, an inn and residences in several neighborhoods, including the newest called Mado.
Only 5 percent of the audience is in its ZIP code, with most patrons from Metro Atlanta and elsewhere in the Southeast, which pushes Clowdus toward more creativity. He adds that the South Metro area is worthy of more attention, from Kenny Leon's True Colors Theatre Co. in South Fulton to the arts scene in Newnan.
"We always say that we're not creating performances, but we're creating experiences. We've really created this sense of event without walls or ceiling," he says. "You have to do something that you can't get in the heart of Atlanta to make people drive outside of the Perimeter." – Lori Johnston