Small Towns, Big impacts
Festivals and fairs mean more than funnel cakes and parades for Georgia's rural communities. They also mean big business.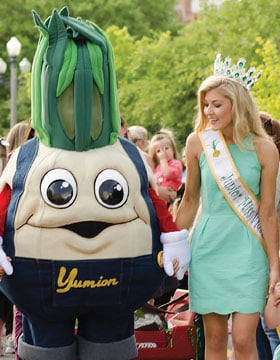 As festival season starts in earnest throughout Georgia, many small towns are gearing up for an influx of visitors – and hopefully the tourism dollars they will bring with them.
The tourism industry is a vital part of Georgia's economy, boasting a $59-billion impact in 2015, says Kevin Langston, deputy commissioner for the tourism division at the Georgia Department of Economic Development. And for Georgia's smallest towns and communities, festivals celebrating everything from moonshine to honeybees are unique ways to attract important visitor dollars and local spending.
"You don't have to be a huge community to be able to pull that off," Langston says. "That's one of the great things about fairs and festivals. Almost anyone can do it, and there are lots of places you can go for advice and guidance on how to do it well. It's something that can work for a community of any size."
---
Singular Attractions
So, if almost any town can have a festival, how can small towns ensure that they have a successful festival – one that maximizes return on investment and drums up significant interest?
"Do something that's authentic to the community. Take advantage of something that's local and something that can celebrate the sense of place of the community," says Rachael Carter, economist and community development specialist with the Mississippi State University Extension Service. Carter helps measure the economic impact of festivals across small towns in Mississippi and studies what makes these festivals work – and what makes them falter.
Luckily, this is a point that Georgia's small towns have taken to heart. There's Vidalia's Vidalia Onion Festival celebrating the world-famous onion, which is only grown in 13 counties and portions of seven more in southeast Georgia. There's the Rose Show and Festival in Thomasville, a town about 10 miles from the Florida state line that was named Georgia's Rose City by the state legislature last year. There's the Georgia Blueberry Festival in Alma, celebrating one of the state's largest agricultural products and the community that serves as its crop hub. And the list goes on, celebrating sorghum, buggies, fire ants and more.
The draw can even be a person, as the Plains Peanut Festival proves each year. President Jimmy Carter's hometown balloons from its population of about 700 to more than 6,000 each September during the weekend of the festival, a joint celebration of the town's two most famous exports: peanuts and presidents.
"People come because they want to see him," says Ruth Sanders, director of the Plains Better Hometown Program. "Their book signings – the opportunity to come and get a book signed by him – are huge. They're out in the halls at Maranatha to hear him teach Sunday school. A lot of people come because they want to see him and [Rosalynn Carter]. It's a huge thing."
For Vidalia, the town's celebrity is its signature sweet onion.
"It's such a unique commodity. There's a high demand for that product, so people like to come here to get it, even though you can buy it in the grocery store just about anywhere in the United States," says Alexa Carter Britton, executive director of the Vidalia Convention and Visitors Bureau. "They want to come see what it's all about. They want to see the farm. They want to go to the recipe contest and taste what the local cooks have entered."
Once communities identify their unique attraction, they need to focus on attracting the right audience, and that involves making some pretty basic – but important – decisions.
"Is this an event where they are just trying to attract a small, regional audience of maybe the next one to two towns or counties over? Or is it an event where they want to bring in tourists across the country?" asks Carter. "You need to know if you're trying to be an event to enhance your community, build community and sense of place, and showcase what you have in the region, or a tourism event where you're bringing in people from outside 50 miles. And if so, who are those people? An event can be both things, but you need to be aware of what it is and who you're trying to please."
Having a clear understanding of her audience helps Ellen Gay McEwen, producer and director of the Cotton Pickin' Fair, pick a curated list of exhibitors for each event. The fair brings 30,000 to 40,000 people to Meriwether County (population 21,190) each May and October – when cotton is planted and then harvested – for a thoughtful collection of arts and crafts vendors.
"We could have a festival of thousands of exhibitors if I wanted to, but then we wouldn't have the uniqueness and the variety that we have," McEwen says, which is an important factor in building the fair's brand – and keeping visitors coming back year after year.
---
Behind the Scenes
Though festivals might only last a handful of days, they take an incredible amount of work to pull off. For most festivals, planning for the next year's event starts a few months – and sometimes just days – after the last visitor exits the gates.
"Most people are very surprised at how long it takes to plan it all," says Britton. "There's a tremendous amount of time, people, money and energy that goes into doing something like this."
For a lot of small towns, putting on a festival is a community effort involving almost every public works department. The Rose Show and Festival in Thomasville, for example, coordinates with the water, electric, public works and solid waste departments to set up the festival, as well as police and fire over the festival weekend. Local television and internet provider Community Network Services also sponsors the festival, helping with underwriting the event and advertising on its networks.
"It's not just setting up the tent," says Sarah Turner, Thomasville's director of events and marketing and communications. "It's a lot of behind-the-scenes work as well."
In Plains, Sanders coordinates with the National Parks Service in addition to city and county utilities, which she says is a critical partnership in pulling off successful festivals each year.
"It's huge because they have assets we don't have. We have assets they don't have," she says. "We're a small community. If you don't … work together, then you come across as being divided. That's not a good thing. You need to work together and be together, and come across that way."
It's something that visitors notice, too, she says: "Everybody needs to know what's going on and what everybody else is doing, or visitors are going to pick that up in a hurry. That's how they're going to remember it."
Strong community partnerships are another hallmark of a successful event, says Mississippi State's Carter: "The key to an event – to capture as many dollars as possible in the town – is for whoever is putting on the event to have really good, open communication with the community, because then local merchants can be prepared and take advantage of the crowds. For example, they may want to stock sunblock if there's going to be a festival in town during the height of summer.
"That creates sustainability for an event," she adds. "It creates bonds within the community; it helps build your community image. And it makes for an overall good event. You're driving those local dollars, as well as bringing in tourism dollars."
---
Measuring the Impacts
If planned and executed well, festivals are great ways to inject dollars into small communities, but their benefits reach beyond dollars and cents. They can also create a sense of community, build community pride and help civic organizations impact their communities.
In Meriwether County, the Cotton Pickin' Fair has served as the primary fundraiser for more than two dozen civic organizations, says McEwen, helping to build churches, activity buildings and a masonic lodge. Funds raised through the fair have also provided fire equipment for the volunteer fire department, sent Boy Scouts to camp and bought band uniforms for local schools.
And some effects have yet to be seen, says Turner: "Tourism is economic development, so when people are coming in to see the festival, they're also looking at it as potential business owners or taking a look at it as a potential retirement community, so those kinds of effects are felt for years to come. It's not just coming to see the flowers or see the parade; it can be income for decades. It could be someone's vacation spot for the rest of their lives. It's a huge impact for us."
As for the economic impact, it can be substantial – and also hard to quantify. To help communities throughout the state calculate the impact of their festivals and special events, the Georgia Department of Economic Development partnered with researchers at Georgia State University to develop an economic impact calculator. The calculator is a simple Excel spreadsheet available for download on the state tourism department's website, marketgeorgia.org, and it only requires a few data points, like number of visitors, region and event duration, to quantify economic impact.
"We see the economic impact calculator as a great tool for communities to use to illustrate for their stakeholders, city council or county commissioners the value of that event," says Langston. "[These groups] are the ones who want to be able to show that their community's dollars are being invested wisely, because generally a festival does require some level of investment by a community. You want to be able to show that you're getting a good return on your investment."
Local festival dollars span many different sectors, including food and beverage, retail, recreation and transportation. Lodging is a particular boon, so holding a two- or three-day festival could be a good way to boost impacts.
McEwen's husband, John, estimates that the Cotton Pickin' Fair generates about 1,200 hotel room nights within a 25-mile radius from Gay.
"That incorporates Peachtree City, LaGrange, Griffin, Thomaston and Manchester, not just our community and our county. We're impacting the surrounding counties also," says Ellen.
The Plains Festival has a similar effect in Sumter County, says Sanders, selling out hotels in nearby Americus each year.
Sponsorships and local advertising are other big expenditures for these events. Sanders estimates that the Plains Peanut Festival brings in about $30,000 in sponsorships each year, and most festivals concentrate advertising dollars in their community in local newspapers, magazines, television and radio. Social media is another promising market; the Vidalia Onion Festival employs Brunswick-based digital marketing firm ITI Digital to handle Facebook and Instagram outreach campaigns for the festival.
Of course, some of the biggest impacts are intangible. In Vidalia – and small towns and communities throughout the state – the festival is about more than funnel cakes and parades: It's also about recognizing and appreciating the town's heritage.
"There's a lot of tradition behind it. It's a celebration of the harvest of the most unique agricultural product that we have here, and because we've been doing it a long time, people anticipate that. Kids who grew up here come back home that weekend to go to the festival," says Britton of the Vidalia Onion Festival. "Of course, the economic impact is always a plus, but it's certainly a way for our community to roll out the welcome mat. It also is a nice event for our community. Our community comes out and enjoys it."
In Plains, the effects are much the same: building pride in the local community, especially for its most famous resident.
"President Carter has made the comment in articles several times that, 'No matter where we are in the world, truthfully, all we really are striving to do is get back to home. To get back to Plains,'" says Sanders. "He laughs at me because I told him, 'Do you know all this pressure you're putting on me? I have to make them understand why you want to come.'
"I think that's my job, to make them think, 'Okay, I know why he loves this little town.'"