Savannah|Chatham County: A Rising Tide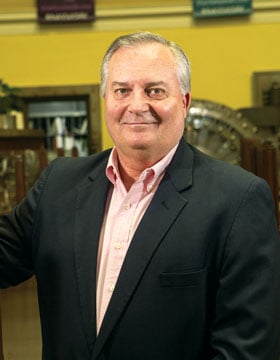 Savannah-Chatham County has long been one of those appealing cities you move to primarily for quality of life. In recent years, residents and newcomers alike have seen an improving economy also make it an increasingly profitable place to both live and do business.
"Our real strength is the diversity of our economy," says William Hubbard, president and CEO of the Savannah Area Chamber of Commerce. "We don't count on any one part, so things have been rebounding for quite some time. We're at record job growth here now."
In fact, the Savannah area economy will continue its upward trajectory into 2017 and beyond, according to the Georgia Economic Outlook forecast from the University of Georgia's Terry College of Business and Armstrong State University's Center for Regional Analysis.
---
Healthy Progress
Savannah's regional economy – which includes Chatham, Bryan and Effingham counties – has been expanding for almost seven years, creating 30,000 new jobs along the way, nearly all of them in the private sector, according to a statement by Michael J. Toma, Fuller E. Callaway Professional Chair at Armstrong State University.
"I wouldn't say it's booming, but I would suggest it is measured and very healthy progress, and most folks are quite optimistic and feeling good," says Hubbard.
One thing residents are feeling good about is the caliber of the area's higher education. The Savannah College of Art and Design (SCAD) recently announced that DesignIntelli- gence named SCAD's undergraduate and graduate interior design programs No.1 in the nation for 2016. DesignIntelligence is the publication and rankings body of the Design Futures Council, which researches and ranks graduate and undergraduate programs. This is the fifth consecutive year that SCAD's undergraduate interior design program has received the top ranking on the annual America's Best Architecture and Design Schools list.
In other local higher-ed news, the Board of Regents of the University System of Georgia voted to begin the yearlong process of combining Armstrong State Unversity in Savannah with Georgia Southern University in Statesboro. The consolidation is expected to save money that can be spent on academic offerings and increase college graduation rates in southeast Georgia.
Pre-college-age youth will again be invited to participate in Savannah's Summer 500 youth job program, which launched in 2016 and provided training for 300 young people. Any student 16 years old or older can apply for an eight-week Summer 500 internship. Selected interns will be placed in public- and private-sector jobs and will earn a minimum of $8 per hour for 32 or more hours a week. The goal is to match 500 students with 500 paid internships this summer.
From academics and summer employment for youth to economic developers and small business owners, the mood is upbeat.
"It's pretty steady and stronger than other areas of our state," says Trip Tollison, president and CEO of the Savannah Economic Development Authority (SEDA).
He echoes the idea that an economy that has become increasingly diverse over the years is better suited to weather economic storms than surrounding counties that often depend on just a few companies for employment.
Savannah boasts a substantial number of big employers, from aerospace giant Gulfstream and a large warehousing and logistics industry surrounding the Port of Savannah to healthcare, tourism and a substantial military presence.
"We're also talking to different developers and businesses that are looking to come to Savannah, and there have been more prospects looking at this area than even before the recession," says Sam McCachern, president and CEO of Thomas & Hutton Engineers, who also serves as chair of the Savannah chamber. "More companies are definitely moving into the region."
In fact, McCachern sees a stronger economy that has gotten back to where it was before the Great Recession.
Along with more companies looking at sites and existing industries making expansion plans, you can see the signs of growth on the city's landscape. Towering cranes are jutting skyward as new buildings take shape – a sure sign that developers see opportunities and have money.
In fact, more than 1,000 new jobs and approximately $280 million in private investment helped drive the local economy during the past year.
This upsurge included newcomers like Convergys, a global leader in customer management. It opened a new location in the city and brought with it 450 jobs.
Companies such as Floor & Décor are increasing their presence. The flooring retailer expanded its import distribution center with the construction of a new facility at Morgan Business Center. The first phase is a $50-million, 1.4-million-square-foot expansion that will create 64 new jobs. Phase two will include an additional 1.1 million square feet set to be developed in 2019.
After a hard-fought campaign to win a Volvo car assembly plant, the Swedish automaker decided on a site in South Carolina. It was a disappointment, but a good indication of just how competitive Savannah and Chatham County have become to advanced manufacturing. To raise the bar further, the development authority just added a 650-acre industrial park.
"These days it's very difficult to find that much property in a developed area," says Hubbard. "This property will be used just for manufacturing. That's really wonderful because increasingly to be able to compete [for large companies], you have to be able to cut deals or provide them with the right property."
Savannah has a foot firmly in the manufacturing sector already as the home of Gulfstream.
"We have the largest aerospace manufacturer in the Southeast here in Gulfstream," says Tollison.
For more than a decade, Gulfstream has been one of the aerospace industry's most successful companies. Although a recent decline in orders prompted layoffs companywide, it continues to be one of the region's largest corporate citizens.
That has been good for Savannah, which is home to its corporate headquarters and a manufacturing plant.
Over the last three decades, the company has grown from 1,000 workers to more than 10,000 with most in this section of the state. It's famous for building the preeminent airplane for business – the G650, the company's largest and fastest business jet with a top speed of Mach 0.925.
Although it doesn't get as much attention as other sectors of the economy, the military also has a large impact on the area. More than 33,000 active military personnel are stationed within an hour of the city at Fort Stewart and Hunter Army Airfield. Adding to their ranks, the U.S. Army's Third Infantry Division welcomed 450 troops when the 63rd Expeditionary Signal Battalion transferred to Fort Stewart in 2015.
Military families spend money, rent apartments, buy homes and have a substantial impact on local businesses. Many fall in love with the area and stay once their enlistments are done.
"So that piece is really huge," says Hubbard. "Everyone hears about our tourism, but the military is twice as big as tourism."
The economic upsurge is apparent across the local economy.
"There's been a tremendous comeback," says A.J. Scott, chair of the Chatham County Board of Commissioners.
He notes that the area is also enjoying something of a building boom. Three new hotels are either open or under construction, while two more are slated to break ground in the next few months.
Savannah Mayor Eddie DeLoach noted at the beginning of the year that the Savannah police department will be adding 18 officers in 2017 and will continue to focus on combatting blight that is evident in some parts of the city. He also plans to continue to improve workforce development in the area.
---
Tourist Town
With its historic districts, rich mix of restaurants and entertainment venues, and easy access to Georgia beaches, Savannah is a prime destination for travelers. As a result, hospitality and tourism have scored 10 percent growth rates over the past few years. Direct spending by visitors added $2.13 billion to the local economy in 2015, the last year for which figures were available.
To meet the needs of the increasing number of visitors, Savannah, and in particular its fabled historic district, has seen the rise of several new hotels and a host of retail and restaurants. All this growth has been good for local businesses, according to Ruel Joyner, owner of 24e Design Co. on Broughton Street and president of the Savannah Downtown Business Association.
"If it wasn't for tourism, we wouldn't be doing business the way we do," he says. "We probably ship 75 percent of what we sell, and as a furniture store, unless you're a national chain, that's probably unheard of."
Joyner took over the store from his parents 15 years ago and immediately transformed the store's business model.
"When I took over, we scrapped everything," he says. "We changed the inventory, we changed the brand, we renovated the building. This was a time when Broughton Street wasn't the place to go."
In those days, many of the buildings were owned by families only willing to sell their entire portfolio, not single structures. Many were unwilling to upgrade their properties, giving the street a declining look. All that has changed, and the street is now the hot spot for retail and restaurants.
Savannah has also nurtured a small but growing startup community of businesses ranging from the conventional to the high tech. A few years ago, Georgia Tech opened a branch of its Advanced Technology Development Center (ATDC) in Savannah. The center is geared to helping tech companies and product-based startups grow by providing education, coaching and connections to expert help and funding.
The number of coworking spaces, which cater to startups and small independent businesses, has also increased.
"People choose to live here," says Ashley Bowersox, an entrepreneur who cofounded one of the city's first coworking spaces, ThincSavannah. "They're not going to make the money as they would in a larger city like Atlanta. So they've got to find out what they want to do and imagine how they can make it."
Increasingly those companies are making it as the economy continues to grow and improve, he adds.
---
Ports Progress
One of the biggest and most dependable engines of economic growth is the Port of Savannah. The pace of imports and exports, loading and unloading ships at its docks never seems to stop. In fact, the numbers indicate that business is constantly growing.
The port set a record last December with a 12.3 percent container volume growth. It moved 292,172 twenty-foot equivalent container units (TEUs), an increase of 32,099 TEUs compared to December 2015. Those numbers are ex- pected to continue to grow this year.
"The last 10 years have been unprecedented growth for the container business down here," says Jimmy Allgood, board chair of the Georgia Ports Authority (GPA).
The port is moving full-speed ahead on a massive harbor-deepening project to handle a new class of mega-containerships. The goal is to deepen the 18.5-mile outer harbor to 49 feet and the Savannah River channel to 47 feet.
Many of those larger ships will be coming through the newly expanded Panama Canal and docking in Savannah. The attraction of the port is its ability to serve as a jumping off point for cargo being dispatched throughout the Eastern seaboard on the extensive network of highways and rail lines that connect to the port.
"The big ships are already coming to us today, and we are told by customers we could see a 13,000 to 14,000 TEUs ship by the end of the year," says Griff Lynch, executive director for the GPA. "We're ready to handle it today."
The project is moving on schedule and should be complete by 2020, according to Lynch.
The arrival of bigger ships will mean even more cargo containers moving in and out of the port. To handle that increased volume, the port has invested in dock upgrades including the installation of four Super Post Panamax ship-to-shore cranes at the Garden City Terminal.
The numbers reveal just what a big deal the port is for Savannah and the entire state. The total economic impact of Georgia's deepwater ports is $67 billion. The GPA also supports more than 352,000 jobs and approximately $18.5 billion in personal income each year.
One of its top priorities this year is building what it calls the Mid-American Arc. It's a $128-million project to connect the CSX and Norfolk Southern rail yards leaving the Port of Savannah. The arc project will double rail capacity in Savannah and improve its link to Atlanta and cities in the Midwest. It will also reduce congestion and costs for shippers. The GPA's rail initiative enables the port to serve markets from Atlanta to Memphis, St. Louis, Chicago and the Ohio Valley.
To help facilitate growth and upgrade dock and terminal facilities, the port is selling parcels from its International Trade Park to developers, who will construct a significant amount of warehouse space to relieve the tight supply in the area. About 6 million square feet of spec and build-to-suit warehouse construction is already underway in the market. With a local vacancy rate of less than 2 percent, the space is badly needed, according to Allgood.
While growth is shifting into a higher gear, developers have been cautious about adding inventory. No one wants a repeat of the Great Recession, when overbuilding throughout the real estate industry led to its collapse.
"The developer community is adding more inventory because of the ports' growth and expansion, but they're doing it cautiously versus how they did it 2004 to 2007 when there was a lot of speculative projects being added in the region," says Tollison.
---
Eyes on the Prize
Savannah, like other scenic locations in Georgia, has long served as the backdrop for Hollywood movie productions. In recent years, the number of film crews shooting in the area has skyrocketed. Savannah was recognized by Moviemaker, an industry trade publication, as No. 1 on the list of Best Small Places and Towns to Live and Work as a Moviemaker.
When a movie takes over a street for filming, it likely disrupts business and traffic but often delivers other advantages. When The SpongeBob Movie: Sponge Out of Water took over Broughton Street, one of the city's main commercial avenues, the company first did a facelift of storefronts.
"It really helped when that movie came through," says Joyner
"Since we started courting the entertainment industry, we've known that the real prize was landing a major television series." Tollison says.
The city got that prize when the second season of the hit WGN America series Underground began filming. The production, which follows a group of people as they attempt a daring, 600-mile escape to freedom from a Georgia plantation, spent $50 million in more than four months of shooting. A TV series can be a huge win. It often employs more crewmembers than a movie shoot. It also provides more opportunities to demonstrate to leaders in the entertainment industry that the area can handle an ongoing project. That kind of reputation goes a long way to attracting new productions.
Underground follows a long list of productions that have shot in Savannah, including such diverse movies as gangster epic Live by Night, which used warehouses as a backdrop, and Magic Mike XXL.
With Georgia currently tied with Louisiana for No. 3 in worldwide film production, the number of productions now shooting in the city is likely to grow.
"Yes, it is finally starting to happen," says Tollison. "I don't know if it gets to a faster pace or stays in a conservative growth pattern, but definitely people are paying attention."
A big factor in getting films to the state has been Georgia's generous film tax credit. To ensure that more of them come to Savannah, SEDA added a $4.5-million Savannah Entertainment Production Incentive. During 2016, about $1 million of the fund was awarded to productions.
"We consider incentives as a way to make a good project better," says Tollison. "We think we're just getting started, and we can build a really solid book of [film] business for the Savannah region."
With all these assets in place, local leaders in Savannah-Chatham County think they've solved the puzzle of long-term economic success. Diversity is definitely the prime factor, but many admit that it's a more natural resource that often brings people and keeps them here.
Sam McCachern puts it this way: "Would you rather time your schedule around the traffic or around the tides?"
---
LOCAL FLAVOR
Empowering Girls
This summer, Savannah streets will be filled with throngs of girls dressed in the distinctive green uniforms that identify them as Girl Scouts. They will be coming to the city from across the country for the Girl Scouts of Historic Georgia's first QuestFest, July 13-16.
Savannah is a mecca for Girl Scouts. It was here that Juliette Gordon Low founded the premiere organization for girls in 1912 after meeting Robert Baden-Powell, the founder of Boy Scouts, in 1911. Returning to Savannah, she reportedly said, "I've got something for the girls of Savannah, and all of America, and all the world, and we're going to start it tonight!"
The Juliette Gordon Low Birthplace, a historic site owned and operated by Girl Scouts of the USA for more than 60 years, is a top destination for Girl Scouts, alumna and parents visiting the city. In fact, visiting scouts account for almost $13 million in annual spending, according to Jeff Hewitt, senior vice president of Visit Savannah.
Low's idea was to empower girls and teach values such as honesty, fairness, courage, compassion, character, sisterhood, confidence, entrepreneurship and citizenship. Like Boy Scouts, the girls camped, participated in community service, learned first aid and earned badges by demonstrating practical skills. In the early days, Low allowed girls to play basketball when it wasn't considered a sport suitable for young ladies, according to Sue Else, CEO of Girl Scouts of Historic Georgia.
Low's idea succeeded beyond her wildest dreams. Today, one in every two adult women in the U.S. has at some point been a member of the Girl Scouts. There are currently an estimated 59 million Girl Scout alumnae in the U.S. And, they have used their skills for success. Sixty percent of women members of Congress and 93 percent of NASA's female astronaut corps were Girl Scouts.
"I wake up every morning thinking about Juliet Gordon Low's vision for Girl Scouts," says Else. "She was a trailblazer back then. One of her key comments was that any girl could become a Girl Scout. There were no restrictions or limitations. I admire her tenacity and her courage to try these new things with girls and know way back then that girls should be given those opportunities. I see many of those same trailblazing opportunities today in Girl Scouting."
Scouting encourages girls to venture into new areas such as STEM (science, technology, engineering and math) to open up pathways to traditionally male-dominated fields like engineering and computer science.
"We are always thinking about staying relevant," says Else. "The desire is there for the girls to spread their wings and try new things and get a little bit out of their comfort zone."
During QuestFest, teams of girls will scavenger through the city where Girl Scouting originated using smartphones and the QuestFest app to choose challenges, submit photographic evidence and receive points. The challenges, called Quests, are designed with Girl Scout values in mind, so while they are having fun, the girls will be making Savannah a better place. – Randy Southerland