Northeast Georgia: Hot Streak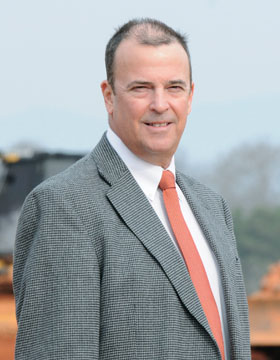 Driving north into Dawson County on Georgia 400, the sight of bulldozers moving dirt for new construction is evidence of economic progress.
"2016 was probably the biggest year in several decades," says the Development Authority of Dawson County's Executive Director Charlie Auvermann. "We've had over $100 million in private investment in construction of retail, manufacturing" and other projects.
The county welcomed the openings of Dawson Marketplace and Dawson Crossroads, retail complexes anchored by Kroger and Publix stores respectively. On the manufacturing front, metal parts fabricator BTD Manufacturing is poised for growth and SleeveCo, a maker and printer of sleeve labels for bottles, is planning an expansion.
Voxpro, a provider of customer services for tech companies, brought 500 jobs to Athens, says Athens-Clarke County Development Department Director Ryan Moore. When it opens this spring, Hyatt Place Hotel will connect 190 rooms to The Classic Center convention facility, enhancing the latter's ability to draw larger conventions and bring more visitors downtown.
"Everybody seems to be growing. We're looking forward to a lot of growth in 2017," Moore says, pointing to a strong retail sector and buzz around several planned business expansions.
Some 800 jobs were added last year across 18 new or expanding firms in Hall County, says Tim Evans, economic development vice president at the Greater Hall Chamber of Commerce. The total represents $160 million in added investment. Also, a new campus for Lanier Technical College is under construction that will serve 5,000 students.
Hart County Economic Development Director Dwayne Dye welcomed the 2016 announcement that Germany-based LINDE + WIEMANN GmbH KG, a manufacturer of complex structural steel systems for
the global automotive industry, will build a 60,000-square-foot assembly plant and associated 3,500-square-foot national sales and distribution offices, bringing an initial 200 jobs and a $35-million investment.
In September, Ritz Instrument Transformers announced it will expand opera-
tions with an $8-million investment and 50 full-time workers over the next five years.
In Madison County, green energy is making inroads, says Chamber of Commerce Executive Director Marvin White, as Madison LLC purchased the former Weyerhauser/Trus Joint building to create a $100-million, 58-megawatt biomass power generation plant. It is expected to be operational in May and represents 26 new jobs.
"In 2016 we regained everything we had lost in 2009-10," says Stephens County Development Authority Executive Director Tim Martin. Automotive supplier Nifco KTW announced in 2015 a $27-million investment that should bring 200 jobs. Sark Wire added 8,000 square feet to its plant. Expanded sewer and water systems are expected to come online in the second quarter of this year. Martin adds there is excitement over projects in the pipeline that have the potential for another 800 new jobs.
Four manufacturing developments were announced in Lumpkin County in 2016, according to the Economic Development Authority. Alpharetta-based Bone Safety Signs is rehabbing the former Williams Brothers site for a new facility. Arcadia Louvered Roofs pounced even before groundbreaking on a lease with an option to buy a planned spec building. Longtime employer RefrigiWear, which manufactures cold-weather work gear, purchased the development authority-owned building it occupied along with an adjacent lot for expansion. Wahoo Docks and Wahoo Decks bought a building and connecting property to meet expansion goals. Overall these represent more than 100 new jobs.
Elbert County has long been known as the Granite Capital of the World, but new interests – MollerTech, Bubba Foods and Hailo USA – are growing and diversifying the economy. Downtown Elberton boasts the recently renovated Samuel Elbert Hotel. The community will soon enjoy improved access to Athens and the interstate when the expansion of Georgia Highway 72 is completed in 2018.
"The Elbert economy has improved just enough to re-encourage our growth focus through highway expansions, worker recruitment, wage increases, increased available jobs and increased positive tourism," says Rusty Warner, executive director for economic development for the Development Authority of Elbert County. The recent Georgia Ready for Accelerated Development (GRAD) certification of the Elberton Industrial Park opens up new possibilities for the economy going forward.
Habersham County has an 88-acre industrial park coming online, and the county purchased an additional 46 acres for expansion, says Habersham Development Authority Executive Director Mike Beecham. Surgical products manufacturer Ethicon expanded to the tune of $16 million, including research and development positions, which could lead to an additional 100 to 150 jobs.
"We are trying to take a proactive stance. Development is coming from Hall County, and we are actively promoting our industrial park and trying to create jobs," Beecham says.
Three new restaurants opened on the square in burgeoning Blairsville in Union County, and are acting as catalysts to attract visitors and a host of new retail activity. "We've run out of inventory for people who want to be here," says Mitch Griggs, director of the Union County Development Authority. The growth has spilled over to include development of property adjacent to the downtown area.
The county also sold two spec buildings last year. In August, North Georgia Heat Treat, a maker of replacement parts for manufacturing equipment, bought one of them and brought 15 new jobs with a $3-million investment. In November, Lightsaber Promotions, a promotional items distributor, brought an investment of $1 million that will retain 12 jobs, with expectations to double employment over the next two years.
Amazon, Williams-Sonoma, Hubbell Inc. and Benore Logistics delivered $140 million in new investment and almost 1,100 new jobs to booming Jackson County in 2016, according to Jim Shaw, Jackson County Area Chamber of Commerce president, CEO and director of economic development. In addition, Huber Engineered Woods, Resilux and Deutz Corp. finished expansions totaling more than $15 million, and forthcoming expansions by Southeast Toyota Distributors and Kubota Industrial Equipment will add another $40 million in investment.
"Jackson County is squarely in the path of growth," Shaw says. "Our location, along with great public-private leadership, a great workforce and timely investment in infrastructure, have attracted a wonderful community of industries that have helped balance the rapid residential growth we experienced."
Single-family building permits were up 25 percent last year over 2015, the highest since 2007, he says.
The Oconee County Industrial Development Authority partnered with the county to issue a $4.2-million bond to extend Parkway Boulevard in conjunction with the expansion of the Epps Bridge Centre retail complex. The developer, The Bishop Co., plans to add approximately 336,000 square feet of retail space with a projected $3 million in added tax revenues and approximately 400 new retail jobs, says county economic development director J.R. Charles.
In other good news, Zaxby's announced plans to locate its corporate campus on property adjacent to its current headquarters in Oconee and hire approximately 1,000 people over a 10-year period to support anticipated growth.
Tourism continues to be a major economic driver in and around Helen, according to White County Chamber of Commerce President Cindy Bailey, with the opening of new hotels, including upscale Valhalla Resort Hotel at Innsbruck, a gated residential community, scheduled to open this summer. Georgia Power and Habersham EMC each added new power substations, and HEMC expanded broadband to Helen.
Banks County hit a grand slam in January, says Brad Day, executive director of the Banks County Development Authority, when it landed Diana Food, a provider of natural ingredients to the food and beverage industry. The company will create 80 jobs and invest $50 million in a 90,000-square-foot facility on a 40-acre site in the Banks Crossing Business Park.
Greene County widened, resurfaced and added new lighting to its Regional Airport's 5,500-foot runway, says Special Assistant to the County Manager Chris Edwards. Build-out of fiber optics to the county industrial park and to Athens Technical College's Greensboro campus is slated for this spring. Near downtown Greensboro, the long-vacant Mary-Leila cotton mill was renovated into loft apartments. NIBCO, a manufacturer of flow-control products, added about 50 jobs. On the county's southern fringe, The Glen at Lake Oconee Village, a 126,000-square-foot, 118-unit assisted living facility, opened in February.
Towns County Commissioner Cliff Bradshaw says his community is excited about Advanced Digital Cable's plans to expand manufacturing operations. Retail is also on the upswing, with four new downtown businesses in Hiawassee, including the upscale McLain's on Main Café + Coffee Bar.
A full remodel is underway at The Ridges Resort and Marina on Lake Chatuge. Wesley Dowdy, president and COO of Duke Hospitality, the resort's owner, says completion is expected by Aug. 31. In addition to upgrading all 66 lodge rooms and enhancing 10,000 square feet of conference space, the project includes reopening the restaurant for breakfast and dinner and the addition of a spa and a lobby bar. Total investment in the resort will be a little more than $5.2 million, says Dowdy. "We would expect it to improve [resort] revenue by about $2 million annually," Dowdy adds.
With the array of business activity and expansions occurring in Northeast Georgia, the region is definitely experiencing a hot streak.
Read About Individual Regions: