Georgia Fare: The Cutting Edge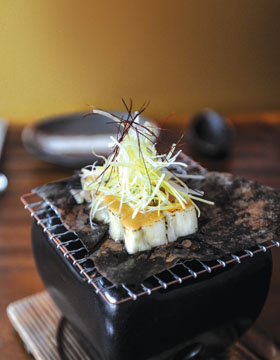 April may be the cruelest month, as T.S. Eliot wrote; a time for fools and their tax money soon to be parted. But it's also springtime, the season of rebirth and rejuvenation, and so a perfect reason to visit MF Sushi.
If you've followed the Atlanta food scene for a while, that name will be familiar. The Kinjo brothers – Alex and Chris – began their culinary careers here in Midtown with MF Sushibar, named for self-taught sushi chef Chris' talented "magic fingers." Alex, who designed the place, ran the front of the house.
The place soon became a hit, known for the incredible sushi from fish flown in from Japan and for the fresh wasabi hand-grated on sharkskin. They also opened an equally stylish and flavorful Vietnamese bistro, Nam, where their mother operated the kitchen. Finally, as the city's restaurant scene reached its zenith, in 2007, the brothers opened the lavish MF Buckhead, where Chris presided over an omakase room that floated above the cavernous dining hall like an ovate hovercraft. (Omakase means "to entrust" in Japanese, and you leave it up to the chef to select a tasting menu of the restaurant's best.)
I've enjoyed sushi at some of the nation's most highly regarded establishments, including New York's Masa, Miami's Nobu, Philadelphia's Morimoto and Atlanta's own Soto, before the chef moved to New York's West Village and, later, back to Japan. Chris Kinjo's omakase easily compared with the skill and inventiveness found at these much more famous counterparts.
Then came the economic downturn, and one after another, Atlanta's most luxurious restaurants fell, often from a great height. Not even the Ritz-Carlton Buckhead's renowned Dining Room escaped. The Kinjo brothers eventually had to close all of their restaurants. They decamped to Houston and started again. Now, they've returned with a new location in the Inman Park neighborhood of Atlanta.
In a way, the Kinjos' fortunes mirror the arc of the city's restaurant scene. Now, both Atlanta's dining mojo and MF Sushi are back. The dark, low-key exterior profile of the intimate restaurant harkens back to the brothers' first business in this white-hot restaurant district.
Inside, Alex Kinjo's signature design flair, merging traditional Japanese elements – handmade pottery, traditional flower arrangements, even the hand-fanned "robota" grill technique – merge with bold contemporary strokes, such as the chrome light fixtures and oversized portrait of an Asian woman on the back wall, as well as distinctive, exotic woods. Alex is often there, too, looking like a manga character in his sharp three-piece suit, aerodynamic haircut and fashion-forward eyewear.
The black-clad waitstaff move gracefully, almost invisibly, like the stagehands in kabuki theater, whisking away empty plates and popping into view only to ask what you'd like next. Behind the sushi counter, the chefs work in congress like a line of soldiers. Conspicuous for his absence is the restaurant's nimble-fingered namesake, Chris, who stays in Houston to take care of the MF Sushi restaurant there (although he occasionally flies in for omakase dinners).
You will find his exacting methods, however, in beautifully cut and presented sushi, from creamily fresh uni (sea urchin) in a simple piece of nigiri to dramatic presentations like the grilled pike mackerel curled on a stick. The option of hand-grated wasabi is back as well.
Japanese eggplant, peeled and cut into short columns, with the texture of soft tofu, cook on their own tiny grill. Blistered shishito peppers are countered by a tangle of julienned carrots; the right-sized nigiri are microdotted with herbs and topped with filagreed radish and scallion. Grilled eel is served in serpentine segments alongside "scales" of sliced cucumber and avocado.
You can find beautifully simple compositions, such as the fresh yellowtail, a "sushibar appetizer" presented as translucent slices dressed with lemon zest, cilantro, wasabi and serrano peppers. However, the grilled yuzu octopus salad seems a not very well-thought-out pile of grilled cephalopod over a too-big bowl of not-very-special salad greens and avocado hunks. It's less an appetizer than a Paleo entree.
While MF clearly depends on its Tokyo fish market-sourced fare and avoids ingredients like cream cheese, it does seem to lean heavily on "truffle soy" and sriracha. Pristine pieces of ahi (horse mackerel) and shima Aji (Japanese skipjack) shine brightly on their own. Familiar rolls, such as the soft-shell crab with lettuce and "light mayo," and the spicy tuna Osaka box-style roll, with tuna, salmon, masago (fish roe), scallions and sriracha, are prettier and meatier than the usual hipster sushi bar fare (and should be, at $15 each), even if the box-style roll lacked the pressed-sushi denseness we sought. One of our favorite dishes, sanma shiokyaki, is a scored pike mackerel from the robata grill, served upright with dots of wasabi and ginger, as if jumping from the water, fully dressed in condiments.
Craft cocktails are as prominent as the voluminous selection of beer, wine and sake. (Our favorites: the Black Lava, with tequila, Thai chili and cilantro, and the MF Manhattan, made with Basil Hayden bourbon.)
While they returned to Atlanta with their sushi brand, the brothers recently opened another Vietnamese bistro, Anh's Kitchen, named after their mother, in Midtown.They also plan two restaurants in Alpharetta's Avalon development: MF Bar, similar to their Inman Park restaurant, and the Vietnamese restaurant District 3.
In Japan, April is cherry blossom time, a bittersweet celebration of the flowers' delicate beauty, as well as the brief moment they can be appreciated – like life itself. For the brothers behind MF Sushi, the buds have unfurled once more with the return to Atlanta.
---
MF Sushi
299 North Highland Ave. NE, Suite K, Atlanta
678.575.7890 or mfsushiusa.com
Hours: Dinner nightly,Lunch, Saturdays & Sundays
Parking: Valet Friday & Saturday nights; nearby garage
Dress Code: As if you stumbled out of your pricey Inman Park loft
---
Interested in Inman Park restaurants? Within a few block of MF Sushi, you can try all of these:
Beetlecat
With its downstairs "rec room" and upstairs dining hall, the latest seafood-centric restaurant from the prolific Ford Fry. Go for the happy hour oysters, Mondays-Fridays 4-6 p.m.
---
Bread & Butterfly
Small traditional French bistro from Billy Allin of Decatur's Cakes & Ale. On Tuesdays-Thursdays, 4-6 p.m., enjoy a special French "happy hour" menu of snacks and half-price wines.
---
Barcelona Wine Bar
Part of the Barteca restaurant group, which also includes the nearby bartaco. Go for the tapas, charcuterie and extensive wine list.