Four for the Future
Four communities are fostering success through collaborations in leadership training, career-oriented education and strategic planning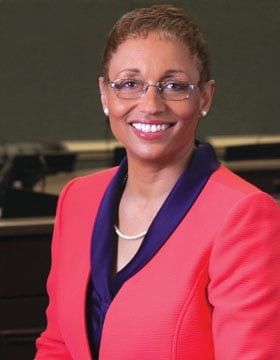 To create and implement positive changes leading to long-term success, communities throughout Georgia often need resources that aren't available locally. In many cases they turn to one of the units of the University of Georgia's Public Service and Outreach (PSO) division, which offers collaborative assistance in strengthening communities, organizations and individuals, thereby fulfilling, in part, UGA's mission as a land grant university.
For the fifth consecutive year, the PSO and Georgia Trend magazine teamed up to recognize four communities that have worked to improve prospects for residents through public-private and nonprofit initiatives. From leadership identification and training programs, to ensuring students have greater access to a broad array of career pathways, to strategic planning for growth associated with the Port of Savannah expansion, these initiatives demonstrate the power of collaboration for a greater good.
"There are incredible public-private partnerships occurring every day throughout Georgia, often breathing new life into communities," says Jennifer Frum, UGA vice president for public service and outreach. "These four have recognized the strength in collaboration and are seeing positive change that results in a better quality of life for everyone."
---
Richmond County
Recipe for Success
Finding just the right connection to inspire at-risk students can be a challenge, but it's one the Richmond County School System took on last year with the help of a study by UGA's Carl Vinson Institute of Government (CVIOG).
Representatives from the CVIOG met with school leadership in early fall 2015 to discuss the study process and determine what the system was looking for in terms of results as well as the best direction to take to get there, says Superintendent Angela Pringle. To engage regional businesses to help inform the school system's programs and curriculum, the one-year study, completed in spring 2016, called for a community advisory group representing business, education, nonprofit organizations and area companies with employment needs.
As a result of the study, school system leadership identified core areas of need that would ensure students have greater access to all career pathways, even those not available in their particular school. They chose to focus first on pathways including manufacturing, technology and the skills trade industry, says Pringle.
Last fall, the school system launched Reaching Potential through Manufacturing (RPM) in partnership with local E-Z-GO golf cart manufacturer Textron. The most at-risk students were placed in paid positions within real-life work environments. Close to 80 students are currently participating in RPM, and another 200 are on a waiting list.
"Their course of study is individualized so they can continue to work on their studies. … They are coached and mentored, and some students who missed over 50 days of school now have perfect attendance. The self-esteem of those students has shot right through the roof," says Pringle.
"The teachers are passionate and empathetic but at the same time have high expectations. These are students who needed just a second chance, maybe even a third chance, who needed another opportunity, another look," she says. "It's really taught all of us a lesson about the energy and the real desire that exists in all students given the opportunity to succeed."
Technology is another core area of focus. While the study showed children had access to technology, it was the application segment – the coding and other technological skills – that needed enhancement. To address this need, the school system recently implemented a fiber security curriculum – one of the first in the state to do so – and began offering coding classes at the middle school level. Soon it will increase those same offerings at the elementary level.
The final core focus was to boost the number of classes for students interested in the skills trade industry. Fast-growing Richmond County has a high volume of construction underway, and nearby Plant Vogle is always in need of welders, Pringle says.
"We needed to attend to those skills trade professions and try to develop a pipeline for that. What we found through the study was that the community would hire our students with [Career, Technical and Agricultural Education] CTAE certification, the assessment that indicated they successfully completed a pathway."
A successful Education-Special Purpose Local Option Sales Tax (E-SPLOST) referendum last fall will provide funding for a skills trade center and other projects for Richmond County students. Once the center is completed, which is scheduled for 2018, students participating in the construction pathway – welding, masonry, plumbing and electrical – will be provided transportation to the facility. – KKS
---
LaGrange-Troup County
A Clear Direction
Self-reflection is a powerful tool. It can also be an overwhelming endeavor when a community tries to map out its future.
"I think every community starts to look at [themselves] through very narrow lenses at some point, and when we open up to see other opportunities, it can be overwhelming," says Page Estes, president of the LaGrange-Troup County Chamber of Commerce. "The Fanning Institute [at UGA] helped us to put filters on so we had a clear direction of where to go, and they gave us the tools to help us get there."
LaGrange was one of 10 communities selected in 2016 to participate in Georgia LEADS, a pilot project sponsored by the Fanning Institute and the Georgia Chamber of Commerce. The institute is dedicated to strengthening communities, organizations and individuals through leadership development, training and education.
"We have a long, strong track record of leadership programs in Troup County, but we were interested in learning how we could make our programs more relevant, and we wanted to add a stronger leadership development curriculum in the programs we deliver to our youth and our adults," Estes says.
In 1991, the chamber started its Leadership Troup program, which today boasts more than 600 alumni. Realizing it was "very much a community awareness program," Estes says the chamber set out to expand its focus last year through the pilot program.
"Community awareness is still very important, and we wanted to keep that component of our program, but we weren't tapping into the potential of our people to be our future leaders of our institutes and organizations," she says. "Through Georgia LEADS, we added faculty members from Fanning to facilitate our sessions with our adult programs."
The curriculum included topics such as generational differences, which focused on how a businessperson employing young professionals could best communicate and motivate the younger generation. Thirty-one people participated in the pilot program.
"The greatest thing is, they have a true and tested curriculum that we knew we wanted to incorporate in our programs, but they let us keep the things that were unique and special to our local community, so you get the best of both worlds," Estes says. "We can change the programs and individual programs, but we know the skills we are helping to develop will remain because we have their strong curriculum backing us."
Outcomes of the pilot program included the creation of a position on the chamber's board of directors focused on diversity and inclusivity and a women in business program, which hosts a quarterly "Cocktails and Connections" networking opportunity for women.
Moving forward with a commitment to sustainability, the chamber has engaged with the institute to continue incorporating more adaptive leadership skills development into not only the adult programs, but into the Youth Leadership Troup and HYPE programs. HYPE is the community's young professional networking program.
Train the facilitator programs are also ongoing with the goal of having a core group of local volunteers, who are alumni of Leadership Troup or Leadership Georgia, facilitate the community leadership and youth leadership program curriculum.
"Our programs and community are better because of this collaboration and these partnerships," Estes says. – JH
---
Moultrie-Colquitt County
Leadership Rising
Connecting Georgia communities with higher education resources to address civic and economic development needs has long been the goal of the University of Georgia's Archway Partnership. In 2005, Moultrie and Colquitt County became the first community selected for participation in the partnership project aimed at assisting the southwest Georgia county in confronting challenges that could limit future growth.
During that pilot project, the Archway Partnership tackled land-use planning, education, workforce housing and the needs of a growing Latino population. The partnership paired an Archway professional from the University of Georgia's Public Service and Outreach unit with an executive committee of local leaders to set priorities around complex and locally identified needs.
"That local committee is charged with identifying needs and issues that the resources of UGA – not finances, but in terms of knowledge and abilities and things along that line – that could help meet those needs and meet the needs of the community," explains Roy Reeves, chair of the Colquitt County Archway Partnership. "The Archway is to connect the great abilities and resources of the university with local communities."
As the partnership progressed, the executive committee identified needs and requested help, which often drew resources, including students who work on community projects, from each of the eight PSO units.
"Now, through those many years, students have come to Colquitt County to either serve as an intern, or maybe we had a specific issue and students have taken that on as a project," Reeves says. "One example is we have a Main Street Park here now, and the initial plan for that was designed by UGA students. Another example is when we opened a new industrial park, the signage was designed by a student."
Believing the greatest resource a community has is its leadership, in 2014, the Colquitt County Archway Executive Committee started an innovative program dubbed High Potential Leaders (HPL). The program pairs an established leader as a mentor to an emerging leader to help the next generation look more comprehensively at community challenges and opportunities. HPL uses training modules from the PSO's J.W. Fanning Institute for Leadership Development's community leadership program curriculum.
"The purpose of HPL is to identify people who have great leadership potential or have already proven that by already serving in community leadership," Reeves says. "It's very important for the community to have leaders who are very committed to a specific program or cause, but it also needs leaders who cross some lines and have the overall community at heart."
The HPL program, which boasts 24 alumni and eight participants this year, also seeks to develop diversity in community leadership.
"One thing that's very encouraging to me is through Archway, we are tracking the involvement of HPL graduates in the community, and the involvement is incredible," Reeves says. "They are truly young leaders who are very involved in the community. Another benefit is it is really raising the value of community leadership."
The community's strong commitment to leadership development is also demonstrated through Leadership Colquitt, a program for emerging leaders that includes participation of youth as a way to bridge adult-youth programs. Leadership Colquitt also uses training modules from Fanning's community leadership program curriculum.
And, once again, the community is stepping up to pilot Fanning's youth leadership in action curriculum across all grades in the K-12 system, so that every student will be exposed to leadership training through classroom instruction.
"'Everything rises and falls on leadership' is a little something I heard years ago, and I've really seen that to be true," Reeves says. "That's why continuing to foster and develop leaders, and raise the value of leadership in the community is so important to the success and vitality of any community. Through the help of the Fanning Institute and UGA's Public Service and Outreach unit and Archway as well, we're trying to do that in Colquitt County." – JH
---
Cordele-Crisp County
Poised for Growth
Cordele Intermodel Service's initial start-up in 2011 was admittedly a bumpy ride. The idea of an inland port, says Cordele City Clerk Edward Beach, was still a new concept in Georgia. But city and county leaders soon recognized the economic potential and got on board.
Operations picked up speed and a couple of years ago really began to charge ahead, especially with the impending expansion of the Port of Savannah, which is currently underway. Wisely, the involved parties recognized the need for a plan in preparation for that port expansion. To oversee the drafting of such a plan, Cordele-Crisp County enlisted the assistance of UGA's CVIOG.
Participating in the process were private partners – Cordele Intermodal Services, the private company that handles day-to-day operations of the intermodal, and Heart of Georgia Railroad, which operates the railway for the intermodal. Also at the table were city and county leaders, the local electrical authority and the Cordele-Crisp County Industrial Development Council.
"We needed someone to come in and analyze what the thoughts were for future expansion and growth. [CVIOG] came in and looked at all the logistics and how the [local entities] could work hand-in-hand," says Beach, regarding the master plan. "They helped us get online, since we are sort of the first inland port, and actually represented us over at the ports authority."
As a result of the CVIOG having bridged that relationship with the Georgia Ports Authority, Cordele-Crisp County was in a position to express their plans for the future and their commitment to the expansion of the project.
"Even though Cordele Intermodal Services and the ports authority had a memo of understanding between the two of them, this helped bring the public parties in," Beach says.
The intermodal facility continues to prosper and in 2015 underwent a nearly eight-acre extension of the loading yards and extended railways for loading with a double track, a $2-million investment by public and private parties. An additional $3-million expansion is planned for the near future.
In addition, last summer the intermodal contracted with a company that will provide auto parts for Kia Motors Manufacturing Georgia in West Point. That new agreement has really spurred growth, says Beach. "Three potential industries are now looking at the Cordele-Crisp area simply because of the logistics factor with the inland port here for import/export purposes."
The CVIOG was no stranger to Crisp County, having already crafted a master plan to restore vitality to downtown Cordele. Many pieces of that plan have already been executed, and others are still in the works, says Beach.
"[The plan] helped us see the importance of trying to revitalize downtown for a younger, college-age town," following the development of a downtown campus for Albany State University, says Beach.
Renewed growth includes two loft apartment projects for intown living and has spurred interest in some of the historic downtown architecture. Current efforts include creation of an incentive package to bring new business downtown. Plans for an entertainment district were recently approved, and gateways, signage and landscaping are all being refurbished. A railroad observation deck, a railroad museum, some park space and a public art installation are also on the to-do list. – KKS