East Central Georgia: Mergers and Expansions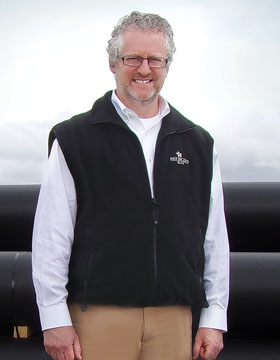 A major merger of universities and scattered industrial projects marked the economic highlights of East Central Georgia over the past year. Continuing a recent trend, Bulloch County and the greater Augusta area set the pace. Transportation infrastructure, in the form of interstates 20 and 16 that offer close and reliable connections to the ports along the coast, has also played a huge role in the growth of this area.
One of the region's recent big developments is the University System of Georgia Board of Regents' announcement of the merger of Georgia Southern University, in Statesboro, and Armstrong State University, in Savannah, as part of its ongoing higher education institution consolidations. The consolidated school will use the Georgia Southern University name, and there's plenty of optimism in Bulloch County and Statesboro about the development.
"It's a big deal," says Benjy Thompson, CEO of the Development Authority of Bulloch County. "Certainly by all accounts it's great for Georgia Southern, which means it will be great for Statesboro and Bulloch County. The increase in enrollment will bring in more research dollars and maybe more."
Bulloch's biggest industrial prize in 2016 was WL Plastics, one of the world's largest manufacturers of high-density polyethylene pipe and other products for the oil, gas and mining markets. The company also produces pipe for municipal water and wastewater projects.
The Texas-based company promises its $12-million investment will create 40 jobs. It moved quickly: the announcement came in May, and the facility was nearly finished by early January. Thompson says the effort illustrates the county's ability to push a project along quickly. He believes Bulloch's momentum will continue.
"We feel great about 2017. Our economy is diverse, with manufacturing, healthcare, tourism and the university. Our transportation connection to the Port of Savannah will give us a lot of traction."
The East Central region boasts a growing number of solar energy projects. One of the latest is in Jenkins County, where Boston-based Citizens Energy Corp. debuted a $45-million, 28 Megawatt (MW) solar array in November on a 233-acre tract. Its Citizen Solar division specializes in building solar farms on capped and closed landfills and other underused land parcels. In this case, the solar array was built on a former dairy farm.
Atlanta-based Beltline Energy, a solar development firm, finds the region to its liking for smaller solar farms and has projects in different stages of development in five counties, says Stephen Elkind, managing partner. In Candler County, a 1 MW project is online; Emanuel has 2 MW online with 3.1 MW coming this year; Glascock has 1.8 MW set to come online this year; Jenkins has 26 MW online now; and Beltline will build 4.2 MW in Truetlen this year.
An even larger solar project came online in November at Fort Gordon near Augusta. Georgia Power invested $75 million in development of the 30 MW facility on 270 acres.
Matt Morris, former director of McDuffie Forward, says that county's biggest industrial plum of 2016 was an expansion by Augusta Coating and Manufacturing, a specialist in corrosion- resistant finishes for markets including automotive, agricultural, heavy equipment and recreational. A 50,000-square-foot addition to the company's Thomson plant will create 42 jobs.
Morris touts the fact that McDuffie County has the only GRAD (Georgia Ready for Accelerated Development) site on I-20 east of Atlanta. It's part of Stone Industrial park, located about a half-mile north of I-20 near exit 175.
"That's our bread-and-butter site," Morris says. "We're waiting to put somebody big on that one." He adds that McDuffie County doesn't necessarily target specific industries, but "what seems to find us are ancillaries to the automotive industry." The county's largest employers continue to be floorcovering giant Shaw Industries and Georgia-Pacific, he says.
Trojan Battery continued to ramp up employment at its deep-cycle battery plant in Sandersville, in Washington County. At the end of the year, the company employed 272 at the facility with plans to reach 300.
Charles Lee, executive director of the Development Authority of Washington County, says another company experiencing growth is Dura-Line, a manufacturer of polyethylene pipe.
Lee jokes that Washington County can be described as being "in the middle of nowhere, or at the crossroads to everywhere." While the county is not pierced by an interstate, Lee believes it does have a good transportation network, allowing trucks to bring goods to and from the Port of Savannah on a daily basis.
"We have tons and tons of export production leaving here related to the kaolin industry," he says. "While we are somewhat remotely located, we offset that by good transportation systems." Unemployment has declined with a December 2016 rate of 6.7 percent, which compares favorably to double-digit rates four years ago. Two GRAD-certified sites, one of 122 acres and the other of 576 acres with rail access, bode well for the future.
"I'm optimistic that things are looking a little better, and we are actively working on prospects," Lee says.
Jefferson County also benefits from the region's kaolin deposits, creating jobs in mining and excavations. Greg Sellars, executive director of the county's development authority, says that attracted Imerys Oilfield Solutions to the county in 2013.
Louisville, in Jefferson County, is home to one of the more unusual repurposes of a defunct textile factory. The former Victor Forstmann textile manufacturing facility, which shuttered in 1995, now houses a Coastal Processing poultry plant and the city's new wastewater treatment facility.
Coastal Processing launched in 2016 with plans to create up to 200 jobs. The city acquired the wastewater treatment plant that can handle 4 million gallons a day, which is 3 million gallons more than the plant and the city need.
"It's huge, really," Sellars says. "They have 3 million gallons of excess capacity."
Walter Sprouse, executive director of the Augusta Economic Development Authority of Richmond County, says his agency oversaw $171 million in new investment last year, which created nearly 1,500 jobs.
There were also other major developments, including the $180-million headquarters for the new U.S. Army Cyber Command at Fort Gordon. That will initially create about 1,200 military and civilian positions in the area, but that figure could go much higher.
The military project along with a new $50-million state-owned Georgia Cyber Innovation and Training Center, announced in January, figure to position the area as a major hub for cybersecurity. The center will focus on training, education, research and development and serve as an incubator for startup companies.
"When the Army made their announcement, it changed everything," Sprouse says. "Fort Gordon is not huge physically, but it is probably one of the most important military bases in the U.S. It trains all branches of the military in information technology, and many of them want to stay right here after leaving the service because either their spouse is employed here or they take a look around and find out the cost of living here is much lower than other areas."
Manufacturing expansions in 2016 include Textron Specialized Vehicles, which used $20 million in revenue bonds issued by the development authority to acquire a 600,000-square-foot building. The company estimates 400 jobs will be created to augment its current E-Z-GO operation, which makes golf carts and ground support equipment for the aviation industry.
The county's other major industrial announcement came from Australian manufacturer EdenCrete, which plans a $65-million plant to produce a concrete additive.
Read About Individual Regions: