2017 Economic Yearbook
Our annual region-by-region look at the state showsthat Georgia's economy continues to gain momentum.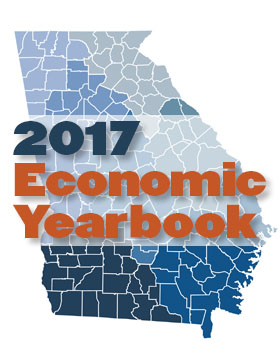 In all regions of our state, businesses are growing, investing, hiring and putting smiles on the faces of those involved with economic development as well as local residents and job seekers. From hospitality to healthcare, manufacturing to movie making and just about everything in between, Georgia is a business magnet, which in turn is improving prospects for all of us.
Our expanding ports system, rail transportation and associated logistics services account for a huge piece of the state's business attractiveness. Companies see the myriad advantages of being able to move their products seamlessly to points throughout America from the Port of Savannah, the Port of Brunswick, the Cordele Inland Port and the evolving Appalachian Regional Port. Even areas of the state that are not located in close proximity to these ports are experiencing a halo effect.
In Metro Atlanta, the growth is mind-boggling. Investments from industry giants such as UPS, Honeywell, Anthem and adidas are creating hundreds of jobs. The area is also heavily focused on infrastructure improvements that reduce time spent in traffic and improve residents' quality of life through more walkable mixed-use developments.
Manufacturing is on the rise in most areas of the state, but nowhere is it more welcome than in the Central and East Central regions. The revitalization of downtown Macon and the growth of a cybersecurity mecca near Augusta are among the many economic jewels in those regions' crowns.
Tourism is on the rise in West Central Georgia with the launch of several trail projects and the development of Great Wolf Resort, which features an indoor waterpark, hotel and outlet center. The Northwest region is also focused on attracting tourists with the opening of the Rome Tennis Center at Berry College, the largest hard court facility in the United States.
The Northeast portion of the state is experiencing a tremendous amount of new construction to accommodate retail, distribution and manufacturing businesses along with green energy projects. In addition to ports and transportation initiatives in the Southeast and Southwest regions, the Savannah area is becoming a prime location for film and television productions.
Articles in this year's Economic Yearbook were written and reported by Stan Awtrey, Lori Johnston, John W. McCurry, Tom Oder, Don Sadler, David Shivers, Randy Southerland and Karen Young.
For more information, please visit selig.uga.edu. – Mary Ann DeMuth
Read About Individual Regions: