Valdosta | Lowndes County: Team Spirit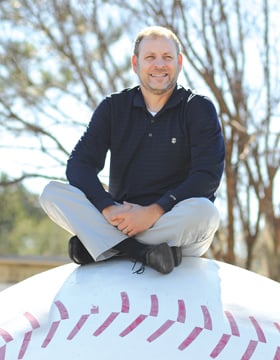 They don't call this town "Winnersville USA" for nothing. The city of Valdosta has long been known for its winning sports teams – ESPN fans named the city the 2008 TitleTown for its sports focus. Now, with a public high school football team that just brought home its 24th state championship and a university that only a handful of years ago ranked No. 1 in Division II football in the country, Lowndes is full of the champion spirit.
These days, even those who are not particularly sports-minded are benefiting from the ongoing targeted efforts to bring big tournaments and sporting events to town. Led by Executive Director George Page, the Valdosta-Lowndes County Parks & Recreation Authority (VLPRA) was recently named State Agency of the Year by the Georgia Recreation and Park Association (GRPA) for the third year in a row. In addition, Page received GRPA's most prestigious individual award: Distinguished Professional of the Year. Much of the recognition stems from the town's reputation for hosting top-notch tournaments.
When Page joined the authority more than five years ago, he immediately recognized the potential in the existing athletic facilities and sports complexes. "They were pretty much sitting empty on the weekends because we used them for recreational play during the week," he says. Soon Page was approached about hosting some regional baseball tournaments in town, and just like that a new revenue source for Valdosta and Lowndes County was identified.
"The Freedom Park complex was being used primarily for adult leagues and tournaments and the kids played at our other parks, but when we started having youth tournaments at Freedom," everyone wanted to come play in Lowndes County, he says, noting there are 19 fields total at the Freedom, South Lowndes and Vollotton parks. However, VLPRA also partners with Valdosta State University and the public school system to share fields, Page adds.
Last year Lowndes hosted 38 tournament weekends, including tennis, baseball and softball, both adult and girls fast pitch. The direct and indirect economic impact on the community totaled about $16.5 million over the past three years from tournaments alone, says Page. And that's not peanuts.
"We're doing a lot of things in parks and rec that truly have an economic impact, and it's a benefit to the community," he says. "[Parks and recreation] is part of a growing sports tourism industry across the nation."
The weekend before Thanksgiving brought 60 out-of-town teams to Lowndes, filling over 1,400 hotel rooms with players and families that pumped nearly $700,000 into the local economy during what would typically be a slow travel weekend prior to the holidays, says Page.
"And we use very conservative numbers. We want to make sure the numbers we put out there are accurate, not pie-in-the- sky numbers. We can back our numbers."
Well-maintained facilities in an area of the state where the climate offers year-round opportunities for outdoor sporting events have combined to make Lowndes County a big draw. Page works hand-in-hand with Tim Riddle, director of the tourism authority for the county, to bring the big tournaments to town. Touting all that Valdosta has to offer – 4,000 hotel rooms, shopping, dining and a major tourist attraction such as Wild Adventures zoological theme park – also works to draw in the tournaments, says Page.
A solid working relationship with the local school system and Valdosta State University allows Page to expand the field of offerings when an unusually large tournament is looking to locate there. "In Valdosta-Lowndes County, there are no turf wars here," says Page, noting the cooperation he receives across the board.
Competing with the larger budgets of cities such as Atlanta, Birmingham and Panama City Beach can be challenging, especially when they can drop $5,000 or $10,000 to sponsor a breakfast. "We just can't do that here," admits Page. "But once they come here, they know they're going to get superb service. You can have all the money in the world, but if you have a tournament in a place where the facilities are not kept up and kept clean, they aren't going to go there again."
---
Top-Ranked Education
Whatever it takes to make its 1,500 students successful is just what Wiregrass Georgia Technical College strives to provide, says President Tina Anderson, who likes to tell prospective students "we've been preparing for you to get here long before we knew your name."
And who better for the tech schools to team up with than area high schools and the local university? Combined efforts through the Board of Regents recently resulted in a transfer agreement ensuring high school and tech college students that if they pass any of the 27 core classes, they won't lose credit when transferring them to Valdosta State University.
Traditional students aren't the only ones benefiting from outside-the-box programs across the Wiregrass campus. The school received a $1.5-million grant to partner with the Department of Corrections and local businesses to give inmates a running start on learning a trade upon release, says Anderson. Once an individual moves into a Valdosta transition center, they have the option of working and going to school, and some are choosing to attend classes on campus, a situation that is working well, she adds.
"We know they'll have jobs [upon graduating] because they already have jobs," says Anderson, appreciative of Valdosta companies who hire these individuals while they're still studying a trade. "We're changing lives … and serving taxpayers well with this workforce development [program]."
In addition, says Dr. Brian Gerber, provost and vice president of academic affairs at Valdosta State, the university is launching a new online bachelor's of fine arts degree program in emergent media and communication this fall. Also available now online are all of the most popular foundational core courses. The courses are available via the SmartPath Core project, an innovative program for non-science majors to take core classes online, offering flexibility to suit the lifestyle of any student.
As part of VSU's YOUSucceed, a personalized learning initiative that integrates the knowledge students may already have with skills learned through the program, the school has answered the call to better prepare science, technology, engineering and math (STEM) elementary teachers by making available a competency-based endorsement for K-5 teachers in science and math. "[We] are currently the only institution in the university system offering a true competency-based model of online instruction," says Gerber, of the self-paced program for teachers.
---
Rallying Downtown
City officials, along with leadership at the chamber and the Valdosta Main Street program, are recruiting a lot of new players willing to spruce up downtown – especially the gateway areas – by renovating old buildings and giving them new life, says Valdosta Mayor John Gayle. One of the bigger projects is a proposed $15-million Wyndham Gardens hotel and conference center downtown. The five-story, 130-room hotel with a rooftop restaurant and bar also includes the promise of Valdosta's first downtown parking deck, which will add an additional 300 parking spaces.
Myrna Ballard, president of the Valdosta-Lowndes County Chamber of Commerce, is pleased with the progression she's seen downtown over the past 30 years. "It's been painfully organic; the change has been very slow," she admits. "But with the things that are happening now, I think we'll reach the tipping point."
Ballard has worked to bring an incubator, or entrepreneurial center, to the city for more than a decade, and it looks like her efforts may pay off in the next year. Following a study by Georgia Tech to assess community readiness, a business plan was drafted and soon funding sources will be identified, says Michael Lee, past chair of the chamber board.
TISHCO Properties, a full-service real estate provider, recently renovated a downtown building as did real estate developer RISE, now housed in the old McCrory building. Whitehead Hardware, located in yet another gateway property, will soon expand its showroom. Another project will consolidate three Valdosta offices of the law firm Coleman Talley in a renovated historic downtown building.
"It's been a busy year for us downtown," says Ellen Hill, director of Valdosta Main Street. "Of course we're still trying to get those good businesses into the center of downtown, but our larger projects and bigger employers are moving to the outskirts where they have more room to grow. … This is the year that people will really see our vision for downtown."
A new craft brewery, Georgia Beer Company, plans to move into a renovated old Waterworks building, the result of more than a year's worth of wooing. "Which will be huge for our tourism in downtown," says Hill, of the proposed $1-million craft brewery and tasting room that will employ five to 10 people.
In addition, local restaurateur and chef Keira Moritz, owner of Steel Magnolias restaurant, renovated the old Strand Theatre and opened Birdie's Market. The hybrid cafe, gourmet shop and general store offers coffee, all-day breakfast and sandwiches along with Georgia-grown products like cheeses and olive oil scattered among home decor, jewelry and books. It also caters, hosts cooking classes and hosts events in a 3,500-square-foot space.
---
Home Runs
Elsewhere in the county, a new $83-million Valdosta High School is under construction, with classes starting in 2018. Meanwhile, plans for the existing high school facility include a new medical college, according to Mayor Gayle.
In addition, French-owned company Saft, in the community for 40-plus years, continues to expand by adding a new line for one of their existing products, creating another 25 jobs and making an investment of more than $3 million, says Andrea Schruijer, executive director of the Valdosta-Lowndes County Development Authority. Saft manufactures telecom products in Lowndes County but elsewhere produces high-tech batteries.
Moody Air Force Base hit a home run last fall by becoming the first Department of Defense (DOD) base to gain approval for an inter-governmental service agreement with a municipality for a utility. The DOD selected Moody as one of 13 prototype Air Force installations to take part in the public-public, public-private (P4) initiative, says Lowndes County Commission Chairman Bill Slaughter, of the three-and-a-half year project.
"[The project] provides a redundant system to the Air Force," says John Eunice, 23rd Civil Engineer Squadron deputy base civil engineer. "Should something happen to the Air Force water system, we now have a way to tap into the county water system and vice versa."
Whether employed to lure in yet another money-making tournament or coax a new company to bring jobs to the community, aggressive tactics are a big hit in Valdosta and Lowndes County, Winnersville USA indeed.
---
LOCAL FLAVOR
In Full Bloom
What began as a hobby for Dallas newlyweds in the late '90s has since morphed into big business, its reach now extending from the Lone Star State all the way to Southwest Georgia. Nathan Sheets became fascinated with beekeeping and honey production while learning the ins and outs from a seasoned keeper in Texas. When the gentleman became ill and offered to sell his operation – North Dallas Honey Co. – the hobby took over Sheets' life, eventually leading him to trade his career for a sweet new venture.
By 2010, Sheets was ready to make a move from his position with a Christian mission organization, and Nature Nate's became his passion full time. He bought a small honey company in Florida but soon realized the honey was being purchased in Valdosta and brought back across the state line. Through connections with Valdosta honey business owner Bob Edmonson, Sheets began to learn of the benefits of honey production in South Georgia. Once he announced his intent to expand to the region, Sheets was impressed with the leadership in Valdosta.
"The city was really aggressive in wanting to attract us," says Sheets, who today employs 22 people in Lowndes County and works with about 30 local beekeepers. His $2-million investment in the community includes two facilities totaling 60,000-square-feet of warehouse and distribution space, with the Valdosta plant supplying Nature Nate's products to retailers across the East Coast.
The natural raw honey is unlike most others on the market, says Sheets. "It's the closest thing to a farmer's market honey that you would be able to purchase," he says, noting that most honeys on the supermarket shelves are processed, with the honey heated to high temperatures and the pollen removed to extend the shelf life.
"Once you actually taste our honey, you'll find our proprietary blend that we have developed from different varietal sources is just a better-tasting honey," says Sheets, noting Nature Nate's has won the Cook's Country Kitchen blind taste test two years in a row.
Each batch of honey that arrives from one of their beekeepers is tested for pollen count and any traces of pesticides, antibiotics, or corn and rice syrup. Then the honey is gently warmed and strained to retain the enzymes and pollens that many people believe are beneficial. The product can be ordered via naturenates.com or at Kroger or Walmart Supercenters around the state. – K.K. Snyder