Unconventional Learning
Outside the typical college offerings, there's a broad range of higher-ed opportunities in Georgia.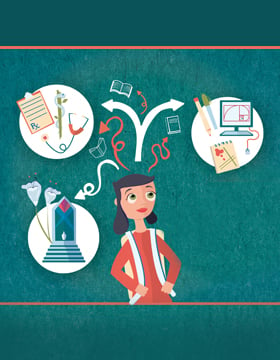 We all know about mainstream universities and colleges, but there's a whole world out there of specialized education that can help train you for a career.
Think higher education options in Georgia range from technical colleges to state universities or private institutions with few offerings outside those boxes? Well, think again.
A number of colleges and educational institutions that are not part of either the University System of Georgia or the Technical College System of Georgia offer the kinds of specialized education – some for college graduates, some for people straight out of high school – that can lead to satisfying careers as copywriters, doctors of osteopathic medicine, funeral directors and more. In addition, many of these schools are accredited, which means that they allow students to apply for Title IV federal financial aid.
Less-than-traditional schools in Georgia include one that trains pilots and airplane mechanics in several locations around the state (Embry-Riddle) and the nation's largest school of chiropractic (Life University). Georgia Trend takes a look at three schools that offer the kind of education that may not always be top of mind when considering career choices.
---
Mad Men – and Women
Mad Men may have ended its TV run, but there's a school here in Georgia that offers the education needed for a career in the ad game. Creative Circus in Atlanta is a portfolio school, which means students aren't worried about grades but are instead focused on creating the killer portfolios needed to land jobs as copywriters, art directors, photographers or designers with the biggest advertising agencies in the nation.
Creative Circus "was set up mainly to serve the training needs of an important industry – that being the advertising industry – in the country," says David Haan, executive director of Creative Circus and a 30-year veteran of advertising agencies across the nation.
Portfolio schools began to crop up in the 1980s, Haan says, when ad agencies and design firms were still recruiting from communication departments at colleges and universities. The problem was, the students they were recruiting had a great education but still needed a lot of training before being turned loose in the industry.
"They would go into a summer training program and then they'd be brought along slowly, almost like apprentices," Haan says. "What happened is that with a lot of mergers and changes in the advertising world in the '80s, they got a lot tighter with their budgets.
"At the same time, portfolio schools like ours started rising in quality and importance. What's happened over the years is that most firms in the marketing communication world rely on portfolio schools to recruit and develop their talent. So that's what we do."
Creative Circus opened in 1995 and today offers five programs of two years – eight quarters – each.
"The two main components of the advertising world are copywriting and art direction," Haan says. "We also have a design program. Some of our designers will go to ad agencies, some of them will go to design firms and some of them will go directly to a place like Carter's or Kids II, or other places that are creating their own work aside from what they delegate to an advertising agency. We also have a program in photography and a program in interactive development, which is web development."
The school takes students straight out of high school, though most of the students (83 percent) have an undergraduate degree when they begin. This is not a school for the faint of heart or the dabbler, Haan says. They want students who are committed to working hard and creating great work.
"The reality is, part of what makes us different from conventional education is you don't take classes to get the grade," Haan says. "You take classes to get a book piece that you can put into your portfolio. The whole focus of the program is to develop an industry-ready portfolio.
"The challenge they've got if they try to go straight from college or high school or junior college to an ad agency or design firm is the first question that person asks is, 'Let me see your work.' So that's what they spend two years doing [here]. They come out of here with really killer portfolios, which makes them competitive on the national scale."
That hard work at Creative Circus pays off for its graduates.
"We've got a 98 percent placement rate, and that owes to the fact that we do a good job at getting the best work out of [our students], and the industry believes in us," Haan says. "What I hear from the industry a lot is that if they hire a Creative Circus grad, they're ready to go on day one."
---
Integrative Medicine
If it seems that medical research is discovering more and more ways that the different parts of the body are interconnected and integrated, this isn't news to osteopathic medical practitioners, like the doctors educated at the Philadelphia College of Osteopathic Medicine.
"Osteopathic medicine was started by Andrew Taylor Still in the late 1800s. He was an M.D.," says Jay Feldstein, president and CEO of the Georgia campus in Gwinnett County and himself a doctor of osteopathic medicine (D.O.). "At that time, a lot of the treatments in medicine were worse than the diseases. All the medicines, all the remedies were unregulated. So he came up with this idea, wouldn't it be great if you could heal the body naturally. He took a very holistic viewpoint to patient care.
"The other thing he did was to incorporate the musculoskeletal system into a system of care. It wasn't just isolated neck pain or back pain, or whatever, but the impact that could have on other organ systems and the impact those other organ systems could have on the musculoskeletal system. Where if you made certain adjustments – and they're called manipulations – you could help normalize blood flow to other organs and you can help the body heal itself."
If osteopathic medicine sounds a bit like chiropractic, Feldstein says it is, sort of. "If I was on an elevator and had 30 seconds, I'd say, 'think of it as an M.D. and a chiropractor combined, and then you've got an osteopath.'"
Today osteopaths, who are medical doctors and practice medicine in any specialty – from obstetrics/gynecology to general surgery and everything in between – incorporate holistic practices into the treatment of all kinds of diseases and conditions, using manipulations to treat back, neck, shoulder or other muscular pain.
"This was integrative medicine before integrative medicine became the buzzword that it is today," Feldstein says. "It only took 100 years for it to get recognized. Now everybody wants to practice holistic, quote-unquote 'integrative' medicine. And we've been doing it for a good long time."
Many doctors in this growing field are trained at PCOM, one of only 44 osteopathic medical schools in the country. Applying to PCOM is similar to applying to a traditional med school, Feldstein says. "You've got to be a college graduate. You've got to have good grades. You've got to do well on your MCATs."
The school accepts 135 students per year. Graduates do a residency, just like other medical doctors, then go into whatever specialty they choose.
"Primarily for Philadelphia College of Osteopathic Medicine, we tend to turn out more primary care doctors," Feldstein says. "We turn out a lot of family practice, general and internal medicine, pediatricians, ob/gyns and general surgeons. Sixty percent of the class goes into one of those areas."
These aren't the only practice areas D.O.s choose, however. "A D.O. is able to treat every condition that an M.D. can treat," Feldstein says. "The difference is that during school the holistic philosophy is really emphasized, and there's over 1,000 hours of training in osteopathic manipulation."
It's education in service to the school's mission, which is "to try to serve underserved [people] in both rural and urban areas," Feldstein says, "to address the physician and primary-care shortages that we have in our country. We're dedicated to that mission and to try to solve that problem that we have."
---
Funeral Service
There's the old saying, "nothing's sure but death and taxes." And the faculty and staff at Gupton-Jones College of Funeral Service are committed to handling one of those unavoidable experiences with professionalism and compassion. Gupton-Jones, one of only 56 funeral service colleges in the country, has been training funeral service directors and embalmers in Decatur since 1969.
The college offers just one program, funeral service. It's an 18-month associate's degree, says Antonio Wallace, president of the not-for-profit private college.
The job of funeral director evolved from that of mortician, says Felicia Smith, Gupton-Jones registrar and a licensed funeral director and embalmer. "The antiquated term mortician, we're getting away from that. Traditionally, your mortician was responsible for the science of funeral service. They also arranged funerals."
Now, different people handle those two functions. Embalmers are responsible for the science – safety and preservation, Smith says – while funeral directors work with families to plan funerals.
Smith's family owns funeral homes, but she says more and more students are coming to the college without that background.
"In the last four or five years, we have more people coming without any funeral service experience and without any experience with funerals," she says. "It's almost like a death-free generation. They don't attend funerals."
She attributes this evolution to the rise in cremations. So more people have memorial services rather than traditional funerals.
Gupton-Jones' 18-month program includes two quarters of general education courses – history, math, English, etc. – and four quarters of funeral service classes, including anatomy, chemistry, pathology and classes in the business of running a funeral home – accounting, funeral service management and law.
The college has a 65 percent job placement rate in funeral service work around the country. Each state has its own requirements for working in the funeral service industry, though all require that students pass the national boards.
"Here in Georgia, once they pass the national boards and they've gotten their licenses and apprenticeships out of the way, they can work as a licensed funeral director and embalmer," says Wallace. "We get them prepared based on what I call the world of work. We work with various funeral homes, not only in the state of Georgia, but in other states as well. We let them know that our students have finished the program, and they're well equipped with the particular tools that are necessary to be part of any funeral home."
Wallace credits his staff, who in addition to being licensed funeral directors and embalmers also have master's degrees, with providing the education students need.
"This faculty is very dedicated," he says. "They have a passion to teach, and they definitely believe in giving back to the funeral service community. They make Gupton-Jones College of Funeral Service what it is."