Macon | Bibb County: The Sounds of Success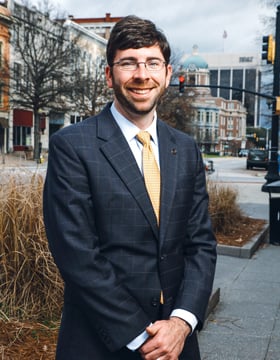 In Macon, downtown streets are bustling and a growing number of loft apartments have revitalized once-abandoned buildings like the historic Dannenberg, a former department store built in 1903. Apartment occupancy rates are running around 95 percent in downtown, and builders can't seem to keep up with demand. Along with the new housing, scores of restaurants, brewpubs, nightclubs and businesses are taking root on the main streets of Macon's central business district, making the city downright trendy.
"We want to build on the existing momentum and continue that progress," says Robert Reichert, mayor of the consolidated city and county government.
---
Reshaping the Landscape
To ensure the progress continues, the county has embarked on a strategic plan, Forward Together. "We want to see exactly what we want the community to look like four years from now," Reichert says.
A big part of that plan includes completing some major projects that are reshaping the city, such as the Second Street Corridor, which is improving an area from East Macon through Downtown. The latest project along the corridor is a pedestrian- and bike-friendly bridge to link Little Richard Penniman Boulevard and Second Street. The goal is to spur economic development by improving the look and ease of access to the corridor.
The bridge is being funded in part through a voter-approved Special Purpose Local Option Sales Tax (SPLOST), a one-cent sales tax used to fund specified local projects. The current $190-million SPLOST, passed in 2011, will end in 2018, when this next one, approved in 2016, will begin. Leaders see the passage of the new SPLOST, expected to raise $280 million over the next decade, as a vote of confidence in Macon's future. It sets aside money for roads, bridges and other infrastructure as well as $29 million for economic development.
Mercer University has also been an active partner in rebuilding Macon. It helped give the Second Street project a boost this past year when it completed construction of Mercer Landing. This project includes apartments for undergraduates, office, retail and a 95-room Marriott TownPlace Suites hotel. A pedestrian bridge over Mercer University Drive connects it to Mercer's football stadium and the main campus. The university has built a series of mixed-use developments featuring ground-floor retail with student housing above.
"It's one of those things where you're never really finished," says Larry Brumley, senior vice president for marketing communications and chief of staff at Mercer. "You just move into a new phase."
---
Let the Music Play
The award-winning revitalization of College Hill, an area near Mercer, has been part of the inspiration for revitalizing other areas of the city, most notably downtown. One recent project is the Lofts at Capricorn, which combines historic preservation with an infusion of much-needed market-rate housing stock.
The historic Capricorn Recording Studio, where Southern rock legends such as The Allman Brothers Band and others recorded, had long been abandoned and decaying. Now a partnership between local developers, Mercer University and NewTown Macon, a nonprofit organization dedicated to improving and revitalizing downtown, is bringing it back to life as part of the largest residential development in downtown.
New buildings rising around the old studio will have 137 one- and two-bedroom units; office and retail space; and a fitness center. The 190,000-square-foot, $19-million lofts project is expected to be completed late this year.
Sierra Development, which has built other Mercer mixed-use developments, and Southern Pines Plantation bought the Capricorn building and the surrounding 3-acre site from NewTown Macon, which purchased the historic structure in 2011. The Peyton Anderson Foundation put up $1 million to fix a leaky roof and halt rapid deterioration. The developers then donated the building to Mercer University along with $350,000 to help convert it to a music venue, incubator space for music-related businesses, classrooms and a working studio for Middle Georgia talent. The new facility will be called Mercer Music at Capricorn.
Locals got a taste of what the space will look – and sound – like when Betty Cantrell, Warner Robins native, Mercer grad and Miss America 2016, recorded Georgia on My Mind at the studio back in December. Also that day, artist Jonathan Wyndham recorded a new version of The Marshall Tucker Band hit Can't You See. Marshall Tucker laid down their hit track in the studio in 1973, and Marshall Tucker drummer Leroy Wilson and producer Paul Hornsby, on keyboard, returned to play on the new recording.
"It was just a one-time deal to raise awareness that Mercer was going to be doing this and raising money to complete it," says Jessica Walden, daughter of Georgia Music Hall of Famer Alan Walden, who co-founded the studio, and owner of Rock Candy Tours, which gives music history tours of Macon. "It does show you the bones are there. The studio is still just one of the most well-constructed sound spaces in the South."
The plan is to make Mercer Music at Capricorn a focal point for the booming Macon music scene. After all, this is where a young Mercer student named Phil Walden – Jessica's uncle – and her father established the South's premier R&B booking and talent agency in the '60s and the groundbreaking Southern rock label Capricorn Records in 1969.
Jessica Walden, who grew up around the studio and its music legends, says the recent recording session was incredible. "When I walked into the studio, I couldn't help but be overwhelmed with emotion to see a band set up in that space again, including some of the original players [from The Marshall Tucker Band] like Paul Hornsby. To hear that music again in that space was a defining moment, that we are totally reclaiming our past but using that to propel our future with the current talent coming out of Macon. They've got to raise a lot of money to bring it up to a fully functioning studio and a multi-use space. But already music is being heard again in this special space."
---
Strengthening Neighborhoods
The residential developments going up in the city reflect both an improving economy and a number of people – from millennials to empty nesters – looking for walkable, amenity-rich housing.
In addition to the Capricorn project, Sierra Development has worked on several loft projects for Mercer students in downtown, including Lofts at Mercer Village, Tattnall, College Hill and, most recently, Mercer Landing.
"The retail leased up right away, and we got 100 percent [occupancy] on the residential," says Jim Daws, president of Sierra Development.
The typical apartment in the county had never commanded more than about 90 cents a square foot, he says. "We're probably getting in the high $1.50 to $1.60 per square foot range – which is really good for Macon."
In an area as bustling as Macon-Bibb, it's vital that groups be on the same page where economic development is concerned.
"Macon's best asset right now [is] we're working together extremely well," says Josh Rogers, president and CEO of NewTown Macon.
That ability to form partnerships around common goals has become a model for urban revitalization. For example, an alliance between the city, Mercer University and nonprofits like the Knight Foundation and The Peyton Anderson Foundation was instrumental in invigorating the College Hill Corridor, a collection of neighborhoods between Mercer and Downtown that has won national recog- nition for economic and community development initiatives. The College Hill Master Plan, which evolved from a group of Mercer students' senior capstone project, has grown into a blueprint for sustainability driven by locals.
"It's really a simple formula," says Brumby. "You need a compelling vision and engaged partners. That's what has really fueled success over the past several years."
The role of nonprofits in helping to spark development was proved with the success of College Hill, where $5 million in grant funding has been leveraged into nearly $200 million in economic development activity.
Now that concept – funding great ideas from local citizens and organizations – has rolled out in Downtown Macon. With $3 million from the Knight Foundation and The Peyton Anderson Foundation, the Community Foundation of Central Georgia launched the Downtown Challenge, a three-year program to fund community-driven projects such as improved streetscapes, a Downtown Venture Fund to provide funding to entrepreneurs, an entrance gate to Ocmulgee Heritage Trail and a theater production on Macon's music history.
Community members submit ideas, and the selected projects must align with the five-year Macon Action Plan to improve economic development, experience, living and connectivity.
"The idea is to provide funding sources to get the community involved in making the plan a reality and give some capital to get it done," says Kathryn Dennis, president of the Community Foundation of Central Georgia. "And also to spark other ideas."
Strengthening and sometimes completely revitalizing Macon's historic neighborhoods has been a key to its success. The latest effort is geared toward using artists to drive economic development. Mill Hill, near the old Bibb Manufacturing Co. plant, is slated to become an artist village.
With a majority of the homes in this area abandoned, a group of organizations is working to rehab and then sell the classic mill houses to artists. Occupants would be able to not only live, but work in their homes.
"There are two complete houses," says Jan Beeland, executive director of the Macon Arts Alliance. "We are working to keep the houses at a reasonable cost. We are working on developing a community land trust. It has a board of directors, filed with the secretary of state, but we're not quite there yet."
---
Business is Booming
Late last year when Boeing Aerospace announced it was closing its Macon plant, local leaders were disappointed but not desperate. They had hoped efforts to retool the plant to take on new kinds of airplane building would keep it open. After a lengthy analysis, however, Boeing decided it didn't make bottom-line sense.
While the closing meant the loss of about 120 jobs, the aerospace sector is still a big and growing part of the regional economy. It employs nearly 30,000 workers in the Macon and Middle Georgia area.
"We're still strong in the aerospace business … with the growth of existing companies," says Pat Topping, senior vice president of the Macon Economic Development Commission (MEDC).
Other business sectors are also prospering. Last year the county added nearly 800 new jobs arising from almost $80 million in capital investment by local companies.
In a move designed to expand its business recruitment efforts, the Macon-Bibb County Industrial Authority was tasked with being the single point of contact for new industry and business looking to set up shop in the county.
"We are looking to revamp our economic development efforts in a way that we haven't before," says industrial authority chair Cliffard Whitby. "We will do it much more aggressively than we have been committed to doing. So I'm very excited about our new partnership and the new goals."
The new arrangement also allows the MEDC to focus greater attention on existing business and workforce development, according to Mike Dyer, MEDC president and CEO.
Macon-Bibb has a wealth of resources to offer both new prospects and existing companies alike, including an abundance of water for manufacturing and a trained workforce.
"We have all kinds of higher education from Mercer University to Central Georgia Technical College to Wesleyan to Middle Georgia State University," says Stephen Adams, the industrial authority's economic development director.
---
Intellectual Capital
While big companies tend to get the press, most jobs are produced by small companies. The realization that Macon-Bibb is well stocked with entrepreneurial-minded people led to a renewed emphasis on small business development.
To support these folks, a growing number of coworking spaces, incubators and makerspaces have sprung up. Last year Mercer launched its Innovation Center, a business incubator that puts the resources of the university as well as other local resources to work helping entrepreneurs develop their ideas.
"As a university, we're in the job of creating intellectual capital, and it would be nice to capture some of it for the Middle Georgia region because smart people can stay here just as well as they can move to Atlanta," says Scott Davis, senior vice provost and dean of graduate studies at Mercer. "Keeping young, smart talent and providing a place they can congregate and build a critical mass will foster novel ideas."
SparkMacon, a new community makerspace spearheaded by the Middle Georgia Regional Commission in conjunction with public and private stakeholders, provides equipment for people to work on projects and ideas that might jumpstart a new business. The space serves artisans, engineers and other hands-on types who need tools like saws and 3-D printers to create actual working models of their ideas.
"Hundreds of businesses start every year in Macon-Bibb County, but what we've done is give it a label," says Rob Betzel, a member of angel investor organization Central Piedmont Investment Group, CEO of Infinity Network Solutions and a founding member of SparkMacon. "We've always been starting businesses here."
The city has "created a broader sense of awareness that it is an okay thing to start a business," says Betzel. "We raised a community that went to work for the existing industry, which was fantastic and we need that, but people with ideas should also be supported in seeing if those ideas could be successful."
Betzel and his angel investors have put money into companies as diverse as the local brewpub Piedmont Brewery and Kitchen and Borrowing Magnolia, an e-commerce business for renting and selling wedding dresses.
While many in Macon-Bibb County see more progress ahead, one thing is clear – this is a community that has been transformed. With new people and businesses arriving daily, new housing options, upgraded infrastructure and a growing focus on improving quality of life, the future of Middle Georgia looks bright.
---
LOCAL FLAVOR
Making Connections
Along with spending on new and improved road and transportation infrastructure, Macon-Bibb County also launched a major effort to encourage those who want to use two-wheeled vehicles.
"We're trying to parlay [construction of the Second Street Corridor] into an extension of our bike and pedestrian network," says Alex Morrison, executive director of the Macon Bibb County Urban Development Authority. "We are really getting serious about our bike network."
The authority is connecting the park system along Third Street to the Ocmulgee Heritage Trail and into downtown.
"People who are enjoying the trail can have easy access to the business district so they can extend their ride," he says.
The city also hosted a pop-up bicycle network last September. Using grant money from the Knight and Peyton Anderson foundations, the city assembled a six-mile bike-lane network and kept it in place for a week. The goal of the project, the Macon Connects Street Makeover, was to experiment with different forms of bike infrastructure and measure how many people actually took advantage of the new path to get around.
"We connected several different inner-core neighborhoods through safe and comfortable bike connections to prove that if there's adequate infrastructure, more people will choose to bike than to drive," says Morrison.
In fact, according to Macon Connects, bike counts along the pop-up network were much higher than normal for the route. Prior to the bike lane project, only about 23 people engaged in daily commutes downtown. With the temporary lanes in place, that number increased to approximately 217.
The next step is making some of those bike lanes permanent.
"We want to change the way we view infrastructure and start looking at more of a bike-pedestrian inclusive network than just cars," Morrison says.
Though the city has only about a mile of bike lanes, the avenues are broad and usually not plagued by traffic congestion. That makes biking safe and easy – at least within the downtown core.
"Even without the bike lanes within the downtown area, it's still pretty bikeable because we have plenty of space on the road," says Rachel Hollar, executive director of Bike Walk Macon. "I've comfortably biked downtown where I live and work, but the problem comes when you try to get to the surrounding neighborhoods. Part of the big problem we're working on now is how do we connect to those areas so you can [bike] anywhere in Macon with the proper bike lanes?"
Along with reducing the number of cars on city streets, Morrison says, an extended bike network could also provide an economical means of transportation for the city's residents, especially those who cannot afford or choose not to buy a car. – Randy Southerland