Georgia Fare: Downtown Support Beam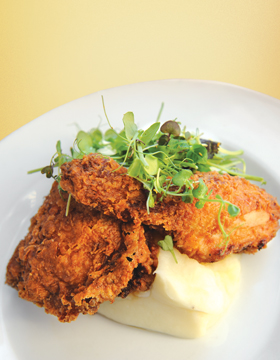 As Atlanta's restaurant scene continues its boom, I had a recent epiphany: When friends or family come to do business or see events in downtown Atlanta, I have one stock-in-trade restaurant that I've recommended for years. But I've never written about it.
Why? For so long, I've been thinking that the mad crush of new restaurants currently overwhelming Midtown, Buckhead and even the northern suburbs would inevitably invade downtown. Perennially short of independent, chef-driven restaurants – especially those that convey something of our city's taste and culture – downtown Atlanta's restaurant scene seems impervious to what's happening elsewhere.
There are exceptions, such as Polaris, the mid-century modern marvel atop the Hyatt. I certainly prefer them to the long list of upscale franchises, sports bars and touristy watering holes that make up the lion's share of choices for downtown diners. And few new, splashy entries into downtown have made their menus as exciting as their interior decor. (I'm looking at you, JP Atlanta.)
Meanwhile, White Oak Kitchen & Cocktails keeps consistently delivering great, inventive Southern food and drinks in an inviting environment, with terrific service. It's the place I tell people to go when they have a starting kickoff to attend or a picky group to deal with, especially folks from out of town who want to know what Atlanta dining is all about.
Since June 2015, Todd Richards has helmed the kitchen at White Oak, part of the Brewed to Serve restaurant group that includes Max Lager's Wood-Fired Grill & Brewery. Richards helped to fledge One Flew South, part of the restaurant renaissance at the Atlanta airport, and was perhaps the only self-taught executive chef to cook at the Ritz-Carlton Buckhead, where he also introduced a Southern-tinged menu. More recently, he opened Richards' Southern Fried in Krog Street Market featuring his signature hot fried chicken.
White Oak's dining room is lined with its namesake, much of it rustic and unfinished. Leather booths and banquettes line a large, airy dining room with two-story windows, allowing you to peer into the screened porches of nearby condos. A lively bar and patio overlook Peachtree Street.
Open for lunch and dinner, White Oak delivers the kind of food you end up craving – deviled eggs, fried chicken, Brussels sprout slaw with green apple, roasted mushrooms, a stacked double cheeseburger. Spa food, it isn't – but there is a kale salad, albeit with goat cheese croquettes and boiled peanuts, and an optional addition of Cornish hen.
In spring and summer months, I've enjoyed excellent vegetable-centric dishes, such as a fresh pea and asparagus toss, slow-cooked collards and skillet-fried corn with watercress.
Begin with something from the outstanding bar, such as the Ritten Apple, a paean to cold winter nights with Rittenhouse rye, salted caramel Kahlua, Berentzen apple liqueur, topped with whipped egg white and dusted with cinnamon. The boozy house "iced tea" is a kind of Southern Long Island variety, mixing rye, bourbon, whiskey, moonshine and Coca-Cola. The nonalcoholic lemonade is muddled seasonal fruit, lemon, simple syrup and sparkling water. Wine by the glass includes a section with rosés, and beers include both Georgia-made and Southern craft brews – but you can also get a frosty PBR. White Oak also offers daily flights of gin, tequila, bourbon, rye and moonshine.
It's certainly singularly Southern – on your plate, in your glass and playing on the bluesy soundtrack. Richards' best dishes take full advantage of iconic staples and classic-cooking methods, such as the grit soufflé, with meltingly braised beef cheek, butternut squash and collard green pistou (a take on the classic Provençal pesto-like accent). The deviled eggs come as a mini-course of four flavors, including pimento cheese and a pink pickled beet variety. That Brussels sprout slaw is rich, but braced with sweet-sharp white balsamic-like dressing.
The perfectly crisped fried chicken features two of my favorite pieces – both thighs – over buttermilk potato purée, topped with microgreens. And that burger – lovingly named for the signature entrée at Ms. Ann's Snack Bar on nearby Memorial Drive – is a Wagyu beef wonder, with caramelized onion, American cheese, a brioche bun sporting speared pickles and crisp housemade fries. It's got just the right amount of heft and correct protein-to-starch-and-condiment ratio.
The only real challenge the kitchen seems to have here is one many Southerners share – restraint. The single dish that did not seem to work at all was the "SLT," or shrimp and crab salad sandwich, with fried green tomato on sourdough toast. Overly aggressive herbs, mayonnaise and even a bit of bacon overwhelm the sweet and subtle seafood flavors, further muddled by the misplaced fried green tomato.
For dessert, of course you'll want the banana pudding, a sophisticated, bourbon-sauced version of the old-school favorite, topped with vanilla wafers. It's enough to send a Midwesterner home with some idea of where he's been.
---
White Oak Kitchen & Cocktails
270 Peachtree Street NW, Suite 100, Atlanta
404.524.7200
Hours: Lunch & dinner, Mondays-Fridays
Dinner, Saturdays & Sundays
Parking: Complimentary valet at Peachtree and Baker streets
Dress Code: Comfortable enough for a stroll down Peachtree afterwards
---
Speaking of Fried Chicken
Like Todd Richards, several of Atlanta's best chefs are offering their version of the gospel bird in more casual eateries. Check out these outposts:
Richards' Southern Fried
Three degrees of spiciness are dispensed at this tiny counter at Krog Street Market.
Hops Chicken
Chicken biscuits are the specialty at Linton Hopkins' (Restaurant Eugene, Holeman & Finch) fried chicken stand in Ponce City Market. Sauces include the mysterious Fram Framm.
Bantam & Biddy
Shaun Doty's (Yeah! Burger) sit-down spaces advertise regional, all-natural and pastured poultry. Several locations.