Deep Roots
Forestry is Georgia's second-largest industry, with more than 24 million acres of land providing 133,000 jobs and generating a $32.2-billion economic impact.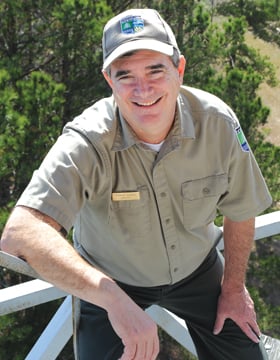 Georgia's forest industry dates all the way back to colonial times, when the British crown claimed the state's live oaks and longleaf pines for shipbuilding. The live oaks were used for the framework of ships, while the gum from the pines was used to waterproof a ship's wooden joints, fill in the gaps between joints and waterproof the sails.
The dozens of resin-based products that were used in building and maintaining the wooden sailing ships, including turpentine, rosin, pitch and tar, gave rise to naval stores (which does not mean the shops where ships are for sale, but rather is an old term for the materials extracted from pines and used in the construction and repair of ships). It was the first evolution of the forest industry in Georgia.
Fast-forward a couple of centuries, and forestry is big business in Georgia. In 2015, the state's forest industry had a total economic impact of $32.2 billion, provided 133,000 jobs for Georgians and generated $753 million in taxes, making it our second largest industry.
"There's not a Georgia citizen that forestry doesn't touch daily, whether it's the home they live in or the products they use," says Robert Farris, director of the Georgia Forestry Commission (GFC). "There are wood products in a lot of things people don't even realize. There are literally thousands of products with wood cellulose in them."
Everyday items that include wood cellulose are as varied as cosmetics and pharmaceuticals to football helmets and the glass screen on your smartphone.
"The thing that really revolutionized forestry in Georgia happened in the 1930s, when Charles Herty, a University of Georgia professor and the university's first football coach, created a process to produce paper and newspaper print from small pine trees," Farris says. "Up to that point, all paper was made from spruce trees up north."
Southern yellow pines had been considered waste, and they interfered with the growth of bigger trees.
"He developed a market for smaller pines that grew in Georgia and across the South," Farris says. "Georgia's 12 pulp mills represent 65 percent of the total revenue output of the forest industry."
With home construction back on the rise in Georgia – one of the forest industry's top drivers – revenue, wages and employment are up across the board, according to Farris.
"We struggled through the recession, but we experienced tremendous growth for five years after and steady increases continue," he says. "From 2014 to 2015, revenue is up 14 percent; wages and salaries are up 17 percent; and employment is up 3.4 percent."
---
Maintaining the Market
Forests may be the "lungs of our land," as President Franklin Roosevelt said, but even some folks who call themselves environmentalists say that to maintain the forests, the markets for wood products have to be maintained.
Dr. Johnny Bembry is a self-described "staunch environmentalist." He's also a private land owner with more than 1,600 acres of timber who wants you to print that email that says, "don't print this email; save a tree."
"People like me have varied interests in forestry," he says. "But we all want to enjoy the land and be able to afford to own it. If it's not profitable, it's going to go into another use that is less environmentally friendly. It's got to pay for itself."
The trees from Bembry's Pulaski County farm are shipped to a cellulose mill in Oglethorpe County, where they are turned into the "fluff" found in diapers. His trees are also converted into paperboard in Macon, as well as saw timber for lumber.
"I tell people, 'please print this email,'" says the 2013 Southeast Regional Tree Farmer of the Year. "If we don't have a market for trees, we won't have any."
In addition to the economic benefits of forestry, privately owned woodlands are vital to the state's clean water and air, wildlife habitat and recreational activities, Bembry says. Georgia is the No. 1 forestry state in the nation with more than 24 million acres of forest, 90 percent of which are privately owned.
"The government can't just buy all the land and set it aside," he says. "That's the beautiful thing about forestry, you can have both."
According to a survey by UGA, Georgia's forests supply $37 billion in ecosystem services, including clean air and clean water. Two out of every three raindrops that fall in the state fall on forest land.
Forests prevent erosion, help with filtration of the water, help the soil absorb water slowly, and in turn, help prevent flooding. Trees take in carbon dioxide and produce oxygen.
According to Farris, the GFC director, one of the industry's biggest challenges is maintaining good markets, so landowners like Bembry can keep and manage their property.
"Markets and the forest industry go hand-in-hand," Farris says. "You can't have one without the other."
---
Healthy Growth
Good markets and sensible regulation are essential for the health of the industry.
The Georgia Forestry Association represents 2,400 landowners and others in the forestry supply chain. This year marks the 110th anniversary of the association.
"When our organization started, 75 percent of the population was rural," says Andres Villegas, Georgia Forestry Association president and CEO. "Today, 75 to 85 percent of the population is urban, and it's easy to lose the connection to the natural resources we depend on."
While cotton and peanuts once drove land use, the value of timber has surpassed and usurped those crops in modern times.
"We're in a privileged position here to grow, produce and deliver products to the world," he says. "We have the No. 1 forest industry in the nation, and that's not by accident. We're doing it very sustainably in Georgia, and we're Georgia's most sustainable industry."
The fact that Georgia has the No. 1 forest industry in the nation was not lost on Interfor, a North American lumber company that bought its first sawmill in Georgia in 2013.
"We now have our regional headquarters located in Peachtree City, seven facilities in Georgia, and we are the largest lumber producer in Georgia," says Tim Lowrimore, Interfor's public affairs manager for southeast operations. "We produce just under a billion board feet annually in the state of Georgia. That represents about a third of our company's production."
In 2016, Interfor purchased between 2.5 and 3 million tons of logs, and that number is expected to increase to more than 3 million tons this year.
"A million tons of logs equates to about 30,000 truckloads of logs," Lowrimore says. "Our log supply comes from 100 to 110 counties in the state, and our log supply comes from 150 loggers and logging contractors."
Interfor also employs nearly 1,000 workers in its Georgia operations.
"We view Georgia as a very friendly place to do business," Lowrimore says, and the company looks to Georgia and the South as the region for growth.
---
Branching Out
As the industry continues to grow and expand, so do other Georgia enterprises, including the ports and harbors in Savannah, according to Farris, the GFC's director.
"The No. 1 export leaving our harbors by volume is wood and wood products," he says.
A large percentage of those exports are a relatively new market for the forest industry: wood pellets.
"In 2007, Georgia had no wood pellet plants," Farris says. "Today we've got 10, and we lead the nation in the production and export of wood pellets."
Primarily, the wood pellets are exported to Europe, where they are used to create electricity, which reduces carbon emissions and greenhouse gases.
Georgia has three dedicated woody biomass-to-electricity plants in Franklin, Lamar and Laurens counties. A fourth plant is under construction on the Marine Base in Albany.
"The electricity being produced at these plants is going back onto the grid," Farris says.
In what may be its most futuristic and radical evolution yet, the forest industry may one day play an integral role in the manufacturing of automobiles.
Cellulosic nanofiber technology transforms pulp into cellulose nanofiber, a lightweight biomass material that has five times the strength of steel.
"One day we may see the bodies of our automobiles being made out of cellulosic nano wood fibers," Farris says. "I think it's going to happen."
---
Fires and Other Threats
Last year will go down in Georgia history as one of the worst fire seasons in decades, according to Robert Farris, director of the Georgia Forestry Commission (GFC).
"There were 5,000 wildfires in Georgia [in 2016] that burned over 31,000 acres [on state and private land that the GFC oversees]," Farris says. "We've broken wildfire records six of the last nine years."
In addition, he says, the U.S. Forest Service reported 53 wildfires over nearly 43,000 acres on federal land in the state last year.
The Rough Ridge Fire in Fannin County and the Rock Mountain Fire in Rabun County burned through more than 42,000 acres of land last year, but thankfully no structures or lives were lost. Still, North Georgia and Metro Atlanta dealt with smoke and poor air quality for weeks, and there were other fires to deal with, too. "We fought over 360 wildfires in Metro Atlanta [in 2016]," Farris says. "We saved more than 4,000 homes and structures that were directly threatened by wildfire."
As bad as the North Georgia fires were, record-breaking wildfires in South Georgia in 2007 burned $65-million worth of timber, and that figure doesn't account for related costs, including the closing of schools, businesses and roads, according to Farris.
Wildfires aren't the only threats to the state's forestry industry. "One of the biggest threats is urbanization and the tremendous growth the state has experienced," he says. "We're not against growth, but it needs to be smart growth that maintains the economic viability of our forests and retains forest land and all its values."
Georgia has the No. 1 forest industry in the nation, a title Farris says it needs to retain.
"Georgia is annually growing 48 percent more wood volume than is being lost to insects, disease, wildfires or harvesting," he says. "We've really got a golden goose here. We just need to manage and utilize it wisely." – Jennifer Hafer