Milledgeville | Baldwin County: Bouncing Back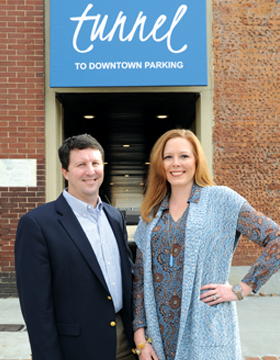 Manufacturing and Main Street charm meet in Baldwin County, where a new mega-site, a trifecta of colleges and several newcomers are moving the community forward after thousands of state and industry job losses that began almost a decade ago.
Sparta Industries plans to create more than 1,000 jobs over five years with a $22.5-million investment in a new plant at the old Rheem Manufacturing building in Milledgeville. Sparta, which manufactures HVAC duct liner insulation, will fill a building that had been vacant since 2007.
Bostick Nursing Center, a 280-bed facility, opened in 2016 in the redevelopment of the former Central State Hospital campus, and owner CorrectHealth plans to eventually employ 330 people. Georgia's third National Guard Youth ChalleNGe Academy expects to add 125 jobs to the 2,000-acre site with more than 200 buildings.
Already, Baldwin County's unemployment rate has dropped by more than 50 percent, from a high of 16 percent in 2010, to 6.7 percent in fall 2016.
"We've definitely had some very positive growth here," says Tom Glover, 2016 Milledgeville-Baldwin County Chamber chair and president of Cogentes, an information technology support firm. "We definitely seem to be on the uptick finally. Obviously, it's a pretty big hole [of job losses] that we have to fill back up."
Government investment and business successes also have earned the county recent accolades. Triumph Aerostructures – Vought Aircraft Division, with 715 employees in Milledgeville and an average $148.3 million annual economic impact, was named the 2015 Georgia Large Manufacturer of the Year by the Georgia Department of Economic Development and the Technical College System of Georgia.
"We've been strengthened by the downturn. I think we're coming back strong," says Milledgeville Mayor Gary L. Thrower, who took office in 2015.
---
Hopeful and Growing
Government and economic development leaders hope the Sibley-Smith Industrial Park mega-site, which has Norfolk Southern Rail and utilities, will attract businesses. In 2016, the 1,643-acre site south of Milledgeville received Georgia Ready for Accelerated Development (GRAD) status from the Georgia Department of Economic Development.
"We've got a good asset here to market for the region. It's opened up opportunities for us to attract some bigger companies that want to come to Georgia," says Matt Poyner, executive director of the Development Authority of the City of Milledgeville and Baldwin County.
"We want to do what it takes to bring industry to Mil-ledgeville," Thrower says. "We can't cry in our soup about the fact that we've lost these state jobs."
Another newcomer, StraPack, purchased a long-vacant, 62,500-square-foot building on Hwy. 22 in 2015. The building was built in 2007 on 15 acres by the development authority, which expects StraPack to invest between $4 million and $6 million in the purchase and build-out.
Real estate and energy costs were cheaper, and Milledgeville's business-friendly infrastructure impressed Lenny Johnson, president of Chemtex, a Rhode Island maker of products to clean oil and chemical spills. He leased a 90,000-square-foot facility and started operations October 2016. He ended the year with about 29 workers in Georgia.
Existing small businesses are seeing a ripple effect from companies moving to town. For example, Elite Gym USA recently tripled its space to a 14,800-square-foot facility and plans to expand from 30 to 50 workers in 2017.
"Our economy is changing for the better," says Elite Gym owner Coni Adams-Moore, 2017 chair of the Milledgeville- Baldwin Chamber. "Big business brings families in, and families, of course, build my business."
The 455-member chamber will celebrate its 70th anniversary in 2017. President and CEO Angie Martin grew up in Milledgeville and remembers the city's longtime reliance on state employment.
"I still remember the sirens going off and bells going off when it was lunch break," she says.
The focus has shifted to private sector and education, with Georgia College and Georgia Military College on both ends of downtown Milledgeville and Central Georgia Technical College less than 2.5 miles away.
"I'm not sure there's another community that is as blessed as Milledgeville is to have the complete continuum of education that we offer here," says retired Lt. Gen. William B. Caldwell IV, president of Georgia Military College.
New efforts that bring together community leaders include a monthly economic development roundtable.
"For the business environment in general, we have tried to create and strengthen our partnership between the chamber, economic development, tour-ism, Downtown Development Authority and all the surrounding entities to make sure that we all present a good face for Milledgeville," Martin says.
---
An Academic Niche
Georgia College, which has about 6,800 students and 800 faculty and staff on campus, has a profound impact on the region's economic vitality, says President Steve M. Dorman. The school had a $235-million impact on the regional economy in fiscal year 2015, according to data from the Selig Center for Economic Growth at the University of Georgia's Terry College of Business.
Indirectly, Georgia College creates almost 2,000 additional jobs off campus from the products and services that students and employees bring to the local economy. The state provides about $30 million in appropriations, so Dorman says Georgia's designated public liberal arts university returns to the economy almost $8 for every state dollar.
Growing bachelor's degree programs include nursing, education and STEM fields such as physics. Georgia College's graduate programs include an MBA, doctor of nursing practice and a master's in logistics and supply chain management, which Dorman notes is of importance because of the Port of Savannah.
"I think we are being responsive to the needs of the state," he says.
On the other side of downtown, Georgia Military College is seeing growth in its locations – with 12 campuses plus an online campus – and enrollment, which increased by 11 percent to 13,816 students in 2016. The college enrollment is expected to grow by 2 to 3 percent each year over the next 15 years, and its public independent high school (grades six through 12) has 570 students, with capacity for 700 students.
A new $3.5-million building for the college's military science department is expected to open in summer 2017. GMC then plans to renovate the department's existing building to create a middle school, an expected $12-million project.
When Caldwell became president in 2013, the school initiated a 15-year strategic plan that would, among other things, open a new location every other year. So far, GMC has opened three campuses, public-private partnerships, in Dublin, Eastman and Fayetteville.
"In all three cases, it was the community who approached us and said we would like for you to put one of your campuses here," Caldwell says.
The Augusta campus and GMC's online campus offer a bachelor's of applied science in business management and a bachelor's of applied science degree in supervision and management. The degrees were the result of a conversation with Central Georgia Technical College officials, who identified a need for their graduates to attain additional education to move into supervisory and management roles. Now, those students can transfer into the BAS programs.
"It very nicely provides and complements greater educational opportunities without being in competition with either the technical school system or the [board of] regents," Caldwell says.
GMC associate degree graduates take advantage of guaranteed admission to transfer credits to Georgia College, and by 2017, the school expects to execute articulation agreements with all 22 technical colleges in Georgia so that those graduates can transfer credits to GMC to earn a bachelor's of applied science.
"We're filling a real niche that was missing in the state in the educational system," he says.
---
Main Street and Beyond
Downtown Milledgeville caters to college students, locals and visitors such as students' parents, snowbirds and history, architecture and literature lovers from around the world touring the antebellum trail or visiting author Flannery O'Connor's Andalusia.
Milledgeville's revitalized downtown commercial district won the 2014 Great American Main Street Award, given by the National Main Street Center, a subsidiary of the National Trust for Historic Preservation, and the 2013 Award of Excellence in Downtown Development Program of the Year from the Georgia Department of Community Affairs and the Georgia Downtown Association.
While the majority of businesses remain locally owned, such as 130-year-old jeweler J.C. Grant Co., two franchises – Jimmy John's Gourmet Sandwiches and Smoothie King – leased space in 2016.
"That shows that our market is growing," says Carlee Schulte, director of Milledgeville Main Street and the Downtown Development Authority, adding that downtown's vacancy rate is now less than 10 percent.
Year-over-year visitation has increased by almost 20 percent, to 115,840 visitors from January to November 2016, according to the Milledgeville-Baldwin County Convention & Visitors Bureau (CVB).
"We're very fortunate because we've retained the charm of a small town, but we have a very vibrant downtown because of the colleges," says Jane Sowell, CVB executive director.
A new Holiday Inn Express was expected to open on U.S. 441 in early 2017, while The Antebellum Inn's owners have opened Soho Lofts, which rent out nightly above downtown shops and restaurants.
Downtown's biggest event is the Deep Roots Festival, an arts and music event with about 16,500 attendees in October 2016. Milledgeville Main Street also organizes a First Friday every month with live music, kids' activities and extended shop hours.
"We've attracted people interested in history and architecture, and we still definitely attract those folks here," Sowell says. "But we're also seeing a younger visitor now. I think it's due to the downtown kind of reshaping itself to be kind of a cooler, hipper place to hang out."
Each year, about 15,000 people visit the Old Governor's Mansion at Georgia College, which is now part of the American Alliance of Museums and an affiliate of the Smithsonian Institution. A 2016 exhibit included four original presidential ballots from the 1860 election, on loan from the Smithsonian Institution's National Museum of American History.
"We have a conduit to get loans from the Smithsonian Institution and their multitude of museums," says Director Matt Davis.
The story of Milledgeville's effort to bounce back continues at Flannery O'Connor's final home, Andalusia, located on U.S. 411 about 4 miles northwest of the town. In 2006, the 500-acre property and its 12 historic structures were on The Georgia Trust for Historic Preservation's Places in Peril list. Since then, it has received more than $460,000 in grants to support preservation.
The property, which is open to the public, also hosts special exhibits and events, from guest speakers to high-end private donor dinners. Its 12th Annual Bluegrass Festival had 1,239 people in 2016, more than twice as many as 2014 and 2015.
Next steps are to secure the horse barn, which was the subject of one of O'Connor's paintings, and to identify potential new income streams, such as horseback riding, says Elizabeth Wylie, executive director of the Flannery O'Connor-Andalusia Foundation.
"We're trying to just work our way up to greater sustainability," she says.
---
Local Flavor
Riding the Trails
Biking is a big deal in Milledgeville. Banners downtown tout "Bike Antebellum" based on Milledgeville's spot on the state's 180-mile Antebellum Trail Bicycle Route. Oconee Outfitters sells and rents bikes and kayaks for use in town and along the Oconee River Greenway, a multi-use path.
"All it takes is coming out on a nice summer or fall day and walking down to the river and seeing the number of kayaks [and] people out on the greenway walking on the trails or biking on the trails. Outdoor activity is really a huge part of the culture here," says Tom Glover, 2016 chamber chair and president of the Bicycling Club of Milledgeville. "The cycling scene here is really big, too."
In 2014, Milledgeville was named one of Georgia's first bicycle-friendly communities by the League of American Cyclists. Glover's company, Cogentes, an IT support firm, also was named Georgia's first Gold Level Bicycle Friendly Business in 2015.
"As with Milledgeville's designation, ours was based on cycling being a core component of our business culture," he says.
The club's events include an annual April Fool's Ride, a paved road ride that attracts about 200 bikers, and the Red Clay Ramble, a dirt road ride that expects more than 300 riders in summer 2017, Glover says. The town also has about 17 miles of mountain bike trails, including in the Selma Erwin Nature Trail and Bartram State Forest.
"We're trying to make this a more active lifestyle," says Milledgeville Mayor Gary L. Thrower. – Lori Johnston