Live, Work, Play Cities
These nine cities are well managed, sure, but it's that extra spark that makes them shine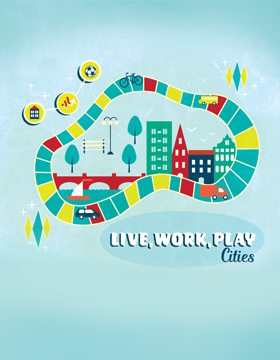 When local governments develop welcoming environments, the results benefit residents and businesses alike. Jobs are created, housing options multiply and recreational opportunities increase. Whether through partnerships with outside agencies, a focus on the environment or a commitment to fun, the sum is a more livable environment.
Georgia Trend, in conjunction with the Georgia Municipal Association, looks at nine cities in three categories – Small (population under 4,999), Medium (5,000-24,999) and Large (more than 25,000) – that have capitalized on the far-sighted vision of their leadership to thrive under the "Live, Work, Play" banner. The array of projects and initiatives runs the gamut from fostering volunteerism to extending bike trails, but all have resulted in increased civic involvement and improved quality of life for area residents and that special something that draws visitors as well.
---
Small Towns Living Large
By Bonnie Smith
Grayson
Grayson's rich history and promising future are in the hands of Grayson's first female (and second-generation) mayor, along with an army of citizen volunteers.
Mayor Allison Wilkerson envisions Grayson as a hometown with safe streets and sidewalks, where folks gather to live, work, shop and socialize while preserving its unique assets.
"I believe we have been smart with our growth, making a lifestyle in which people want to live," says Wilkerson, who credits volunteers who log 21,000 hours annually, not counting mayor and council hours.
The fastest-growing city in Georgia in 2014-2015, a result of a marketing campaign "Get Into Grayson," Grayson called on citizens to get out of their homes, into the city and involved. And it's working. The growth spurt continues with unofficial 2016 numbers showing housing and commercial development increases.
"Our residents recognize that Grayson's charm is no longer a secret," says Gail Lane, community development director, one of four staff members in the town of about 3,500.
Other volunteer efforts include the 2016 Blues & Brews Craft Beer Festival, which drew 1,200 people.
Education projects are also high on the volunteer list.
"Our secret weapon when discussing the great community dynamic is creating a school system that both inspires and flourishes, and it doesn't happen by accident," says Wilkerson.
Goals of the volunteer Grayson Cluster Schools Foundation are to build a substantial and permanent endowment that will provide grants to teachers and impact student performance in a positive way. It's another division of that volunteer army that's making a difference.
---
West Point
City Manager Ed Moon is a planner who believes in following the road map. "Engaged is what my office stands for: providing to the community open and fair discussion and decision making."
That philosophy must be working well.
On Georgia's western border, West Point lies on the banks of the Chattahoochee in Troup and Harris counties, has three chambers of commerce and two county governments. With so many entities involved, working well with others is crucial.
The town of West Point changed radically in 2006 when Kia Motors Manufacturing Georgia announced it was coming to town. To accommodate the thousands of new residents Kia and its suppliers continue to bring, multi- and single-family developments have been built, with another breaking ground, and the city size grew from 4.5 to 12 square miles.
The Chattahoochee River may split downtown, but the town is anything but divided.
"The decision to move public works from the riverbanks creating retail and greenspace is the kind of forward thinking of our leaders," says Moon.
Heavily invested in recreation along the river and lake, the 350 acres of park space and miles of trail provide excellent open-air activities.
With three colleges nearby – Auburn University in Alabama, LaGrange College and Point University – West Point welcomes college students and the vibrancy they bring to a downtown. Point University's purchase of downtown buildings to house 450 freshmen and sophomores adds to the optimistic outlook.
"I have been a resident of the city of West Point for 14 years and am delighted to be a part of this community, witness its continued evolution in every aspect into a thriving city," says Mayor Pro Tem Steve Tramell, "This is a great place to be."
---
Madison
Fifty years of planning, careful administration and activism are just some of the ways leaders in Madison, a town with one of the state's largest historic districts and collection of antebellum homes, have made that city a magnet for residents and visitors alike.
"Our multi-faceted approach to community development includes years of planning," says Madison Planning Director Monica Callahan. "Committed, strong leaders and engaged citizens are the diverse group with a focus of 'study the past, live the moment, plan the future.'"
A new 20-year plan for the city is in the drafting stage, and with a city staff of just four, much depends on the engagement of 50 citizen planners and eight citizen boards. With those well-invested local citizen groups, Madison's future is in the hands that matter most. Callahan knows all cities need civic engagement, and encouraging those who live and work in the community to become more involved is key.
Madison's Town Park, an outdoor event facility, draws thousands to concerts and festivals. Other events like Madison Antiques Show & Sale, May Spring Tour of Homes and the Country Road Cruisers Cruise-in draw both visitors and residents.
"Madison is a town that does tourism – not a tourism town. When we forget that, we forget who we serve," says City Manager David Nunn.
Callahan adds that leaders and citizens work hard to ensure Madison is a great place to live, work and play. When that environment attracts interest from others, they take that as a huge compliment. "It reflects the quality of life our community enjoys and the high standards we have set for ourselves."
---
Mid-sized Cities Plus-sized Perks
By Stan Awtrey
Dublin
Jennifer and Robert Shaffer have owned and operated Deano's Italian Grille for seven years in downtown Dublin. From their red-brick storefront, they've seen first-hand how the city's positive decisions have helped the area flourish and created an environment that allows them to sell more pizzas and calzones.
"It's always good to see growth and revitalization," Jennifer Shaffer says. "It invites more businesses to come downtown, and when they see the changes, there's less anxiety. It's almost become a competition to get down there and open a business."
Dublin began the positive momentum 20 years ago with the simple decisions to bury the power lines that ran through the middle of town, plant a few trees and encourage downtown business opportunities. City officials built a plaza fountain and a festival stage and connected it with another plaza at the other end of the street, creating an ideal place to host community events.
"It's the heartbeat of the community," says Dublin City Manager Lance Jones. "We keep doing things, and I've learned that if you do that, luck is a lot more likely to hit you."
The latest project under development just two blocks from downtown, the Martin Luther King Jr. Memorial will commemorate the site of his first public speech, which he gave at age 15 at the First African Baptist Church in 1944. The memorial and plaza will serve as a gateway entrance into downtown Dublin.
Businesses have found Dublin, too. The town is convenient to interstates and the Port of Savannah. Dublin has attracted international companies from Germany, Japan, Denmark, Latvia and Israel that have added 1,500 jobs to the workforce over the last five years. And with new businesses come more employees who need a place to live. Thanks to new housing options downtown, such as the 1926 Fred Roberts Hotel, which reopened in 2011 after a $2.5-million renovation to include condominiums on its upper floors, Dublin has that covered, too.
---
Griffin
From eco business parks and EarthCraft-approved housing to the community rallying around a proposed amphitheater and downtown greenspace, there's a lot going on in Griffin.
The Lakes at Green Valley, the state's only eco business park, has added three Japanese firms over the past year – Marukan, which has been slow-brewing its rice vinegar since 1649, automotive chemical manufacturer Otsuka Chemical Co. and plastic barrier films creator Toppan USA. Marukan's decision to locate in Griffin was aided by the expansion of the University of Georgia's Griffin Campus and the creation of the Food Technology Center in 2015.
"[Marukan] is in the rice vinegar business," Griffin City Manager Kenny Smith says. "That's a direct benefit from having the food center."
The city is also addressing the need for improved housing options, too, including renovating formerly empty loft space above retail and restaurants downtown. Griffin has received approximately $60 million in grants over the last three years for housing assistance. Planners have also been able to use SPLOST funds – which helped build the eco park – to eliminate blighted and substandard housing leftover from Griffin's days as a mill town.
One project that has re-envisioned local housing is The Oaks at Park Pointe, a three-phase redevelopment of the Meriwether Homes public housing that had buildings dating back to 1952. The EarthCraft Community features townhome-style apartments, 84 of which are affordable housing.
Closer to downtown, a fundraising campaign is underway for Solomon Park and Amphitheater, which would be located between 5th and 6th streets.
"It helps to have all our elected officials on the same sheet of music," Smith says. "We're fortunate to have a group who sees the big picture, can set some goals and hand it off to the staff to work toward those goals."
---
Woodstock
The addition of a new amphitheater is the latest step taken by Woodstock's city planners, as the community continues to evolve from rural to walkable.
Woodstock christened the facility last November with a concert by platinum country music artist Mark Wills, a Woodstock native. The amphitheater's large main lawn and multiple grass terraces accommodate 7,500. In the summer, the site will host a concert series.
The city is now partnering with the Atlanta Regional Commission for a public arts mural project and continues to contribute to the renovation and construction of the Reeves House, a farmhouse built in 1897 that will be the heart of the Elm Street Cultural Arts Village.
"During the recession, our elected officials stuck with the 2007 comprehensive plan and refused to cheapen the plan by refusing the proposals that didn't go with the plan, which is hard to do during a recession," says Katie O'Connor, Woodstock's senior city planner.
Woodstock has discovered new ideas to improve its downtown experience. There has been an investment in 60 miles of trails and greenspace through its Greenprints Trail System, a new sewer main to serve the downtown district and 10-foot sidewalks to enhance the shopping experience. A pedestrian railroad crossing in town was constructed in 2011 to unify the older portion and newer portion of the downtown area and get visitors safely across the tracks.
And new housing options continue to come online for downtown, including a proposed four-story mixed-use development that includes condominiums and a proposed community of more than 500 single-family residences, condominiums, apartment units and retail.
O'Connor says the footprint of the downtown district continues to grow.
"Now the downtown is starting to catch on around the edges, and we're getting some interesting and creative proposals," O'Connor says. "Downtown Woodstock is where everybody wants to be."
---
Big City Character
By Ellen Berman
Rome
Rome, with its Between the Rivers Historic District, where the Etowah and Oostanaula rivers join to become the Coosa, boasts quaint shops, boutiques and restaurants – and the largest intact Victorian district in the state.
"We've been able to retain this authentic downtown character and charm and sense of place," says City Manager Sammy Rich. "It's one of the things a lot of startup communities want to replicate."
A $2-million plan is in the works to expand a 13-mile trail system that converges at Town Green Park downtown. It will ultimately connect with the 61-mile Silver Comet Trail and eventually extend as far as Chattanooga.
Rome's enhancement of recreational offerings – it's recently seen a boon in water sports such as canoeing and kayaking – is also proving to be a successful economic engine. The Downtown Tennis Center, a 16-court satellite facility of the Rome Tennis Center at Berry College, currently has 34 tournaments booked.
Rome is committed to promoting sports tourism, manufacturing and education as keys to its vibrancy.
"For the old-timers, the rivers used to be a place for the sewers, and the community existed in spite of the rivers," Rich says. "Now we've rediscovered it. We have an elaborate levee system with surrounding trails, and now that we are taking advantage of them we've seen a miraculous turnaround."
A major turnaround is also underway at recently acquired riverfront property on West 3rd Street, where the city has begun renovating dilapidated buildings and redeveloping land to create user-friendly commercial and pedestrian space.
---
Roswell
Roswell, with a location that includes parts of the Chattahoochee River National Recreation Area, has tapped into that natural treasure. The city's multi-use trail system invites visitors to walk alongside the water, relax at Old Mill Park on Vickery Creek and visit the adjacent downtown area to shop or dine.
A seven-mile greenway and boardwalk project will soon be completed as part of Riverwalk Greenway connecting Don White Park, Riverside Park and Azalea Park.
"It will be the most beautiful spot to experience the Chattahoochee River – unless you happen to be on the river," says Mayor Jere Wood.
Wood, an avid bicyclist, was a leader in the creation of Bike Roswell, a program to ensure cycling is incorporated into transportation and recreation planning. All new roads built in Roswell are required to have a widened shoulder for bikes, and, according to Wood, cyclists can travel 30 miles within the city without getting on a four-lane road.
One of the most popular two-lane roads is Canton Street, where bars, cafés and restaurants regularly draw crowds.
"When you're on one side of the street you can talk to someone on the other side," Wood says. "We've limited parking and slowed traffic down to create a space where you can talk." Plans are underway to transform an alley on one side of Canton Street into a pedestrian walkway to attract even more businesses.
"We have focused on making our city a good place to live, and when you attract people, you attract businesses," he says. "My test is, if it becomes a better place for me to live, and I focus on quality of life, it will be a better place for us all."
---
Statesboro
Statesboro's downtown is blossoming thanks in part to a million-dollar streetscape project along East Main Street, completed five years ago, that now invites visitors with mature trees and landscaping, decorative sidewalks and pedestrian crossings.
A new Fab Lab and Innovation Incubator, a joint venture between the city and Georgia Southern University, recently opened in two renovated downtown buildings at the university's City Campus. It accommodates both student classrooms and business startups, and occupants share meeting spaces, software, 3-D printers and ideas.
"The Fab Lab is a fantastic facility, and it will be good for the people who live here and attract new residents and business owners," says Rob Cheshire, city manager.
Another project that will contribute to that effort is the revitalization of a segment of U.S. 301 South, now called the Blue Mile, because it connects Georgia Southern – its school colors are blue and white – to downtown. In part due to this project, the city won a $100,000 award as one of eight finalists in the America's Best Communities competition. The top three cities will be announced in April and will receive financial awards of $1 million for third place, $2 million for second place or $3 million for first.
Allen Muldrew, Downtown Statesboro Development Authority executive director, plans to transform the formerly neglected Blue Mile into a thriving multi-use neighborhood. "We want to convert some of the rental properties into single-family homes and duplexes to strengthen downtown's appeal as a stable community," he says. "There is a shift in where people want to live; retirees are looking for an active lifestyle so they are moving downtown, and young professionals are looking for amenities in a walkable community."
The Statesboro Police Department has made inroads in creating a convivial relationship with residents through community policing projects. Police officers take an active role in local organizations and fundraising events and lead a Citizens Police Academy, a 13-week program giving participants an inside look at police operations and an appreciation of the issues that officers face every day. The academy, including special programs for the clergy and students, has proven wildly popular.
"We want to show the human aspect of the guys and gals who are protecting the community," says Interim Police Chief Robert Bryan, "We are a part of the community, too."