Georgia Fare: Fast Boat to China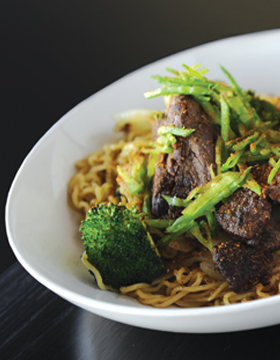 Named for a Seinfeld character who faked her Chinese identity, Donna Chang's is a wink and a nod to the kind of Americanized, hybridized Chinese food that also happens to be delicious. Husband-and-wife team Ryan and Shae Sims, both with cooking experience at Athens' 5 & 10, are playing with Chinese food the way other serious chefs are reconstructing burgers and Mexican. The Sims are also helping to prove that Athens is, per capita, the best foodie town in Georgia.
If "authentic" is your litmus for food of any kind, you may not like Donna Chang's. The short menu is a greatest-hits compilation (wonton soup, cold peanut noodles, mu shu pork, kung pao shrimp, General Tso's chicken) from your own college student days. If these dishes remind you of late-night post-drinking dinners … so much the better.
Donna Chang's has a cocktail program that rivals the best in this cocktail-crazy town, as well as a wine and beer list that must have had its own research assistant. This slurpable menu pairs beautifully with it. But that greatest-hits-menu's B-sides are notable for their clarity and originality, including chickpea "tofu" in vegan dashi and dried fried sweet potatoes.
Start with the beverages: From La Croix sparkling grapefruit water to '70s classics like White Russians and Tequila Sunrises, as well as after-dinner Ceylon tea and French-press coffee, the back of that short food menu is an atlas of great discoveries, especially among the wines. Here Pét-Nat (a naturally produced sparkling wine) has its own category, as well as a selection of rosés and orange wines. At $13 a glass, the Frantz Saumon Le Cave se Rebiffe is a great value and a delight you'll have to search hard to find elsewhere. That Tequila Sunrise is, frankly, just as sweet as I remember, but the New York Sour – bourbon and lemon, with red wine floating on top like a thundercloud – is a more balanced pleasure.
With few exceptions, the food is a great deal of fun. Smashed English cucumbers with garlic and Sichuan peppercorns in vinegar, heaped with cilantro and sesame seeds, are great starters to counterpoint the crisp eggrolls, the seared potstickers or even better, the slippery "wontons in hot broth," with pork, bok choy and fermented black beans, a good excuse to get you out of the house on a cold, rainy day. That kale salad, ordered with the firm recommendation of our server, deepened our trust in the kitchen. Kale is too often served up as a bitter green in its raw state, but here it's thoroughly subdued with flash frying, with tender, thin-sliced raw brussels sprouts and browned outer slices, more cilantro and slender disks of watermelon radish.
We all loved the mu shu pork, served under a thatched hut of bean sprouts over pork stir-fried with wild mushrooms, egg and cabbage, and properly served with house-made pancakes and lime-hoisin sauce. We were less fond of the more prosaic General Tso's chicken and kung pao shrimp, but the braised beef chow mein was delectable, its fork-tender, slow-cooked beef and onions in brown sauce cozying up to crisp-centered sautéed broccoli.
For dessert, do not miss a decidedly un-Chinese sweet: Frozen banana yogurt with chocolate cocoa nibs and honey. It's just the right balance of sweet, tart and fruit to counteract all those noodles, dumplings and meats.
As much as we enjoyed Donna Chang's on our second visit, however, I had a decidedly negative first trip dining with two others. Walking in just before 6 on a Tuesday to a scant crowd, I was surprised when a staffer pulled a chair up to the last two-top next to the server's station to seat us. The three of us would be sharing a table that is small for two, when a four-top, six-top and several other two-tops were open. When I explained that we would be ordering many dishes and didn't think that would work for us, the staffer firmly told us, "I'm sorry, but we expect these tables to fill up in a few minutes. We are an intimate restaurant."
As a result, we were constantly juggling dishes, one course at a time, rather than each being able to enjoy what we'd ordered – there simply was not enough space. When I returned later as one of a party of two, we had a seamlessly good experience – but I did notice that parties of three were still being shoehorned into small two-tops. Some opted to leave instead.
Donna Chang's is certainly not the only place I've witnessed this trend. Tiny tables for quick bites seem to be the going thing, even when you request a comfortable spot for a leisurely dinner. At the Mercury, in Atlanta's Ponce City Market, despite my reservation request of a comfortable, quiet table, our party of three was steered to a minuscule spot in the noisy bar area. When I protested, the hostess also claimed there were no other options – despite the empty tables in the dining room. "I feel like I'm at the teddy bear's picnic," one companion said as we wrestled with plates and glasses. At Minero's, also in PCM, the tables for two are so small you have to think about holding the tortillas in your lap. A business meeting, or meaningful conversation, turns into a distracting series of problems.
I fully recognize that as the hot new restaurant, Donna Chang's tables had likely filled up every other night, and that restaurants operate on razor-thin margins. I'm certainly rooting for this little independent gem to be a hit. But why would you make an unpleasant, possibly deal-breaking dining experience for three people for the possibility of serving four later? If you don't take reservations, why not really make it first-come, first-served, to the best seats available? And for heaven's sake – do all these places have to have such tiny tables to begin with?
OK, rant over. Go visit Donna Chang's. It's a fast, fun boat to China – just hope you qualify for a first-class seat.
---
Donna Chang's
1664 S. Lumpkin St., Athens
706.215.9100 or donnachangs.com
Hours: Dinner, Thursdays-Tuesdays, (Closed Wednesdays)
Reservations: No
Parking: Limited, in front of the restaurant and on the street
Dress Code: Town, gown and everything in between
---
Speaking of Reconstructing Cuisines
If you're looking for a spot to celebrate Fat Tuesday, check out Louisiana Bistreaux, which recently opened a second location near downtown Decatur. (The first is in East Point.) Longtime restaurateur Feroz Delawalla opened his "inspired Cajun" restaurants after a chance meeting with Paul Prudhomme, who passed away in 2015, led to adopting him as a mentor. Prudhomme allowed Delawalla into his kitchen at New Orleans' iconic K-Paul's Louisiana Kitchen, where Delawalla stayed for a week, learning Prudhomme's recipes, step by step. "I can't believe how generous he was," says Delawalla, who still religiously follows Prudhomme's techniques at both restaurants.