Connecting the Dots
Community Improvement Districts along Atlanta's eastern edge are working together to improve the whole region.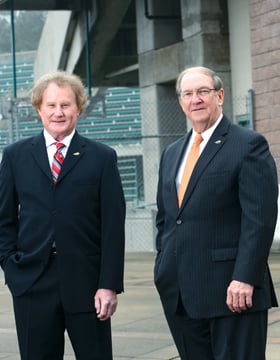 What once was a jewel left behind by the 1996 Olympics, the old Olympic tennis center near Stone Mountain hasn't hosted a tournament in years. While there were plenty of grand ideas along the way on how to use the facility after the close of the Centennial Olympic Games in Atlanta, there was no money to fund them.
So the 24-acre site in Gwinnett County sat empty and fell into disrepair. Adding insult to injury, the property generated no tax revenue because it is county owned. All of that is about to change, however.
"We have huge news," says Jim Brooks, executive director of the Evermore Community Improvement District. "The county recently did a land transfer with the Stone Mountain Memorial Association that will result in the county being able to offer this land for redevelopment."
In October, the Gwinnett County Board of Commissioners voted unanimously to demolish the 12,000-seat stadium and launch a nationwide search for developers interested in the property.
"We think this is going to be a catalyst site that will impact the entire area on this end of Gwinnett," Brooks says. "Once the demolition work is complete, this site will become a green redevelopment site, which means there's no issue with the land or any obstruction that would prevent something from building out the entire site."
Chris Garner, chairman of the Evermore CID, owns five commercial properties on a little more than six acres around the tennis center. As a member of the CID board, he represents another 10 property owners in the area.
"We feared there might be some pushback around the demolition of the tennis center, but it didn't happen," he says. "I think everybody feels like it's time to demolish that and come up with something entirely new."
The Evermore CID is an association of 496 property owners along U.S. Highway 78 in Gwinnett County who voluntarily tax themselves an additional 5 mills annually to help fund local transportation, infrastructure and beautification projects. In addition to the consent of local government and the General Assembly, a majority of the commercial property owners within a CIDs' boundaries must vote to form the CID and be subject to its taxes, fees and assessments.
Founded in 2003, the Evermore CID is the oldest community improvement district in Gwinnett County.
"The CID gets no tax from any residential development," Brooks says. "We are advocates for the property owners. We help shepherd property owners and developers through the process of permitting and zoning to make the process as seamless as we can."
Regardless of what becomes of the old tennis stadium site, Brooks says plans to reroute the roads around the facility to improve access are ongoing, including a 4.2-mile collector road to the north and parallel to Highway 78 and a 3.2-mile south collector road. The two projects represent a combined $78-million investment.
"We're developing these two parallel roads in an effort to improve access to businesses for local travel and offering alternatives when incidents occur and block Highway 78," he says. "We hope local traffic will begin to use the collector roads, and through-traffic then has improved traffic flow. We're also adding sanitary sewer in with the road projects, which is huge in this area. Only 18 percent of all property out here is connected to sanitary sewer; most are connected to septic tanks. Adding sanitary sewer is not glamorous, but boy does it make the area ripe for redevelopment."
Meanwhile, on the east side of the CID, a population shift is bringing more senior living projects and associated medical facilities.
The South Campus of Eastside Medical Center in Snellville is installing a new emergency facility, and Park Springs, an assisted living facility in neighboring DeKalb County, is expanding and putting in a new medical memory and rehabilitation facility on the Gwinnett side of the development. There's also a new imaging facility, along with a family practice under construction along the corridor.
"The transition of the corridor, from development-driven to one that offers a broad service sector with expanded medical offerings, is influenced by the CID's efforts to promote economic development and a diverse business climate," Garner says. "We've worked hard to make this area ripe for development and redevelopment."
---
Landmark Improvements
A deal that was a year and a half in the making is coming to fruition inside the Stone Mountain CID. In January, EGL Genetic Diagnostics, a joint venture between Emory University and Eurofins Scientific, will open a 60,000-square-foot genetic testing lab – the only one in the state.
"This will be the largest genetic testing lab on the East Coast," says Emory Morsberger, executive director of the Stone Mountain CID. "The lab will employ 200 people to start, and these are high-end jobs; lab technicians and scientists. They will create up to 1,000 jobs as the facility expands."
Being located near Emory University and the Centers for Disease Control and Prevention (CDC) campus made the Stone Mountain CID a logical choice for the facility, Morsberger says.
"People who work in our CID can be home in Gwinnett County in five minutes and have kids in some of the best schools in the country," he says. "When an operation like this comes in, there are a lot of ancillary businesses that complement it that come into the area as well. We've been working hard to attract more of these kinds of businesses to our CID, and we have more of these coming."
Underscoring the symbiotic relationship of shared borders, the Stone Mountain CID has joined with the Lilburn CID under Morsberger's direction.
The Lilburn CID stretches to the DeKalb County line, where the Stone Mountain CID begins. The partnership demonstrates how nimble and mutually beneficial the community improvement districts can be.
"Going from the Lilburn CID into the Stone Mountain CID, … the quality of roads goes down," Morsberger says. "I am out here literally right this minute with the asphalt company patching potholes, which is normally a county function, but the CID is doing it just so our businesses can operate in a professional manner."
Though smaller in scope and size, the Lilburn CID is home to the No. 1 tourist destination in Gwinnett County: the BAPS Shri Swaminarayan Mandir, a traditional Hindu place of worship.
"The Mandir attracts 300,000 visitors a year, and we are working to upgrade the area around it; upgrading the traffic flow, landscaping, sidewalks and signage," Morsberger says. "Our goal is to make it an attractive place, because it's a job generator and an attraction that brings people in to shop and do business in other places."
The Lilburn CID is also focused on "dramatically" improving the curb appeal "between the presidents" on Lawrenceville Highway, the six-mile stretch between Jimmy Carter Boulevard and Ronald Reagan Parkway.
---
Changing Needs
From medical facilities to movie studios, another Gwinnett CID is cashing in on Georgia's reputation as "Hollywood of the South."
"The Atlanta [Media Campus and] Studios is very busy," says Marsha Anderson Bomar, who was named the new executive director of the Gwinnett Village CID last summer. "They're still working on some of their additional development plans, but the movie studio is very much alive and well."
The Atlanta Media Campus and Studios opened at the old OFS site near the Jimmy Carter Boulevard diverging diamond interchange – the third in Georgia. The 160-acre campus has played host to crews filming big-budget films, including Fast 8 last fall. Eventually, the site is expected to feature six soundstages, classrooms, offices, a hotel and multifamily housing.
Home to $1-billion worth of commercial property, the Gwinnett Village CID is the largest in Georgia. In August 2015, the Gwinnett Village CID teamed up with the Gwinnett Place CID to conduct a weeklong community conversation called The Great Exchange (Gr8Exchange) on Transportation. The conversation helped the CIDs take the pulse of the community and gauge the changes in demographics, as well as attitudes in the county about transportation.
"A large takeaway was a greater public appetite for public transportation," Anderson says. "I think the perception of transit was it was only for people who didn't have a choice, but the shift that we've seen is that now, half the population that voted in the most recent election expressed an opinion that they want more transportation choices, and public transportation is one of the choices they want."
According to Anderson, the Transit Division Director for Gwinnett County, Karen Winger, recently received a grant for new buses, updating routes and schedules, updating old buses, creation of a direct service route to Indian Trail Park, and a park-and-ride lot over to the Emory and CDC campus area.
The implementation plans were to be unveiled in January. "Our current system is really largely a local bus system, with some limited connections to the MARTA Doraville station, but it's more of a traditional stop at every other corner bus system," she says. "Going forward we're looking at something a little more high-tech, higher speed, with higher capacity."
Places with access to good public transit are of greater interest to employers and property owners, Anderson adds.
What sets Gwinnett County CIDs apart from its peers, according to Gwinnett Place CID Executive Director Joe Allen, is the focus on redevelopment. Gwinnett County was part of a first wave of development in Metro Atlanta back in the '70s, he said, and today, redevelopment efforts are focused on combating a few perception challenges.
"We have community patrols, and our landscape crews go out five days a week because we want people to feel safe and welcome," Allen says. "We removed over 30 tons of trash this year alone, and since 2007, we have picked up 165 tons of trash on the right-of-way along the 10 miles of roadway that make up our CID. We've also removed over 10,000 illegal signs on the public right of way."
The CID works to keep graffiti out of the area and deploys weekly patrols to check on lights in shopping centers and over roadways. If a light is out, the CID issues a report and works with the property owner to get it back on as quickly as possible as a way to deter crime.
"People make a decision on feeling safe and comfortable in a matter of moments," Allen says.
But one of the best things the CID has done, according to Allen, is the creation of opportunity zones. Calling the zones "the key to any type of redevelopment," Allen says once the CID got the designation in place, which provides tax credits for job creation, it helped refill vacant office buildings on Crestwood Parkway, Koger Boulevard and Breckenridge Boulevard, which all lie just east of I-85 in the district.
"As businesses are expanding and looking to relocate, that's a great incentive to come in and grow jobs in the Gwinnett Place area," he says. "Before the opportunity zones four years ago, the CID office building was maybe 63 percent occupancy, and today it's at 85 percent occupancy. It really got us back on the radar."
While new owners purchased the long-vacant 32-acre Gwinnett Prado last summer, with concept plans calling for a walkable, mixed-use development including residential, retail and greenspace, the CID's namesake Gwinnett Place Mall just east of that property continues to languish.
"I grew up here, and I remember when there was nothing here and the mall opened, and it was the center of the universe," Allen says. "What happened is not unique to Gwinnett Place Mall."
Envisioning a redevelopment plan like the upscale mixed-use development CityCentre in Houston, Allen says what made the mall property great for development 30 years ago still holds true today.
"It's just a matter of time before redevelopment occurs," Allen says. "It's in a strategic part of Gwinnett County, and what the mall developer saw 30 years ago, that has not changed. It's only better because there has been millions of dollars in investment. This is a time of transition for the mall, and we can help provide some direction for that transition from what was successful 30 years ago to what we believe can be successful in the future."
---
Anticipating a Development Boom
Developers looking for property at bargain prices need look no further than the Tucker-Northlake CID, according to President Ann Rosenthal.
"This area is one of the last great areas in Metro Atlanta where you can still get a reasonable amount of land at a reasonable price," she says. "Before, property along LaVista Road was a steal, but that's changing drastically."
The catalyst for that change: Tucker Meridian.
"Those buildings are going up, and they're going up fast," Rosenthal says. "It's moving along very quickly."
Local leaders celebrated the project's groundbreaking last fall, and stores are expected to start opening in May.
The 200,000-square-foot development sits on a 22-acre site and will boast a Sprouts, DSW, Dick's Sporting Goods, Hobby Lobby and Ross stores as anchors. Rosenthal credits the development with spurring additional growth along LaVista Road inside the perimeter, including the demolition of the old Wells Fargo Bank for new tenants and one new multi-family project slated to go up across the street from Tucker Meridian, with construction to start in the first quarter of 2017.
"Being able to easily get in and out of our community is critical; it's half the battle that we've already conquered," Rosenthal says. "I-285 is a real asset that makes it easy for folks to get in and out of the central business area."
To keep the traffic moving, the CID expected to have a synchronization project of LaVista Road's 17 traffic signals completed by December, and it is working with the county and the city of Tucker on a pedestrian trail safety study along Lawrenceville Highway, a key component of its master plan.
"Hands down folks have said we want more greenspace, pedestrian access and bike safety," she says. "The study is the very first step in how we can transform Lawrenceville Highway."
Elsewhere in the region, a new CID is coming onto the scene in Gwinnett County in 2017. The Sugarloaf CID was approved by the county's Board of Commissioners last May and named its first executive director, Alyssa Davis, in November 2016. The East Metro DeKalb CID, which formed in 2014, also named its first executive director, Christopher Sanders, in December.
Given the success of the other CIDs scattered throughout the eastern portion of Atlanta's metro area, it's no surprise that new CIDs are forming. With benefits like new landscaping, clean-up and beatification efforts and improved transportation, there are sure to be more on the horizon.