2017 Georgia Trustees
This year's Georgia Trustees – the state's highest honor – go to two men with a common vision: making their community a better place.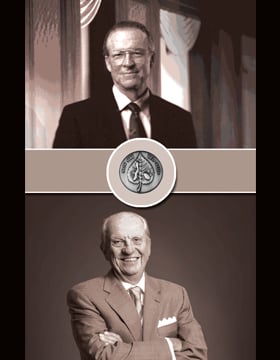 A look at the list of people who have been named a Georgia Trustee, the state's highest honor, reveals a small group of leaders who have had a profound impact on our state in every sector, from business to sports to education to healtcare and philanthropy. This year's additions to that elite group are no exception.
Duane Ackerman, former BellSouth CEO and a man who lent his considerable talents to helping protect our nation from cyberattacks, and A.D. "Pete" Correll, former CEO of Georgia-Pacific and more recently the man who saved Grady Hospital, are naturals for the honor.
"I think they share a common vision for the community being a better place and realize that it's only going to be a better place if they themselves step forward, take the lead and make it happen," says Todd Groce, president of the Georgia Historical Society, which, along with the Office of the Governor, names the trustees.
Ackerman and Correll will be honored for their achievements Saturday, Feb. 18, at the historical society's Trustees Gala in Savannah, part of its annual commemoration of the state's history.
The original trustees were chartered by England's King George II in 1732 and charged with establishing the new colony. The group disbanded in 1752, but the state re-established the honor in 2009 to recognize contemporary Georgians.
The original motto of the trustees, Non Sibi Sed Aliis, which means "not for self but for others," steers the selection process each year toward people whose lives and accomplishments have made the state a better place.
Ackerman and Correll "are people who modeled leadership in terms of their behavior and the way they treat other people," Groce says. "You learn a lot about a person's character by the way they treat people over whom they have power. It says something about the measure of a kind of person they are when they treat everybody with respect and with the sense that every person has dignity. To me that gets to the very heart of what it means to be a Georgia Trustee." – Karen Kirkpatrick
Racing With Technology
As BellSouth CEO, Duane Ackerman was a major force in transforming yesterday's
slow and steady telephone business into today's booming telecommunications industry
By Susan Percy
When Duane Ackerman joined the old Southern Bell Corp. in 1964, he was told if he behaved himself it was a stable job for life: Nothing would ever change.
"How little we knew," he says. And how fast he and his colleagues had to learn.
Over a long and distinguished career in telecommunications, Ackerman led his company and his industry through dazzling changes in technology that transformed business, government, entertainment and social interaction. Then he directed his attention to cybersecurity and making those changes safer.
Ackerman, 74, grew up in Plant City, Fla., and has undergraduate and graduate degrees from Rollins College and a master's from the Massachusetts Institute of Technology, where he was a Sloan Fellow.
When he started work, his company was one of several regional "Baby Bells" owned by AT&T. "It was highly regulated," he recalls, "pretty much a service business. Long distance and local were all together."
By the time he retired in 2007 as the last chairman and CEO of BellSouth, a great deal had happened, including divestiture, deregulation and innovation – lots of it; and his company, via merger, ended up back in the AT&T fold. "The technology just ran and ran and ran," he recalls. "Everything changed."
For his business leadership and civic involvement, F. Duane Ackerman has been named a 2017 Georgia Trustee, the state's highest honor, given jointly by the Governor's Office and the Georgia Historical Society.
Changes And Challenges
The trajectory of change in Ackerman's industry and his own career was both fascinating and hair-raising, he says. The pace was breakneck.
After several years of antitrust litigation, AT&T was forced by the U.S. Justice Department to divest itself of its local systems, including Southern Bell, which in 1983 became BellSouth Corp., the holding company for phone businesses in the Southeast. Ackerman became the new company's vice president for corporate planning and development and rose quickly through the ranks. He was named president and CEO of BellSouth in 1997, then added chairman's duties the following year, serving until the company merged again with a new version of AT&T.
Changes in technology and the regulatory environment – especially the deregulation that came as a result of the federal Telecommunications Act of 1996 – meant changes in the way business was done.
"It was just so significantly different," Ackerman says. "You really didn't have time to sit back and ponder anything. The game was on. You were racing against time and technology and competition."
The two biggest drivers were wireless and the internet, he says. "Both of those certainly outmoded all the technology we had. Here we had huge capital bases we were trying to earn on and all of this new technology coming on that just antiquated all of it. We had to run extremely fast once the technology began to break.
"You were deregulating a huge industry that had always been regulated. We had a workforce that had grown up in a regulated world, and we were introducing them into the new competitive environment at the same time the technology was changing under our feet. We were going from wire line to wireless and from landline and slow data to extremely fast data and the internet."
After the original AT&T breakup, BellSouth became the rock star among regional phone companies, very early on taking steps – including the installation of optical fiber in local networks – to ensure it was prepared for the technological innovation that was to come.
"In divestiture, AT&T sort of gave the Bells the wireless technology," Ackerman says, "because they felt it was limited in what it would do."
Advances in technology helped fuel industry deregulation, which brought still more advances. "Competitors began to come in," he says. "They were bringing in new technology. We were trying to serve the old technology and develop the new technology, so all of this dramatic change started taking place, starting in the early '90s. It began shortly after the breakup [of the Bells], but by the early '90s it was in full swing. It was dramatic, it was fast and the race was on. We were racing against technology as much as anything.
"I can remember in the '90s sitting with my technology people and watching a cable modem run against our old telephone modems. The new cable modems ran so fast we knew this was going to be a huge issue. We actually had to find the suppliers that would develop the new modems, that would price down the cost curve in anticipation of growth, so that we could provide internet service to the home on our old, old copper wires."
Clearly, Ackerman thrived amid the changes and challenges, and he says there never was a point at which he felt he and his company could slow down.
"From the mid-'80s until I retired in 2007, and I suspect even after I retired, the race continued to be on. I think you see that in AT&T today. You see them more in the video world, more in the content world. They just acquired DirectTV and are now involved in trying to gather content with [the proposed acquisition of] Time-Warner. It hasn't slowed down yet."
What's Next?
For the future, Ackerman believes the telecommunications industry will see more growth – and will continue to grapple with security issues.
"I think it's going to be more and more data, more and more streaming of entertainment on your mobile devices," he says. "We've seen technology change from the old frame to the laptop to the tablet now to the iPhone. The new iPhones today carry more technology than what we saw in Apollo 13. We continue to put more functionality on these chips. I think we're going to be seeing an awful lot of content, use of broadband, streaming – whether it's news or whether it's how-to or whether it's entertainment – in mobile devices. Airwaves are going to be more and more the conductors of all this than wires."
That means more security threats to the industry and its consumers. New developments and new capabilities mean new vulnerabilities.
"I can remember probably 15 years ago," Ackerman recalls, "sending out a communication to my organization, by email, walking down the hall and walking back and having a reporter on the line wondering what I meant by what I said."
Now, he says, "We live in a fishbowl. Whether there's somebody videoing, somebody it [information] passes through – they send it to their friend or their cousin or whoever, nothing is secret any more. We like to believe things are absolutely secure, but we have to be constantly vigilant."
Ackerman became a member of the National Telecommunications Security Advisory Council in 2004, when he was appointed by President George W. Bush.
"I did work in that organization for a number of years and eventually chaired it, but it engaged me in the security side of telecom. As a result of chairing that, I became involved with the Homeland Security Advisory Council when [Michael] Chertoff was in charge. I had the privilege of working in that environment and seeing how the government responded to what was going on and how serious all this became in an effort to try to protect the homeland."
Two national tragedies – 9/11 and Katrina – had a strong influence on Ackerman and the direction of the later part of his career, when he became heavily involved in cybersecurity: "9/11 because it was on our watch," he says. "The impact and focus of our country at that time changed dramatically.
"The other was Katrina. We served New Orleans. When Katrina hit and the levees broke and we got that tremendous wall of water going inside New Orleans, we had to put the telecom structure back together again. It gave us an insight into what it could be like in a major city if you had a disruption. In this case it was water, but it could be a lot of other things. I think that influenced me greatly.
"Katrina, 9/11 and my engagement at the national level in telecom and homeland security all merged to create a center of interest for me and my company. It took a great deal of my time during that period. I became intensely interested, and it became a major issue with me. It was a privilege to work on."
He is asked where we are in the struggle for security.
"I think you have to say we are vulnerable. Part of it is our technology has run so fast we're probably a little ahead of our ability to protect it," he says. "I think we grow and learn and protect; and technology continues to move, both on the good guys' side and the bad guys' side.
"So they come up with new and different ways to hack, to create cyber attacks; we come up with new and different ways to block those methods. This is about the journey and not the destination. We are always going to be coming up with new and better, and the other side is always going to be coming up with new and better. I believe it is a work in progress and probably will be for many, many years to come."
His concerns extend beyond any one company or even one industry.
"It's across the board," he says. "At the end of the day, it is a global phenomenon. We see our governmental institutions have been hacked, our corporations have been hacked. Whether it's coming from the Chinese, Eastern Europeans or Russians, whether it's government-sponsored or individuals – I think it's a mix. We're still learning how to live with this technology, how to run our institutions with this technology, how to deal with instantaneous communication across the planet. Good guys are using it for good and greater things; bad guys are using it for their purposes."
Social Impact
Ackerman is keenly aware of how wide and deep the effects of technology are.
"We're in a new environment socially as well," he says. "The election we just went through is an example: the technology, the capability continually to change. We continue to try to adjust and keep up with it, and it's changing extremely fast.
"Sit around with your teenagers and try to get a conversation going and try to get them away from their mobile devices. Or your grandchildren. It's changed our families, changed the way we shop, changed the way we market, changed the way we try to run our businesses, changed the way we try to run our governmental institutions.
"When you look at the impact technology is having on society," he says, "I think we have a lot to learn. We can't put the genie back in the bottle, so how are we going to function? It amplifies our differences, creates an environment for people to use it to bully, creates an environment for bad guys to gather – think about the terrorism we see. It also creates enormous capabilities for us socially that have good outcomes. Yet there is no governance of this. How do we in fact learn to function as a family, as corporations, as governmental institutions with all this information that is instantaneously available immediately. I think that's a challenge for us as a society – there is work to be done. We've all got to learn how to function with this immediate communication capability.
"It's very exciting," Ackerman says, "but sometimes you step back and see how fast it's growing and start pondering how we can use this technology positively and how we deal with its impacts in our society. It's sobering – probably more sobering to my generation than to the young people, who haven't had to run an institution."
Giving Back
Duane Ackerman's story is far more than the sum of his business accomplishments. It can't be told without noting his civic and philanthropic activities and his involvement in the business community at large – including past service on the boards of The Home Depot, UPS and Allstate and current involvement with the Georgia Research Alliance venture fund – called GRA Ventures – which connects private capital with innovative ideas coming out of Georgia's research institutions.
He is a past GRA chairman and was active with the Boy Scouts and the Atlanta Neighborhood Development Partnership, which promotes affordable housing.
"Giving back is part of the American way," Ackerman says. "When you look at de Tocqueville and what he wrote about the difference in America – it has a lot to do with how we treat philanthropy and what we do.
"Some of it's giving back to your community and making it a better place to live. This is not only where you work but where you live, where your family lives. Reaching out to extend a hand both corporately and individually – where you can make someone's life a little easier – always creates a benefit for the community and, in the end, the corporation as well.
"Philanthropy is a responsibility from a corporate point of view. It's a privilege to live here, to work here and to reach back to help your community in any way you can," he says. "You select those things where you think you can help, whether it's education or whether it's housing, whether it's healthcare, where you feel you can make a contribution and where there is a need."
Of his Georgia Trustee honor, he says: "I feel humbled. Look at the people before who were selected, going back to Tom Cousins and Truett Cathy. I think all of us stand on the shoulders of those who come before us. I'm glad to be considered part of it, but I'm very humbled. I always looked at those guys as giants."
---
Never Giving Up
A.D. "Pete" Correll left a huge mark on the business world as CEO at Georgia-Pacific, but in retirement, he took on a seemingly impossible task that's now saving peoples' lives
By Karen Kirkpatrick
When asked who inspires him, who has influenced him the most in his life, A.D. "Pete" Correll, former CEO of Georgia-Pacific and the man credited with saving Grady Hospital, says, without a doubt, his mother.
"We were dirt poor. My father was an alcoholic and died [when I was 12]. We were bankrupt back in the '50s," he says. "She simply refused to fail and refused to let me not have the opportunities I needed. And she had a big, old pillow, I'll never forget it, it said, 'Never, never, never give up.'"
It's a bit of wisdom that has carried him through a successful career and some would say an even more successful retirement. It also inspired his selection by the Georgia Historical Society (GHS) and the Office of the Governor as a 2016 Georgia Trustee.
"He's one of those people that we see so often in these Georgia Trustees," Todd Groce, president and CEO of the GHS, says. "They're people who represent their city and their state and their community, and they're working for the good of everybody."
The Early Years
Correll grew up in Brunswick, where his father managed a JCPenney store before opening his own, Correll's Men's Shop. After his dad passed away, he and his mother continued to run the shop until Correll went to college. It was the beginning of his business education and career – and it taught him that in business, cash is king: The goal, he says, is to have more on hand at the end of the day than at the beginning.
After a year and half as a chemical engineering major at Georgia Tech, he quit. "In my era if you were good in math you went to Georgia Tech," he says. "If you weren't good in math you went to Georgia. So I went to Tech. I hated it. I liked girls more than math, and there weren't any girls at Georgia Tech."
Apparently there weren't enough girls – or maybe just not the right girl – hanging around the New York Stock Exchange either, because after working there for a year, he headed back home to the University of Georgia on an academic scholarship. He graduated with a degree in business and moved back to Brunswick with his wife, Ada Lee, whom he met at UGA.
"I went to work doing what my father had done and what I thought I wanted to do, which is working for the JCPenney Company in Brunswick, Georgia," Correll says.
But he was working hard, long hours for not much money. With the encouragement of the two women in his life, he began to look for something more. He wrote to Westvaco, now WestRock, in Covington, Va., his mother's hometown, to see if they had any need for a salesperson or business analyst.
"They immediately came back and said yes," he says. "So I went up to interview and they offered me a job, which [paid] $150 more than I was making. Back then you'd move all the way across the world for $150."
And it was there he found his calling.
"Part of their program was to have all people spend some time in the technical and production department understanding what they did for a living. I just fell in love it," Correll says. "I felt totally at home. I loved getting up and going to work."
Seven Points of Light
His love of the pulp and paper business led to positions with other companies and in other parts of the country.
"We lived in four towns and four states in two years, at one point," says Ada Lee Correll, Pete's wife of more than 50 years. "We just moved all over the country. When you do that, you don't have time to make sound friends. So we were best friends from very early in our marriage, and that has continued to this day."
Pete Correll found himself between jobs in the late '80s and made a call that would change his life, the lives of his family – and lives of thousands of Georgians, as well.
"I called Marshall [Hahn, who was running Georgia-Pacific] and said, 'Look, I need a job.' He says, 'I've got a job for you, Pete. I don't know what it is or what it pays,'" Correll recalls. "I said, 'Sounds like exactly what I'm looking for. When can I report?'"
He says the move back to his home state is the best thing he ever did. "In '88 we came back to Georgia after leaving in '63," he says. "When I graduated from undergraduate school, so many of my friends and Ada Lee's friends came to Atlanta because that's where the jobs were. So we moved back into an old network after a 25-year gap. And it's just been a wonderful experience."
Correll started off at G-P with a bang – and a speech that came to be known around the company as the seven points of light speech.
"We had a big meeting of all the pulp and paper people," Correll says. "I decided that in fairness to me and them, I ought to tell them what I believe, because a lot of them it was apparently not what they believe, because it was not the way they were behaving. So we ought to decide if we can sort this out and if they want me and if I want them. I worked on the speech a long time and gave it, and it had more of an impact than I ever thought. It was just simple rules of business and personal interaction."
Some of those points of light:
• "Cash drives the system. Who cares about operating earnings? That's accounting. You have to pay your bills.
• "Your customer sets your quality level, we don't. If a customer says your quality level is not up to par, it's not up to par regardless of what we think.
• "I was a big believer in people, and I believed in doing a lot of interaction with the hourly workers.
• "Safety was the most important way that you could show employees that you cared."
Years later, Correll still believes those same things – and is still amazed at the impact his ideas had.
"I never have given that speech again," he says. "It was funny though, people could recite those points. They put them up on the walls. I had no idea they were taking this seriously."
It took more than a list of good ideas to create the Georgia-Pacific people know today. It took hours of hard work – Correll is known for routinely working 70-hour weeks. But it paid off.
"When he joined the company in 1988, we had about $9.5 billion in revenue every year," says Sheila Weidman, G-P's senior vice president of communications, government and public affairs and someone who worked with Correll at the company for nearly 20 years. "We closed 2005, the year that we were acquired, over $20 billion in revenue. So he more than doubled the size of the company and significantly expanded its businesses during his tenure."
Correll says there were two decisions he made about the company that were instrumental in its growth.
First: "We could run Georgia-Pacific with no timberlands," he says. "We could take our 6 million acres of timberlands, spin them off in a separate company. That turned out to be an absolute homerun. And it was heresy to the employees of Georgia-Pacific. It turned out we bought 85 percent of our wood from somebody else. If we buy 85 percent, then we can buy 100 [percent]. That turned out to be true, and every major forest products company followed. There's not a single one now that owns its own timberland."
Second: "I began to understand that Georgia-Pacific through the years had developed a trust relationship with American consumers, probably because they invented plywood. So [people] built their houses, and their mamas and daddies built their houses, and they saw Georgia-Pacific plywood and it's still there, holding up the house."
But what he realized was that the Georgia-Pacific name wasn't on any of it. "I said, 'Jesus, guys, it's a free billboard for six months. All we gotta do is stick a Georgia-Pacific logo on every single piece. Every time people ride by there, they'll think Georgia-Pacific's holding that building up.' So I decided we had a brand if we could capitalize on it."
And capitalize on it he did. "We had a small tissue business," he says. "And I became convinced that we could grow it, and we'd be good at it and that the Georgia-Pacific name had legs. It turned out to be right. … We created the biggest tissue, towel and disposable plate business in the world. And that made the company worth a whole lot more money."
But it wasn't all smooth sailing and obvious – at least in hindsight – decision-making. There were challenges to deal with as well. And Correll steered G-P through those, too.
"The biggest one by far was asbestos," he says. "We're the only company in the history of the United States that caught the asbestos disease and did not go bankrupt. At the peak, we had 150,000 active asbestos suits from a little company Georgia-Pacific bought in the 1950s, whose total sales were $100,000. It was the mud you put on the seams of wallboard. The asbestos was in there to make it stay on the wall – it was a fiber to hold it on the wall. We ended up with suit after suit after suit." And it's still in litigation, he says.
"There were times when the market was really concerned about asbestos exposure," Weidman says. "I remember when our stock got down to $9 a share, which was significant, obviously. That was stressful, certainly, on management. But Pete had so much confidence in the assets and people of Georgia-Pacific that he was out buying as much G-P stock as he could buy because he had no doubt. He was confident the company was going to recover. He always demonstrated great confidence in the people of Georgia-Pacific."
Getting Things Done
Correll's confidence grew G-P so well that he grew himself out of a job. When Koch acquired the company in 2005 – at $48 a share, a far cry from the $9 days – he stayed on to help with the transition but soon found himself without somewhere to go every day when he retired in 2006. It's a tough spot for a workaholic. He was a man who needed something to do, and he found it in Grady Health System.
"Grady, in the final analysis, swamps everything I've ever done in my life," he says.
In 2008, Grady, a public hospital owned by the Fulton-DeKalb Hospital Authority, owed money – $60 million – to everyone, including Emory and Morehouse medical schools that provided staff, pharmaceutical companies and vendors; and hospital employees were constantly worried about being paid. The authority had been through four CEOs in five years and had named a legislator and attorney, who had no hospital experience, the most recent chief.
Talk swirled about closing Grady, until Correll and other business leaders decided that Atlanta and Georgia couldn't afford for Grady to go the way of other public hospitals around the country.
"One of the things that's happened around the country has been the closure of a number of public hospitals because of financial pressures," says Louis Sullivan, former president of Morehouse School of Medicine and a member of Grady Memorial Hospital Corp., the nonprofit created to manage the hospital. "The story at Grady is very different. The reason is this: because of discussions that occurred between the Fulton County Board of Commissioners and the hospital board and members of the business community. Pete Correll and Tom Bell [then CEO of Cousins Properties] were talking about this and really felt that there should be some effort to save Grady."
And like so many good stories, this one starts with two men walking into a bar.
"Tom Bell and I have a story that people love," Correll says. "Two guys went into a bar and started talking about what needed to be done [at Grady]. By the end of the evening, we had convinced ourselves that we could do it. The next morning I called him up and said, 'Tom, do you remember what we said last night?' And he said, 'Yeah, I do.' I said, 'How the hell are we going to do that?'"
As it turned out, it took a lot of talk, a lot of listening and a lot of getting other people on board.
"Because we had both led the chamber, we were able to impose on people like Sam Williams [then-president of the Metro Atlanta Chamber] and the chamber to start organizing," Correll says. "We had a way to make a difference."
They might have had a way to make a difference, but that didn't make it easy. "Anybody you would talk to who has been in Atlanta and knew anything about Grady thought he was crazy," Ada Lee Correll says. "But he, along with Tom Bell, they did fix it. And it is thriving and it is amazing."
The fix was long, complicated and centered on restructuring the governance of the hospital – taking the day-to-day operations out of the hands of politicians.
"Fortunately for Grady and for Atlanta and Georgia, these discussions with business leaders in the chamber of commerce led to the decision to really change governance to try to rescue it," Sullivan says. "The result was a 501(c)(3) organization of Grady – Grady Hospital Corporation. Now the governing body of Grady Hospital is a nonprofit corporation. The CEO of the hospital is hired, evaluated and fired if necessary by this corporation. And a lot of the political pressures that Grady formerly had, privatizing governance of the hospital cut out all of that."
Once the new governing body was set up, the goal became to upgrade facilities and change the image of the hospital, and again Correll was helping lead the charge, spearheading a $350-million fundraising drive for the hospital. As a result, the Marcus Stroke & Neuroscience Center opened in 2010; the Marcus Trauma Center followed in 2011 (both funded by the Marcus Foundation); and in 2013, the $7-million Correll Cardiac Center opened thanks to the Corrells. All have helped shift the public's perception of the hospital.
"The image of Grady Hospital in the minds of many in Atlanta was that it is the hospital of last resort or the hospital for the poor. [But] the reality is if you're in an accident on the Downtown Connector, you want them to take you to Grady. They have the best trauma services in the area," Sullivan says, also citing the aforementioned cardiac center and the stroke and neuroscience center. "So the hospital has really been upgraded tremendously."
With Grady well on the road to recovery, Correll stepped down as chair of the corporation in September, though he still chairs the Grady Health Foundation. "I think I can still help them raise money for a while," he says.
But is that enough for a workaholic like Correll? "I don't know," he says. "I'm kind of like Don Quixote. I'm looking for a new windmill."
---
Past Trustees
2016
Jim Blanchard | Synovus CEO and philanthropist
Muhtar Kent | Coca-Cola Company chairman & CEO
2015
Alana Shepherd | Shepherd Center founder
Paula Wallace | Savannah College of Art and Design founder and president
2014
Arthur Blank | The Home Depot co-founder and Falcons owner
Billy Payne | Atlanta Olympics visionary
2013
Truett Cathy | Chick-fil-A fast-food pioneer and philanthropist
Herman Russell | Construction giant and Civil Rights participant
2012
Tom Cousins | Developer
Andrew Young | Former ambassador and former Atlanta mayor
2011
Vince Dooley | Former University of Georgia athletics director and football coach
Sam Nunn | Former U.S. senator
2010
Hank Aaron | Braves baseball legend
Ted Turner | Businessman and philanthropist
2009
Bernie Marcus | The Home Depot co-founder
Marguerite Neel Williams | A founding trustee of The Georgia Trust for Historic Preservation