Gate of Opportunity
The mission of Berry College – to provide an excellent education to people from all social and economic backgrounds – is one that Martha Berry laid out more than 100 years ago.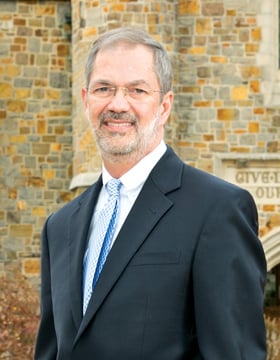 Private college and affordable to all aren't generally phrases that appear in the same paragraph, much less the same sentence. But that's the mission at Berry College in Rome, where a tradition of students working on campus while going to school helps ensure a private-school education is available to a wide range of students.
Martha Berry founded Berry College in 1902 as the Boys Industrial School for academically able but economically disadvantaged boys on 83 acres of land she had inherited from her father. To help keep costs down and tuition and fees affordable, Martha made working at the school a requirement for the students. In fact, students built many of the school's buildings.
Today, Berry, a comprehensive, private liberal arts college, sits on 27,000 acres, making it the world's largest contiguous college campus, with nearly 2,100 undergraduate students in five schools.
And while students aren't constructing buildings anymore, the idea of self-sufficiency lives on. Meaningful work is an essential part of the Berry experience, though it is no longer required, and nearly 90 percent of students work in some capacity on campus.
"When we were founded, we were meant to be operationally self-sufficient as much as we could," says Berry President Stephen Briggs. "We still have that spirit."
---
Lifelong Learning
"The thing that we're passionate about, the thing, I think, that we have put our common energy into is to create a great educational experience for students that focuses on their whole life," Briggs says. "What we're really interested in is the package of experiences, skills and the classes that [students] take that [they] find intriguing, that capture their individuality."
Two of the ways Berry ensures a unique package of college experiences for each student is with an emphasis on being a residential campus and by offering meaningful on-campus work.
"We start with where [students'] interests are," Briggs says, "and then try to help them really explore and deepen in those areas. By the time they graduate, they're ready for their next step. They're ready for life. Residential is the context in which that happens. It's not just about taking so many courses in order to graduate. It's about making the most of the learning opportunities that a residential college affords."
Beginning in summer 2017, Berry will be offering residential learning opportunities to high-school students when the Governor's Honors Program (GHP) – a program for talented rising high school juniors and seniors – moves to the campus for the first time.
"What we emphasized was that we are a residential college," Briggs says about Berry's application to host the program. "We think that what a high school student really needs when they come for a four-week program is a great residential experience. It's not just about the courses that you take. It's about the relationships that you form. It's about the experience in the dining hall. It's about the experience in the recreational areas.
"Our goal is to give them the same kind of experience that we give our entering freshmen," Briggs says of the GHP students. "We want them to have a full college and full Berry experience."
Berry also aspires to give seniors – not high school or college seniors but the over 65 set – an opportunity to revisit the full college experience with The Spires at Berry College, a lakeside continuing care retirement community scheduled to open in 2019 on some of Berry's property adjacent to the college.
"One consideration for us is we do have a lot of land," Briggs says of the decision to add a retirement community within walking distance of the main campus. "And land just sitting there doesn't bring any economic return. So one of the things we're always looking at is how do we use the land to generate economic return, both for the community, but also, of course, for the college."
But that's not the only – or even the main – reason for opening a retirement community, he adds.
"We have a lot of alumni who loved their experience at Berry and would love to come back and live in the area, would love to come back and live at the college," Briggs says. "But the thing that really drives it is it's not just the opportunity to create an asset, it's also the opportunity to create great experiences for our students. A retirement center is much like a college in that it is a full residential community. So all the services and jobs and experiences that are available on campus are available there as well, just for a different generation."
---
Real-world Work
"One of the crazy things about Berry," Briggs says, "is there's about 2,100 students. Any given semester, about 88 percent of them work on campus. So that's 1,900 part-time jobs. The goal is for them to get a meaningful educational experience through their work, that they actually learn something meaningful and that it be meaningful for the college in terms of the investment."
To get these meaningful experiences, students work for pay all across campus, from the dairy – where students are up at 4 a.m. to milk cows every day – to the brand-new tennis center to the grounds-keeping crew or dining hall.
While most students work part time, a new work/scholarship program funded through the LifeReady capital campaign allows some who may not be able to afford a Berry education without racking up a mountain of debt to attend the school at a cost their families can afford.
"The first half of the [LifeReady] campaign was largely around dollars for scholarships," Briggs says. "We had one particular program called the Gate of Opportunity program, which allows students who have modest or less means to come. We ask them to pay for tuition half of what the federal government says they can pay. We take whatever their FAFSA is, we cut that in half and ask them to pay that. The students work 20 hours per week on campus [during the school year] and 40 hours per week during the summer. So the students are able to graduate without any debt for their educational expenses."
"The term Gate of Opportunity goes way back in our history," says Wendy Dahlgren, coordinator of the Gate of Opportunity Scholarship program. "[It] is what we call our main entrance. That's what Martha Berry would say, 'The gate through which thousands have come in to learn and gone out to serve.'"
The scholarship program builds on the legacy of work that has been part of Berry since the beginning. For Gate Scholars, the job is year-round, for four years, not just during the school year.
"The scholarship is a three-way partnership where the college and the donor partner with the family – the student and their parents, or whoever their guardian might be – to help them afford to be at Berry College," Dahlgren says. "The students agree to work year-round at Berry if they receive the scholarship. We hope that over the course of the three to four years that they're here, that through that work they've contributed to Berry, but they've also gained skills and opportunity and leadership. And that it will help them in their first steps after college, really launch them."
"The first thing that appealed to me," says Tristen Cline, a junior Gate Scholar, of the program, "was just the opportunity to come to Berry. It's an environment of people who are dedicated to hard work and excellence. And you could tell that by the interview I did here. I knew I was going to work [while in college], so I thought, why not come to Berry and work."
And work he has. He's had jobs in the electrical shop of the physical plant, in the office of the dean of student work and now he works as operations manager for the Gate of Opportunity Scholarship program. In that role, he's part of the four-person student leadership team.
"Having a Gate leadership team is important," Dahlgren says. The student-led team determines the programming and runs the show in terms of the Gate Scholars' day-to-day experiences. It works out well, she says "because they're in touch with what the students like to do."
In addition to providing the opportunity for meaningful work for Gate Scholars, Dahlgren and the leadership team work to build community among the scholars, something that's particularly important for the freshmen who arrive on campus July 1 to begin work.
"Imagine being the parent [of a freshman Gate Scholar]," Dahlgren says. "You're dropping off your daughter or your son and it's the middle of summer, two months earlier than you thought you were going to. And then here come all the other Gate Scholars that are already here. They already know your kid's name. They're so excited."
Helping with move in is just the first of a series of activities to build community. Freshmen are housed together over the summer. They have group dinners, whitewater rafting trips and even summer Olympics.
"I think [being a Gate Scholar] is going to help me tremendously," Cline says. "Before college I never had worked. So it taught me work experience, expectations – what can I expect from a supervisor – day-to-day responsibility for myself, what I should expect of myself. I think that the Gate of Opportunity program is really preparing me for after I get out of college in so many ways."
---
HackBerry Lab
If a college filled with students working as hard outside the classroom as they do inside sounds like a unique idea, it's not the only one on Berry's campus. In the new creative technologies major, hard-working students are putting their minds and imaginations to designing products that make life easier for all of us.
"We started a new major, the first of its kind, called creative technologies," Briggs says. "It's a major for people who are focused on how you create and design things. How you come up with ideas. How you dream. And how you try to make that happen."
Sounds like a program that would be housed in an engineering or design or computer science school, but at Berry it's in the Campbell School of Business.
"The creative technologies program is designed to help students get some basic liberal arts outcomes – critical thinking, creativity, problem solving – but we do it in the context of building new things," says John Grout, professor and creative technologies department chair. "Students are asked to look at the world as they interact with it and to try and identify ways that they can improve on the design of everyday things. Once they've decided what they want to work on, they design and build prototypes of what their new idea is."
And what a variety of ideas this two-year-old program has already seen.
"We have projects that span the gamut of everything that a 20 year old would be interested in thinking about and doing," says Grout. Some of the projects include prosthetic hands for children and modification of electric drivable kids' toy cars so that children with disabilities can operate them.
"We have a student who created one-handed kitchen implements for her grandfather," Grout says. "So that he could work around the kitchen more effectively."
Those are serious projects, but the HackBerry Lab where all of this creativity takes place also plays host to fun.
"We've had kids do very whimsical things, from functional movie props to an adult-sized Big Wheel powered with a gas engine," Grout says. "Some of it is more fun than serious. Others are addressing important issues. And our program is flexible enough that we can accommodate all of that."
Still doesn't sound like the business school you attended, does it?
"It came to live in the business school partly because I was the business school dean at the time, and I was charged by the provost to put it into place," Grout says. "It's all about creativity, innovation, prototyping and then commercialization and building it into a business. So students in this major are also taking an entrepreneurship course. We're really trying to take it from a student identifying a human need to solving it with a design and then taking that design through commercialization. And we feel like that fits into the business program."
Sophomore student Emily Smith, a Rome native, HackBerry Lab assistant and creative tech major, has built an aquaponics tank. The project is a fish tank on the bottom, with tubes going from the tank to water the plants that grow on top of the tank.
"It uses the fish waste to fertilize the plants," Smith says, following the tubes with her finger from tank to plant. "There are bacteria in here that take the ammonia that the fish produce and turn it into nitrite and then into nitrate." That's used to fertilize the plants. The plants also clean the water, which is "put back into the fish tank so the fish don't have their waste in there anymore."
It's nearly maintenance free, except for feeding the fish, Smith says. The HackBerry Lab and the CT degree are perfect for Smith, who would like to be an environmental engineer and hopes to get her master's in environmental engineering after graduation.
"The creative technology major was a very strong pull for me," says Patrick Groh, a sophomore from Virginia, about his decision to attend Berry. "I did robotics all through high school. So having something that is not as strict as engineering, so I could create what I wanted instead of just learning how to build bridges or whatever, was very interesting to me. And I was able to mesh with the really nice community here."
It's the kind of spirit and community that proves what Briggs says is another of the unique things about Berry. "Martha Berry is alive and well here at the college," he says. "It's fun because most places forget who founded them. But Martha's spirit, Martha's words, even Martha in a [life-size] cutout shows up to campus. The students are still very much enamored with what she did and who she was."