Americus|Sumter County: Shaking Things Up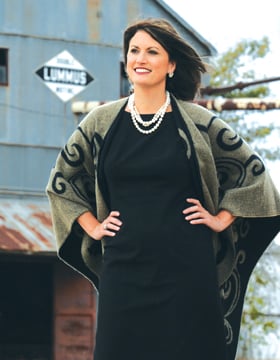 Community leaders in Sumter County are working to lasso a synergy that they believe will propel the county and its cities well into a prosperous future. From a restructuring of city government in Americus to a newly formed foundation that's raised more than $2 million to invest in Sumter's success, this Southwest Georgia county is rallying for the cause.
---
One Sumter
To help ensure the area's potential is fully realized, the Americus Sumter Payroll Development Authority and Chamber of Commerce created One Sumter, a nonprofit foundation to help shape the future and improve the quality of life throughout the county and bring together essential partners to participate in a five-year economic and community development initiative.
Efforts resulted in $2.2 million pledged by more than 100 donors, says One Sumter Executive Director Mary Beth Bass, who returned to her hometown after an 18-year absence to oversee the organization. The big-bucket priorities for One Sumter include economic and workforce development, marketing and communications, and transportation.
Additionally, the chamber spent last year planning and restructuring, defining its new role as a key player in One Sumter and designating new areas of focus, including leadership development, business development, special events, governmental affairs and education.
"We wanted to bring some of the heart of the chamber back to the community, because if One Sumter goes away, those mechanisms will still be in play," says Bass. "My 2017 goal is to get all those base foundations in place, make those strong, and then let One Sumter really work on things that others are not doing."
Ahead for One Sumter is exploring the possibility of a career academy, drafting a 20-year vision for strategic growth and finalizing a rebranding campaign to enhance the image of Sumter County.
---
Home Grown
Sumter County embraces entrepreneurship and is home to a long list of successful locally owned businesses, from a fair trade coffee company and an activewear manufacturer to two boat builders and a maker of glass-blowing equipment, says Barbara Grogan, executive director of the payroll development authority.
"It's the mindset of entrepreneurial leaders in this community driving it," she says of the continued growth of area companies.
Sumter County is now home to two boat manufacturers. Newcomer H2O Sports Manufacturing opened shop in 2015, joining Caravelle Powerboats, which has been in operation in Sumter for more than a quarter century. H2O made an initial $4.5-million investment to locate in Americus, added a second shift mid-2016 and today employs about 70 people, says Grogan.
Also new to Sumter is Golden Gourmet, a manufacturer of packaged meals designed specifically for senior nutrition. The company employs about 75 workers, made a $4-million-plus investment in its more than 50,000-square-foot facility, and will produce more than one million meals annually. In addition, TCI Powder Coating moved its headquarters to Sumter from an outgrown space in Schley County last year and has since added a research lab, investing nearly $1 million.
Several new businesses have opened downtown in the past 18 months, and a handful of others, such as Global Graphics screen printing, metal and plastics fabricator TSG, Southern Wholesale Glass and Thirteenth Colony Distilleries (see sidebar on page 82) continue to grow.
Major employers and sister companies PharmaCentra and Concentra Solutions recently brought its headquarters to Sumter County. The companies, which have operated a call center in Americus since 2008, now employ more than 200 people.
Two locals, Bill Harris and John Stovall, recently purchased a block of downtown buildings now home to fair-trade coffee company Café Campesino's coffee shop, Mobile Glass Blowing and clothing manufacturer Tepuy Activewear.
---
Town & Country
The city of Americus recently converted from a mayor-council form of government to that of a city manager, hiring Steve Kennedy, former Kennesaw city manager. "It's been a good change for us," says Mayor Barry Blount, an Americus native first elected in 2006.
Separating the boards governing the Americus Downtown Development Authority and the Main Street program was among the first moves. "We're trying to make some changes to facilitate growth and development as well as bringing in new jobs," says Blount. "One of the things we're trying to do is hold the millage rate down. We've not had a tax increase in the past six years, so we've been very good stewards of taxpayers' dollars and make them go as far as we can."
Funds from the 2014 Special Purpose Local Option Sales Tax (SPLOST) are still being used to repave some city streets, including a $1-million streetscape project for Jackson Street. The project will include a new depot for Sam Shortline passengers, new sidewalks, landscaping and lighting. The proximity of the new depot will provide passengers an easier path into downtown. The project will be completed early this year.
Countywide, in addition to the $4 million 2014 SPLOST funds, Sumter was in a region that approved the Transportation Investment Act T-SPLOST in 2012 and is now reaping the benefits to the tune of about $825,000 per year, says Commission Chairman Randy Howard. In addition, the county receives $597,000 annually from a Local Maintenance & Improvement Grant (LMIG), he says. The county has purchased more than $1 million in new equipment for a number of transportation-related projects.
"We've already resurfaced 66 miles of roads and have restriped 242 miles," says Howard, adding that signage and guardrail replacement projects are ongoing, as is a widening project from U.S. 280 to U.S. 19 South. "People who work hard and pay taxes deserve to have safe roads to travel on and for their families to travel on."
There are renewed efforts to take advantage of the presence of Georgia Southwestern State University (GSW) in Americus by drawing students into downtown, whether for shopping, dining or special events. One project relocated 10 bicycles, purchased with a grant, from downtown to the GSW campus with the idea that students would use them to venture downtown. An additional 10 bikes were delivered to the Billy Carter Service Station Museum in Plains for visitors arriving via Sam Shortline Excursion Train to ride around town.
Following the completion of the Americus Renaissance Strategic Visioning and Planning last summer, guided by the University of Georgia's Archway Partnership, there's been a concentrated focus on attracting new businesses downtown. Unlike many small towns in the region, Americus already had a fairly vibrant downtown, with several blocks of shops and restaurants, many of which have been there for a decade or more. But city leaders and active citizens knew it could be better.
Another new face in Americus, Patrick Kay, oversees the Main Street program and the Downtown Development Authority. Among a number of downtown events he's helped kick off or improve upon are the monthly First Friday gathering, the Taste of Sumter, Sumter on Ice – led by the Sumter Chamber of Commerce – and, coming this April, a craft beer festival dubbed Cotton and Hops.
"We're just trying to bring new ideas and new life to downtown, strengthen the Main Street program, and get the committees and volunteers more active," says Kay, who is working with Nicole Thurston, newcomer to the local tourism office, on rebranding efforts.
In addition, Kay is completing a downtown building inventory and soliciting business owners to take advantage of a $15,000 grant from Georgia Power to upgrade wiring in downtown spaces, which are almost exclusively historic buildings.
---
"Hire" Education
South Georgia Technical College (SGTC) reported a significant increase in enrollment for the 2016-17 year. In fact, with a 10.8 percent increase, the tech school has about 2,800 students and the highest enrollment increase of all the technical colleges in the state, says John Watford, president of SGTC since last April.
The school's success led to a $3-million federal competitive grant to help fund five new full-time positions and two part-time tutors to enhance the admission/retention process, promote Move On When Ready opportunities and encourage enrollment in STEM-related programs.
One of only two technical colleges in the state with dorms, SGTC uses that asset to the advantage of students in some of its more specialized programs. For 15 years the school has trained all of Caterpillar's heavy equipment diesel technicians in the southeastern United States, providing dorms to students from multiple states. That successful relationship led to Caterpillar selecting SGTC as the first school in the world to house its training program for technicians in electrical power generation.
"The career opportunities are awesome," says Watford. "It requires them to have knowledge of diesel, electrical and electronics, so it's very intense. Caterpillar hires them before they ever become students, so they make sure they're not wasting money."
In late 2015, the school kicked off a similar partnership with John Deere Corp., training students from across the Southeast on ag and turf equipment, says Watford.
A $3.4-million appropriation from the Georgia Legislature is funding the renovation of SGTC's diesel and automotive technology buildings. The project will join the two buildings to create a complex suitable for larger and more updated tech equipment for the diesel program. The project is slated for completion this spring.
Georgia Southwestern State University also reported near-record enrollment for the 2016-17 year and two successive years of growth, a result of emphasis placed on enrollment since the arrival of Interim President Charles Patterson two years ago.
"We're making sure we're positioning this university to be an economic driver in our community," says Patterson, adding that there are 27 percent more freshmen this year than last year, more than the school has enrolled in one year since the beginning of the Vietnam War.
Affordability likely figures into the enrollment rates, as GSW is ranked seventh in the nation for most affordable online MBA program in 2017. The school is also the exclusive University System of Georgia provider of a bachelor's in business administration on eMajor, the system's collaborative program for online degrees.
Among new offerings at GSW is the family nurse practitioner program, which recently graduated its first class. In the planning process is a long-term care management program, a unique opportunity for the Nursing School and the Business School to come together, says Patterson. The presence of the Rosalynn Carter Institute for Caregiving on the GSW campus also figures into that new program, he adds.
Though the university is estimated to have an $80.4-million economic impact on the region, GSW is a relatively new player at the table with regard to actively partnering in economic development efforts in the area. Patterson is working closely with Grogan and the chamber to define the school's role.
"I want to make sure we're at the table when they're recruiting companies and when looking at the workforce needs of the companies that are already here," he says. Also in the vein of community partnership, GSW recently appointed Jill Hohnecker as director of community and student engagement.
"As we look to be more present in the downtown environment, she'll be key to working with our students and working with downtown business leaders to kind of bridge that mile between downtown and campus," Patterson says.
It's the same kind of collaborative commitment evident in the formation of One Sumter, and just one more reason leaders in the area look forward to bringing new business to Sumter and directing droves of visitors to attractions and annual events in Americus, Plains, Andersonville, Leslie and DeSoto. Working together, with the bright spirit of an entrepreneurial past lighting the way, there is much opportunity for success.
---
LOCAL FLAVOR
A Taste of the South
What began as a pleasant conversation among friends about the art of distilling a decade ago soon became a full-blown business as Kent Cost, Alton Darby and Gilbert Klemann dove head first into a new venture: distilling high-quality, handcrafted spirits. Even the name, Thirteenth Colony Distilleries, reflects the company's strong sense of place – Georgia was the last of the original 13 colonies.
With their diversified backgrounds of architecture, business and medicine, together they created Thirteenth Colony Distilleries' first product – Plantation Vodka. The much-anticipated bottles hit store shelves immediately following completion of nearly two years of paperwork and some craft distilling courses. The men had successfully turned a chat about making spirits to give to friends as gifts into a bustling business.
"From conception, Thirteenth Colony has been intent on making unique distilled spirits that were 'made by friends and for friends' – a concept that guides and permeates all we do," says President Kent Cost.
Much contemplation went into those first bottles. The artwork for the label was commissioned by 2009 Georgia Artist of the Year David Lanier. The original artwork now hangs in the boardroom of the company's nondescript facility on a side street in downtown Americus.
Today, Georgia's first craft distillery has expanded not only its product line of handcrafted spirits but also its lineup of experts at the helm, all working to make Thirteenth Colony a household name in Georgia and well beyond.
"It was only natural we chose to build our distillery in Americus with and among our friends, family and close business associates," Cost says. "We're proud of the great quality of our products, the unique spirits we offer and to be part of the friendly and supportive Americus community."
In addition to the original offering of Plantation Vodka, Thirteenth Colony's product development efforts have today resulted in more than a half dozen award-winning small batch, aged spirits, some aged in custom charred American Oak barrels for a smooth, rich and slightly sweet finish and sold in unique decanters with a wood and cork stopper.
Offerings include gin, sour mash bourbon, and rye, corn and bourbon whis-keys, all distilled using local ingredients, including the ultrapure water drawn from the South's oldest and deepest aquifer, filtered through limestone and dolomite. – K.K. Snyder