Happy Christmas to all!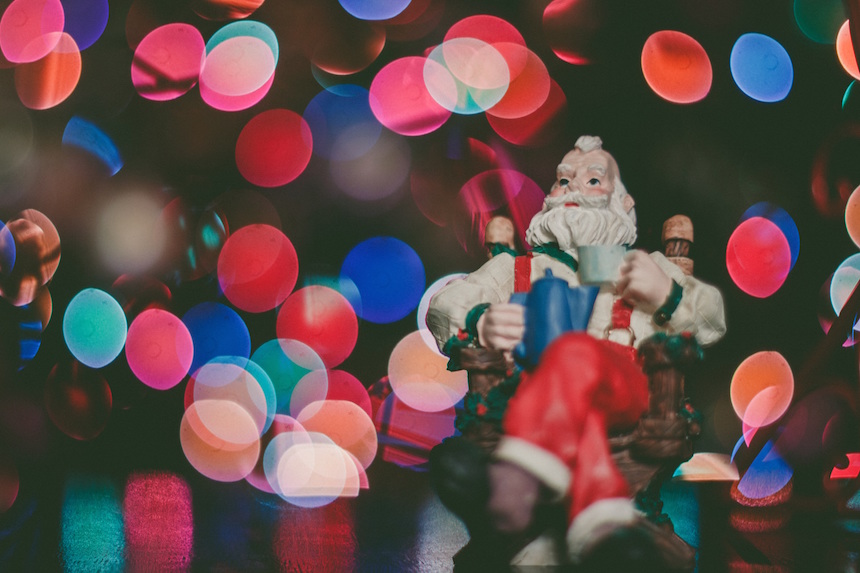 The History of Santa Claus:
By Neely Young, Georgia Trend's co-editor in chief and publisher.
Christmas is child-centric event that promises magic, gifts, merriment, excitement and for one day during the year, peace on earth and good will toward men. And it all started with the story we all know from the Bible of the visits of the Magi, who were the first to bring gifts to the Christmas child, baby Jesus. These three wise men were a group of distinguished kings from foreign lands who visited Jesus after his birth. They came bearing gifts of gold, frankincense and myrrh. Gold as a symbol of kingship on Earth; frankincense, an incense as a symbol of deity; and myrrh as a symbol of death. These three men, Gaspar, Balthasar and Melchior, were named in the Gospel of Matthew and in Christmas tradition, probably linked to Psalms 72:11, "May all kings fall down before him."
The first mention of Santa Claus giving gifts to little children comes not from legend, but from a real person named Saint Nicholas. He was born to Greek parents in 270 AD in Patara, Turkey, during the time of Christian persecution under the Roman rule of Diocletian. In his youth he made a pilgrimage to Jerusalem and when he returned was made bishop of the Myra monastery near his hometown. During the persecution he was cast into prison but was released after the accession of Constantine and the Roman emperor's conversion to Christianity. Constantine and Nicholas were in the same generation and each in their own way were responsible for spreading Christianity and the Christmas story all over the Roman Empire. Saint Nicholas gained his greatness and reputation for generosity because of his practice of putting coins in the shoes of the less fortunate who might leave their shoes outside. He is celebrated on Dec. 6, Saint Nicholas Christian Feast Day.
Nicholas's most famous act was when he aided a poor man with three young daughters who could not afford a proper dowry. This meant the girls would remain unmarried and would become destitute and perhaps become prostitutes to survive. Hearing of the family's plight, he went to their house under cover of night and threw two bags filled with gold through the window and dropped a third bag down the chimney. The last daughter had washed her stockings that evening and hung them over the embers to dry, and that bag of goal fell into her stocking. The three young daughters were saved and this story is the historical reason for giving gifts to children. Now children celebrate St. Nicholas at Christmas time and continue to believe in him.
Christmas during the middle and dark ages lasted from the fall of the Roman Empire in 420 AD to 1300 AD, the beginning of the Renaissance. During that time the celebration of Jesus birth took on several aspects of the Roman pagan tradition of Saturnalia, the public holiday around Dec. 25. It was a time for feasting, goodwill, generosity to the poor, the exchange of gifts and the decoration of trees. Saturnalia originally marked the Winter Solstice, the end of autumn planting season. When Constantine converted the Roman state to Christianity, he decreed that this festival be a celebration of Christ's birth, thus Christmas was born. Soon the Christmas tradition spread across Western Europe like wildfire. Early middle-ages Christians began the Christmas celebration on Dec. 25 and ended 12 days later on Epiphany Jan. 6, thus the carol The Twelve Days of Christmas.
During that time people decorated their homes with candles, holly and ivy. Gifts were commonly not given on Dec. 25, but on New Year's Day. Christmas carols multiplied during this time, "Bless ye Master of this house likewise Mistress too, and all ye little children that round the table go." was a favorite. Christmas was preceded by a month of fasting in the season of Advent. Fasting was central to the season. So Dec. 25 was a special time to celebrate for hungry Christians. Food at the table included loaves of bread, beef and bacon, mustard, chicken soup, cheese, rabbits and all the beer you could drink. The menu didn't include chocolate or turkey, products of the new world.
A product of the late middle ages was a tradition of an evil spirit who would visit bad children and hand them switches and lumps of coal. The spirit was called Black Peter, due being covered with soot from coming down the chimney. Peter was known to be a servant to St. Nicholas. He was accompanied by two ravens that would listen at the top of the chimney – just a hole in the roof – to see the good or bad behavior of the children below. A tradition that lives on in The Elf on the Shelf, created by Marietta's own Carol Aebersold.
A Christmas in Tudor England, during Henry the Eight's reign, was very different from our time as far as food for the table. King Henry was one of the first people to eat turkey, as it was introduced to Europe from America about 1523. The Christmas pie was made of turkey stuffed with goose, then stuffed with chicken, then stuffed with a pigeon, all put into a pastry shell, called a coffin.
A favorite drink was a punch called wassail which was made of strong wine, sugar, hot ale and spices. At the bottom of the wassail bowl was a crust of bread. The drink was offered to the most important person in the room – Henry, of course – and then passed around to other guests. This was the beginning of a "toast" which is part of our drinking ritual now.
We move on to the celebration of Christmas in the 1800's, where one of America's most influential cartoonists, Thomas Nast, is credited as the creator of the modern Santa Claus. His Christmas themed cartoons published in the newspaper Harper's Weekly, were the most important inspiration for the Christmas holiday. He created the merry old Santa that we know and love today.
Also in the 1800s Clement Clarke Moore contributed greatly to the image of Santa Claus with the poem A Visit from St. Nicholas, more commonly known as The Night before Christmas. Moore was a writer, divinity professor and wealthy real estate developer who wrote the poem and defined the Jolly old Elf.
Who can forget some of the famous lines in the poem like:
"The stockings were hung by the chimney with care, in hopes that St. Nicholas soon would be there."
"When what to my wondering eyes should appear, But a miniature sleigh and eight tiny reindeer."
"I knew in a moment it must be St. Nick."
"Now Dasher! Now Dancer, Now Prancer and Vixen! On Comet! On Cupid! On Donner and Blitzen! To the top of the porch. To the top of the wall. Now dash away, dash away, dash away all!!"
"But I heard him explain ere he drove out of site. Happy Christmas to all, and to all a good night!"
In the 20th century Santa was shown dressed in a red suit, and drinking not wassail, but Coca-Cola. Experts point to Atlanta's own Coca-Cola Company as the creator of our modern day Santa Claus. Advertising executive Archie Lee in the 1930s had the idea that it would help Coca-Cola's image to be associated with Clement Moore's vision of Santa. He directed artist Fred Mizen and later Haddon Sundblom to draw a warm, plump Santa, who would wear a red coat, which was the main color used in ads for Coca-Cola. Advertising messages featuring Santa sharing a Coke with little children appeared in magazines all over the country. The Saturday Evening Post, Look magazine, billboards and newspaper ads featured the Coca-Cola Santa. And the image is still used today on Facebook and other social media.
I have my own memories of Christmas growing up in the little town of Cedartown, Ga. I would go out with my father and cut down a cedar tree and bring it back to our house. My father was clumsy and we always had an issue with getting the tree up on the stand. After about three tries my mother, sister and I would string the tree with popcorn, colored lights and Christmas balls. We would finish by throwing silver icicles all over the tree. The big event in our house would be gathering after supper and turning the lights on the tree, and singing Christmas carols. Daddy would sneak out the back for a while, then return with red cheeks, and big smile on his face. I never knew where he went. Christmas Eve, my sister and I would leave two glasses of milk and two slices of apple pie near the tree, for Santa to have a snack when he was finished bringing the presents. I never understood why we left two each. Santa must have had a helper. Christmas morning was a wonder! It was a wonderful time of family fellowship, love and good cheer.
My father had a hardware store on Main Street. After Thanksgiving we would move all the merchandise to the second floor and fill the main space with toys. As in most small towns of the day, our store became the main place for Christmas shopping for citizens of Cedartown. In 1958, I turned 16 and had my driver's license, so I drove the truck to deliver toys. My father was a big, gruff man He was six feet three inches tall and weighed 240 pounds. All of my friends were scared of him, and if they were visiting me in the store, they would suddenly run for the door if "The Big Bear" as they called him, walked into the room. On Christmas Eve, when we were set to close, Daddy had me load the truck with toys for late delivery. He gave me new addresses and I made the rounds, to deliver the goods. The people who received the toys were so very thankful, more so than normal. One mother was crying when I left. I learned later, that this last group to receive toys were people who couldn't afford Christmas for their children. My father was a warm, kind person after all.
In 1897, eight-year-old Virginia O'Hanlon wrote a letter to the editor of the New York Sun asking the question "My friends say there is no Santa Claus. Please tell the truth, is there a Santa Claus?"
In an editorial in the newspaper, Francis Church answered with a story that was picked up and published in newspapers all over the world.
It read in part: "Virginia, your little friends are wrong. … Yes, Virginia, there is a Santa Claus. He exists as certainly as love and generosity and devotion exist, and you know that they abound and give to your life its highest beauty and joy.
"Not believe in Santa Claus! You might as well not believe in fairies. Nobody sees Santa Claus, but that is no sign that there is no Santa Claus. Nobody can conceive or imagine all the wonders there are unseen and unseeable in the world. Only faith, fancy, poetry, love, romance can push aside that curtain and view and picture the supernal beauty and glory beyond.
"No Santa Claus! Thank God! He lives, and he lives forever. A thousand years from now, Virginia, nay, ten times ten thousand years from now, he will continue to make glad the heart of childhood."
Photo by Caleb Woods at Unsplash