ARC's State of the Region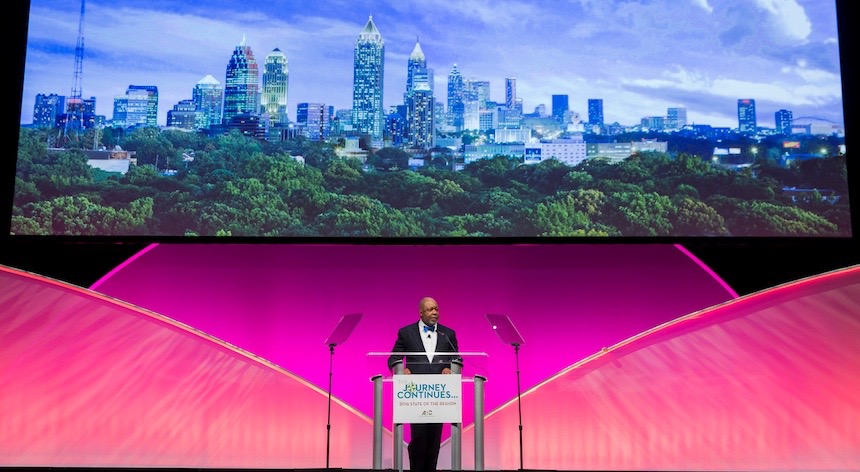 The Atlanta Regional Commission recently hosted its 2016 State of the Region Breakfast for more than 1,200 business, government and nonprofit leaders.
During the event, the results of this year's region-wide Metro-Atlanta Speaks survey were presented. Among the findings, transportation – not the economy – is the region's biggest concern, with 90 percent of those surveyed indicating that transit is important to the region's future.
The organization also took the opportunity to recognize people and organizations that make this region great. Craig Lesser of The Pendleton Group, an active economic developer in Georgia for decades who spearheaded the ARC's Atlanta Regional Economic Competitiveness Strategy, received the Harry West Visionary Award.
The first Lifetime Achievement Award was presented to John C. Portman Jr., in recognition of his extraordinary vision as an architect, developer and community leader. Kronberg Wall received the top Development of Excellence award for its offices in a renovated, historic church in Atlanta's Reynoldstown neighborhood.
Other award winners include: Lee Street Park & Amphitheater, City of Jonesboro; Belmont, Halpern Enterprises; Walgreens in Historic Olympia building; and the Atlanta area's three national parks – Chattahoochee River National Recreation Area, Kennesaw Mountain National Battlefield Park and the Martin Luther King Jr. National Historic Site.
The event concluded with renderings of how transportation investments in tandem with adjacent development will shape Atlanta's future.
"We've come a long way, but we still have a ways to go," said ARC Executive Director Doug Hooker.
Featured photo: Doug Hooker, speaking at the event.
Photos courtesy of the ARC