2016 Georgia Writers Hall of Fame Ceremony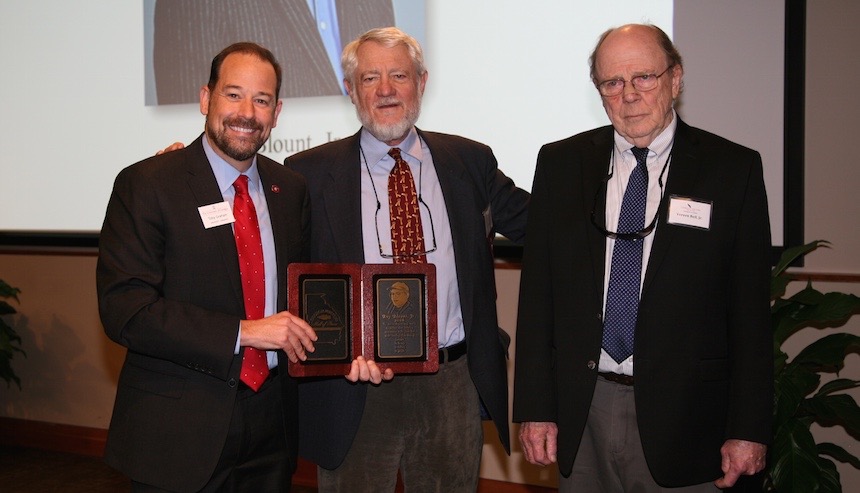 Last month, the Georgia Writers Hall of Fame inducted its 2016 class of five honorees: humorist Roy Blount Jr. and journalist Bill Shipp, as well as posthumous awards to novelist Brainard Cheney, social activist Katharine Du Pre Lumpkin and short-story writer and Pulitzer Prize winner James Alan McPherson.
The ceremony, which honors writers who are either native Georgians or have produced a significant work while in the state or about Georgia, took place at the Richard B. Russell Building Special Collections Libraries at the University of Georgia in Athens.
Bill Shipp began his career as an outspoken and eloquent observer of injustice and political nefariousness at The Red and Black at UGA in the 1950s. He resigned his post as editor in 1953, along with others, in protest of the infringement on their right to free speech, when the university set up a Publications Control Board to review all publications following The Red and Black's editorials against segregation at the school. He was a longtime correspondent for the Atlanta Constitution, covering the Civil Rights Movement, political campaigns and breaking news stories all over the world. In 1987, he resigned as political editor and began his own media company that produced Bill Shipp's Georgia, a weekly political print newsletter that morphed into a blog. He also served as a regular panelist on The Georgia Gang, a televised discussion of current events on Georgia Public Broadcasting.
Former Gov. Roy Barnes accepted the award for Shipp, who was unable to attend the ceremony.
Roy Blount Jr., a native of Decatur, spoke as part of the event to the delight of listeners of NPR's Wait, Wait … Don't Tell Me, who likely recognized the voice. Blount's a regular panelist on the humorous quiz show. He is also a past president of the Authors Guild, a member of PEN and the Fellowship of Southern Authors, and an original member of the Rock Bottom Remainders, a rock band that included authors Dave Barry, Stephen King and Amy Tan, among other authors.
The event concluded with the judges' selection of next year's inductees – to be announced later.
Congratulations and heartfelt thanks to all of the members of the Georgia Writers Hall of Fame for your good words and great works!
Featured photo: From left, Toby Graham, UGA's university librarian and associate provost; Hall of Fame Inductee Roy Blount Jr.; and Vereen Bell Jr. Bell introduced Blount at the ceremony and is the son of 2015 inductee Vereen Bell.
All photos courtesy of University of Georgia Libraries