SOUTHWEST GEORGIA: Diversity Reigns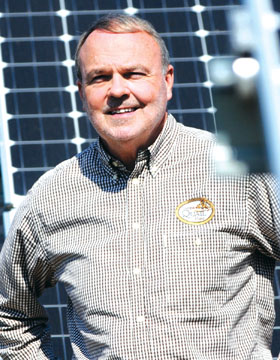 One thing is certain when it comes to doing business in Southwest Georgia: diversity reigns. From honey production to film production and Air Force missions to Marine Corps logistics, a wide variety of businesses feed the region's economic engine.
Bringing attention to Southwest Georgia continues to be the focus of Locate South Georgia, a collaboration of 12 counties spreading the word about available land and buildings, tax incentives and a qualified workforce, with the single goal of attracting new industry and business to this corner of the state.
Led by Darrell Moore, president of the Moultrie-Colquitt County Development Authority, the group hosts four or five events each year in Atlanta and in South Georgia, working with statewide project managers, elected officials and consultants to market the region as a whole. "It's still working well; everyone is still engaged and active," says Moore, noting that it's ideal for consultants and project managers to access a regional group as opposed to trying to meet with one county at a time.
This year in Colquitt County, National Beef Packing, the fourth largest beef company in the United States, completed an $8.7-million expansion, adding 200 new jobs, about three quarters of which have been filled. The company cuts and packages beef shipped from the midwest and distributes it to stores where butchers make final cuts for consumers.
Speaking of consumers, Colquitt celebrated the opening of a large shopping center with a Publix anchor and numerous new retail outlets and restaurants. The 12-15 new businesses are expected to create 225-250 new jobs and generate $40-$50 million in annual retail sales, says Moore.
BudK Worldwide, a local mail order company selling collectible knives and swords, just added 26,000 square feet. While their seasonal employment fluctuates between 125 and 200, "they have a really aggressive growth plan right now," says Moore, of the company Colquitt County native Clint Kadel started in his grandmother's garage more than two decades ago.
Two ag-related companies, Helena Chemical and Crop Production Services, expanded this year, and the Colquitt Development Authority will break ground by year's end on a 50,000-square-foot business incubator building, Colquitt's first.
---
Welcoming New Ventures
Rick McCaskill, executive director of the Development Authority of Bainbridge and Decatur County, says participation in Locate South Georgia provides his community with much-needed exposure to state economic development heads. "We're an awful long way from Atlanta down here; they don't pass by Bainbridge on their way to somewhere else in Georgia. They've got to come to Bainbridge if they're coming to Bainbridge, and that's difficult," he says.
McCaskill says 2016 was strong for Decatur County, where nearly every industry underwent some level of expansion. While Decatur landed Bainbridge Manufacturing several years ago, things are just now ramping up for the $10-million investment due to the extensive preparation of the facility at Decatur County Industrial Park.
"The all-new machinery is being manufactured all over the world and will go in by the end of the year. That will be music to our ears," he says of the manufacturer of components for automobile and commercial air conditioners.
The county is also partnering with the shortline Georgia Southwestern Railroad to add a rail terminal with multiple spurs at the industrial park that will be available for use by all industry in the county. The line runs from Dawson, where it connects with the Norfolk Southern line, down to Bainbridge, where it connects with the CSX line. "Right now we have people that could really use rail but they can't afford it, so it's going to be a big shot in the arm for us," says McCaskill.
The county's second industrial park, Commodore, is ready for a new resident. "We have plenty of land, but we're hurting for buildings so much that we've just completed a 60,000-square-foot spec building. It's the first one we've had in over 20 years," says McCaskill.
In addition, both parks are certified AT&T fiber ready.
Having ample land has paid off for Decatur County, home to two solar farms totaling about 1,000 acres. Though there are no long-term positions associated with such ventures, as many as 600 temp workers were hired during construction. "Solar farms have gotten to be a big deal here," he says, referring to the $180 million the projects have added to the county's tax rolls. Decatur is currently working to bring an additional 4,000 acres of solar panels, projects they'll submit bids on by year's end.
This year Thomas County welcomed production of not one but two independent films. "Most major films are going to be in the Atlanta area because all of the studios are there, of course," says Shelley Zorn, executive director of the Thomasville and Thomas County Development Authority. "But these were both made by Thomasville natives who are now in the film industry. They had a passion to do it here and prove things can be filmed in South Georgia."
Brad and Courtney Wheeler, owners of Third Wheel Productions, left Thomas County to work in the film industry in California. They returned home this summer to shoot the film Celeste. A second film, this one with a $7-million budget, began production in October under the direction of former Thomasville resident Allen Cheney. Much of the shooting will be done on the 208-acre campus of the shuttered Southwestern State Hospital. Zorn hopes to market the campus's potential as a viable studio. Cheney estimates the production will have a $1.2-million impact on the community, including business for hotels and restaurants and the temporary employment of construction workers, caterers and other essential personnel.
New to Thomas County is S&L Integrated, a manufacturer of large sound and lighting systems that is making a $1.5-million investment with a new facility and the addition of about 30 jobs. Owner Jason Jones is a young entrepreneur and has incorporated high-tech features throughout the facility, including a virtual receptionist, says Zorn.
An expansion this year by existing industry TECT Power, which manufactures aviation engine components, added 35 new jobs. Also, Evoqua, provider of water systems for municipalities, added about 30 positions. Through a welcome turn of events, FPL Food – which closed for two years and underwent financial restructuring – reopened in April and hired 160 workers. By early fall they were considering adding a second line and another 40 positions. Retail development has also been strong in Thomas County, says Zorn, with new stores and restaurants generating about 210 new jobs.
---
Straddling Interstate 75
Brian Marlowe, president and CEO of the Tifton-Tift County Chamber of Commerce and executive director of the Development Authority, says investments totaling $34 million were pumped into the county and 382 jobs were added in 2016 by industries including American Textile Company and Mohawk Industries. Among the completed projects: a new distribution center for Minnesota-based Cherokee Manufacturing – maker of plastic containers for plant nurseries – and an expansion of Turner Furniture's distribution center.
A new VA Clinic in Tifton created 52 healthcare positions in the community and provides much-needed services for area veterans. Tift County also saw its first solar project come to fruition this year, completed by Sparrow Hawk Energy.
Farther south, Cook County leaders also have the healthcare needs of area residents on their minds as they consider a new facility for Cook Medical Center, a part of Tift Regional Health System. Plans are still being determined for the proposed hospital project, says Michael Purvis, CEO of Cook Medical Center.
"The scale of some current services at Cook Medical Center may not be the same in the new facility, but it should be offset with the introduction of new ambulatory services," says Purvis, regarding one of the county's top employers.
The Tift County Hospital Authority, which runs the health system, is applying for project financing through the USDA Community Facilities Program. The authority will also benefit from the Georgia Rural Hospital Tax Credit bill recently passed by the Georgia General Assembly, allowing $50 million in tax credits in 2017 and opening the door for many rural hospitals to receive up to $4 million in contributions annually.
Lisa Collins, director of economic development for Cook County, says everything from graduation rates to community assets are on the rise there. Touting themselves as the "steel building capital of the South," Cook County is home to a number of steel building fabricators, including Lariat Steel, which is currently planning an expansion.
Collins uses the availability of the local steel building industry to entice new business and industry to a county that has a limited inventory of available buildings. Collins frequently connects prospective companies with local steel building fabricators to discuss new custom steel buildings, a method that proved successful in luring California-based Custom Ag Formulators to invest $1 million in Cook County and hire 16 employees. Collins says they plan to double in size over the next 24 months, as 37 percent of their business is done in Georgia.
In addition, Collins says three active prospects are nearing announcements regarding a total $44.3 million capital investment and the creation of 135 new jobs, while another three prospective companies plan to locate in Cook County over the next 18 months with a potential capital investment of $163 million and more than 400 jobs. A new Walmart in Adel this year created over 200 new jobs and generates $400,000 in annual sales tax for the county.
Since 2009, Brazilian-based combine and equipment manufacturer Colombo North America has operated its only North American facility in Cook County and is currently planning an expansion with a new building on 10 acres off Interstate 75. The 40,000-square-foot project is a $1.25-million investment that will add about 10 positions. A second line is expected to be added in the near future, says Collins.
Also along I-75, Lowndes County reports this has been their busiest year for new project activity for some time, especially with regard to manufacturing prospects, says Andrea Schruijer, executive director of the Valdosta-Lowndes County Development Authority. "Those are from consumer goods to food processing, and we're seeing some existing industries expanding as well."
Valdosta announced Texas-based Nature Nate's honey would make a $2-million investment to locate in a new facility in Miller Business Park and hire 15 employees. The company selected Valdosta in particular "because of its unique location closer to the Okefenokee Swamp and the wetlands we have around here. There are certain types of plants that grow [there] that are more desirable for honey production; it makes it more rare," she says, adding that Nature Nate's rapid growth has them already looking at expanding their facility.
In addition, French-owned Saft, which manufactures batteries and has been in the community for four years, continues to expand with the investment of more than $3 million and the addition of 25 new jobs.
---
Military Strong
Moody Air Force Base is certainly integral to Lowndes County. A couple of years ago, sequestration and budgetary issues threatened to remove the A-10 squadrons from the Southwest Georgia base. Fortunately, that hasn't happened.
"I guess the climate in our world and the need for close air support pushed off any immediate retirement of the A-10s," says Michael Lee, chair of the Valdosta-Lowndes Chamber of Commerce. There's currently not a specific time frame for future retirement of the A-10s, though there is discussion about a replacement aircraft in five or more years, he says.
In addition, Moody is among the five bases being considered for one of the unmanned MQ-9 Reaper missions, he says. "Moody would be more of a control base rather than actually house the [remotely piloted aircraft]. Nonetheless, we're open to any opportunity to expand the mission of the base."
Proactive efforts by leadership at Marine Corps Logistics Base (MCLB) Albany have helped secure that base's stability in Dougherty County. A diverse collection of green energy projects today help power MCLB Albany, making it possibly the first DOD installation completely powered by renewable energy, well ahead of the requirements set forth by the Marine Corps, says Justin Strickland, president of the Albany-Dougherty Economic Development Commission.
The first project, in 2011, was a gas-to-energy partnership with the county, through which about 40 percent of the base's power was created by pumping methane from a county landfill. Last year the base implemented a borehole thermal energy storage system – the first of its kind in the United States – drilling 306 boreholes, or wells, to circulate water for energy transference and store it for future heating and cooling. The base has also joined with Procter & Gamble on a $200-million biomass project slated to come online mid-2017.
This April the base announced a project with Georgia Power to install a 44-megawatt solar facility on 150 acres at MCLB. While Georgia Power will be the recipient of all energy produced via the solar farm, if the base were to ever lose power from any other source, they'd be able to switch to solar power. "It's energy security," says Strickland. "For the base to have the foresight to invest in these types of projects and be able to showcase the energy resiliency they'll have when these projects are completed shows we're on the cutting edge of using technology that supports industry.
"Energy independence for MCLB Albany gives us the ability to show that renewable energy projects work in Southwest Georgia," says Strickland. "It also bolsters MCLB's stance when it comes time to showcase them as a leader in their efforts to meet requirements set for them by federal officials."
Though it's the state's most rural region, Southwest Georgia continues to find innovative means to attract new business and industry to an area that has plenty to offer in terms of land, buildings, and a willing and qualified workforce.